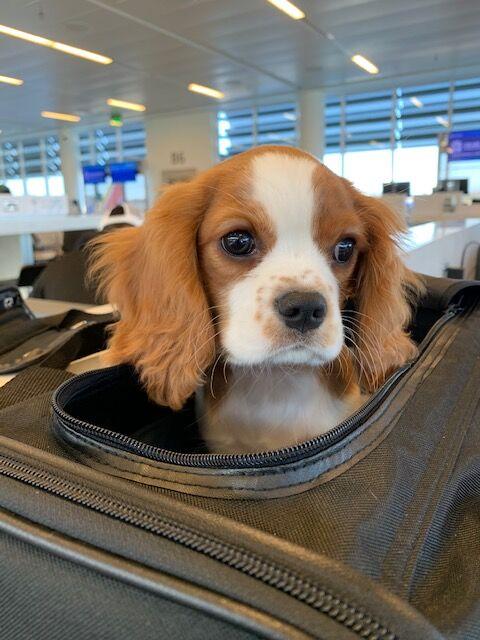 I'm flying! First time since Covid started! First trip to get to see my daughter's family including grandchildren in Denver. Soooo grateful. Truly.
It was kind of weird to finally walk back into CHS (Charleston International Airport). Either I've gotten bigger or these seats have gotten smaller (no comments from the peanut gallery LOL)
I'm thrilled to have a wonderful gal's service dog under my seat. "Mango" is crying because her ears hurt (poor baby!) Offered her a chew toy to see if it would help.
Big question is, why did I have a chew toy in my carry-on. Random.
Dear Liz,
We finally made it back to church with our entire congregation since Covid began.
Still lots of precautions like masks and social distancing. I'm glad we've all followed guidelines and so hope we can continue. But I noticed something really strange.
I was an average extrovert. I loved our time after the service or between classes to catch up with everyone. We are only having our one hour sacrament meeting, masked. And asked to not congregate in the building, so people do talk outside, social distanced. But what has happened to me?
I'm suddenly shy and reserved. Almost feel weird being face to face with people. I have school-aged kids who are back in school. Usually a classroom mom, I have not been inside the school all year. And feel weird about it.
What's going on with me?
Shy, me?
Dear "Shy, me?"
I so relate because I had an almost surreal feeling seeing even close friends again.
Does that mean we are both messed up or is this a common thing these days? For me, both. Covid-19 restrictions and drastic sudden mass lifestyle change has affected people in many ways.
For those who complied with following guidelines it can be tough to "re-enter society!" The recommendation here is to ease in.
Don't be shy about still wearing a mask even when not "required," and gradually adding social and other activities to your schedule.
Experts still recommend healthy lifestyle tips like frequent hand washing, don't touch your face (except with clean hands) staying home when sick and being wise about your distance.
Your comfort level will increase over time. For those who get in your face (including those who make science political) just politely ask for some space.
Don't feel obligated to shake hands or whatever greeting until YOU feel safe and comfortable.
We may need some professional help and support if we remain (overly) cautious over a long period of time, or if you notice signs of anxiety increasing instead of easing.
Important question. I still don't want to catch people's colds or other ailments but can protect myself in a wise and polite way, and not be weird at all!
Dear Liz,
We are planning summer at last. We are so grateful it won't look like last summer!
The problem is we usually get together with family for a vacation and having more trouble than ever coming to an agreement.
We usually agree easily! Suggestions?
Want to GO!
Dear "Want to GO,"
I hear you want to take advantage of good deals and get out of town. I suggest researching details of three destinations and take a vote. If that doesn't work, agree to flip a coin. Being together at last will be the reward!
Contact Liz via asklizchs@outlook.com. Liz Brisacher Sharp is a master's degree level licensed professional counselor in private practice with 35 years of experience in mental health.