Over Thanksgiving weekend, a historic military apparatus resurfaced on Sullivan's Island beach in the vicinity of Station 30. The concrete structure that reared the top if its mass appeared to be a military fortification of sorts used in coastal defense dating back to World War II.
The last time it made an appearance was in March 2017, appearing after storm surges from Hurricane Matthew. This exact location on Sullivan's Island yielded the same result more than a year and a half later, in the aftermath of record high tides, erosion uncovered the buried treasure of old.
The artifact was in fact a Panama mount, 'gun turret,' installed in 1942 in a sub-post of Fort Moultrie known as Marshall Reservation during WWII. This particular mount is historically rare by definition, only three others of its kind were built along the island at the time. This is third time on record it's made itself known, yet it remains a mystery as to why it continues to stay lodged in the sand rather than being pried out for preservation or safety purposes.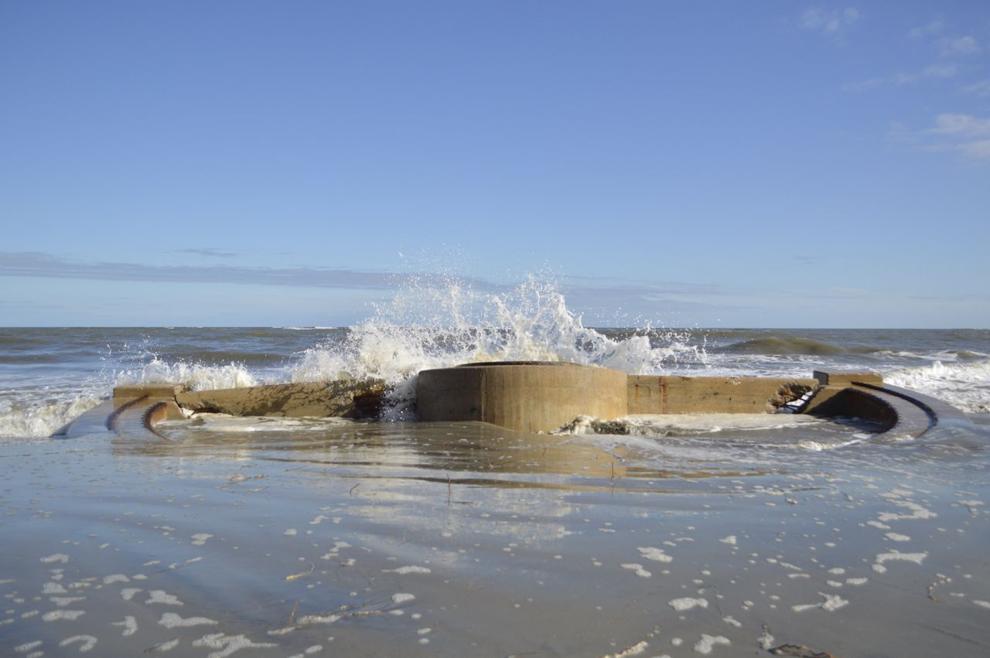 "It's staying there. It's pretty significant in size," said Dawn Davis, Charles Pinckney's public affairs specialist who assists the National Park Service. "It's huge, it's buried in the sand and it's also property of Sullivan's Island... it would be quite an endeavor to try to dig that out."
The concrete mounts were made to be fitted with 155-millimeter field artillery guns. According to a National Park handbook from the National Park Service about Fort Moultrie, the 155-mm guns had barrels nearly 20-feet long and a range of over 10 miles. The guns were an attempt to fill in the gaps of Charleston's harbor defense when the United States officially entered the war.
"For whoever does see it out there for the first time it does feel like finding something new. It does provide a link to the past, it's a very big link," Davis said.
Davis says one of the reasons why the military only dismounts the gun and leaves the remainder of the structure behind is due to the weight of its mass. The authorization to excavate and move the structure is solely under the discretion of the the Town of Sullivan's Island.
"They're poured concrete. You can remove the gun but once you pour the concrete you'd have to bust it up just to move it," said Gary Alexander, a park ranger with the National Park Service. "Once you lay that, it's pretty permanent. It's not something you can just pick up and move."
Alexander says the only way it could be preserved without uplifting it from its current location is by building a cooper dam around it. "I don't think the town wants to do that to tell you the truth."
"The trouble is you could pull it up but you'd have to jackhammer it apart and then you'd have to reconstruct part of it and reassemble it on dry land somewhere wherever the town would want it," Alexander said. "If they would want to move it."
"It appears from time to time in the erosion and accretion cycles," Sullivan's Island Mayor Pat O'Neil said. "One of our numerous reminders of our vast and interesting military history on the island."
As far as the town's involvement and future plans regarding the structure, O'Neil replied, "No cause for concern for anybody. Just look at it when it's there and don't look at it when it's not."
For now, the mount will proceed to deteriorate.
Two of the Panama gun mounts were transported to Folly Beach during the war, according to the South Carolina Department of Archives and History. Alexander says he's heard rumors from resident beachgoers that the last remaining mount lies buried somewhere underneath a neighbor's deck, but says that's just merely speculation.
These coastal defense mechanisms were meant to be temporary to get more modern artillery in there, Alexander says. The guns themselves were 10-inch and 12-inch disappearing guns, mortars, 155 millimeter mobile guns, and 90 millimeter anti-aircraft guns were installed on top of Battery Jasper and Battery Thompson during the time period, according to Fort Moultrie Museum. These "big gun" defenses were installed around the turn of the 20th Century as part of coastal defense improvements on both coasts that together are known as the Endicott system. However, no such guns were never even fired from the South Carolina coast during the war, according to the National Park Service.
"There's stuff all around us that is just crying for restoration, but it's all money," Alexander added. "It's unfortunate that we don't have more money to sink in to these restoration projects. Historical preservation is always a win-some lose-some game."