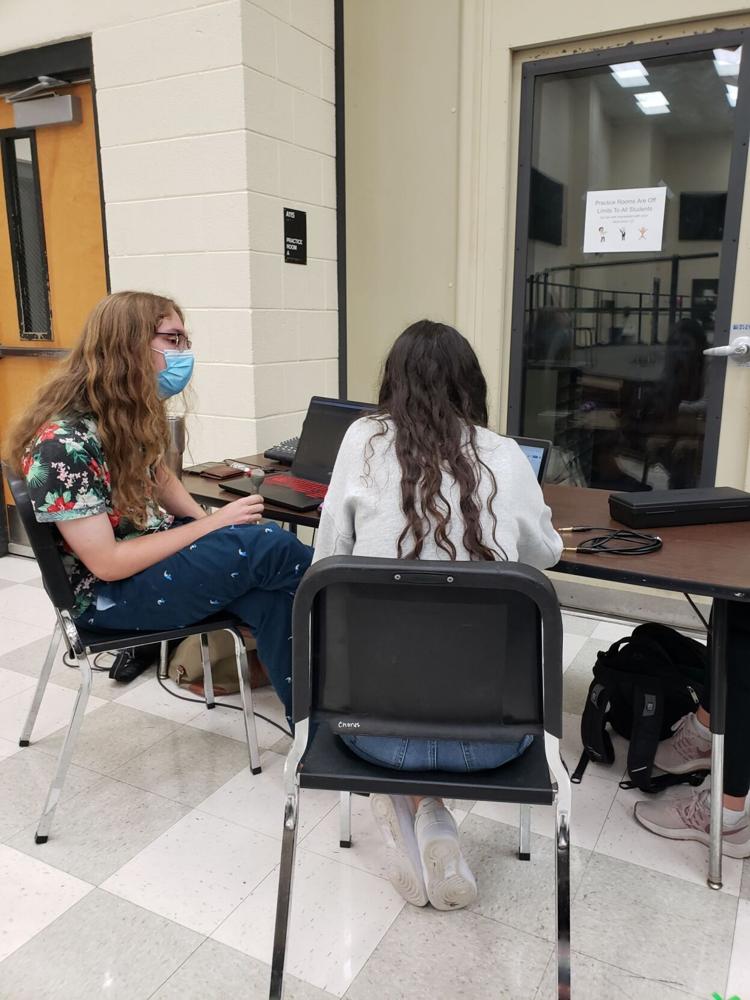 They converted a chorus room into a voice studio, and had actors spread out and masked until it was time for them to recite their lines. The coronavirus pandemic forced students in the Wando High School theater department to find new and different ways of plying their craft — but didn't prevent them from putting on the productions that have become the program's hallmark.
Limitations on in-person gatherings prevented them from putting on the big crowd-pleasers or interactive murder mysteries they've staged in the past. So the students in teacher Destini Fleming's theater program got creative by producing a pair of virtual productions available online: Orson Welles' radio play of "Dracula," and Tracy Wells' one-act play "One Stoplight Town."
"I was concerned how the operation would go," said Wando senior Rowland Marshall, who voices the title role in "Dracula." "But at the same time, in unprecedented situations such as these, art is always adaptive. We always find a way to adapt. It's amazing how such a negative like this can strip us away from our comfort zone and send us back into the past. And so when we do things like radio plays and different productions, we're still holding onto what we love to do. It's not going to stop us."
Like all high school students, the members of the Wando theater program returned to a different world in the fall semester. The presence of masks and social distancing recommendations flew in the face of actors and directors used to working in close proximity with one another. A normal fall semester at Wando would include two productions by the honors ensemble, and showcases for the intermediate students. In the weeks before the curtain rose, students would rehearse daily, sometimes late into the night.
"I was always determined to do productions," Fleming said. "Over the summer, I was like, OK, I know that we're going into the school year in a completely different manner. But we need to do productions. That's what students are in theater to do. So I was very determined over the summer to find ways to do that."
'They got it done'
Having the school in hybrid mode, with some students on campus and others studying via Zoom, only complicated the challenge. Since the Wando troupe had done radio dramas on stage before, Fleming envisioned a classic voice-only production like "Dracula" which harkened back to type that would have had families gathered around the radio in the era before television. "One Stoplight Town" was chosen as the play because it met South Carolina Theater Association Guidelines for working amid the pandemic.
Still, there were doubts. "I wasn't sure what was going to happen, especially around rehearsal," said senior Lucy Oxford, an assistant director for the play. "But people are using breakout rooms if they need to be in them, and we've found ways to work together when the group's all here. So that's really nice. I was honestly kind of expecting it to be a loss, but with the way we're doing things, it's turned out a lot better than I expected."
To make "Dracula," voice actors sequestered themselves in individual chorus practice rooms, where they could maintain social distance yet still be in contact with directors Christopher Warzynski, Jenna Pace and Marshall through their earphones and microphone. The idea was Warzynski's — "he's the tech wizard," Rowland said. The crew rehearsed twice a week, and Warzynski did all the editing on his laptop. The hour-long production premiered, appropriately, on Friday, Nov. 13.
"These kids are so resilient and so brilliant," Fleming said. "They've been the ones to come up with all of the awesome ideas. Christopher, Rowland and Jenna really took the reins on 'Dracula.' To be perfectly honest, I haven't had to step in with them too much because they knew what they were doing and they got it done. They had that chorus practice room truly set up like a professional voice-over studio. It was truly incredible to watch them and see their progress."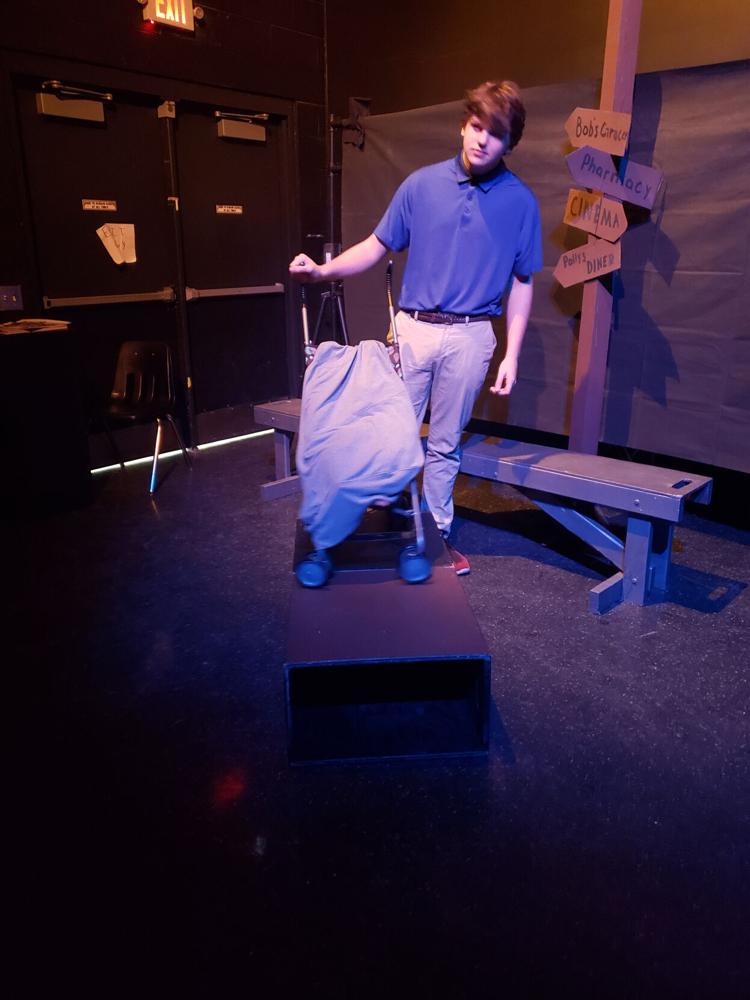 To Marshall, who hopes to become a professional actor, the final result was rewarding. "I gained such a respect for directors and actors, specifically voice actors, having to rely on solely your voice as opposed to your entire body," he said. "It takes you out of your comfort zone, and it's like a symbiotic relationship between director and actor. I've learned so much working with a team, feeling like a professional for just this short amount of time. It was so much fun."
Who's on camera when?
"One Stoplight Town," which explores the lives of several residents in a small town over 25 years, brought its own set of challenges. Due to social distancing recommendations, only one cast member could be filmed at a time. Other people in the scene would have to be spread out and filmed independently, using gestures and facial expressions to make up for their inability to walk around the stage. Everyone stayed at least six feet apart, and everyone wore a mask — until right before it was time for an actor to recite his or her lines.
"It was a little bit frustrating figuring out who was going to be on camera when," Oxford said. "Because especially in the last scene of the production, there are a lot of people who would have been on stage otherwise. So it was kind of difficult trying to figure out, OK, who's going to be on stage when? If we were doing this on stage, where would everyone be on the stage, and how can we reflect that with the camera and the set we have? So I think in that way, it was probably more challenging than a regular production."
Although Fleming served as lead director for the production, "as we went through the process and the kids got more comfortable with what we were doing and how it was working, I was really able to kind of let go," she said. "Lucy and Ella were really able to take the reins and direct the actors a little bit more. So the last week or so of the production, they really got to do a lot of the directing themselves. So it's been a really cool, collaborative process."
Running approximately 40 minutes, "One Stoplight Town" will be available online Nov. 20 at 6 p.m. Tickets for both performances are $8.
"Dracula" can be found at www.showtix4u.com/event-details/42045, while "One Stoplight Town" is available at www.showtix4u.com/event-details/42052.
Both performances can be viewed for two weeks following their premiere.
The cast of "Dracula" also includes Warzynski, a senior, as Seward, Oxford as Lucy, and senior Gray Fraley as Van Helsing. The cast of "One Stoplight Town" includes junior Caesar Enquist as Tom, senior Dawson LeVan as Bob, senior Caroline Lord as Sally and senior Parker Jackson as Jim.