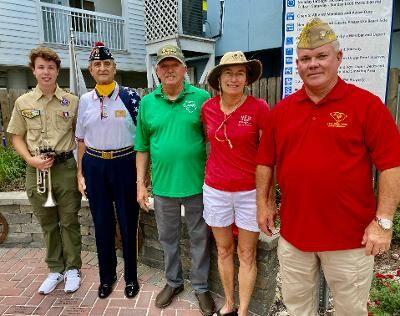 The Veterans of Foreign War (VFW) Post 3137 on the Isle of Palms held its semi-annual Flag Retirement Ceremony on May 13. All VFW Posts provide a dignified retirement of old and tattered American flags.
The ceremony was held at the new Patriots Courtyard in front of the Post on Ocean Boulevard on the Isle of Palms. Post Commander Bo Stallings gave an invocation and Post Chaplain Carol Truslow conducted an opening prayer. Edward Jones, an Eagle Scout and Wando High School trumpeter, performed the National Anthem.
Hundred of flags were retired properly by 20 veterans and auxillary members. A final tribute was provided by Matthew Leaird, the retirement ceremony coordinator, about the flag's glory and commitment to service. The ceremony celebrated the flag as more than just a piece of cloth — it is the emblem of America. The ceremony concluded with the playing of "Echo Taps" by Jones and Joe Houdek, a bugler for Post 3137.
A worn flag receptacle is provided to the community at the entrance to the Post on Ocean Boulevard.
Post 3137 on Isle of Palms is fondly referred to as "The Post on the Coast." Members of the VFW have served in a foreign war in one of the branches of the U.S. military, either Army, Navy, Marines, Air Force or Coast Guard. Many of the local veterans served in Vietnam, Desert Storm, Gulf War or Iraqi Freedom.
Members of the VFW Auxillary have a close family member who have served in the military in a foreign war and were honorably discharged. The VFW actively supports all members of the U.S. military and veterans.