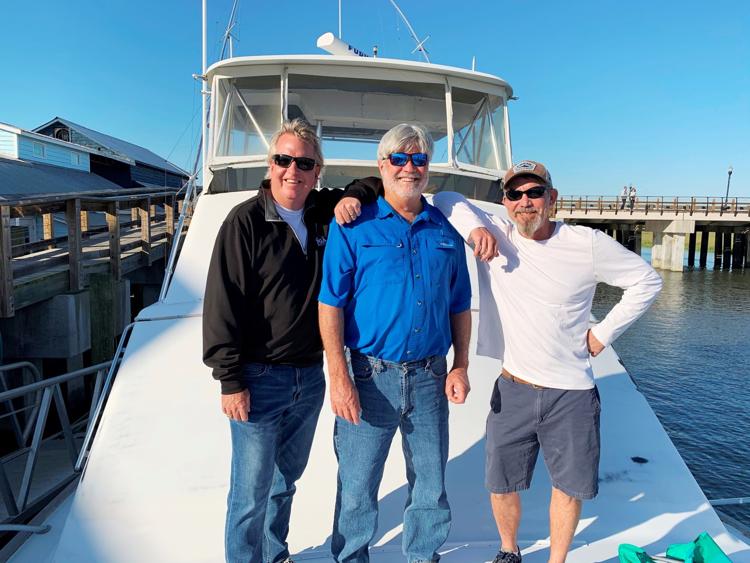 If you have ever paused to take in the view of Shem Creek anytime over the past 30 years, you've likely noticed a large white sport fishing charter boat docked in front of Water's Edge Restaurant. The Teaser 2, a 48-foot Custom Bluewater boat has been an iconic part of the creek's visual for as long as most locals can remember and just recently changed ownership last summer.
In 1986, Captain Mark Brown moved to Mount Pleasant from Florida. As a third-generation fisherman, he operated a longliner boat on the creek selling swordfish to Red's, when it was operating as a seafood market prior to becoming a restaurant. Brown quickly developed a relationship with Walter Toler who owned the Water's Edge property on Shem Creek. Toler allowed him to keep his boat on a slip in front of his property and that is where Brown has kept his boat ever since.
Shortly after moving to the area, Brown met Anne Hammes. The two started dating and were married three months before Hurricane Hugo hit the coast in 1989. Hammes said she introduced him to the creek in hopes he'd fall in love with fishing in Mount Pleasant instead of going back to Florida. She joked that she reeled him in and they've been happily married for 30 years.
In 1990, Brown and Hammes purchased the original Teaser sport fishing vessel and began their charter fishing business. Brown said some of his favorite things about running an offshore charter business included watching the sunrises, seeing the stars reflect off the calm water at night and interacting with so many different people over the years. He built generational friendships on Shem Creek and became a part of the community as it changed and evolved over time.
"I took enough people fishing over the years that I watched children grow up from the time they were born until they graduated college. And some of them I got to know really personally over the years and we still talk to each other," Brown said.
Brown shared that he had several groups of Mennonites he would take fishing in their long dresses with collars up to their chin. He also recalled taking groups visiting from Japan, Mexico, Germany and a number of other countries offshore. He explained they would sometimes have a language barrier but for the most part, they had a successful, fun time running the charter.
In the 1990s, a movie called "Rich in Love" was being filmed in Mount Pleasant. Brown was given the opportunity to take actor Albert Finney and most of the movie's cast offshore on the original Teaser and then they went out to dinner following their expedition.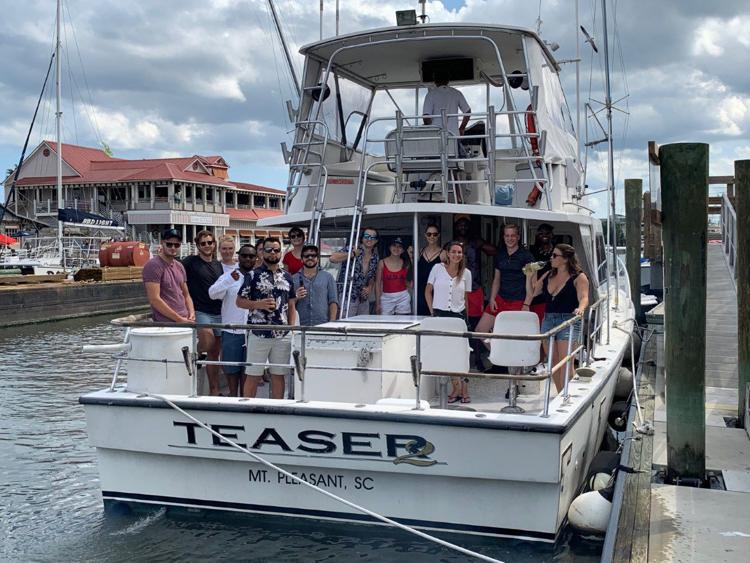 During the first few years chartering, Brown received many requests to take large groups fishing on the Teaser. Boats that aren't Coast Guard inspected are limited to only taking six passengers on a charter. He started to look into managing an inspected vessel and in 1998 decided he would build a custom, spacious boat capable of holding more customers.
Brown traveled to Florida with a legal pad, a ruler, a pencil and a flashlight to help the builders design the boat. He crawled through holes as they were constructing the boat placing tape and marking exactly how he wanted the boat laid out.
"He built the boat. He designed it and he got it certified by the Coast Guard. That way we could take church groups and corporate groups on a private boat instead of them having to go on a head boat with a bunch of other people," Hammes said.
She said this decision allowed the charter business to continue and afforded them to support and raise their six children. 
According to U.S. Coast Guard Sector Charleston, Inspections Division, the Teaser 2 remains one of the few USCG inspected charter fishing vessels in the region that can carry more than six passengers.
Brown recalls one half-day trip when he took an older group of people fishing. They showed up to Shem Creek to take their 98-year-old grandmother offshore fishing. Wearing a mink coat she climbed aboard the Teaser 2. Brown said to his surprise, their grandmother from the mountains of Tennessee had no issues holding the pole and catching fish.
"I went back and leaned on the rails to talk to her a little bit and I asked her to tell me 'What's your secret for longevity?' She looked at me and said 'Goats milk, honey. I drink goat's milk every day," Brown said. "It was a riot and I about fell over laughing."
He said there were many fun experiences aboard the Teaser 2. But overtime, Brown who is 63-years-old with 13 grandchildren started to think about retirement. He said that with the physical strain from the time spent offshore, going in and out of the engine room and keeping up with the maintenance of the boat, he started to look at selling the boat two years ago.
One day Brown picked up the phone and called John Madden who owned Wahoo Fishing Charters, LLC to see if he was interested in purchasing a third boat for the business.
Madden quickly became intrigued at the idea of being able to take a boat offshore that could hold more than six people. He already owned the Wahoo, a 48-foot Ocean Yacht he purchased in 2014 and Git R' Done, a Custom Carolina sport fishing charter boat he purchased in June 2018. Both boats are kept at Ripley Light Marina but can only charter six people at a time.
When Madden bought the Wahoo with business partner Robb Walker, he quickly realized he needed help and hired Chris Gaffney as his captain. Then, when Madden purchased the Git R' Done, a more expensive boat, Gaffney took over as its captain and his mate, Drew Demaree, took over as the captain of the Wahoo.
At first when Brown called him, Madden said he couldn't quite wrap his head around the idea of managing three different boats. But then, he started to think that Gaffney, at age 47, may not want to continue running a charter boat 70 miles offshore every day. He decided if he bought a third boat he would make Gaffney his partner to help manage the chartering business instead.
Also, Madden saw three boats as an opportunity to bring on more mates and captains. He started to envision a system that would enable teenagers that wanted to learn how to wash boats, fillet fish and charter customers and learn the ropes aboard the Teaser 2 as second mates. He said, if they proved to be successful, they could work their way to becoming first mate and possibly become a captain eventually.
"It gives people that otherwise wouldn't have that opportunity, the opportunity to start working for a professional deep sea organization and there's more room for them," Madden said.
Brown said he was interested in selling the boat to Madden because he had a background in fishing and was interested in hiring local captains and crew.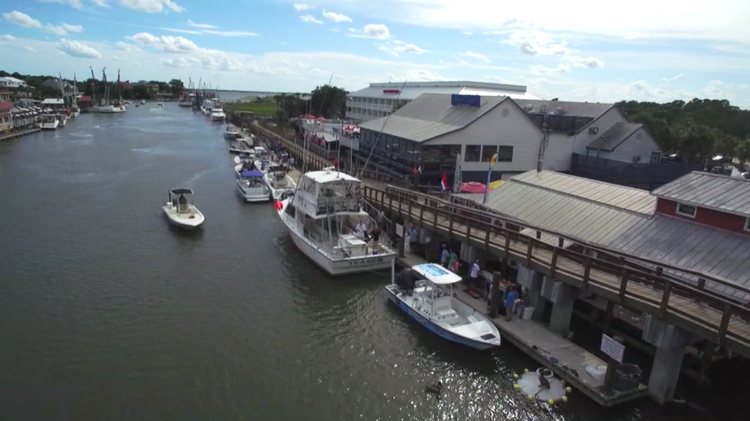 There were several other selling points for purchasing the Teaser 2. Madden said when Brown told him that some men in Florida were looking at buying the boat, it didn't sit well with him.
"The Teaser is such an iconic boat, and it's so tied to Charleston it just didn't seem right for that boat to leave Charleston. Mark and I worked out a deal and I bought the boat from him," Madden said.
In late June 2019, Madden became the owner of the Teaser 2. In addition to getting the custom built head fishing boat, Madden also received all of Brown's bottom fishing numbers, or secret fishing spots. Brown also gave the Teaser 2's website, phone number, fishing gear, customer books, the crew contacts and the boat slip on Shem creek as a part of the deal.
Madden said Brown's been fishing Charleston longer than most charters and every professional captain he spoke to during the transaction suggested he get Brown's numbers.
Brown said he gave Madden everything as a package because he wanted him to be successful and capable of understanding the business as well as he did.
"It just seemed like a win-win situation. We wanted the boat to stay around here simply because we devoted a lot of our time and energy in building that business. A lot of people like fishing on it. It's a great fishing boat; it's laid out as one of the best fishing boats I've ever seen or operated," Brown said. "I gave him all the tools to be successful."
Madden shared that as he read through Brown's notes and customer books, he was amazed at the investment and work that'd been put into the charter business. He said for someone to run a charter boat for that long on the East Coast is incredible, especially given the amount of maintenance that's required for sport fishing charter boats with outriggers.
"Typically if somebody is going to start chartering a boat, 10 years is a long time. Fifteen years is a very long time for a sport fishing boat and captain to be to be working the waters. And to think that he did it from 1986 until 2019 that's pretty incredible," Madden said.
He explained that he was committed to keeping the legacy of Brown's creation alive and in Charleston.
Madden said when buying a boat there are many things that have to be finalized making it difficult to enjoy the process. Just a few days after the transaction was complete, something happened that caused Madden and his wife, Jackie, to realize how important their decision was.
The two walked into Up The Creek, a swimwear and fine goods shop beside Waters Edge on Shem Creek. Madden needed to borrow a pen and while the store's employee went to retrieve one, Madden and Jackie walked around the shop. Suddenly, they both looked up at what was obviously an old picture or painting of a sunset taken from Shem Creek Bridge. Sitting on the right side of the creek, right in its slip was the Teaser.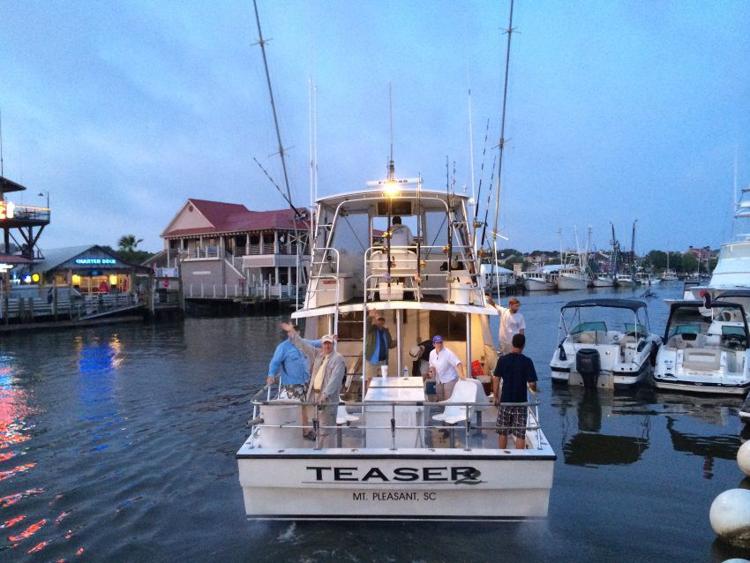 "It just occurred to us if we didn't step in and keep that here, that picture would be obsolete. There'd be another boat there. And that's really when it sunk in that what we did was important; keeping that boat here, as opposed to letting it go someplace else," he said.
A month later, Madden and Jackie were downtown walking through the Historic Charleston City Market with their friends visiting from out of town. He said that as they opened books and looked through paintings of Shem Creek at the market, they noticed the Teaser was in all of them. Again a feeling of reassurance sunk in that keeping the custom built icon on the creek was an important decision.
He explained that customers will save up money over months and sometimes years just to have a fishing experience aboard the Teaser 2. He plans to continue the experience and legacy under his ownership of the vessel.
"It's a great thrill being able to show people a great time. I love fishing but it's even better when you take somebody out there and you hook them up with something that they've never caught before. You bring it onboard and watch their eyes light up and watch them yell and scream and high five each other is just such a fantastic thrill," Madden said.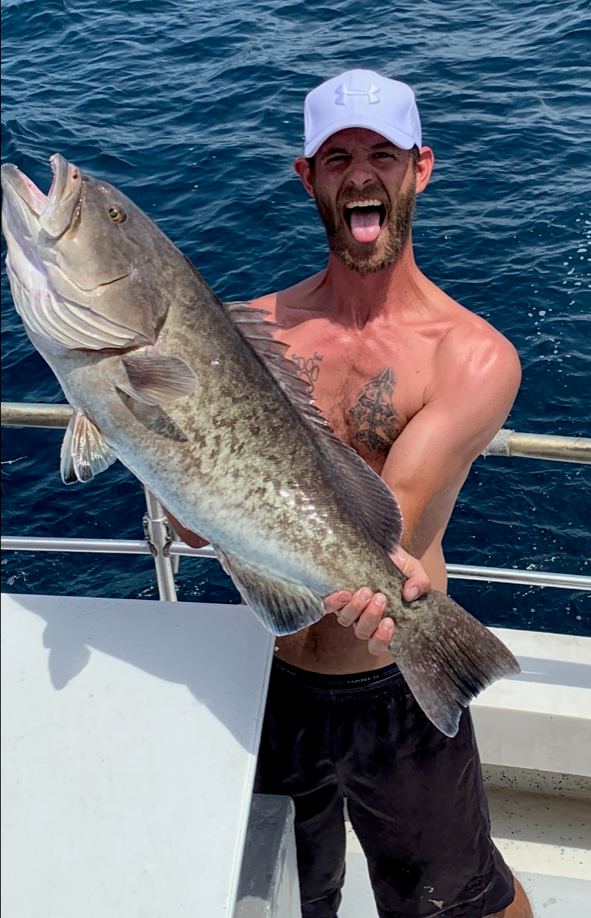 When Madden met with his loan mortgage broker to purchase the boat, he learned the broker's father caught his very first marlin on the Teaser. He said that there have been countless things that have made Jackie and he both believe they have made the best decision.
Jamie Brown, who fished aboard the Teaser 2 on and off for nearly 30 years with Mark Brown, transitioned as the full-time captain of the boat under Madden. Charlie Lewis, also known as Montukie to the boat's crew, is the full-time mate for the Teaser 2.
He said while he still enjoys chartering the Wahoo and Git R' Done, there's no sport fishing boat laid out as well as Mark designed the Teaser 2. The boat has comfortable seating for 35 people, room for 20-plus to go offshore fishing, a 182-square-foot cockpit, three fighting chairs and 40 rod holders.
"It is the perfect boat for what it does. It is so wonderfully economical, there's not a better layout for 20 people to get on a boat and go fishing," he said.
He remembers just two weeks after he bought the boat, they took a group of 12 men offshore. Eight of the individuals had never been fishing before, making this a trip Madden said he will never forget. During the 9-hour trip, he remembers how special it was as they caught giant grouper and hog fish on the Teaser 2. The man who caught the hog fish thought it was so beautiful that he had it mounted.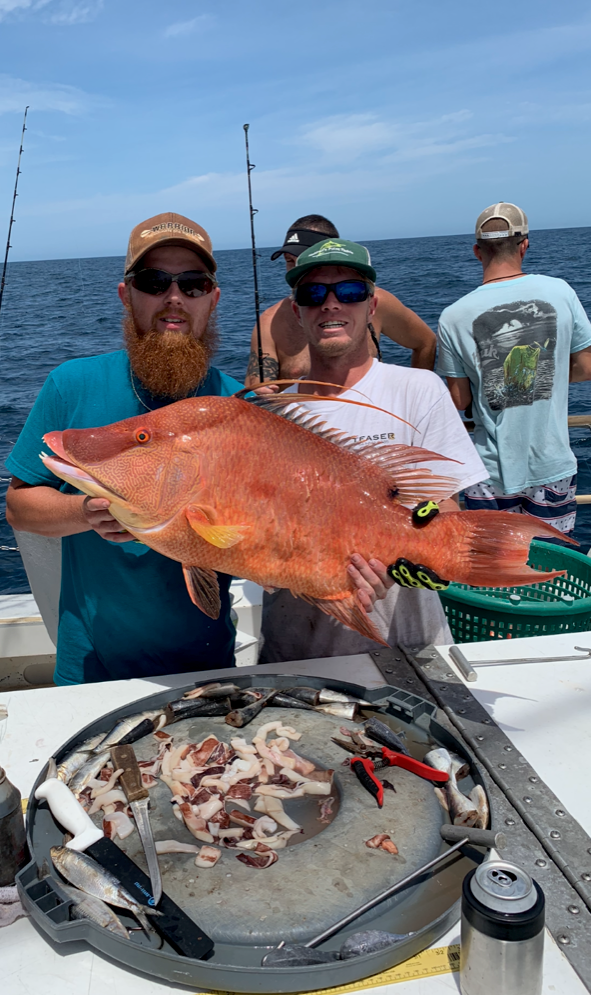 Madden explained running the three boats as Wahoo Fishing Charters, LLC is more of a passion than a business. To make a living, Madden has owned and operated No Bull Mattress stores throughout the East Coast for the past 20 years. He started the company in Charlotte, N.C. and moved to Charleston 10 years ago.
As for Brown, he joined Hammes in real estate and the two work together as a Carolina One team.
"It took Mark a little while to get comfortable with giving up a part of his life. I understood it because he's a third generation fisherman. It's all he's ever done. So just recently, he has become more active in our real estate team," Hammes said.
Brown still owns an inshore guide boat that he takes out about twice a week. After spending 30 years charter fishing, nothing will be able to keep Brown off the water; especially in Shem Creek.