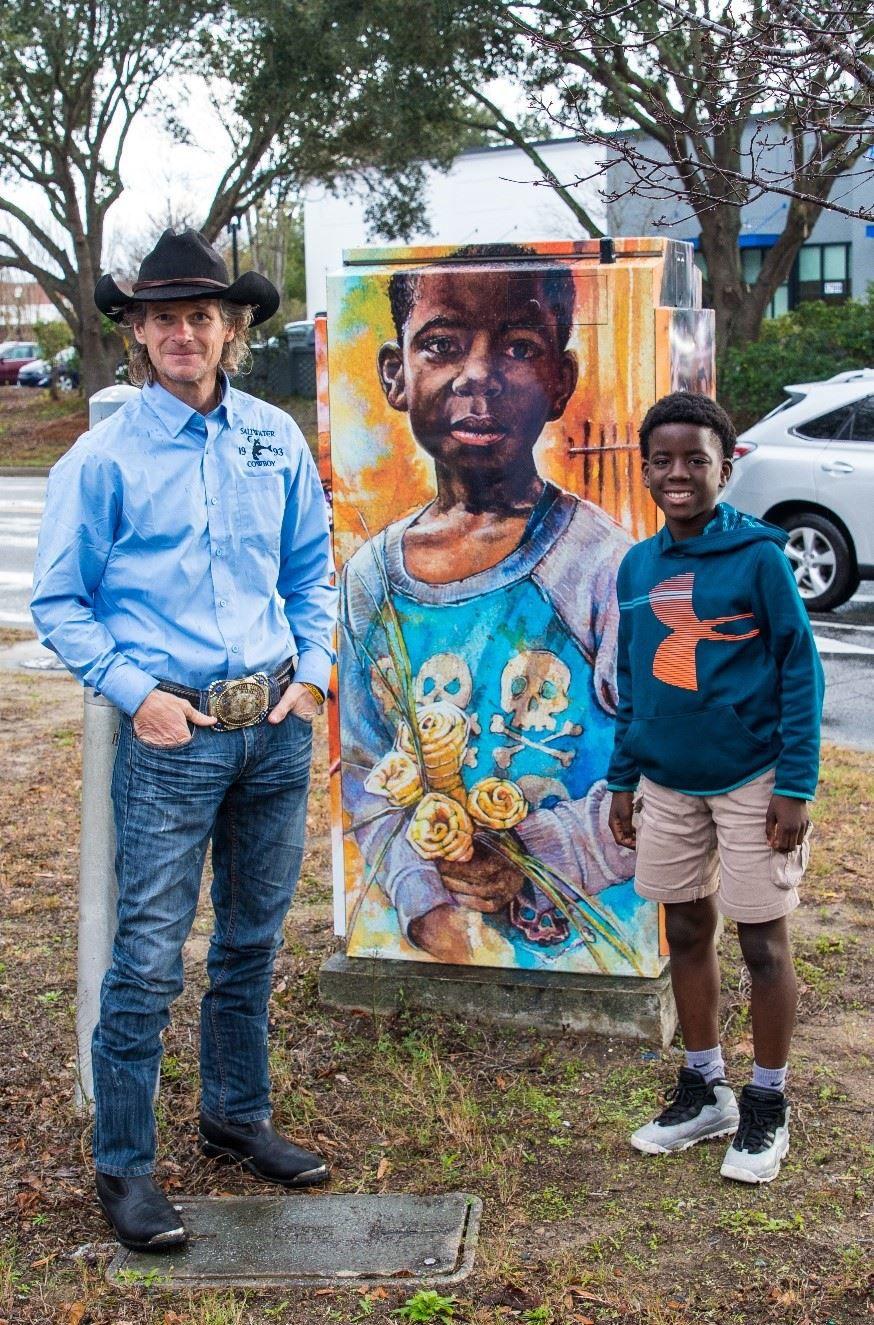 For the last five years, the Mount Pleasant Culture, Arts & Pride Commission (CAP) has been turning silver traffic signal boxes into works of art selected from local artist submissions.
The process is simple: artists submit designs to the CAP Commission and commissioners select five or six annually to wrap the boxes. High-resolution images are sent to TGI Signs who uses the art to create vinyl wraps that are then applied to the boxes.
In 2018, there were 108 submissions. CAP selected six.
One of the applicants that year was Bob Graham, also known as the Saltwater Cowboy, a renowned Lowcountry painter. He often walks around downtown, taking pictures of people for inspiration. On one excursion many years ago, he was with his girlfriend outside of Henry's when a boy came up and offered to sell them a palmetto rose.
Graham appreciated how the roses contrasted with the skull and crossbones on the boy's shirt. He purchased a rose, explained to the boy that he was an artist, and asked if he could snap a picture. He then turned the picture into a portrait and submitted it, along with several other pieces, to CAP for review.
The commissioners selected three of Graham's pieces to wrap a traffic box along the Sweetgrass Basket Parkway at a prominent intersection near Mount Pleasant Towne Centre.
"What resonated in this artwork was the quiet contemplation – the capturing of a moment in time – and the beauty and complexity that children can have in their expressions in their more serious moments," said Bren Romano Monteiro, CAP Commission Chair.
A recent Facebook post led to a meeting between Kassandria Heyward and Nicole Harvey, the town's CAP staff liaison. Town staff and the CAP commissioners were pleasantly surprised to learn that Heyward's son was one of the children depicted on that traffic box.
Heyward said that she and her son were excited and proud the first time they realized that his image was on the box and her son, Bailey, said he thought it was "really cool."
Town staff arranged for Graham to meet Heyward and her son at their traffic box. Graham was happy to see the young man he had photographed and painted so many years ago and to learn about his love of playing basketball now. At the end of that meeting, Graham gave a grateful Bailey a print of his portrait.
"As an artist I see my talents as a way to hopefully bring folks together; to show them we have more in common with one another than our differences," Graham said. "We are all the same, created from the common good and greatness of the ultimate and one true artist in His image."
Graham's box is one of 28 boxes wrapped throughout the Town of Mount Pleasant. The program continues to receive positive reviews from not only our community, but also from many other towns in South Carolina who contact town staff wanting to replicate it.
For more information about the Town of Mount Pleasant Culture, Arts & Pride Commission programs, visit tompsc.com or experiencemountpleasant.com/play.