An old wooden boat built in 1934 is less than three months away from being fully restored and tying up in the water on Shem Creek.
Several years ago, while Mount Pleasant resident Bob Graham was visiting his daughter in Raleigh, N.C., the two had a free afternoon together. They decided to pass their time visiting the North Carolina Museum of Natural History. While there, Graham learned about workboats of the Core Sound for the first time from an exhibit. He learned how they were used in World War II to look for German U-boats and periscopes above the water along the East Coast. The captains would radio in where they may have sighted an enemy vessel and dive-bombers would come. Graham explained the exhibit also showed how the fishing industry in the area was no longer thriving.
"These fishing villages, like Mount Pleasant used to be, are slowly disappearing and dying. And the boats are dying with them," he said.
A short while later, Graham was skimming through a magazine called Wooden Boat. He flipped to the last page of the publication titled "Save a Classic" to browse the wooden boats for sale and laid eyes on Sylvia II, a core fishing sound boat in Morehead City, N.C. The boat in the magazine was just like the kind he'd learned about at the museum. At the time, Graham did not know this wooden boat was going to be the biggest project he'd take on in retirement.
"I have been interested in wooden boats my whole life and never had the opportunity to really do anything with them. When this one came along we just went up there and looked at it," Graham said.
The owner at the time, Bob Simpson had bought the Core Fishing sound boat, Sylvia II for $300 in 1976 after it sunk in its slip at a dock during a storm. Simpson fixed the wooden boat and he and his wife sailed it up and down the East Coast. He even wrote a book called "When the Water Smokes" about their travels.
Graham found it fascinating that Sylvia II was one of the boats the Navy conscripted in WWII to look for U-boats. Also, 30 years prior to Simpson buying the Sylvia II, he was on dive-bombers looking for U-boats that core fishing sound boats alerted him on the coast. 
After WWII the Sylvia II was used by commercial fisherman and then used as a waterborne school bus to take children from their homes to school on the mainland in Morehead City. Then Sylvia II became a charter boat, so they built a roof to offer shelter for the fishing customers. Graham said the boat has been said to be the oldest charter vessel in North Carolina.
Simpson used the boat right up until the day Graham bought it for $2,600 in May 2014. Graham moved the boat to Wilmington, N.C. where he and his wife live part of the year. He kept the Sylvia II there for three years. 
Graham explained the boat was built to last eight to 10 years and then be thrown into the woods to rot, then the builders would just make another. The Sylvia II is the last boat of her kind. The "core sound sink netter build" of the Sylvia II has a cabin, mast, boon and round stern in the back. Graham said this way when they pulled up fishing nets they wouldn't catch on the corners of the back of the boat. Sylvia II is 36 feet long and 9 feet wide.
Sylvia II was named after the boat builder's granddaughter. Graham said it was a common practice to name boats after family members during that time. He said the original Sylvia was lost at sea or abandoned and the Sylvia II is the replacement boat. 
When he took Sylvia II from Morehead City to Wilmington to work on the boat Graham said a lot of people were upset the boat was leaving. He followed his daughter's suggestion and created a Facebook page for the boat so anyone who wanted to could follow the boat's restoration process. He said during the boat's time in Wilmington and to this day people are still tracking its progress. 
Graham connected with Mark Bayne, the director of the School of Wooden Boat Building at Cape Fear Community College in Wilmington, N.C. when he moved the boat. Bayne was formerly the head shipwright for the construction of The Spirit of South Carolina, now docked near the Aquarium Wharf in Charleston. He put Graham in touch with a two graduates from the school that helped him work on the Sylvia II for a few years. Eventually one moved to Maine for a job, and the other told Graham he had to get a job because he couldn't make a living building wooden boats.
Wood is typically flat and straight, and Graham said nothing on Sylvia II was flat or straight. But, as the boat's curved design proved to be challenging, one of the guys working on the boat told Graham he just needed to give wood time to be wood. 
As they worked on the boat he said it became really apparent, really quickly that they were going to need to replace almost everything on it. Graham said the fisherman that built these would build them on the "rack of the eye" meaning they'd look at a boat, know intuitively what worked so would just build it to last for a few years. He said since these fisherman didn't have any set plans, the reconstruction and renovation for the boat became complex.
"As we deconstructed the boat piece by piece you have to replicate each piece, which is what we did. This boat was rebuilt by hand, essentially," Graham explained. "… that's why it takes five years."
When Graham moved the boat to Charleston, Irv Herman who lives on Wadmalaw Island came into the picture. Graham's daughter was friends with Herman's wife.
"My daughter said you need to meet Irv because he knows all about wooden boats. So, I met Irv and Irv said I think I might be able to help you a little bit," Graham recalled. "He's been my mentor, friend and wizard ever since."
Herman grew up building wooden boats in a boatyard on Wadmalaw Island with his dad. He remembers when his friends as a child would run off to play but he would work on boats instead. 
"When Bob suggested we work on this it was just a wonderful opportunity to get my hands dirty and show off," Herman smiled.
The two spend several hours a few times a week dedicated to restoring the Sylvia II at the Lowcountry Maritime Society on Pherigo Street in Mount Pleasant. As they near the last three months of the boat's long restoration journey, they are focusing on what they can get done every day to expedite completion.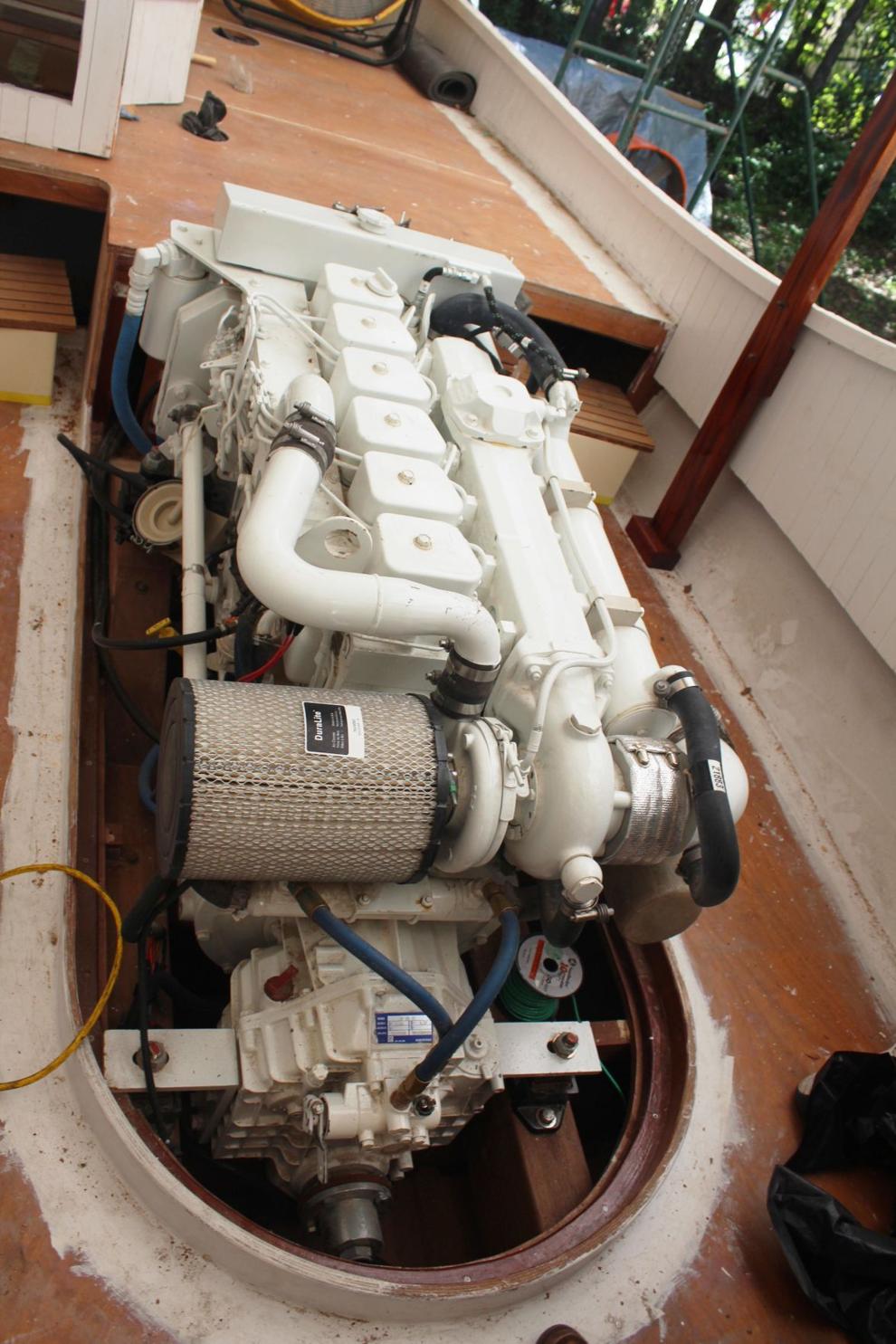 When Graham bought the boat there was a gas engine and wooden benches in the cabin. Now the cabin will have benches but a new diesel 200 horse power engine sits on the hull of the boat toward the stern. Herman who had worked on engines his whole live said he had to learn this one along the way. Through the process he has learned how to set up the engine, wire the boat, set up the plumbing and the fuel systems. 
"It's a great big puzzle, which makes things fun because doing one off things is a whole lot more interesting than doing the same thing over and over again," Herman said. 
The copper stack that went through the roof of the cabin for exhaust from the gas engine will be put back on the boat closer to completion. Graham and Herman have had several conversations about whether or not to put it back on the boat but Graham thinks it will maintain the boat's original look.
All of the original port holes, cleats and other hardware will remain aboard the renovated Sylvia II. An old wood-burning stove used to heat the boats cabin is staying put. To protect the wooden boat, Graham has put in a copper head shield and will install a stainless steel stack from the oven for exhaust. The most modern accessory on the boat is the Nature's Head composting toilet in the bathroom of the cabin. There is no flushing system and it is environmentally friendly.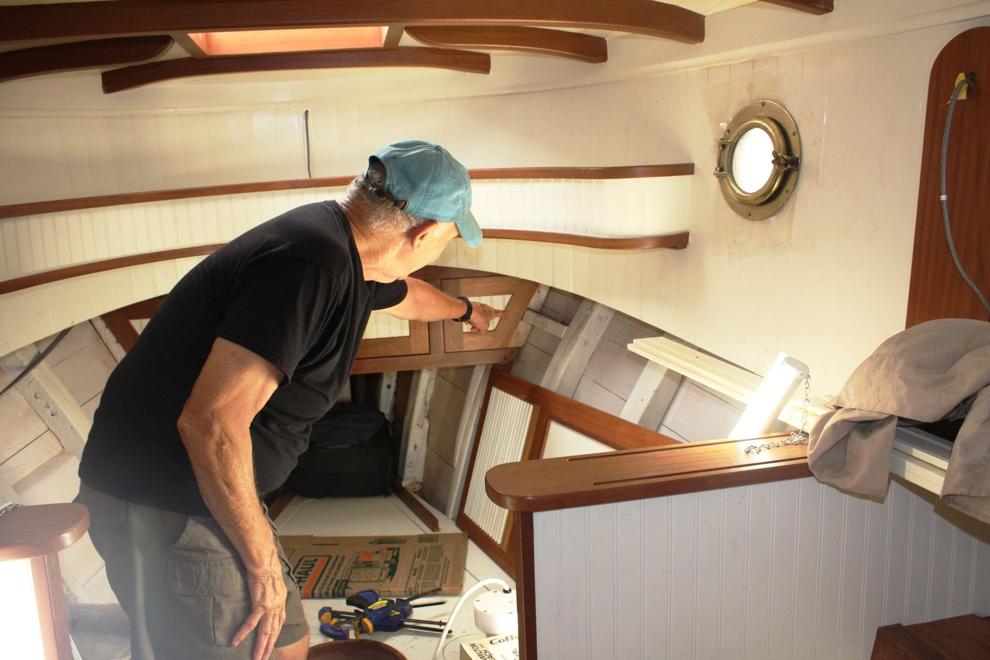 They still have to have bench seat cushions, slider windows, doors and other accessories made for the boat over the next few weeks and finish wiring the systems. They laughed there is an endless list of little things left to do. 
They will get mechanical parts from the store, but everything structural they'll need to build themselves. Herman said this requires lots of skill and use of nearly every power tool imaginable. They have even made unique parts, such as bolts, on occasion when they can't find anywhere to buy them. 
Graham said if he kept track of how much money he's spent on the restoration he'd probably cry.
"There's a rule of boating; if you keep and add up the costs of all the things you do, that's the day you decide to sell it. So I've never kept receipts for any boat I've owned because I don't want to know," Herman said.
When Graham moved Sylvia II from North Carolina to Mount Pleasant he wasn't sure where he was going to put the boat in the water long term. He said what he did know was that he didn't want to put it in a marina alongside plastic boats because of its unique characteristics. As Graham was trying to find a place to put it in Shem Creek, he said that word traveled quickly to Chuck and Lisa Sigman. The Sigmans formerly owned the Wando Dock and now own an extension of the Geechie Dock on the creek. They offered that when the Sylvia II is fully restored, he can keep the boat on the inside of their Geechie Dock extension.
Graham's family has already hired a photographer to be present when they put Sylvia II back into the water. Once in, he has several plans for the boat's purpose. 
"I volunteer at the aquarium a few days a week and they have a sea turtle release program. I've talked to them about this boat. When they take sea turtles out to the Gulf Stream they get volunteer boats. So, we're going to see if she's workable to release sea turtles when they finish rehab," Graham said.
He explained the boat's big open deck and round stern would be perfect for releasing these large sea turtles into the ocean.
Graham will also use the Sylvia II to take families and children on historical nature tours of Shem Creek. He also plans to take the boat up to Morehead City for part of the year to take people on tours "where she was kind of born."
Regarding maintenance, Herman said the Sylvia II should be hauled annually for inspection.
"Wooden boats and warm salt water don't get along real well because of all the critters in the water," he explained. "So once a year the bottom should be cleaned, inspected and that's pretty much it. If there's no damage throw it back in the water. But maintenance on a wooden boat is endless. Even on a plastic boat there's endless maintenance but on a wooden boat it's two fold."
He said it's much easier to maintain a boat than it is to fix it up when the damage has gone too far. 
"You basically have to be an old retired guy with nothing else to do except to take care of your wooden boat, and that's your recreation," Graham said.
Both men said their families are really looking forward to the boat being finished. Herman and Graham have wondered what they'll do when the restoration progress is done, but deep down, they both know they will be spending their time running and enjoying boat rides side by side aboard the Sylvia II.