Last Monday, a dog that lived a rather unique life than most passed away.
This dog didn't just serve as one's pet or as man's best friend. His life was much more exhilarating. This dog saved lives and fought crime for his community.
On March 30, Mount Pleasant Police Department's (MPPD) retired K-9 Arko's life came to an end after eight memorable years.
"He knew he was loved. He knew he was special," said Arko's handler, MPPD officer Thomas Plyler.
Plyler will celebrate 13 years working for MPPD in May. Prior to becoming a K-9 officer for MPPD, he worked in several specialized units.
In May 2014, Plyler was selected to join the K-9 unit and pared with Arko, a 2-year-old German Shepherd who was born in Germany in January 2012.
Plyler and Arko completed an eight-week training course and graduated in June 2014 and their K-9 unit career together began.
During Arko's career with MPPD, he was responsible for getting 10 guns off the street. Plyler said he also retrieved close to $10,000 currency off the street and many drugs.
Arko was also responsible for three successful K-9 tracks. One was an armed robbery suspect, another was a fleeing suspect that had been pulled over and the last was an individual that had kidnapped someone and then ran.
Plyler explained there are two types of K-9 tracks; bite apprehension and non-bite apprehension. The former meaning that the suspect doesn't surrender until the K-9 bites. The later meaning the suspect gives up upon sight of the K-9.
"All three of these were non-bite apprehension," he said. "He's a little intimidating looking. But he was a sweet, gentle giant."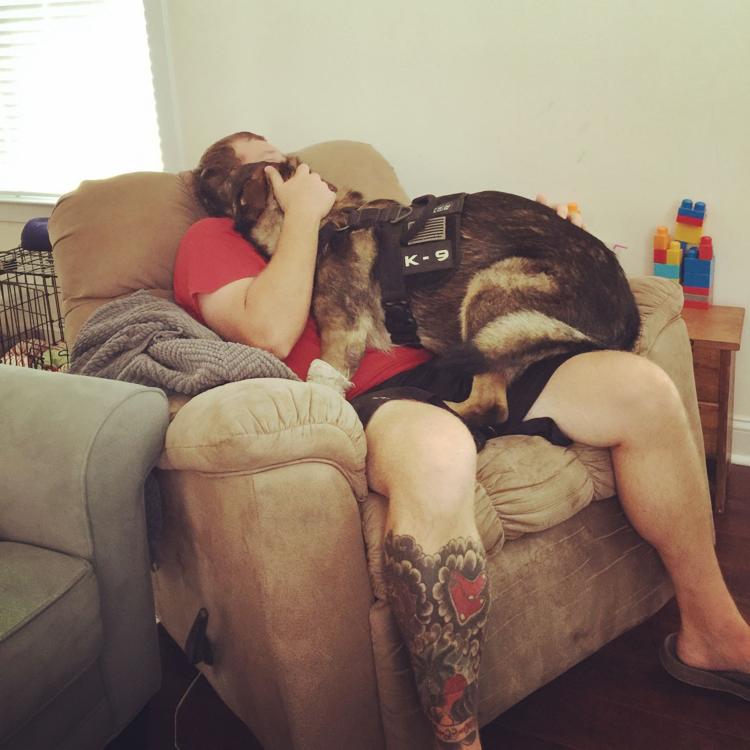 Plyler said that Arko's personality in the field could go from one extreme to the other.
"These dogs are like light switches. They can be gentle and they know when it's time to go to work. You get them keyed up and they're ready to eat a man," he said.
MPPD's K-9 units conduct demonstrations for all types of organizations when requested. Plyler said they commonly do them for assisted living facilities, Boy Scout troops, at schools and various community events.
Plyler recalled a trip he and Arko took to an Alzheimer's assisted living facility in Mount Pleasant in late 2014. One of the elderly residents in a wheelchair was a man in his mid-90s and the employees explained to Plyler that he was one of the very first brain surgeons in the Charleston area.
Arko, who was typically hyper and jumping around saw the man and immediately was drawn to him. Plyler said that Arko walked right over and nudged the man's hand and leaned against his wheelchair. The man continued to pet Arko's head for the entire demonstration and Plyler said he thinks he would have stayed there all day if he'd let him.
He also recalled another memorable K-9 demonstration they were doing for a group of special needs students. Plyler said there was one boy that had behavior issues and did not want to be calmed down by any of the officers. Eventually Arko walked over and the boy started petting him and immediately became calm.
"He couldn't get enough of the dog. The dog was just there to calm the kid. So it's the little things like that," he said.
Plyler said he admired this sweet and gentle side of his K-9 and will really miss having him by his side.
The passing of Arko has also been tough for his son who is 8, his daughter who is 5 and his wife, Jodi. Plyler's daughter was born at the same time that he and Arko graduated and began their K-9 unit. H Plyler said his wife who is a photographer has been deeply saddened by the loss. To show tribute to Arko, Jodi has compiled a video of photos she took of him over the years and wrote a poem about him, both of which can be found online here.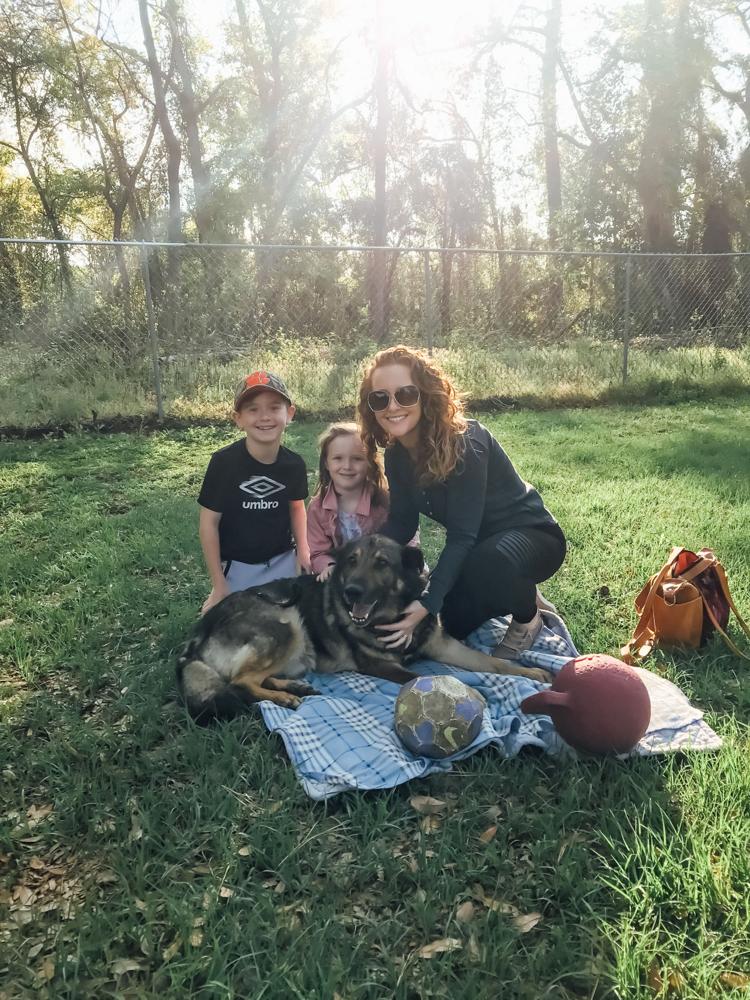 Plyler said that one of Arko's favorite family things to do was to go camping in several nearby states. Arko joined the Plyler family camping at Carrowinds, in the Asheville mountains, in Savannah and other nearby destinations.
"It was almost relaxing for him, like he knows 'ah man, we're camping, we're here as a family, there's no stress,'" Plyler said.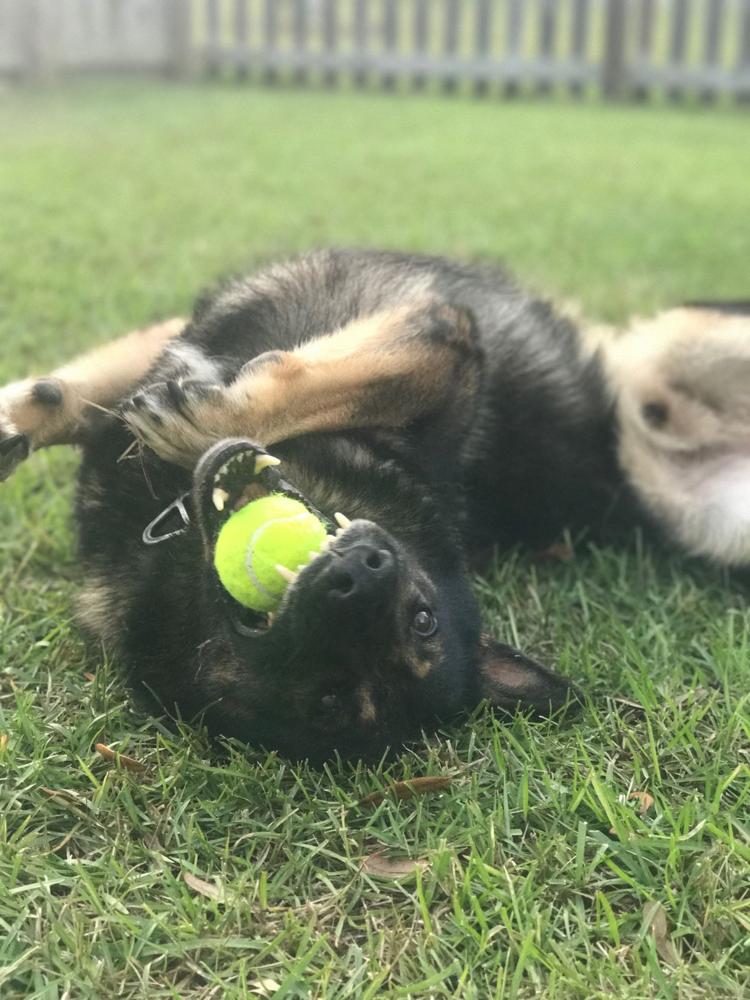 He said looking in the back of his patrol car and seeing a dog that always wants to play makes his day better and cheers him up.
"If you're having a bad day, whether it's family, work or whatever; you can always look back and those eyes are looking at you like, 'What's wrong, Dad? Let's go play. Let's go to an open field and just run.' It makes it a lot easier," he said.
Unfortunately, about a year after Plyler and Arko had been on the road together, Arko was injured jumping out of a third floor window in Mount Pleasant during a training exercise accident in June 2015 and broke three of his legs.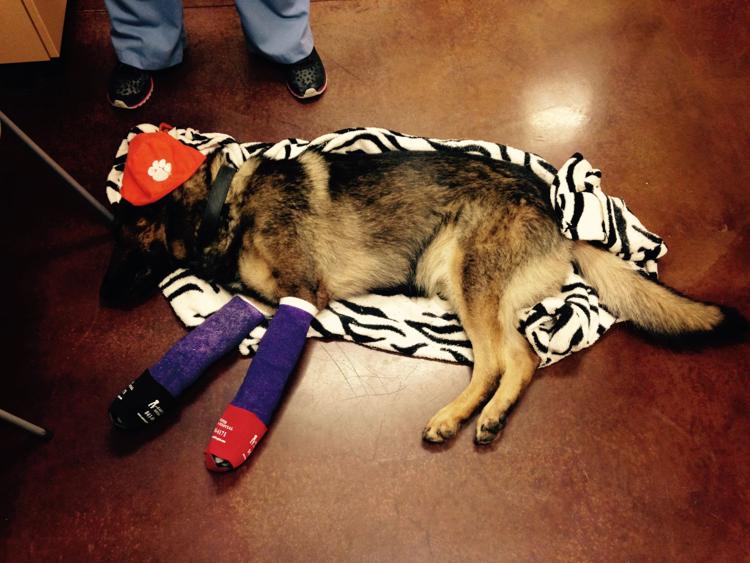 Plyler said that during that recovery time he treated Arko like one of his own children. He said he would carry him outside if Arko needed some fresh air. He had to learn to put catheters in and took Arko to all of his veterinarian appointments. He admitted it was a stressful and tough time but it's part of what he signed up for when he volunteered for this position.
"It comes with taking care of these dogs, whether they're never injured, never sick or if they do get injured; we have to take care of them," he said.
Plyler said MPPD paid Arko's medical bills for surgeries, procedures and rehab.
"They treated that dog like it was one of their own human family officers," he said.
Plyler said the dogs go through training too and the least the human element of the K-9 unit can do is make sure the dog is comfortable and has everything it needs. He laughed and said that Arko had started to become a very spoiled dog at home.
"However his drive and passion to do the work was still there and even after six surgeries and 18 months of healing and rehab he came back to work," Plyler said. "He was back on the streets and continued to work for two more years and retired in January 2019."
Arko's veterinarians assume the degenerative myelopathy disease that Arko died from was genetic. Plyler explained they are not exactly sure if his leg injuries sped up the disease or not.
Plyler compared the disease to multiple sclerosis in humans, saying that Arko lost control of his back legs and lost all muscle control. Without the ability to walk or control when he went to the bathroom, Plyler and his wife had to make the hard decision to put Arko down last week. He said there was no pressure from MPPD and that he made the call to the vet when he decided Arko's quality of life was fading.
Fortunately, when MPPD knew Arko was going to retire, Plyler got another K-9 named Chapo and started training him in October 2018. The same day the department held Arko's retirement ceremony last winter, Chapo was sworn into service for MPPD.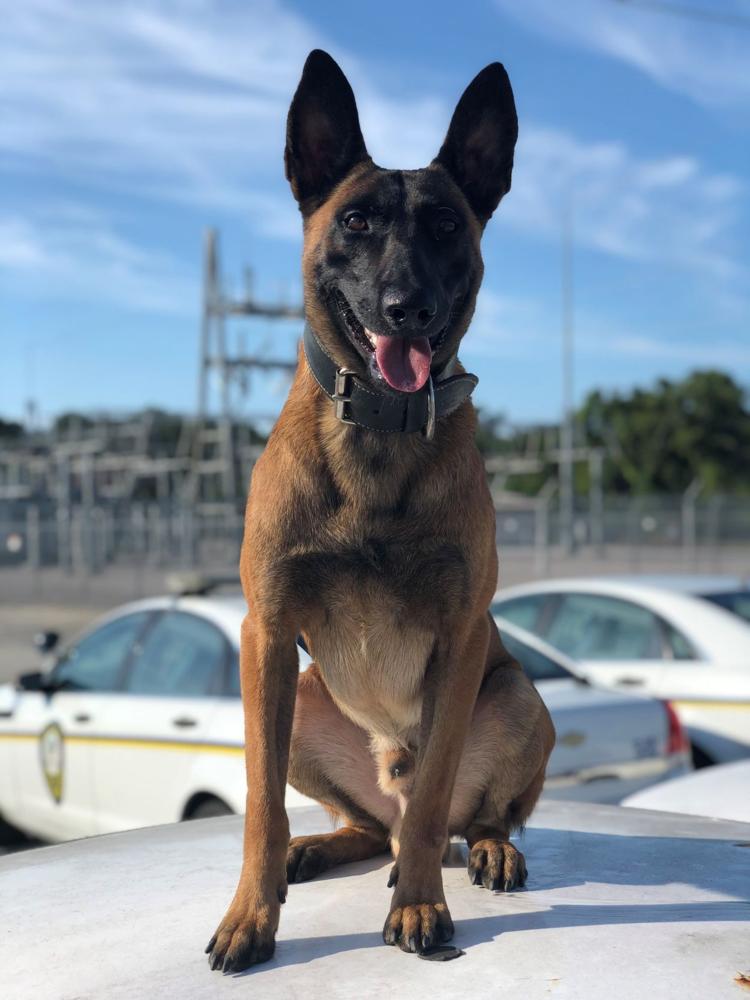 Chapo who just turned three in March has offered comfort to the Plyler family through the loss of Arko. When he returned from the vet's office after putting Arko down, Plyler said that Chapo was there to nudge him as he cleaned up Arko's bed and toys.
"Coming home and seeing another dog and being able to pet and cuddle with this one; it was still hard, but it made it a little easier," Plyler said.
As Plyler reflects back the time he spent with Arko, he shares his pride for community involvement and the fun they shared together. Now, he will continue that service to MPPD with Chapo wagging his tail in the rear of his patrol car.