Laing High School was planted into existence more than a century and a half ago. Seeded against the grain of slavery and segregation, a tribute to the former institution has once again been cemented in history.
On Wednesday, Jan. 29, members of the Laing School Association gathered to unveil the school's historical marker. The date of homage also signified Laing's 153rd anniversary.
The momentous occasion was a joyous celebration from a historical standpoint. But for families and friends of past alumni and residents of Mount Pleasant's Six Mile community, it was a reminder of how far society has come.
Dignitaries from the town, state, families and friends that spoke on behalf of Laing's triumphs through its trials and tribulations. Each and every spokesman and spokeswoman shared their connection to the storied school.
Laing School Association President Pearl Ascue, Charleston County School District Superintendent Gerrita Postlewait, Sen. Chip Campsen District 43, Mount Pleasant Mayor Will Haynie and several others gave heartfelt testimonials about the historical importance of Laing School to the community. All reminisced on the memories that have shaped the legacy of Laing in the annals of Mount Pleasant's history and role in education.
The Home Depot gifted a $5,000 check to Laing School Association's Living Legacy Scholarship. Several reverends said their praises, Laing Middle School Choir sang "My Country Tis of Thee" and Wando High School ROTC presented the colors. To view the full gallery of the event's ceremony, visit bit.ly/LaingHistoricalMarker.
But to best summarize a gloriously emotional day, the following is an overarching recount of Laing's milestones through the years.
In 1866, Laing was founded by Cornelia Hancock, a Quaker from New Jersey and a former Union Army nurse in Gettysburg, according to the Town of Mount Pleasant Historical Commission. A year after the Civil War came to a conclusion, Hancock decided to plant her roots in the Old Village.
As the school's first principal, Hancock's vision was to provide an opportunity for recently freed slaves in the Mount Pleasant area to learn to live as free men and women with a desire for better living, higher ideals and good citizenship, according to Laing High School Historian Dorothy Fludd, Class of 1955. Fludd was the first African American female to obtain tenure at the College of Charleston.
Throughout Laing's journey for racial equality, the school had been called many different names. Some titles were based on the color of skin of the students that attended, before the school was recognized as Laing Industrial School and then Laing High School. The school was named for Henry M. Laing, the treasurer of a Quaker organization and abolitionist society that financially supported the school and its mission.
Laing's first day of classes began on Jan. 29, 1866 in the war-torn Presbyterian Church on Hibben Street. Mount Pleasant had only been incorporated for 30 years at this time.
However, Laing only lasted a few months at this site after it was forced to find another premises. In October 1866, a U.S. Provost Marshall was ordered to provide another schoolhouse. The Freedman's Bureau provided a brick mansion located on Bennett and Venning Streets, which also served as a home for teachers, according to Fludd.
Over the next two school years, Laing had quadrupled its class size from 50 to 200 students. The school relocated several times, including the time it was destroyed by an earthquake in 1886, according to the Historical Commission.
Laing became part of the public school system in 1938, making it the the first accredited school for African Americans in South Carolina. The school garnered so much publicity during this time period that renowned poet Langston Hughes even paid a visit.
Fludd shared that just two years later, the Pennsylvania Abolition Society became the trustee of the school, which it later deeded over to the Consolidated School District #5 (Charleston County). However, the society had one binding stipulation for Laing. That the property was to forever remain for the use of education of Negro children, according to Fludd.
Midway through the turn of the 20th century, Laing was re-erected in 1953 on the grounds where The Home Depot now stands on Highway 17 N at the corner of King Street and Royall Avenue (Common Street). Its brick and mortar was solidified during the peak of the Civil Rights movement and the same time as Brown vs. Board of Education.
Although Jim Crow laws were still in effect at the time, Laing proved to be a trailblazer and a school that was ahead of its time. In 1955, Laing became Charleston County's first school to accept veterans completing their high school education.
Laing was the last standing segregated school in the East Cooper area. In 1965, the state ordered the desegregation of all Charleston County schools. With this mandate, students from Laing were integrated to General William Moultrie High School in Old Village. Laing closed its doors for good in 1970.
It wouldn't be until the start of the 21st century that Laing School Association would plant a memorial tree in 2004 to honor the 50th anniversary of Brown vs. Board of Education. The tree also commemorates the students who broke through and transcended the racial barriers of that time.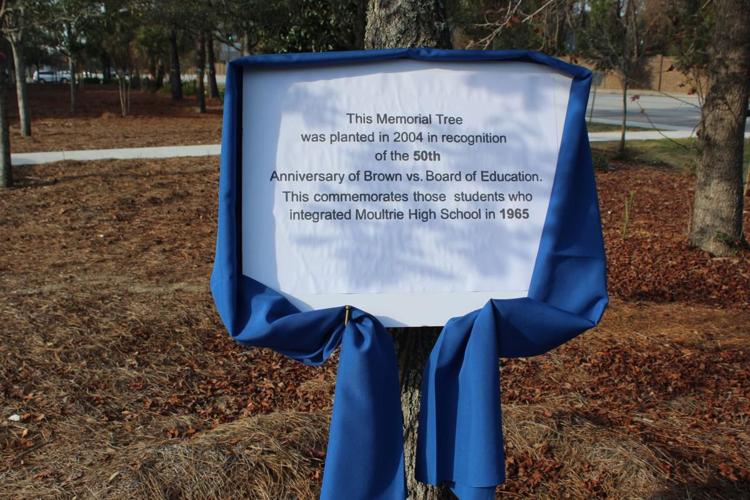 As of last week, a historical marker in the form of a plaque is cemented in the vicinity of the memorial tree to pay respect to the 10 principals who paved the way for Laing's story to exist. The following served from 1866 to 1970:
Cornelia Hancock, 1866-1876
Abby D. Munro, 1876-1913
Marie Antoinette O'Neill, 1913-1919
Charlotte Powell, 1919-1943
James Graves, 1943-1945
John R. Collins, 1945-1948
William Swinton, 1948-1956
William Rouse, 1956-1961
Fletcher H. Linton, 1961-1970
*Miriam M. Brown, 1953-1969 (*Brown was principal of Laing Elementary School that opened simultaneously as Laing High School.)
The opposite side of the plaque reads a brief description of the school's history. It also reads, "Laing students have made significant contributions to the state, nation and world."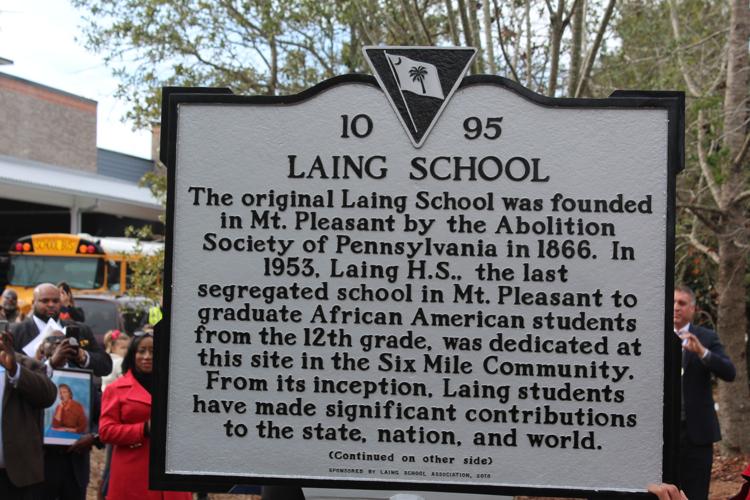 When the South Carolina Historical Marker Program began in 1936, there were only 36 African-American history related markers by 1993. Now, there are more than 350 markers to date, according to retired National Park Service spokesman Michael Allen.
Today, alumni proudly refer to Laing as the "root of the stem." As a precursor to Laing Middle School's STEM Program. Although Laing High's blue and white colors and Wolverine mascot never translated over to Laing Middle, there will always be an unbreakable bond that forges the two schools together.
Laing High's motto was "Try To Excel." In retrospect of the obstacles and adversities the school overcame throughout its quest for a better tomorrow, it seems historically accurate to say they did indeed, excel.