On April 22, 1970, 20 million Americans — 10% of the U.S. population at the time — took to the streets, college campuses and hundreds of cities to protest environmental ignorance and demanded a new way forward for our planet, according to EarthDay.org.
This Wednesday marks the 50th celebration of Earth Day.
"I think these days it is really important to have something official that we can all focus on; one day to remind us of why we do the things we do. For Isle of Palms Cleanup Crew, it's important for us to get that message out that our habits are the things that affect the earth," said Katrina Limbach, owner of Isle of Palms Beach Chair Company and co-founder of IOP Cleanup Crew.
Limbach, who is thrilled for the milestone anniversary celebration of Earth Day, has been leading beach sweeps on the island for the past two years. In May 2018, she and IOP councilmember Susan Hill Smith co-founded the crew in hopes to keep beaches cleaner. As a resident and business owner, Limbach said she felt an obligation to start something to keep the coastline and beaches beautiful for generations to come.
She said that it was exciting to see such an outpour of support from the community since their inaugural sweep. She said that they started with 30-50 volunteers and continue to have large groups volunteer with the IOP Cleanup Crew. Limbach praises the work of their entire team and said that they work with the South Carolina Aquarium to collect data based on the items people are picking up. She said they use the datea to show government entities what items they find detrimental to the environment left on the beach and then ask the governing bodies to ban these items.
Working hand-in-hand with the IOP Cleanup Crew is Howard Hogue, who is more commonly known to local residents as "Beach Santa."
Hogue has been helping keep Lowcountry beaches, waterways and roadsides cleaner since moving to Moncks Corner in December 2016. He said that the first time he went to the beach in 2017, he was taken aback by all the litter in the sand so he started walking over and picking up pieces and filled a bucket full about five times.
"I want to make the place better for my children, your children or your grandchildren. Yeah, that's what I'm doing this for and I'm trying to set the example," Hogue said.
He said that he documents every piece that he picks up and documents it into the litter-free journal for the S.C. Aquarium. He explained that he collected most of the data that helped initiate Isle of Palms City Council recently implementing the smoking ban in January 2020.
Since July 2018, Hogue has completed 463 observation cleanups throughout the Lowcountry and has picked up 206,407 total pieces of litter during those sweeps. Roughly 31% of those items he is picked up are smoking related.
As of April 14, Hogue has collected 63,928 cigarette butts and cigar tips. He estimates about 96% of those are cigarette butts.
Hogue said Earth Day is important to make sure people are educated and realize the effects of their actions, such as littering. He explained he's troubled thinking about the unknown long-term effects of all the littering happening throughout the state.
"South Carolina is a beautiful state. It should be a litter-free state," he said. "There are certain things we don't know about litter and the long-term effect of what it's going to do to wildlife, global warming and other effects that could happen as a result of litter."
Both Hogue and Limbach are passionate about the long-term goals of keeping beaches clean and trash out of waterways. As the mother of two small kids, Limbach said she thinks about the food that her kids eat from water and the impact of microplastics getting into the ecosystem or the animals that they eat.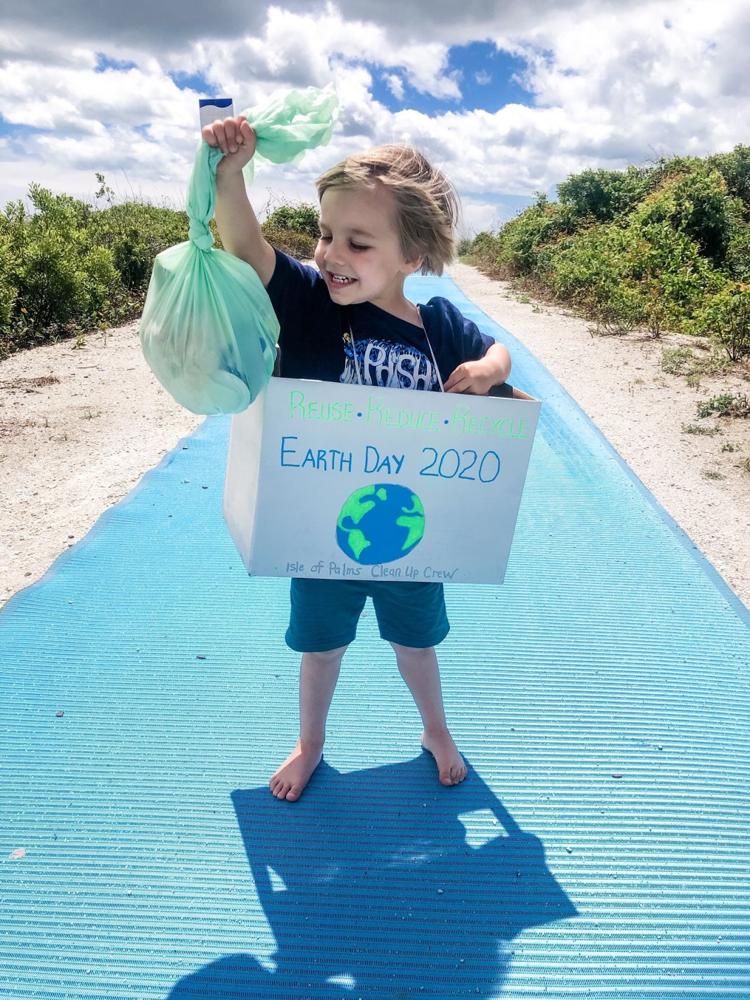 Hogue said there have been days where he has done sweeps along roadsides and pulled tons of plastic bags from the waterways along roads. He said that the bags are breaking down into smaller pieces by the time he retrieves them.
"That's devastating for the whole environment, the whole food chain because that gets into the water system and there's a possibility that sea life cold consume it. If you eat local sea life, there's a possibility that you could be consuming micro pieces of plastic from plastic bags and other plastic products that are broken down," Hogue said.
He also said when he is driving down the road if he sees something disturbing to him; he will pull over and pick up trash. He and another volunteer from the S.C. Aquarium often go together to clean up along Highway 52 beside the Francis Marion National Forest.
"That's a national forest. There shouldn't be any litter along the highway there at all. It's amazing what I find. I find money, tools, syringes, broken glass, cans, money, batteries, so much Styrofoam thrown over. It's ridiculous," Hogue said.
He said there are signs along the road that say $1,000 fine for littering and it is his opinion these signs aren't working. He said that perhaps if South Carolina offered a dime or nickel deposit for cans, bottles and Styrofoam, the state would see a reduction in litter on beaches and roadways. Hogue grew up in upstate New York and said as a kid they would pick up litter and turn in aluminum cans for a deposit to buy candy for the day.
"There shouldn't be any litter on the highways or anywhere," he added.
In March, Hogue had been traveling to each of the 22 boat landings in the Berkeley County area and picking up trash until Gov. Henry McMaster ordered they'd be closed to prevent the spread of the coronavirus. Last week, when McMaster lifted this order, Hogue said he immediately started planning to drive out and resume picking up litter at the landings.
"One thing that's so upsetting to me is that at every gas station, at every gas pump, there's a trash can. If you go somewhere and get a to-go meal or to-go drink, have a trash bag in your car; it's so simple. And when you get home or to the gas station dispose of it properly. Teach the kids and people around you that you're doing the right thing," Hogue said.
Hogue said that if a fine of $1,000 had been given for all of the litter he's picked up over the past two years, the state would have collected more than $206 million.
"When I drive down the road and see a water system, all I want to see is green. If I see something white in the water, it better be a bird and not Styrofoam," Hogue said.
According to Smith, one of the main focuses for Earth Day this year is climate change. IOP native and co-chair of Charleston Climate Change Coalition Belvin Olasov shares that now is a very crucial time for people to look at every aspect of climate change.
The coalition is a grassroots organization trying to mobilize climate change action in the Lowcountry. He explained that it is extremely important for people to try to reverse and limit their carbon emissions and pollution. He said Earth Day is a great opportunity for people to center themselves and confront the challenges that lie ahead related to climate change.
Olasov said that hurricanes and flooding are huge issues facing the Lowcountry unless people rally and do something to make a change.
"If I have a role here; it's to keep people's eye on the ball and I think Earth Day's 50th anniversary is a great time for that," he stated.
Olasov explained that the organization was recently formed from a Climate Reality Project chapter that's been around for about a year and a half in Charleston. Following the Global Climate Strike in September 2019, they created the coalition to push the urgency of their movement. He said that they have been working with other local organizations, have held tree plantings and put on a presidential climate forum ahead of the S.C. Democratic Primary.
Initially the Charleston Climate Change Coalition had many activities planned for the 50th anniversary of Earth Day. Due to COVID-19, their marches, public speakers and large gatherings have been cancelled.
"We're sort of pivoting to a quieter Earth Day which I think is okay too. More a matter of centering ourselves, realizing where we are and where we need to be," he said. "I feel optimistic about people's increased connection to the planet and realization that it's really all connected. There isn't another planet right now that we can live on."
According to EarthDay.org, the climate action theme for the 50th anniversary is so people will look at the challenges and opportunities of climate change facing the future of humanity and life-support systems that make the world habitable.
Olasov said people can be good about composting and eating local, but as an activist, the changes needed will have to come from groups of people rising up and coming together to address climate change. He encourages people to consider how they are making an impact and the long term-effects carbon emissions will have on the planet
In lieu of in-person gatherings this year, the Charleston Climate Coalition is encouraging people to take pictures of art they make at home and submit them into their Earth Day Art Challenge. They are asking all submissions be sent to charlestonclimatecoalition@gmail.com or posted on social media using the hashtag #EarthDayArtChallenge.