Shoppers at Mount Pleasant Towne Centre may notice an abstract art display at The Oaks near Barnes & Noble. It's nearly impossible to overlook the exhibit built out of canned goods.
After a weather cancellation in November, on Saturday, Jan. 11 a group of Philip Simmons High School students came together to create a work of art for an important cause: hunger relief.
Last June, Towne Centre kicked off its inaugural campaign called 'Canstruction' in collaboration with the Lowcountry Food Bank and ABC News 4. The guidelines were to design and create a Lowcountry-themed structure out of cans of food, which will later be donated to Lowcountry Food Bank (LCFB) to aid the fight against hunger among the area's less fortunate.
Canstruction is the only international canned food drive that invites and empowers designers, architects, engineers and in this case, high school students to help end world hunger.
After issuing a call-to-artists, "CAN you do it?" Towne Centre received 21 entries in which Philip Simmons High School was chosen. More specifically, a class of nine students with arts and engineering backgrounds were chosen to create the design that would appear in the shopping center. The team was led by teachers Anne Magill Payne and Kathryn Sablotsky.
After a decent amount of brainstorming during school hours and after, the team created a design which also honored their school's namesake. They decided to build a tall gate with two palm trees to honor the craftsmanship of Philip Simmons. A Cainhoy peninsula native, Simmons was a revered blacksmith from the 1930s who worked with iron to create some of the most well-known gates in Charleston.
The teacher advisors, Payne and Sablotsky admitted the students were anxious and nervous leading up to the event because they hadn't built it before in its entirety. In the weeks prior, Lowes Foods donated test cans for the students to practice their stacking techniques.
After nearly using the three hours allotted, finishing with 4 minutes left to spare, the students completed the structure using a total of 4,650 food cans and a rebar support. Payne and Sablotsky estimate a total of 20 hours were invested into the project from start to finish.
The canned creation stands approximately 8-feet tall, 10-feet wide and 6-feet in depth. The team nicknamed the final product "The Giving Gate."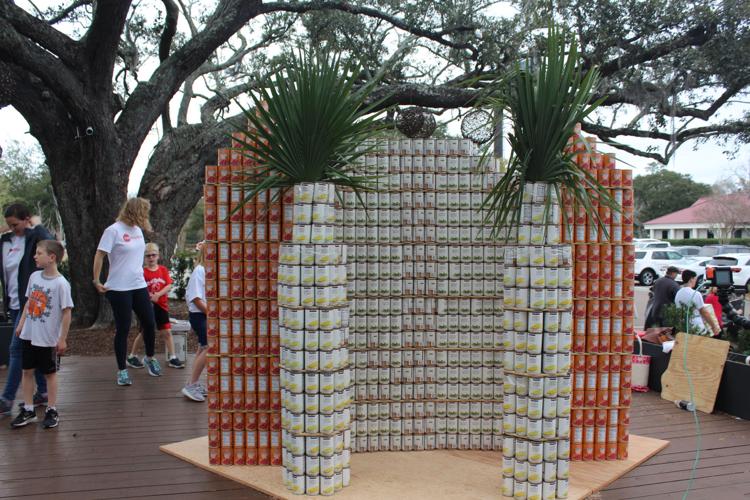 "This type of activity, an out-of-the-box, hands-on learning, community involvement is just the absolute epitome of what we want to see for our students," Payne said. "When you put passion coupled with a great administration, the sky is the limit."
Sablotsky echoed Payne's remarks and noted the newest tradition they're trying to instill is community outreach.
The advisors received a congratulatory text message from Philip Simmons High School's principal Dr. Anthony Dixon. Dixon noted Payne and Sablotsky's amazing leadership, paired with awesome students made for a tremendous success.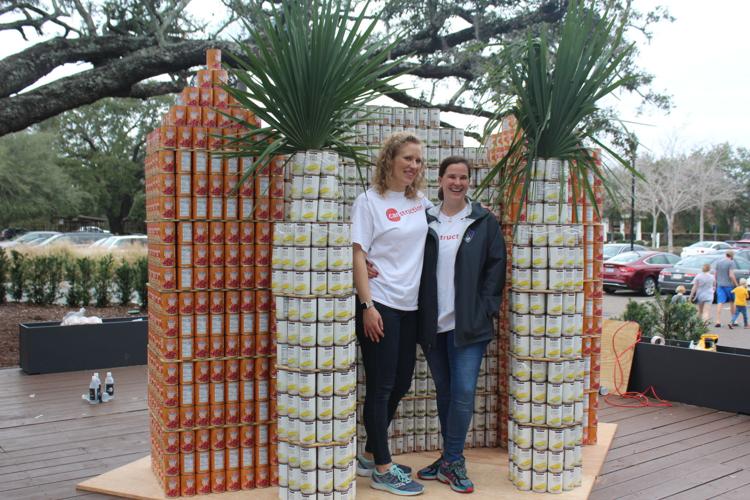 All of the cans used in the Canstruction were donated by local Harris Teeter and Costco grocery stores. The canstruction will be dismantled at the end of the month and supplied to LCFB's food pantry.
LCFB personnel said they're blessed to be the benefactor of the artwork's final product. For them, it's all about helping diminish food insecurity across the area.
"Our mission here is to lead the fight against hunger in our community, but make no mistake about it we don't do it alone," said Mark McGilvery, LCFB food resource manager. "There's a lot of good folks out there that help us with our mission. The folks involved with Canstruction are certainly an example of that."
According to LCFB's data, one out of every five children in the Lowcountry is food insecure. On average, the nonprofit feeds more than 200,000 residents across the area each year.
In 2019, LCFB served approximately 31 million pounds of food throughout the Lowcountry. The organization distributed food to nearly 300 partner agencies including soup kitchens, homeless shelters and emergency food pantries.