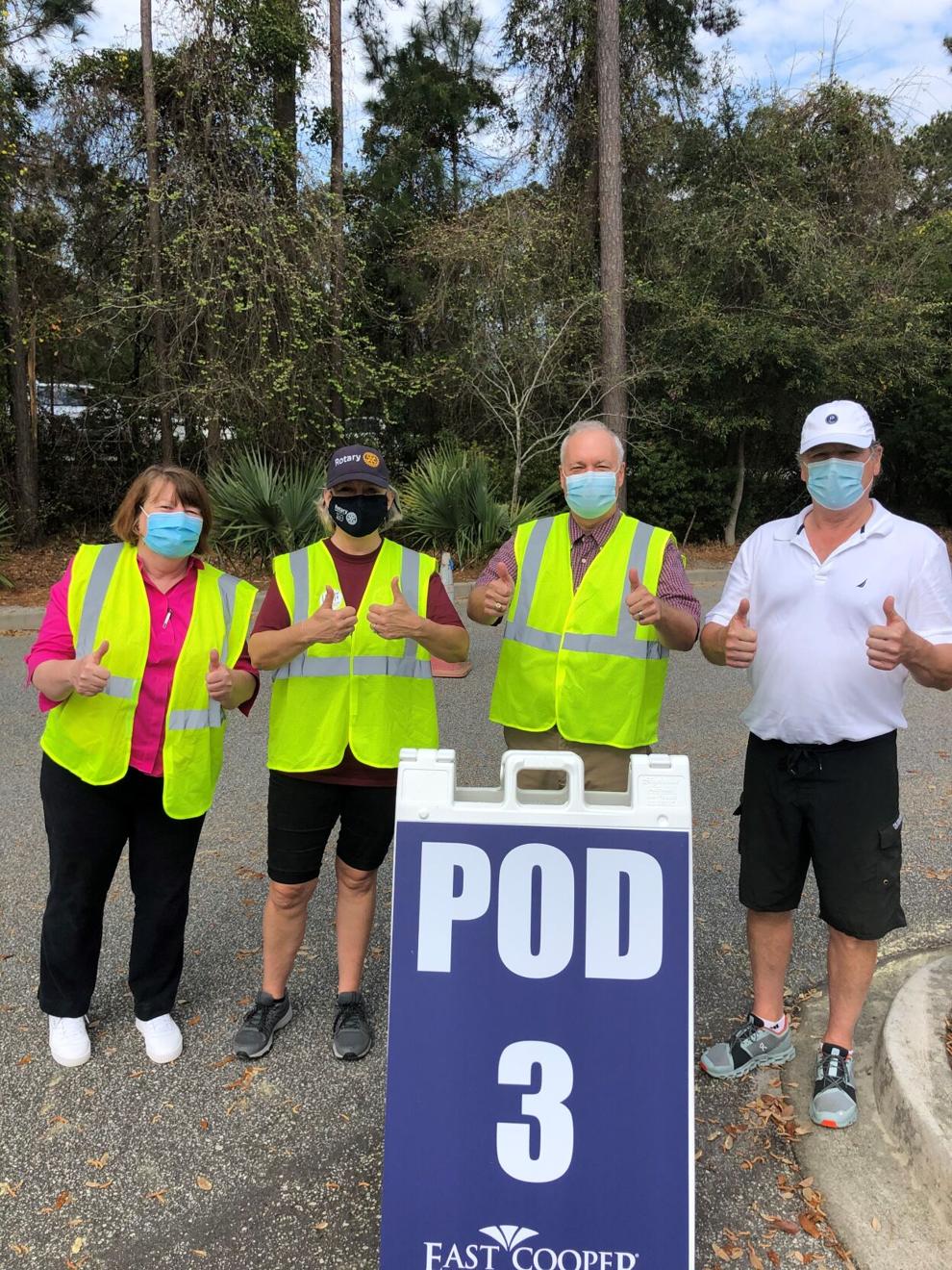 Now that all adults in South Carolina are eligible for the COVID-19 vaccine, efforts are increasing to make vaccinations readily available. Rotary Ready gathers and organizes volunteers to assist with non-medical tasks during mass vaccination clinics.
"Now that we have the vaccine available and the supplies are arriving, it's time to get the shots in the arms," said Bill Cannon, the assistant district governor for Rotary's eastern South Carolina district. "It takes an army to get that done."
In addition, volunteers will receive the vaccine. If there are no extra doses during the volunteer's scheduled time slot, they are put in a priority group and can sign up for the next available vaccine appointment.
Since both Pfizer and Moderna vaccines require two doses, volunteers will sign up for a second volunteer slot in the allotted time between vaccine doses. Volunteers are asked to cover four vaccination dates.
"It's not only a good opportunity to give back, but you do get the vaccine too so that does make the difference," Cannon said.
Volunteers can expect to work a four to six hour shift depending on the clinic. Tasks include setting up and breaking down the clinic, managing traffic, restocking supplies and completing other operational duties.
Cannon encourages businesses, church groups and other organizations to sign up as a group and volunteer together. Not only will it help the business get its name out, but it also gives the opportunity for staff members to be vaccinated, he said.
Currently, Rotary Ready is gathering volunteers at two daily vaccination sites in the Lowcountry hosted by the Medical University of South Carolina. One is in downtown Charleston at the DMV building at 180 Lockwood Blvd. and the other is in North Charleston at the former Verizon Wireless Call Center at 2401 Mall Drive.
Rotary Ready has worked with other area hospitals including Fetter Health Care Network, Roper St. Francis and East Cooper Medical Center. Cannon said the hospitals choose to host mass vaccination clinics depending on whether they are receiving enough vaccines and are not backlogged with appointments.
At the two vaccination sites in Charleston and North Charleston, around 50 people per day are needed to run the clinics.
"We really need to get some volunteers to help us man these sites," Cannon said. "We're really appealing to both individuals and businesses to support these large vaccination sites over the next few months."
Those who are interested in volunteering need to fill out the volunteer registration form at www.rotaryready.com. The form asks for basic information including the volunteer's name, location, if they have received the vaccine, ability to travel and preferred task.
If volunteering with a team or business, fill out the registration form individually and indicate the team's name in the comment box.
After registering, volunteers can sign up for one of the available clinics on Rotary Ready's website. They will be directed to a Sign Up Genius page where they can see the available dates and time slots.
If volunteers want to sign up as a group with a business or organization, email volunteer@rotaryready.com to schedule a specific day and time slot.
After filling out the registration form, volunteers enter a "volunteer pool" and will be notified when other vaccination clinics are available in their area.
Rotary Ready is a statewide effort to help increase vaccination efforts across South Carolina. The organization has gathered volunteers for mass vaccination sites in Florence, Myrtle Beach, Sumter and other areas across the state.
In addition, Rotary is working with leaders from the seven African American settlement communities in the Mount Pleasant area to provide the vaccine to rural residents. The grassroots effort focuses on the elderly population who may not have access to technology to schedule an appointment or transportation.
East Cooper Medical Center sets aside a certain number of vaccines for settlement community residents — almost 100 people have been vaccinated through this effort so far, said Sandy Morckel, the past president of Rotary Club of Charleston and member of the leadership team for Rotary Ready.
"We really want to target rural and urban areas that are underserved," Morckel said.
She said its especially important to reduce the stigma surrounding vaccines by providing accurate information related to COVID-19.
"At Rotary, what we do is 'service above self,' so we tasked ourselves with getting out there and being a part of the solution," Cannon said.
For more information about volunteering, visit www.rotaryready.com.