A long celebrated artisan craft in the Lowcounty has been making its way through generations. Sweetgrass basket making is a special skill that one can learn, and once perfected can make into art.
Henrietta Snype and Corey Alston are two local artisans that are well known for their talents making Sweetgrass baskets. Both of the Mount Pleasant natives met me down at the Sweetgrass Pavilion on quite possibly the hottest day of the summer to discuss their generational history and why they hope this Gullah culture tradition is carried on for years to come.
As we sat under the Pavilion and the breeze from under the Arthur Ravenel Bridge cooled us off, we wore masks and sat a safe distance apart as we began our discussion.
Snype and Alston have been weaving baskets for 82 years combined. Snype learned at the young age of seven and has not stopped creating this art form for the past 61 years. Alston learned from his now-wife back when the two were teenagers and has been making baskets for 21 years.
Snype explained that Sweetgrass baskets are an art that originated in West Africa and was brought to the Gullah Geechie Corridor by slaves. Her ancestors settled by Boone Hall Plantation.
"They didn't have anything to work with, but they knew they had to keep this craft alive," Snype shared.
Crops that used to and continue to grow around Boone Hall is the reason they found a way to keep the art alive. Snype's family would collect everything from Palmetto leaves, bull rush grass, pine needles and grass to weave their baskets. In the early days, Snype said they had to think functionally, so when they would kill an animal to eat it, they would keep the bones to use as tools for weaving.
"Every generation teaches the next generation," Snype said.
Snype's grandmother, Elizabeth C. Johnson, taught her mother, Mary Mazyck, who then taught her how to weave Sweetgrass baskets. Snype has gone on to teach her daughter Latrelle Snype who then taught her granddaughter Kayla Snype. These five women have all been taught the same skill to carry within their family.
"You pass it on to the next generation and once you learn and master this art, you never forget," Snype said.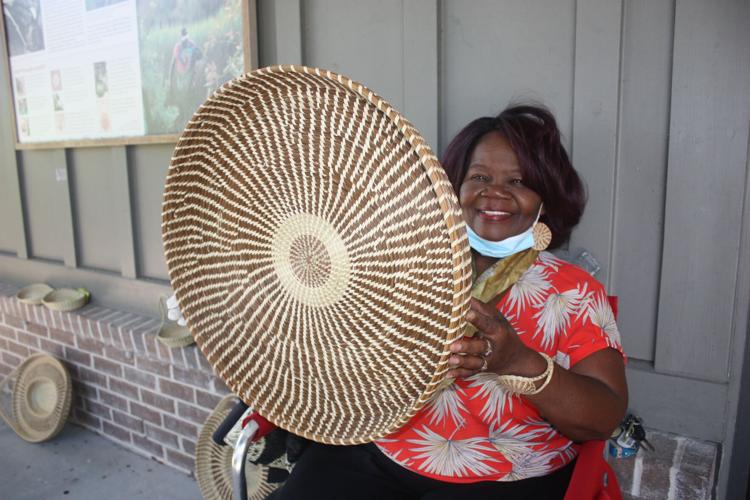 When she was 7 years old learning from her mother and grandmother, Snype recalls not having a choice about what she would or would not do, instead she was told what to do. She remembers begging her mom to just work on the walls of the basket, but instead they made sure she mastered the base in order to make a nice Sweetgrass basket. She explained she is very thankful to have been raised that way because it has enabled her to perfect a skill that enabled her to travel the world and teach.
Snype estimates she's made several thousand crafts and baskets from Sweetgrass. She made her first pair of earrings from Sweetgrass materials in 1988. She used to make more than 30 pairs a week but now she makes less than five pairs a week and sells them at Hermosa Jewelry in Mount Pleasant. She explained earrings are time consuming because she strips down Palmetto Pine and likes for them to be perfect.
Just as she was innovative on how she could use her artisan talents to make more money for the use of her time, younger generation basket weavers like Alston are doing the same.
"We have to accept the fact that we have different things; we can do different things. We can keep the traditional style and we can move to contemporary," she said.
Snype complimented Alston who created an innovative business photographing baskets and putting them in frames for sale. She said that younger generations are doing what they need to do to be successful in their basket weaving business and regardless of their age, they all have to work together.
Alston grew up in the Snowden Community of Mount Pleasant. He said the Snowden ancestors were known for gardening, brick masonry, field working and a number of other skills; but not basket weaving. He explained he is a part of the Gullah Culture through his bloodline, but he is not a generational basket weaver.
Instead, he took up the talent when he was 17 years old sitting on the porch with his now-wife, Karen Alston and her grandmother, Mary Jane Manigault. As fate would have it, Snype's grandmother Elizabeth C. Johnson is Manigault's sister.
Snype said she was elated to find out that Alston started learning how to make baskets from Karen's family and that the two grandmothers were matriarchs of Sweetgrass basket weaving in the Mount Pleasant community.
"It's been a part of my culture for decades. I fell in love with the tradition of basket weaving when I realized that I had a very neat stitch. A lot of people have done baskets over the years and some of them will look a little neater a little tighter than others. I really enjoyed my stitching and I didn't mind to do it because it didn't look that bad," Alston said.
Now, Alston's two daughters have both learned how to weave Sweetgrass baskets and are sixth-generation bloodline basket makers. Yesmine Alston (18) and Corren Alston (13) have both made several baskets and other crafts.
He said that since he was a kid, he has been told that men make a pretty basket. But, it wasn't until his teens when he was able to try for himself when he made his first basket. He said Manigault was in her late '90s and gave him a thumbs up and that feeling stuck with him and urged him to expand his skills.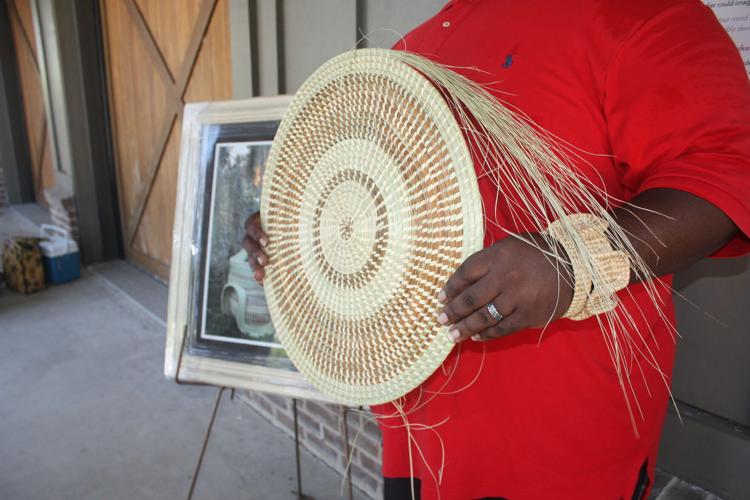 "'You're doing a good job. Keep it up boy' is exactly what she said. And I never forget that. It was like she gave me the green light," Alston said.
Manigault was still alive when he branched out with his new business blend of Sweetgrass photography, so he ran that idea by her as well. He said she didn't say anything, but she smiled and nodded her head so he felt as if she was saying that was okay.
"I didn't want to do anything to change the art work to diminish the art work that our forefathers have done for generations. So when I did the photography blend, I wanted to make sure it didn't take away from what was done for so many years. I wanted to make sure that it was still considered respectful and authentic," Alston said.
His photography blend took the realization that prints could take one basket and turn it into several pieces of art with coastal scenes along the Gullah Geechie Corridor from Florida to North Carolina in the background. He makes these in his print studio and framed his first one in 2010 to get his family's opinion. When he received positive feedback, he took his high school hobby of photography and launched the business in 2014.
Alston has never photographed anyone else's baskets and sold, only his own to avoid any issues. His price point for his prints are entirely different than his baskets. He bases the cost of the prints on the time spent creating the baskets pictured, the paper, the ink and the originality of the shot. Alston sells his photography at the State and Coastal Carolina Fair, the Flowertown Festival and keeps a limited supply to only sell at several events per year. He said that the photography company is for a residual income so he can continue selling a basket again and again.
Alston said it's hard to estimate how many baskets he has weaved over the years since he weaves them every single day. He said there are many reasons for weaving, but one of the main ones is the look on a client's face when he finishes a piece.
"For them to say wow, you've taking this earth substance, this dry grass and turned it into one-of-a-kind piece of art. I wouldn't call it instant gratification because I didn't get it done instantly," he said. "But it's a fulfillment that lets me know that the client is pleased with what he or she requested, and I got it done."
Barbara Nwokikek, who is a board member of the SC Arts Commission, is Alston's biggest collector. She owns four commissions, including two 36-inch rice fanners.
He said there is something special about creating something that has been inherited and taught through generations in the area for hundreds of years.
"I'm very grateful for that," he commented.
Snype explained that although the Sweetgrass baskets are sold throughout the Lowcountry, their real home is in the East Cooper and that the basket stands that line N. Hwy 17 in town represent the true history for this craft in the area.
"It's always a part of the area of Mount Pleasant because Mount Pleasant is the home of the basket makers," Snype said.
Alston explained men have always been a part of Sweetgrass basket weaving but women have been credited for keeping it alive for over the past 300 years after the days of enslavement by passion to carry the art from mother to daughter. He said men have always been behind the scenes harvesting material or creating the stands on the side of N. Hwy 17 for supplemental income.
He said the women being credited for keeping the art alive in their bloodlines is a great part of the history of Sweetgrass baskets.
"The basket has come a long way and I am very proud to see it this far. Every time I see a newcomer, I help them out," Snype said.
She is 68 years old and when she is done, she is hopeful they will be able to carry it on. Snype explained a lot of the older basket makers have passed away.
"This belongs to our community and we have to make sure our next generation gets involved," Snype said.
Snype said she'd like to see the stands on Hwy. 17 filled with basket makers again. With the pandemic, she finds the stands an easier place for people to stop by and make purchases.
Alston estimates 25 families carry on the Sweetgrass basket making tradition in Mount Pleasant, with around five to 10 artisans within each family. He suggested maybe instead of making them rent the stands, the artisans could be given a stipend or gifted a place to sell to attract them to keep the tradition alive, while also being able to make a living for themselves.
"The value of the baskets increased over time when folks decided that instead of using it, why don't we use it as a collector's item. So they've realized they're functional for use, but they're also art," Snype said.
Alston explained that the art form came from the Gullah culture. He explained within that culture comes their ways of speaking, their Christian faith, ways of preparing foods, ways of harvesting and more.
As the basket makers work hard to keep the tradition alive, they are also finding new ways through the COVID-19 pandemic like many other small businesses.
Alston explained basket makers don't have a way to mass order their supplies online for delivery or a store to go bulk buy their supplies. He said some families may pay a stipend for a bulk to be collected for them, but that most local weavers harvest their own materials.
Snype said development has taken over a lot of the land that they used to harvest from. Now, she said they're struggling to find the materials on the coastal areas of Florida, Georgia, SC and NC.
"There is no guarantee whether you can get this material every year. And now, the pandemic that we have now, a lot of these people who are to collect the grass they haven't been able to go. So this season is almost shot," Snype said.
Also, in the past, weavers have gotten permission to gather materials from private properties along the coast. Alston explained that when the properties conduct burnings to clear land for agricultural purposes, it can impact their ability to harvest materials. So, basket makers are using their creativity to determine how and where they will collect the Sweetgrass.
Snype explained weavers don't count their material needed to complete a basket, you just start with one piece and work your way towards completion. She said that she would collect pine needles and was taught to use every scrap off of the floor to make a basket. In her family, they were taught never to waste any supplies.
Throughout her life, Snype accomplished many things and traveled near and far. Some of those endeavors include:
Being named a part of the Columbia Arts Commission
Teaching two classes inside the Smithsonian Institution
Weaving a star made of Sweetgrass for a Christmas tree inside the White House
Traveling to teach Sweetgrass basketry in schools for 30 years
Additionally, her work has been on display in the Preservation Society of Charleston, the Visitor Center in Beaufort, the Zero George hotel downtown and Smithsonian's African American gift shop and sold in local stores or by mail order.
She explained she stays in the forefront to push the tradition forward and she's excited to see how younger generations will carry it on. She is hopeful the contemporary and new ideas, such as the ones Alston sells will continue to push the craft along for many years.
Alston, who was named the 2018 Artisan of the Year and sits on the Mount Pleasant Board of Arts Commission is excited to continue weaving baskets and making large one-of-a kind commission pieces.
The Charleston Area Convention and Visitors Bureau and Explore Charleston is preparing to announce his most elaborate commission to date that will be on display for the public downtown.
His excitement for this project is the reason he looks forward to many more as he works to keep the art and tradition alive.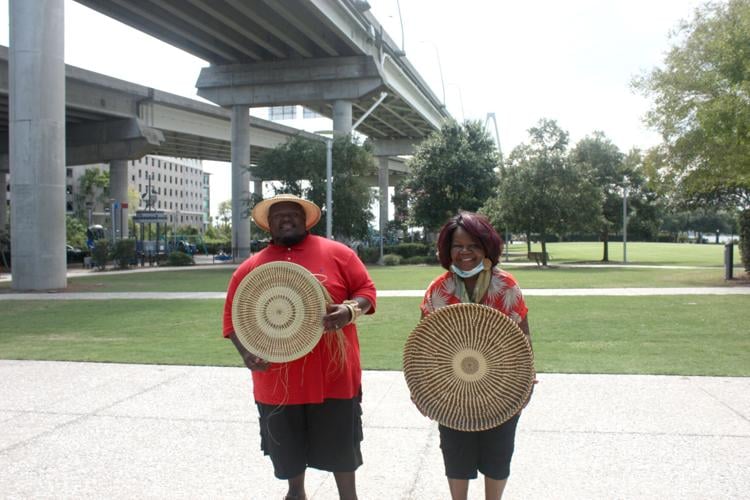 Snype applauded special recognition for both Thomasena Stokes-Marshall and Dale Rosengarten for giving the time and service pushing the tradition of the Sweetgrass baskets to the forefront of the Mount Pleasant area community.
Stokes-Marshall helped spearhead the Town of Mount Pleasant's annual Sweetgrass Festival which has been celebrated for the past 13 years. Alston said although she is retired now, she is still greatly involved. Rosengarten wrote about the history of Sweetgrass baskets in the Lowcountry for a project by the McKissick Museum of the University of the Lowcountry. Snype said the history she shared in her book called "Row upon Row: Sea Grass Baskets of the South Carolina Lowcountry" is a remarkable recap on the history of this artisan craft.
Now, due to the coronavirus health pandemic the town has cancelled the annual Sweetgrass Basket Festival at Mount Pleasant Waterfront Park.
Alston, who was wearing a face shield so people can still see his face and smile as he weaves, said that would be a great thing for artisans to receive during these trying times. Snype agreed and is hopeful perhaps some money for the festival could be used for masks, face shields or hand sanitizers for Sweetgrass basket weavers.
As Snype and Alston sat at the pavilion on that hot summer afternoon, they looked out into the park. They both expressed that they are hopeful the town and locals will still continue to support their work into the future, but especially this year as they are unable to celebrate the heritage with the festival.
Read about how Mount Pleasant natives,Henrietta Snype and Corey Alston, celebrate their generational Sweetgrass basket heritage here.