Lucy Garrett Beckham High School is here, and it is ready.
Just this week Callie Dollahon, an earth science teacher at the new school, completed a special initiative to brighten the start to the new school year for the teachers.
Dollahon, previously taught at Wando High School where she was hired by Principal Lucy Garrett Beckham in 2012.
"She's the best principal I've ever worked for. I've taught at charter, private and public schools and I've taught in the Upstate and down here; and she was the best," Dollahon said.
She explained Principal Beckham as the kind of person who would see you in the hallway and remember something unique about you, even if she barely knew you.
During Dollahon's time at Wando, she and another science teacher, Margaret Burwell took on a special project together that she is now expanding at the new school. Burwell had a green thumb and had always cared for Principal Beckham's office plants over summer breaks for intensive care. There was one plant that didn't need care that stayed year-round in Beckham's office. It was a pothos, or philodendron plant, that can survive without natural light in an office space.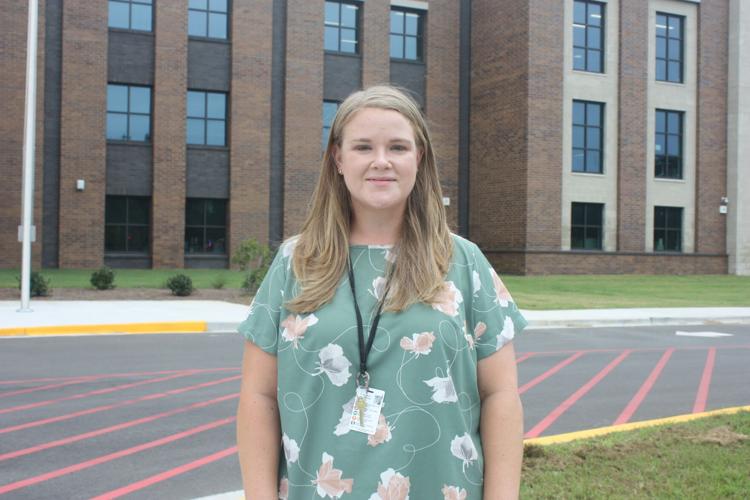 When Principal Beckham unexpectedly passed away in 2015, the pothos began climbing up the windows in her office. Her administrative assistant at Wando, Susie Davenport gave Burwell the plant. From there Burwell and Dollahon took cuttings and rooted them in flasks inside their science labs. They would give them away teachers at Wando who wanted a "Lucy plant."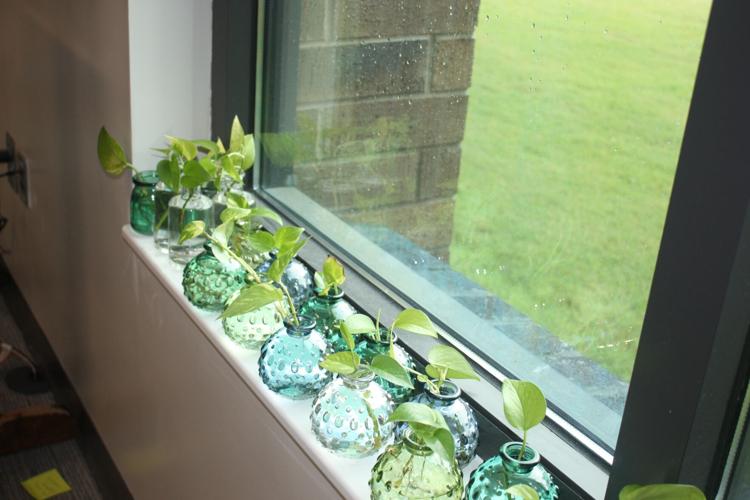 Dollahon has continued to cultivate one of the pothos roots over the past five years. This June, she rooted three and put them in pots for the school's administrators, Daniel Cieslikowski, Marjorie Clark and Principal Anna Dassing.
"I gave it with the message that Lucy was all about growth and that this was a piece of her plant in her office," she said. "Also, that it was okay if it didn't root because one of the other things Lucy said was, 'we're going to try something, these are the reasons we're going to try it and if it doesn't work we will try something else.'"
Afterwards, she told Dassing she wanted enough to give one to every teacher at the new school because of the symbolism of the growth of the school and the legacy of Principal Beckham. Dollahon spoke to Burwell, who still had the original plant and has since been able to root 100 plantings.
Dollahon asked the school's new art teacher, Eric Hansen, to design and print a legacy tag to go on the glass jar of each of the plants. The tags explains the plants stand for growth, doing what is best for kids and as a reminder to keep an eye out for ways they can become better educators. On Monday, Dollahon and Dassing gave the legacy gifts out to the teachers and staff as they embark on the new school year. Each tag displayed Beckham's famous quote, "Do what is best for kids."
Last Thursday, Aug. 13, Dassing walked through the empty halls and classrooms of the new three story school located at the site of the former Wando High School. The new Charleston County School District facility cannot be missed at the intersection of Mathis Ferry Road and Whipple Road in Mount Pleasant.
"We're here. We made it," Dassing said. "The staff is super excited and they're very energized by each other. I think them having a beautiful space to be able to come into just makes all the negative that we're experiencing right now just a little more bearable."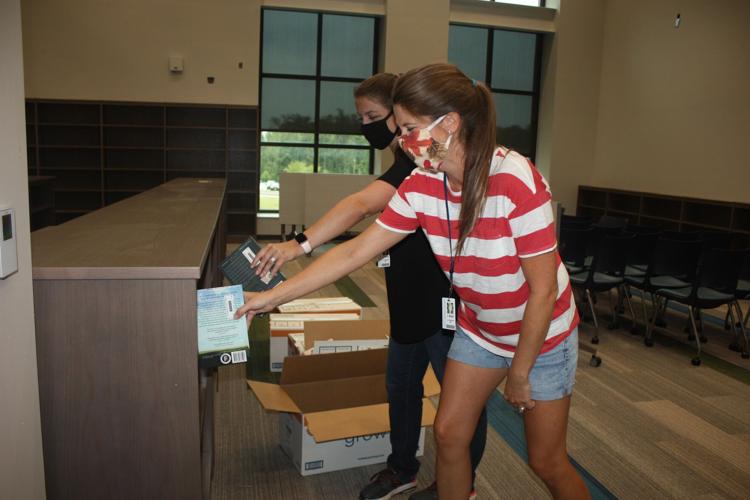 As Dassing passed through the school, she pointed out the new learning spaces, cafeteria, gyms and even paused to watch the media center specialists place the first book onto a shelf in the library. What seemed like a dream just months ago, is finally a reality to Dassing as her faculty and staff now occupy the building each day as they gear up for the 2020-21 school year. Something that Dassing describes as a huge sense of relief and excitement.
"We've been able to 'open it' with little to no issues. The construction team, the architects and the CCSD operating team worked hand-in-hand the whole time. And to see all of that hard work come to fruition and now have our building ready to welcome our students is a feeling that is indescribable," Dassing said. "I'm proud. I'm excited. I'm nervous. I'm also a little disappointed that we're right in the middle of a pandemic."
She explained they have a philosophy that rather looking on the negative side of things, they are focusing on the positive and that opening in the middle of a pandemic is an opportunity to rethink how they do school for their students. They are also evaluating how they connect with students, even in a virtual environment.
As she stopped by the school's new art studio, Hansen was finishing loading supplies into the closets along the classroom's back wall. He admitted this fall will be different as he is working to come up with innovative ways for students to complete art projects at home. He explained the school is doing the best it can to make this year as normal as possible for the students. To him, he said, it seems as though each school, each district and even each state have slightly different COVID-19 response plans.
"I think that what's occurring with COVID is essentially an evolutionary step in education," Hansen said. "I think we are put in a position to do things differently right now, which I think ultimately will result in us being much better teachers, if and when, we get back to what we are accustomed to before."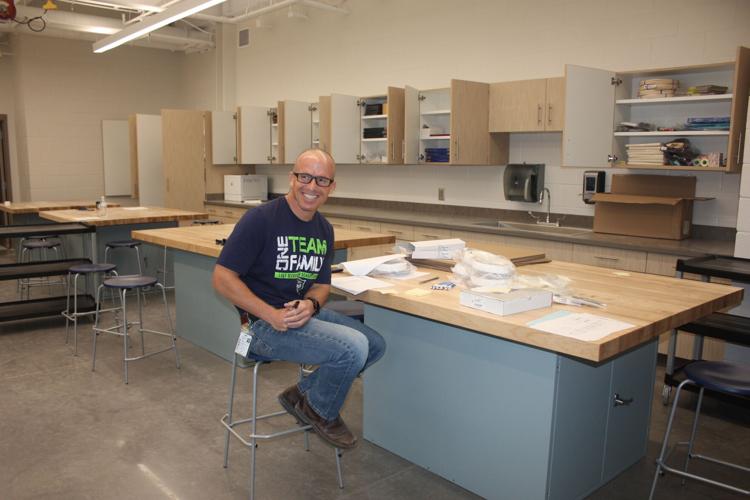 Hansen explained his dream was to be in front of kids, but now the current situation has forced him to get acclimated with the technology and current best practices for instruction that he has observed at the elementary school, but has not attempted himself before.
He previously served as the principal at North Charleston Creative Arts Elementary School for seven years. He explained that coming to this school will bring his education career full circle, as he taught for 11 years before moving into administration for the 14 years.
"I'm excited to teach post-administration just to implement all that I've learned being on both sides and I'm excited to be working with young people again," Hansen said.
There were several other motives that attracted him to the new school. Hansen will be the head wrestling coach for the high school. Also, he hopes to be a part of the walk with his daughters as they attend the school. His daughter Sofia is a rising sophomore at Beckham and his younger daughter, Sasha, will be at the school in four years. It will also be a first for Hansen as he has never taught at the high school level over his past 25 years in education. He has only coached varsity wrestling at Byrnes High School in Spartanburg District 5 in the Upstate.
"I am excited to be a part of something new like Lucy Beckham," Hansen said.
Dassing said that this year will be a year of uncertainty. She said they will need patience, flexibility and grace from the parents and students as they all figure out how to get this first year just right. The school has not made a decision of exactly how many students are going attend face-to-face instruction or if the school will open just with virtual learning at first. But Dassing said whichever way they open, that the teachers are prepared and have continued training all summer long for either method.
"We are here and we are going to make the best of the situation," Dassing said." We really want to engage our students and we're going to. It's going to be the best experience our students have ever had, virtually or in-person. We're ready."
Lucy Garrett Beckham High School is complete and ready for the start of the 2020-21 school year.