Couples with weddings scheduled for the springtime have had to plan around the coronavirus in unexpected and inconvenient ways.
Three different couples from Charleston had three very different experiences after painstaking planning and preparation was skewed by the COVID-19 pandemic. The old adage "love waits for no one" doesn't quite apply during an unprecedented pandemic.
Unique wedding stories to say the least, here's how these sets of lovebirds coped with an uninvited guest (COVID-19) who tried to dampen one of the happiest occasions of their lives.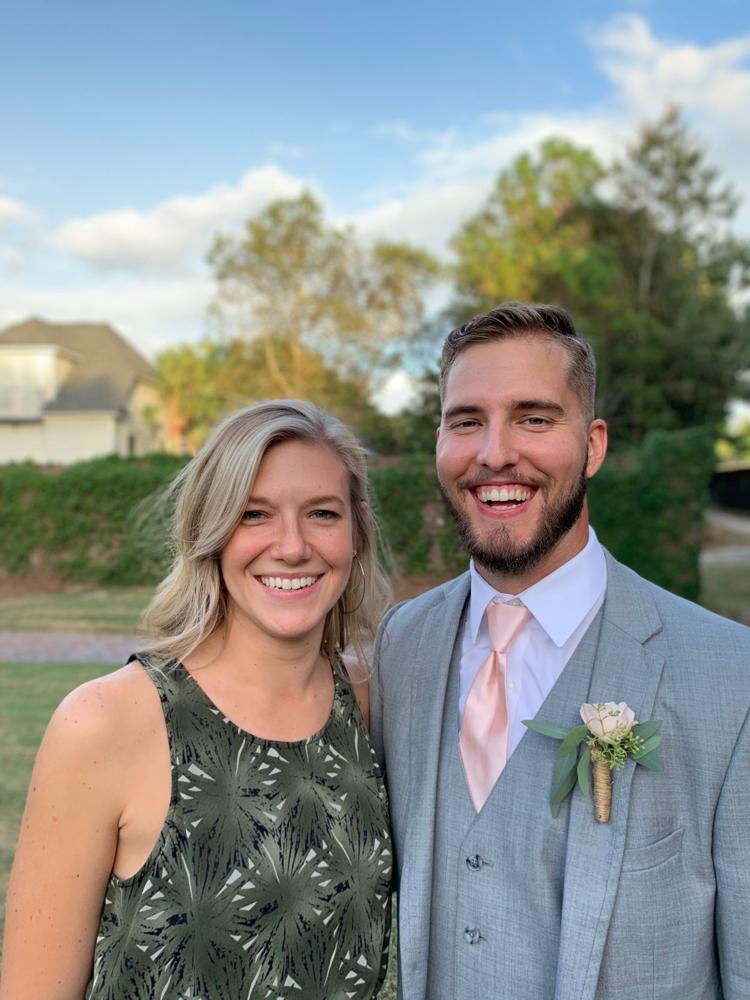 Remote romance
Lowcountry sweethearts Sarah Price and Daniel Imholz met in the most endearing of ways.
Price, who is originally from Columbia, took a teaching job at Wando High School where she is now the dance teacher and director of color guard. They both attended the University of South Carolina but they wouldn't meet until their paths crossed at Wando.
After school one afternoon, Price was helping with the Wando band when she caught the eye of Imholz who was volunteering where he once went to school. It was love at first sight in the fall of 2014, but they didn't put a label on it until New Year's Eve the following year.
At New Year's Eve in 2015, the couple claimed to officially start seriously dating. They were at a bonfire at Mount Pleasant dentist and Awendaw Green founder Eddie White's Swamp House deep in the woodline of the Francis Marion National Forest. Little did they know this remote location would be the sacred grounds of their love.
An annual tradition, three New Year's Eves later the couple found themselves right back at the Swamp House. Just before the clock struck midnight, Imholz uncharacteristically tapped his glass for a toast and proceeded to propose to Price.
The two entered into a common-law marriage on May 30, 2019. A couple months after signing the papers, South Carolina Supreme Court abolished common-law marriages in that July.
Exactly a year later to the date of the common-law marriage, this May 30, the couple was set to the tie the knot at Alhambra Hall. This is no longer happening as planned.
But this isn't stopping them from having their perfect day. One way or another they were determined to get hitched, even if it meant tossing the traditional rules of marriage out the window.
Price said the three most important things were to celebrate with friends, share precious moments with close family and have a special moment together getting married. Imholz, in a playful manner, put it frankly: the people we want, a good bar and a good cake.
When Gov. Henry McMaster ordered public schools statewide to shut down on March 15 to help prevent the spread of coronavirus, it finally occurred to Price that her wedding plans were about to change and things were no longer in their control.
To have some say in their wedding, the couple pulled the plug on the venue before the decision was made for them. They wanted to be proactive, especially for the sake of family and friends with travel arrangements. So they canceled their booking a couple months ahead of time instead of waiting until the last minute.
For Imholz, who looks at things from a sense of black-and-white practicality, the emotional toll didn't weigh as heavy as it did on his bride-to-be. After all, he already had his bachelor party nestled in the mountains of Asheville in December. Price, on the other hand, was supposed to have her bachelorette party last week on a cruise to the Bahamas.
"I definitely was a little more emotional about it only because I had been doing the majority of the planning," said Price, who had been planning the wedding for more than a year. "It's just really disappointing when you get your hopes up and you have this idea in your head of what you want the day to look like."
They received a full reimbursement from Alhambra Hall. As for refunds from all of the vendors, from the caterers to the DJ, the couple's deposits are being rolled over and will be used for a later date they have in mind.
With Alhambra Hall no longer an option for the near future due to its local popularity, Price resorted to calling a friend to salvage their special day. She called up White and told him they were going to elope and couldn't think of a better place than where it all began, the Swamp House.
Even more fitting, White's son Clay is going to be their officiant. Also, their 3-year-old super mutt hound-mix, Gus, will now be able to make the invite to the swamp. Originally, his paws were prohibited from the dance floor at Alhambra Hall.
The original guest list had approximately 140 people on it. Now, there is only going to be one other person to witness the two in holy matrimony, their photographer Sally Gray Mahon.
"It was a hard decision but so far everyone has been super understanding and there's even some cases where people who weren't able to make it to the 2020 date are now probably free for the 2021 date so that's kind of a nice little silver lining there," Imholz said.
"Plus, in 20 years or so we're going to have a pretty good wedding story that not a lot of people are going to have. So there's that too."
Next May, in 2021, the couple plans to have a do-over. Except this time it will be with all of their friends and loved ones. Price laughed at the notion that she'll be putting her wedding dress back on for a second time. Not many brides can say they've had a redo.
"Even though it wasn't exactly what I wanted originally it kind of works out better because we still get to have our moment and we still get to have a party to celebrate later," Price said. "Minus all of the silly traditional things that we never cared about in the first place."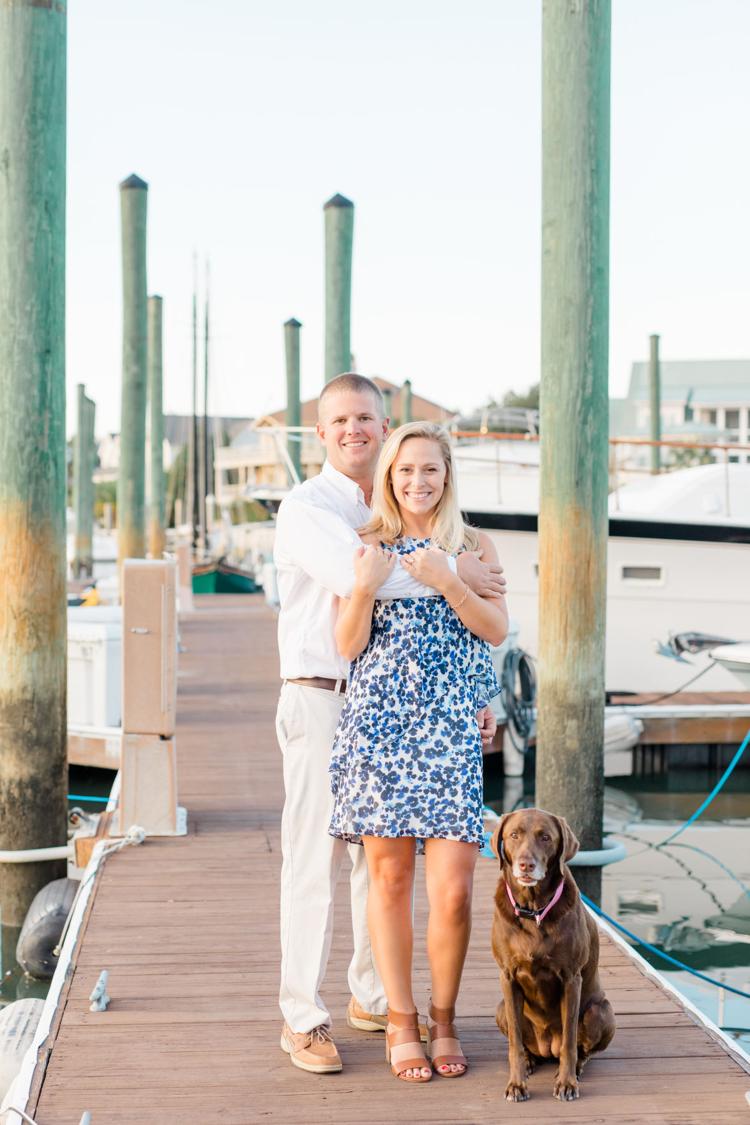 Burying the bourbon
Soulmates Louis Howell and Blaire Brooks conspired in the cutest of ways.
Howell was born and raised in Spartanburg and Brooks is from Blythewood. Interestingly enough, the two didn't meet on land but rather on a body of water.
The couple grew up as family friends going to Lake Murray together from a young age. This fall will mark five years of being together.
Since they were children, their families had houses on opposite side of the lake. Although they both had opposite lakefront views, the two shared many memories on the water over the years.
Last Fourth of July, both families took a boat trip from Charleston to Fripp Island for a family vacation. When they got to the island, after getting settled at the house, Howell told Brooks he needed to go set the crab trap.
Instead of reaching down to set the trap, Howell got down on one knee and pulled out a ring. Brooks said yes and to this day she's the best thing he ever did catch.
Following the engagement, Brooks spent the next eight months planning her dream day with her mother. The date was set for May 2.
The ceremony was originally going to be held at Bethel United Methodist Church in downtown Charleston, with a reception afterward at the Country Club of Charleston. The ceremony has since been shifted to Brooks' family's lake house. The location of the reception has yet to be determined.
The only vendor they didn't get fully reimbursed for was a shuttle for the wedding party. They said the company refunded them 75% and was pleasant to work with.
Their guest list was initially going to be a boastful 300 people in attendance. That number has now shrunk to 30 immediate family members at the lake house.
One sign of good fortune throughout all of the misfortunes is an outdoor wedding tradition they carried out for good luck. Exactly one month before their wedding, they buried a bottle of whiskey upside down, which is supposed to give good weather on the wedding day.
On April 2, the two buried a bottle of bourbon, Woodford Reserve to be specific. Superstitions aside, both were fortunately able to squeeze in their bachelor and bachelorette trips before the coronavirus took hold of their wedding itinerary.
Howell and his buddies went to Snowshoe, W.Va. for a long weekend ski trip. Brooks had her girlfriends come visit her for the weekend. They went out on the town for several nights.
A few takeaways that the couple has learned throughout the trials and tribulations of having a wedding amidst a worldwide health crisis are. Their advice is to simply love each other, listen to each other and go with the flow.
"We kind of accepted it as really not a bad thing but another opportunity and at the end of the day we're still getting married and that's the whole point of all of this," Howell said.
Love thy neighbor
Out-of-state swooners Callie Fleming and Chris Renner, who now live in West Ashley, coincided in the rarest of ways.
Fleming, originally from Auburn, Ala., moved to Charleston two months out of college after landing a job at an art gallery downtown. Renner, a product of Ohio, met Fleming after moving into the first place he ever lived in Charleston.
Unbeknownst to Fleming at the time, but her future fiancé lived nearby. Literally, he was her next-door neighbor.
After their paths crossed and the stars aligned, Renner proposed to Fleming in 2018. Out of all the days on the calendar, he chose the one most special to her, her birthday, Oct. 29.
Renner was initially going to plan a more formal proposal on the beach, but then decided to shake things up for suspense. It seemed like any ordinary Monday night at home, until he asked for her hand in marriage.
Fleming recalled him saying that the reason he flipped the script on the proposal was because "the ring was burning a hole in his pocket."
After nearly two years of planning, the date was penciled in for March 21 at Boone Hall Plantation. They chose the historical landmark because it's where they go for Easter services and they're fascinated by the 350-year-old oak trees.
The ceremony was held under the oaks and the reception was out on the picturesque Cotton Dock. It was one of the last, if not the last wedding held at Boone Hall for the time being.
The head count was thinned from 150 to 50 people. The days leading up were hectic and stressful with those who previously confirmed they were coming, were now calling to cancel within 24 hours of the wedding. However, the day of was blissful and peaceful.
"At that point, whatever was to happen was going to happen. We were just going with the flow and focusing on our marriage and it was just about us two," Fleming said.
Fleming found the timing to be so funny. If it had been the week before everyone would most likely have been able to attend. If it had been the weekend after they wouldn't have been able to have the wedding on the soil of the storied plantation.
Fleming said Boone Hall was very supportive and hospitable. They closed the plantation to the public that day which made their wedding feel even more exclusive.
The vendors were booked more than a year and a half out. Everything ran smoothly with the exception of one vendor canceling due to coronavirus concerns. Fleming said the vendor has yet to refund her for the goods and services she never received.
On the brighter note, Fleming and Renner's immediate families traveled the week prior so no travel arrangements were interrupted. Those who couldn't make it participated in a virtual livestream of the ceremony. A video was compiled of all the guests in their wedding attire, some were still able to make their toasts.
"It was sad but the intimate crowd that was there was really special to us and we got it done," Fleming said.
In the event the wedding was called off due to preventative reasons regarding the coronavirus, Fleming said they most likely would have just taken whatever losses and married privately.
"We were going to get married no matter what," Fleming said.
Having successfully gone through with a wedding during the chaos of COVID-19, Fleming's advice is to not worry about the cancellations or the minor setbacks and just soak in the moment. She said love found a way to conquer the day.
"Everyone's health was important to us and nobody felt pressured to be there," Fleming said. "Life has to go on."
Fleming noted that no one who attended the gathering has since fallen sick with the coronavirus at this time.
Aside from their handwritten vows, one of the biggest joys of Fleming's big day was having her grandparents in attendance. Her grandfather "Papa" also did a reading from the Bible and led a prayer.
"I don't know how much longer they're going to be on this Earth and it meant the entire world for them to be there and to see us getting married," Fleming added. "The pandemic did not stop my stubborn 85-year-old grandparents."
She's their only grandchild. Significant details like these made the grandest of impacts on the day.
After saying "I do" that Saturday, Fleming no longer goes by her maiden name and now goes by Callie Renner.