Around 11 p.m. on Sept. 21, 1989, one of the strongest hurricanes in the Atlantic's history made direct landfall on Charleston's barrier islands. Thirty years later, the distant memories of Hurricane Hugo are still vividly embedded in the minds of those who experienced the devastating storm firsthand.
Hugo touched down on Isle of Palms and Sullivan's Island with Category 4 winds estimated at 135-140 mph, according to the National Oceanic and Atmospheric Administration (NOAA). At the time, Hugo's wind speeds were the second-most fiercest recorded on the Atlantic, aside from Hurricane Allen in 1980.
The storm packed some of the highest storm tide heights recorded along the East Coast, with waves reaching 20 feet near Bulls Bay. Isle of Palms and Sullivan's Island experienced 15 and 13-foot waves, respectively, according to the National Weather Service (NWS).
Rainfall was comparatively moderate, roughly 8 inches in Mount Pleasant, due to Hugo's fast motion. This helped prevent further inundation in areas prone to flooding.
As far as financial damage in the Lowcountry, Isle of Palms and Sullivan's Island reached nearly $270 million. Damages to Charleston County schools were estimated at $50 million. South Carolina as a whole was estimated at $5.9 billion worth of destruction. Hugo was the the costliest hurricane in U.S. history at the time with approximately $7 billion in damages nationwide, according to South Carolina Department of Natural Resources (SCDNR).
Physical damages were a completely separate calculation. An estimated 15,000 to 20,000 people were left homeless in Charleston County. More than 1 billion board-feet of trees, valued up to $115 million, fell in the Francis Marion National Forest. Many trees were snapped like "toothpicks," split 8-10 feet off the ground.
For East Cooper residents, one of the most iconic images of Hugo's impact was the Ben Sawyer Bridge bent and twisted, leaving one end of the swing bridge sticking straight up at a 90-degree angle. The bridge was temporarily replaced with a pontoon bridge and it took about a month until it was regularly holding traffic again.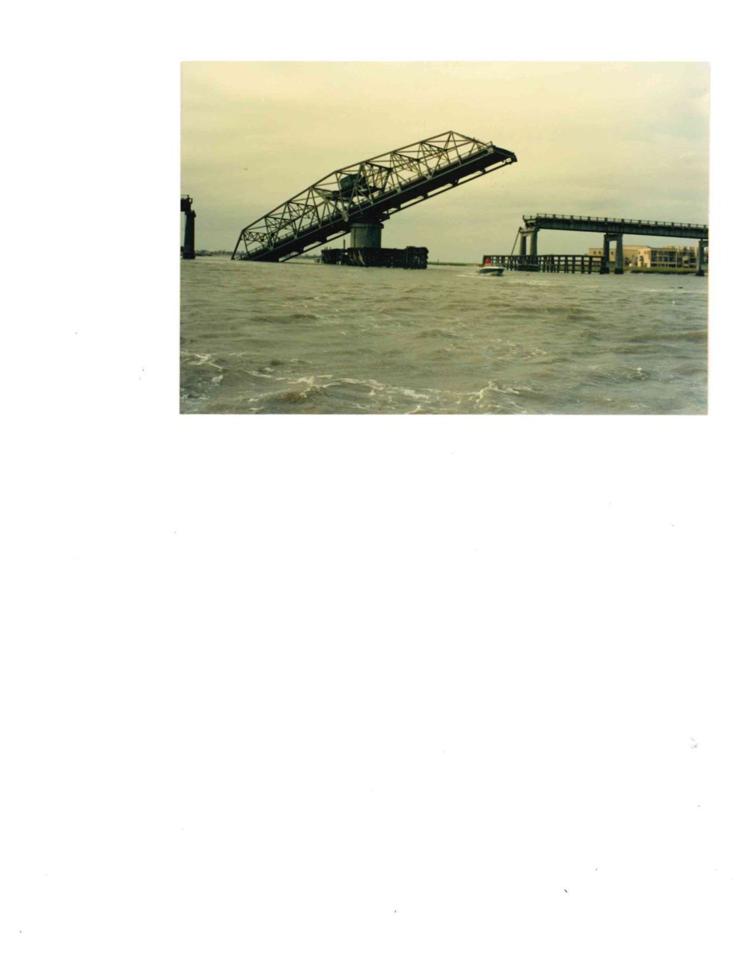 Fleets of shrimp boats docked at Shem Creek sunk in the wake of the storm. One vessel ended up on top of the Toler's Cove Marina's Guard House. Approximately 700-800 boats were left in unsalvageable condition, according to SCDNR.
Statistics from Hurricane Hugo will be referenced for storms to come. However, the stories from citizens who witnessed Hugo up close and personal resonate on a completely different level.
During Hugo, Mike Sottile was solely a resident who sold insurance on Isle of Palms. After the storm, he felt obligated to help his city rebuild from the ruins. Six months later he was elected to city council and 10 years later, in 2001, he would be elected the mayor of Isle of Palms.
After serving eight years as mayor, in 2008, Sottile would be elected Representative of District 112 which he's continually served for the past 11 years. In retrospect, he admits Hugo spurred his pursuits for public service and politics that has continued over the past three decades.
On the eve of Hugo, Sottile remembers being huddled up in his brother-in-law's business office in Mount Pleasant. They were watching the last local weather broadcast of the night and recalls the forecaster throwing his script up in the air in shock.
"He said 'the storm's coming down the mouth of the harbor. It's going to be ground zero," Sottile recalled.
The first thing they did were grab life jackets and started stripping ceiling tiles to get up in the crawl space in the event of rising floodwaters. Thankfully, it never got to that point.
Sottile estimated the TV went out around midnight because all he could remember was sitting there in the pitch-blackness with no form of communication other than a bag phone and a transistor radio. He remembers the darkness getting swallowed up by loud, train-like rumblings − those were tornadoes.
Then, all of the commotion came to a standstill. Everything was calm and peaceful and appeared to be back to normal. This state of tranquility was the eye of Hugo.
In this brief period of time before Hugo's winds returned, Sottile surveyed the immediate damage. Unfortunately, a tree had fallen directly on his Jeep.
"The next day is really when we realized how bad it was," he said. "I was glad it hit in the middle of the night so that you couldn't see all of that."
After the storm blew through and it was safe to roam about the debris, Sottile's top priority was to get back to Isle of Palms. This was before the Isle of Palms Connector was built, so the only way on was across the Ben Sawyer Bridge and that was in shambles.
The Isle of Palms mayor at the time, Carmen Bunch, who operated under a strong-mayor council, declared Martial Law and involved the National Guard. This meant nobody, including residents, were allowed to return until Bunch deemed it safe to return. This was an extremely controversial decision at the time, with residents and officials torn between both sides.
Since driving home was no longer an option, Sottile used family ties to hitch a boat from Seaside Farms back to the Isle of Palms Marina. He recalled seeing boats washed up on Waterway Island that had previously been docked at the marina.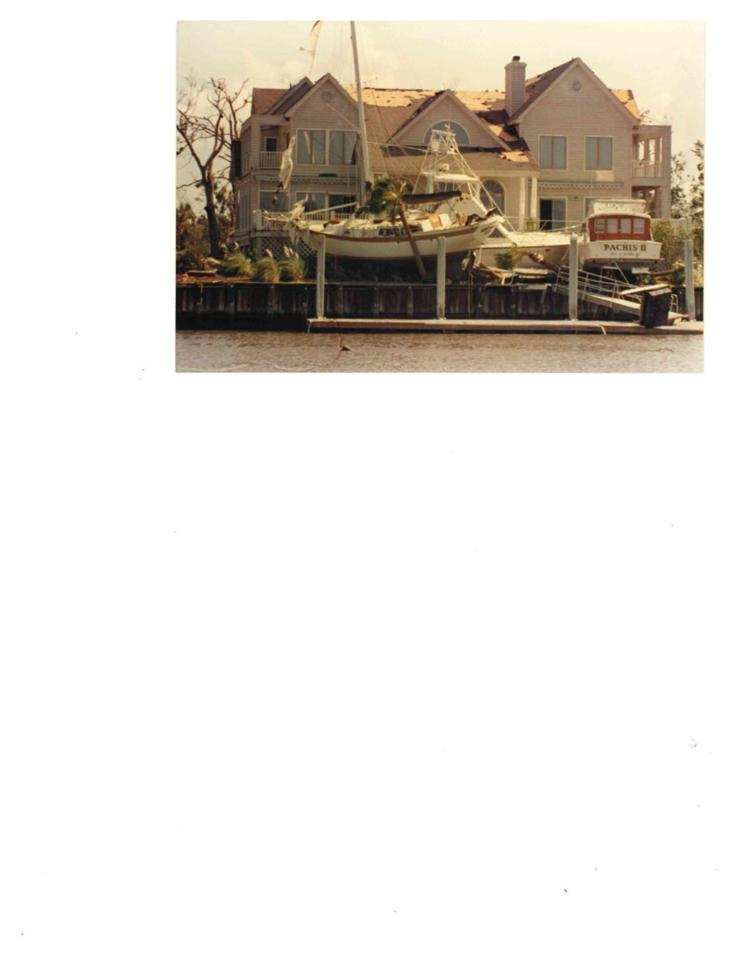 Not having any motorized means of transportation when he got to his house, they resorted to riding bicycles stored in his garage. But first they had to get his brother-in-law's car out of the garage, which was submerged in 6 feet of water.
The two would work on the home during the day and return to Mount Pleasant at nightfall before curfew. Sottile was able to salvage many of his valuables.
He recalls there being 2 inches of beach sand in his backyard and he lives several blocks inland from Palm Boulevard.
"What happened was the ocean and the Intracoastal Waterway met and covered Isle of Palms," Sottile said. "But it didn't stay up. As soon as the tide changed it went back out."
Sottile was grateful that he didn't lose his roof, but he did lose every shingle right down to the plywood. Although he did lose everything in his garage, except for his bicycles.
"I had more damage from the flood than I did the wind," he said.
As far as insurance claims go, FEMA covered Sottile $30,000 for flooding and $10,000 for wind damage. Some of his neighbors on Front Beach couldn't even find their houses − some of them floated out to sea.
Sottile estimates at least 80% of the island had damage. With a strong percentage of people's homes in unlivable condition.
Hugo had swept away the island's police department, fire department and city hall. All of these headquarters would be temporarily converted to office trailers.
"We had nothing. It was gone," Sottile said.
The island's commercial district was demolished. Highly trafficked roadways were left desolate. Popular social joints like The Windjammer were dismantled down to its timber framework.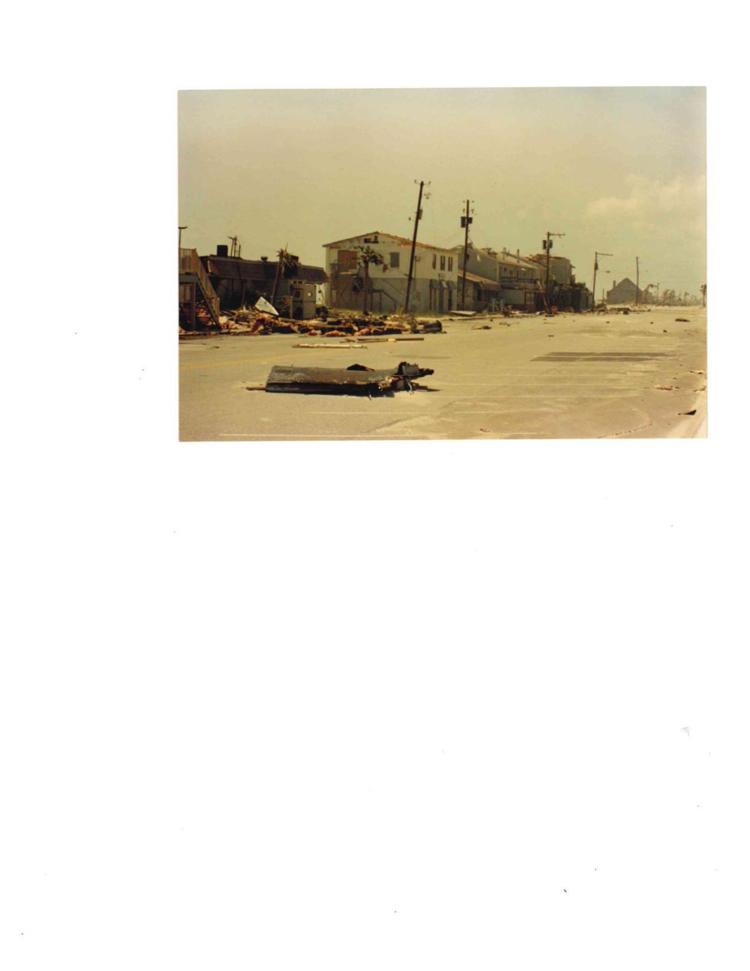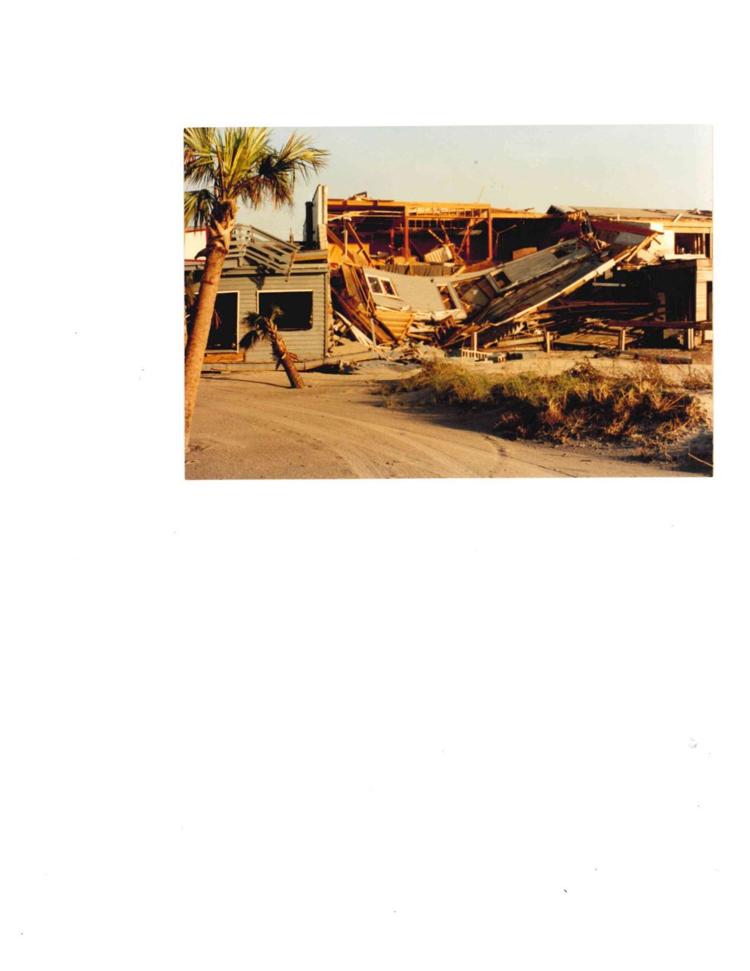 "It was a war zone," he said. "I've never seen places torn up like this was. You couldn't even get into Wild Dunes."
Sottile estimated the island was without power for more than three to four weeks. His family didn't return from their evacuation destination for a month.
"When they finally did (return), I met them over in Mount Pleasant to bring them over here because I knew they weren't going to understand what they were looking at or what happened," he said.
Despite the island's infrastructure being obliterated back to its foundation, Sottile noted there were many silver linings that rose from the destruction. The most notable in terms of transportation, especially during times of emergency, would be the Isle of Palms Connector. Construction began just months after Hugo and was completed in 1993.
Another improvement is better building codes. Houses are now required to be built at a regulated elevation with mandatory flood insurance, unless grandfathered in prior to 1975.
"I think overall, Isle of Palms is prepared now better than it ever has been," he said.
Although infrastructure has progressed along with the access and egress of island communities like Isle of Palms, Sottile still has concerns for laissez-faire attitudes toward hurricanes.
"One of the things that worries me and scares me more than anything right now is it's been a while since we've had a storm like Hugo," he continued. "We have a lot of people living on this island and the East Cooper area that have never experienced a hurricane like that or even been through a hurricane."
Sottile couldn't state the exact headcount, but heard that approximately nine people stayed on the island during Hugo. However, he could confirm that personal belongings from Isle of Palms washed up in Mount Pleasant.
"You can always replace a home and your belongings, but you can't replace your family," Sottile said.
As far as the island getting back to a state of normalcy, Sottile estimated it took about two or three years to civically undo what Hugo had done. He described processes like performing building inspections with insufficient staff as "encumbering." The island did receive aid from Charleston County until its city personnel could get back to fully operational.
"It was the worst disaster I've seen in my lifetime to this point," he said. "If you ever experience what I experienced, you don't ever take a hurricane for granted."
Sottile's advice as far as taking precautions is straightforward: heed the warnings of the authorities. When it comes to natural disasters, hurricanes especially, there are too many variables to account for. No one's experience trumps Mother Nature's elements.
"The one thing about Hugo that kind of sticks in my mind is it's been 30 years and people are still talking about it," Sottile said. "It's a blemish on this island that'll never go away and be part of the history of this island that'll never go away. It's going to be forever talked about."
View the 30th Hurricane Hugo Anniversary photo gallery online at moultrienews.com/photos.