A decade ago, Mount Pleasant Presbyterian Church's (MPPC) Hope House opened its doors to the Charleston community. The space provides a home away from home for those in need during the midst of a family medical crisis.
Hope House serves adults 18-years-old and older who have a family member or friend in a Charleston area hospital. A Christian-based place of sanctuary that welcomes all races, religions, ethnicities, marital statuses or sexual orientations; Hope House is open seven days a week to the public with a referral form from a hospital social worker in order to be admitted.
The house itself has stood at 314 Hibben Street in the Old Village for the past 106 years; however, Hope House's program just celebrated its 10-year anniversary last month. A dwelling that was never intended to be a place of refuge, was brought into existence by MPPC and has provided a place of peace.
Prior to 2009, when the church first bought the property, MPPC planned to tear down the century-old house. The house's undefined space was used for various purposes including storage until 2009, when seven parishioners recognized its untapped potential. After meeting on Monday nights for a full year, the group proposed the establishment of what is now known as Hope House.
On Feb. 15, 2010 Hope House opened its doors to its first guests. A family from Bluffton that was visiting their daughter who was thrown from a car and paralyzed, according to Hope House director and founding member, Beth Moore.
Moore is the only part-time staff member and there are approximately 65 volunteers, who perform various tasks that make the house function smoothly.
"It's just been an incredible opportunity, not only for the guests to have a place to stay at no cost, but also for the members of our church to connect with the whole idea of being a missional church and giving to others that are in need," Moore said.
Hope House's operations are funded by MPPC member donations, guest contributions and community grants. Members of the church community have funded the upkeep by donating everything from free bedding, furniture, sheetrock, cleaning and painting materials and fabric to reupholster chairs.
"It just came together and it was so obvious that God had a hand in it because everything we needed, we got," Moore said.
Originally built with three bedrooms, two-and-a-half bathrooms, living and dining rooms and a kitchen, Hope House volunteers added an office and a prayer garden. Hope House can accommodate up to nine guests each night.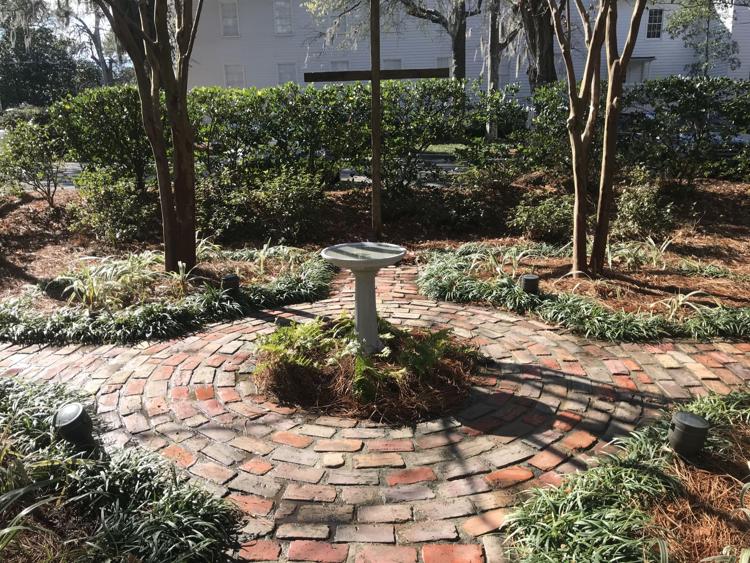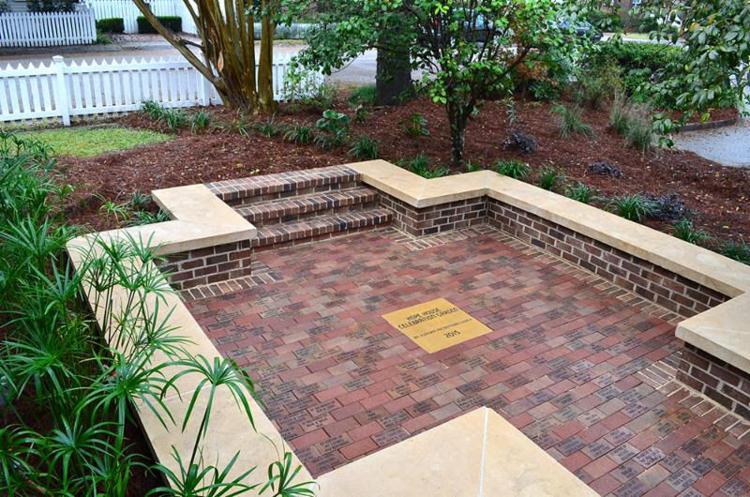 In 2013, a storage shed in the backyard of Hope House was converted into a bedroom wheel chair accessibility. It's referred to as Hope Cottage, which serves guests with mobility limitations. The two buildings have a total of four bedrooms and three-and-a-half baths.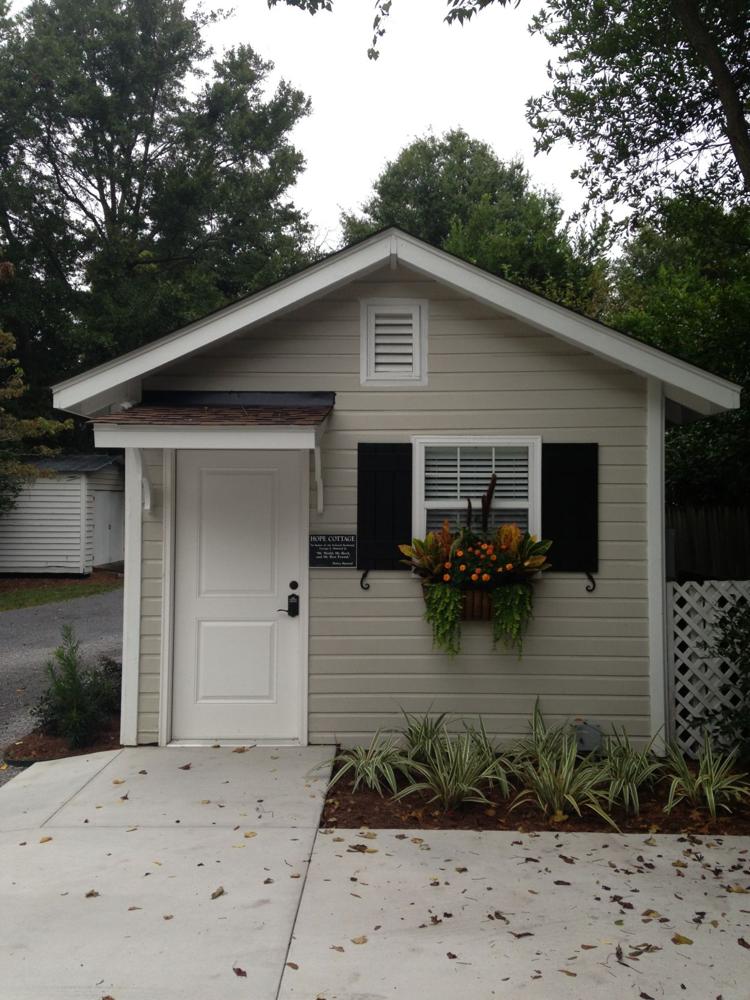 Donated in kind work and funds have allowed the church to make improvements to Hope House. The improvements include a new staircase, along with new air conditioners, fire sprinklers, new railings and porch floors, plumbing and electrical work, according to Moore.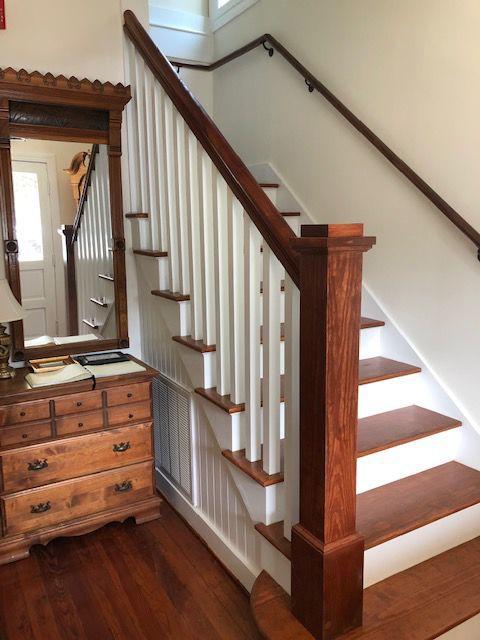 "Through the love and good hearts of other people, we've been able to make the improvements that have continued to make the house a nicer place to stay," Moore said.
Hope House's primary source of funding comes from their Adopt-A-Day program, which honors the memory of a family's or loved one's patient for $50 per day. Hope House runs solely on donations.
Team leaders are on call to help Hope House function daily with its ever-revolving door, there are team leaders on call each week with rotating shifts. They handle phone calls from the social workers and coordinate guests' registration.
There are caretakers who come in two hours in the morning and two hours in the afternoon to check guests in and give orientations. Volunteers make homemade meals for the guests to minimize the costs of eating out.
Moore recalled a situation last winter around the holidays where a volunteer's act of kindness made a difference for a family during a dire time. The family's personal information will remain confidential for privacy reasons in accordance to Hope House.
The memory best stands out in the mind of longtime volunteer Avis Griffith. This is because the moment belongs to Griffith, who entitles her story as "The Gravy Can Wait."
On the morning of Nov. 28, 2019, during preparations for Thanksgiving dinner, Griffith got a call at 11 a.m. On the other end of the line was a social worker from a local hospital asking if Hope House was accepting guests at this time.
Griffith was up to her elbows in turkey and brown rice, sweet potatoes and was just about to tend to the gravy. She grumbled to herself about the inconvenient timing, but reassured the social worker that there was one room left.
The request was for a Spartanburg couple's 32-year-old daughter who just had a liver transplant. Griffith's daughter is the same age as their daughter. Immediately she felt a special bond with this family and began making phone calls to schedule a time later that afternoon to get them settled at Hope House.
The patient had a rare blood disorder that caused severe liver damage, according to Griffith.
The parents informed Hope House they had been sleeping in the hospital's waiting room for three nights straight. Prior to their visit, they had been restlessly waiting for a solution by their daughter's hospital bedside.
For the next two weeks, the couple enjoyed the company of the Hope House staff. By the end of their stay, the daughter made incremental progress in the hospital's Intensive Care Unit and her surgery was successful.
When they departed from Hope House, they secured housing to keep them near the hospital until their daughter was released and fully able to go home. However, this wasn't farewell nor the end of the family's relationship with Hope House.
On Dec. 30, Griffith received a thank-you text message from the family. After a month in the Lowcountry they had finally returned home in time for New Year's after a miraculous Thanksgiving and Christmas.
Last week, on March 3, Griffith received a text message from the father. It stated the family's gratitude toward Hope House for providing them emotional and physical comfort throughout their stay.
The remainder of the message thanked Hope House for their vision and unwavering faith and prayers for the family's daughter. Now, the family's returning the favor and praying for Hope House's prosperity and longevity.
"I sat quietly and teared up as I thought about such a small gesture and what a difference it made for this family," Griffith said. "I thought about my gravy and how God allowed me to know firsthand that the gravy can always wait."
Since opening, more than 1,750 people have made the residence their temporary home.