One was born a slave in 1742 on an East Cooper plantation overlooking Copahee Sound. In 1775, he joined with patriots under Gen. Francis "Swamp Fox" Marion and served throughout the war as a drum major, one of the most important positions in a fighting unit during the Revolutionary War. The other is a highly decorated Marine, a Vietnam War hero who was born in 1937 near Bishopville, the son of a sharecropper during the Jim Crow era. Both carry the name of Jim Capers.
The two could easily have a blood kinship. They certainly share a common heritage, one that hearkens back to the 1695 arrival of brothers William and Richard Capers who were among the earliest settlers in Christ Church Parish (today's Mount Pleasant) and for whom Capers Island is named.
The early Jim Capers who joined the patriots was a slave. In 1849 when he formally requested the pension due him for his military service, he stated that "from what my old master Capers told me" he was born at Sewee on Sept. 23, 1742, on a plantation opposite Bull's Island. This was likely the Capers Plantation that today encompasses the northern portion of Bull's Bay Golf Course.
In 1742, the plantation was owned by Richard Capers, son of William the emigrant. When Richard died in 1763, his inventory of eight slaves included "Jimmy" as being worth £300, one of the most valuable of all his assets.
By 1775 when Jim enlisted, research shows that Jim likely served with Richard's grandsons, Maj. George Sinclair (also spelled Sinkler) Capers and his master at the time, Captain William Capers of Bull's Head Plantation on the upper Wando River. Jim's war service spanned more than seven years. He saw action at the battles of Savannah, Port Royal, Camden, Eutaw Springs, Biggins Church and he was at Yorktown when Cornwallis surrendered.
The role of drum major was vitally important. The drums with their different beats and rolls were the literal heartbeat of a fighting unit. Drums could be heard over the smoke and chaos of battle as they signaled orders and directed troop movements. Moreover, because of their importance drummers were prime targets for the enemy. At the Battle of Eutaw Springs, Jim was severely wounded four times, with two saber cuts to his face, a sword cut to the head and shot, the ball going passing through his body and killing the drummer standing behind him.
After the war Jim returned to Christ Church Parish and at some point was given his freedom. He married and after a time he and his wife, Milley (who was still enslaved) moved to Alabama where he lived out the remainder of his life, dying in 1853 at the incredible age of 111. His heroism was memorialized with a stone marker by the Alabama Society of the Sons of the American Revolution in 2015. While Jim's pension was not approved before his death, largely through the actions of Milley's master, who hastened it by granting her freedom, she was finally able to receive a widow's pension.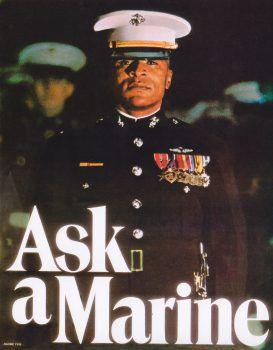 You've likely seen the face of the second Maj. James Capers. In 1967, Capers became nationally known as the face of the "Ask a Marine" recruitment poster — the epitome of what a Marine should be. Capers was far more than every inch the ideal, he was a legend in his time.
Capers' service record is incredible. He was the first African-American to command a Marine recon company and was involved in 64 long-range reconnaissance patrols. He fought in five major campaigns and was the first black Marine officer to receive a battlefield commission. He was wounded fifteen times in combat. In fact he was recovering from injuries when he was named the face of the Marine Corp's recruitment campaign.
Maj. Capers is also one of the most decorated Force Recon Marines in history. He was nominated for a Medal of Honor, the first black Marine officer to earn such distinction. He received the Silver Star instead and also earned two Bronze Stars and three Purple Hearts.
Capers is retired now and lives in North Carolina near Camp LeJeune. In 2018, the Department of Defense released a compelling documentary on Capers' life and legacy, "Major Capers: The Legend of Team Broadminded." The film also broke ground for presenting never-before-seen, previously top-secret classified information, including combat videos and photographs.
The film also includes Capers early life picking cotton alongside his sharecropper father near Bishopville.
Which brings us back to the original Capers family from Christ Church Parish. In the 1790s, descendants of the same Capt. William Capers who owned Jim during the Revolutionary War began establishing cotton plantations in the midlands. With them came their slaves. One is very likely Maj. Capers' grandfather or great-grandfather.
The whole story is remarkable from start to finish. And having two such heroes in the same family? Wow. Simply wow.
Suzannah Smith Miles is a local author, illustrator and historian. Keep an eye out for her historical columns monthly.