March of Dimes is pleased to announce that Reeves Skeen of First Citizens Bank and Catherine Skeen of Charleston Day School will serve as the co-chairs for the Charleston Signature Chefs Auction.
As the event co-chairs, the Skeen's will play an integral role in raising awareness and funds to advance the scientific research and educational programs at the core of March of Dimes efforts to lead the fight for the health of all moms and babies.
Reeves Skeen has been with First Citizens Bank for 14 years, working with multiple facets from Columbia to Atlanta to Savannah, spending the last five years in the Holy City. As the area executive, Reeves is responsible for overseeing sales and operations for the southern coastal area that extends from Williamsburg County to Chatham County, Ga. Reeves also serves on the boards for Trident United Way, First Tee of Charleston and the South Carolina Bankers School.
His wife, Catherine Skeen has worked at Charleston Day School for the last five years, currently serving as the Director of Enrollment. Catherine has been in education for 10 years, staying involved in the lives of many children and families along the way. They have a 2-year-old son, Coleman and a newborn, Lucy. Reeves and Catherine are humbled to be serving as co-chairs of Signature Chefs Auction bringing awareness to the community for all that March of Dimes offers moms and babies in our area.
"Never knowing who in our life might be impacted by March of Dimes, and in what way, makes us realize the importance of spreading their mission and raising awareness for all that March of Dimes offers moms and babies. Having MUSC in our backyard, one out of 68 hospitals across the country where MOD has a NICU Family Support Program is something to be proud of. We are thrilled to be involved and are looking forward to a successful virtual evening on November 19 where we will join together as a community, bid high and learn more about this impactful organization," Catherine Skeen said.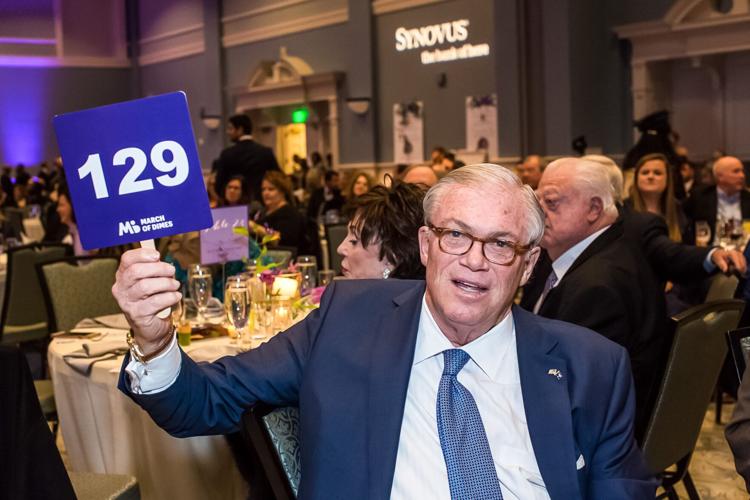 March of Dimes Charleston Signature Chefs Event, presented by Atlas Technologies, will be held on Thursday, Nov. 19 on event.gives/charleston at 6:30 p.m. Despite virtualization, the biggest change in this year's Signature Chefs Auction will be the loss of Mr. Bill Hall at this 21-year strong tradition. Mr. Hall's impact on the March of Dimes and this event is widely recognized. His tireless support of the March of Dimes mission impacted countless families and lives. Mr. Hall was the heart of the gala; he inspired others to get involved and turned the Signature Chefs Auction into an event that inspired our community. At this year's virtual gala, the event will begin to honor Mr. Hall and his continuous efforts of fighting for the health of moms and babies.
The March of Dimes Signature Chefs event supports March of Dimes work to nourish all aspects of motherhood – from prenatal to postpartum by fueling change and ensuring all pregnant moms have access to care, addressing inequity in maternal health, and strengthening moms, babies and families across America.
In addition to Atlas Technologies Inc., sponsors of note include Gold sponsors Children's Cancer Cooperative and Dominion Energy and Silver Sponsor First Citizens Bank and Bronze Sponsors Endeavor Insurance Services Inc., Billy Swails State Farm, and MUSC Women's Health and Corporate Sponsors SMHa, Nexsen Pruet, Oliver H Mathewes Carolina One Real Estate. In-Kind Sponsors include Target Market, Ross Printing, inventivEVENTS.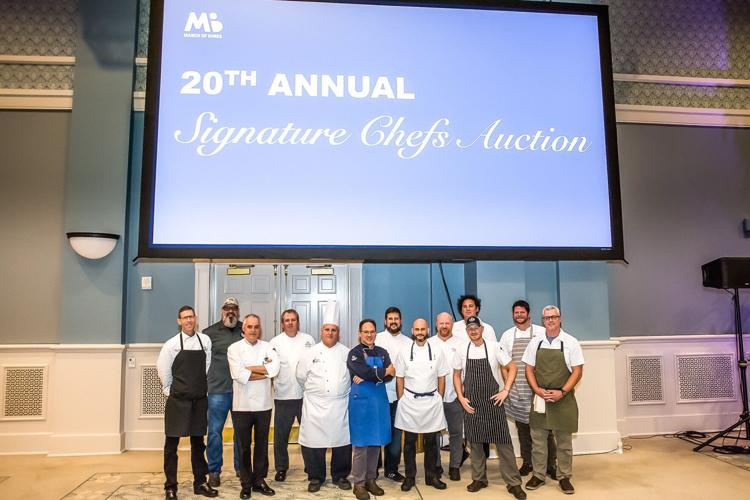 An impressive lineup of chefs from more than a dozen of the area's most prominent restaurants, including Chef Matthew Niessner of Halls Chophouse, SNOB, and High Cotton, Chef Anthony DiBernardo of Swig & Swine, Chef Marc Collins of Circa 1886, Chef John Zucker of Cru Catering, Cru Café and Purlieu, Chef Orlando Pagan of Wild Common, Chef Remy FunFrock of La Patisserie at Hotel Bennett, Chef Bob Gibson of Gabrielle Restaurant at Hotel Bennett, Chef Vinson Petrillo of Zero Restaurant + Bar, Chef John Ondo of The Atlantic Room at The Ocean Course. This year the event will be held virtually and will feature interactive and innovative ways for the community engage with the area's top chefs.
To participate or sponsor March of Dimes Signature Chefs event in Charleston visit signaturechefs.org/charleston or contact Audrey Flores, Development Manager at AFlores@marchofdimes.org or 843-934-4269.