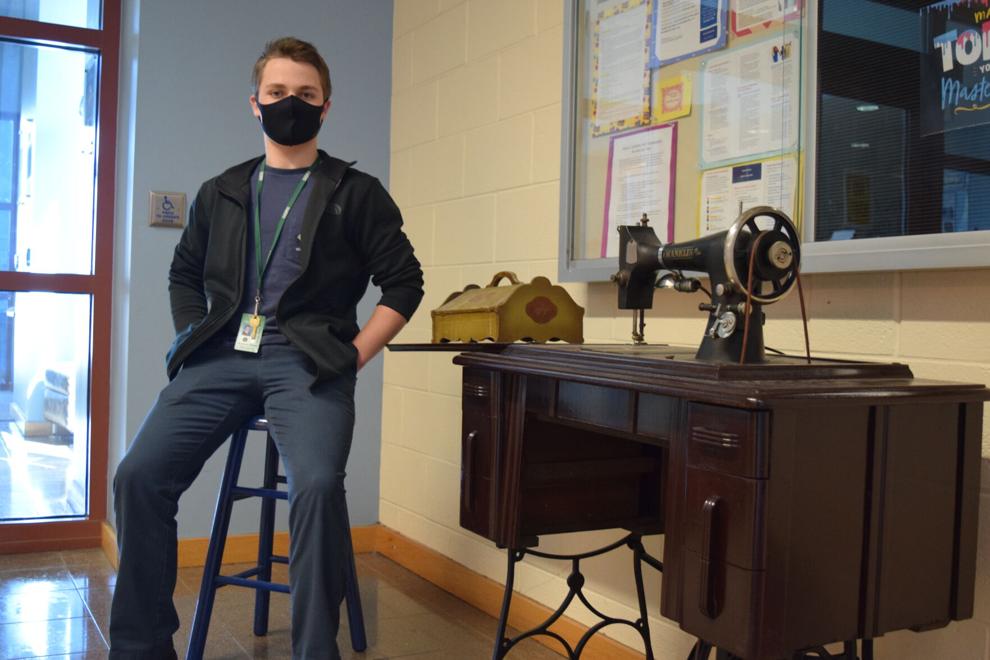 Antiques oftentimes have rich, personal history attached to them. That's what Jeremiah Benton and his father Eugene discovered as they carefully unwrapped a 1926 Franklin treadle sewing machine that was sealed with shrink-wrap and placed in a storage unit for many years.
Their goal was to clean and refurbish the sewing machine without disrupting the character of the antique.
The most nerve-wrecking part of the project was not breaking any of the delicate parts, said Eugene. Jeremiah, a junior at Academic Magnet High School who is interested in mechanical engineering, explained that if they damaged any part of the 95-year-old sewing machine, it would be nearly impossible to find replacement parts.
"We wanted it to be able to function; you can sit in front of it right now and pump the pedal and the needle actually sews," said Eugene. "We didn't want to lose that aspect of it."
The treadle sewing machine is attached to a "cabinet" that resembles a desk with drawers. The machine operates without electrical power. Instead, the operator continually pumps a large foot pedal back and forth, which puts a leather belt and wheel in motion that allows the needle to move.
A family friend, Shari Sebuck of Mount Pleasant, gifted the sewing machine to the Bentons because she wanted the historic relic to be restored instead of sitting in storage. Sebuck rediscovered the sewing machine while Eugene was helping her clear out a storage unit after her mother's death.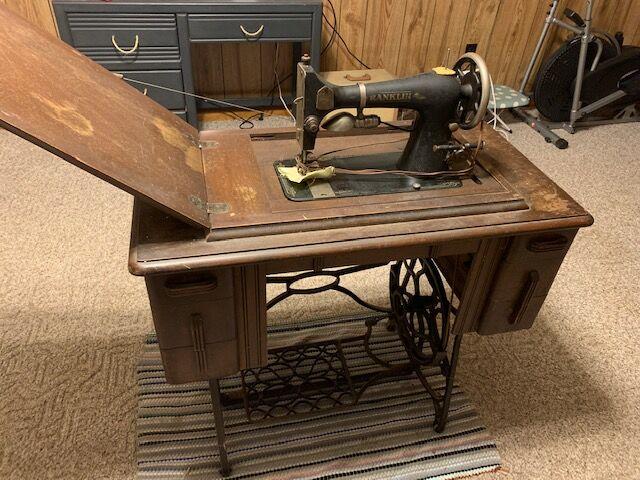 The sewing machine belonged to Sebuck's grandmother, Inez Ethel Arbogast Trent, who was born in 1909 and lived in the coal-mining town of Saint Albans, West Virginia.
"My grandmother used that sewing machine to sew anything and everything," said Sebuck. "They were not a wealthy family, so the sewing machine was considered a necessity, not a luxury."
While inspecting the sewing machine, Jeremiah and Eugene found several items that gave a glimpse into the life of a 1930s-era seamstress. One was a handwritten letter from Sebuck's mother to her mother Inez, Sebuck's grandmother. In addition, there was an old Sears & Roebuck catalog, needle and thread, measuring tape, buttons and the owner's manual that dated the machine to 1926.
The father-son duo cleaned decades' worth of grit and grime out of the tiny crevices of the sewing machine. They had to oil the metal parts, including the wheels and pedal, since they sat dormant for many years. In addition, they carefully used brushes and sponges to stain the wooden desk.
"The sewing machine was very delicate, so we had to be very careful when cleaning it," said Jeremiah. "It had been in storage for so long that we had to lightly wash the old wood and oil the hinges, especially the pedal. It all still worked perfectly."
Eugene and Jeremiah often find projects around the house to work on, so they were up to the task when presented with the opportunity to refurbish the sewing machine. Coincidentally, both Eugene and Jeremiah occasionally sew as a hobby.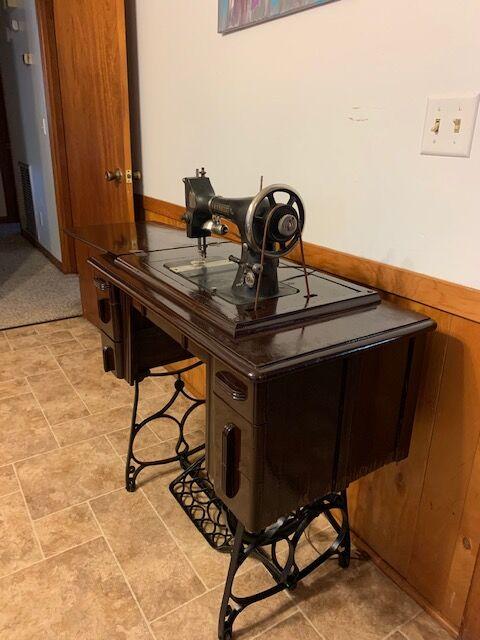 Jeremiah took up sewing over the last year after studying material science in a mechanical engineering class; however, he prefers hand stitching because he has more control over each stitch. Currently, he's working on a pair of leather hand gloves. Eugene learned to sew from his grandparents when he was younger. More recently, he has done various sewing projects, including repairs to his children's athletic jerseys and other home décor projects like pillow covers.
Eugene and Jeremiah donated the restored sewing machine to the costume and fashion design department at Charleston County School of the Arts, which shares a campus with Academic Magnet High School in North Charleston.
"We wanted the legacy of Shari's grandmother to live on," said Eugene. "We wanted to allow students to see how far technology has come, even with sewing machines."
He said it's a great opportunity for fashion design students to see such an old machine that is still in proper working order.
"We are so grateful to receive such a unique piece of history," said Kelly Martin, the costume and fashion design instructor at Charleston County School of the Arts. "It is an amazing way to show students how fashion has evolved and has been impacted by culture, economy, and location."
Martin said it's especially an honor to have an antique from a local family.
In another effort to give back, Jeremiah used his 3D printer to make N95 masks for the Medical University of South Carolina when there was a mask shortage at the start of the COVID-19 pandemic, Moultrie News reported in April 2020. MUSC provided detailed instructions for Jeremiah to follow and he received the materials from Academic Magnet's engineering department.
Currently, Jeremiah is focusing on his classes, planning his senior year schedule and preparing to choose a college to attend. He's looking into mechanical engineering programs at Georgia Tech, Clemson University, MIT and others.
"My dream job would be to work at the Defense Advanced Research Projects Agency or with Space X until I start my own company," Jeremiah said.