Many residents have passed the new Charleston County School District (CCSD) high school being built in the heart of Mount Pleasant off Mathis Ferry Road. With nearly three months left until the 2020-21 school year, the building is on track for completion to open as Lucy Garrett Beckham High School (LBHS) this fall.
The school is CCSD's second public high school in Mount Pleasant. Wando High School will remain the largest school within District 2. LBHS is on track to have around 750 students in ninth and 10th grades enrolled the first year. Then, they will slowly add in a grade level each academic year.
Principal Anna Dassing said that she is hopeful they'll receive permission to occupy the building in June to begin bringing in materials, furniture and equipment. She explained that since construction was considered essential work throughout the COVID-19 pandemic, the grounds division has not ceased working on the new school.
Earlier this year, LBHS had a vandalism incident that cost nearly $100,000 in repairs. Dassing said they have completely recovered from the incident, which was mostly cleaning up the damages. The incident did cause CCSD to rethink some of the building's security measures. Dassing said that anytime someone is not there working on the building, Mount Pleasant Police Department patrols the school grounds and members of the community living nearby also keep an eye on the school.
Dassing and the grounds division is extremely proud of the infrastructure of the new school. She said the school has a Lowcountry, coastal feel, with a lot of wood and natural finishes throughout the building. There are many large windows from the floor to ceiling to offer natural light and sunshine into the building.
They also have flexible furniture that is not like the traditional, old school classroom furniture most people are used to seeing in schools. LBHS will have VS Thumbprint Shift furniture. Dassing said they are manufactured in Germany and very flexible for different learning styles and activities in the classroom. The concave/convex design of the desks and tables can be put together 40-50 different ways, such as a circle, in pairs or in groups.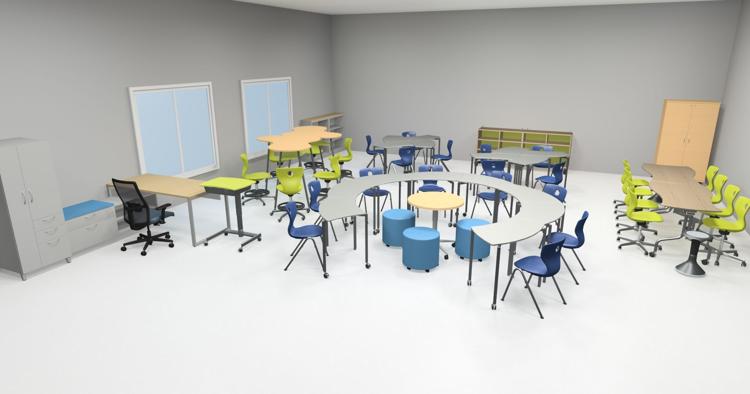 Dassing said LBHS faculty has been busy answering a lot of questions from families that are new to Mount Pleasant or ones that are considering coming back to public schools from private and magnet schools in the area. She explained the pandemic has caused a lot of people to lose their jobs or have their hours reduced, so people that may have previously been able to afford private school may not be able to anymore. She also said some families are considering LBHS since it will be a smaller school option.
The school is holding virtual registration appointments via Zoom and WebEx to allow students to pick out their courses for the 2020-21 school year. Dassing said this has worked out really well. The first thing the staff does when helping register students for classes is make sure the person inquiring about attending LBHS lives in their zoning district. Then they explain what paperwork is required to prove residency. Once they prove residency, the student can virtually meet with a school guidance counselor to pick out courses. This way, when CCSD opens class registration, all they have to do is input the courses each student has already selected.
Once they get clearance, Dassing said that they hope to begin virtual tours and share videos of inside the building. Given the criteria for social distancing, the school is tentatively planning for students to be able to do tours inside the school in late July or early August. They are also hoping to have Bengal Ambassadors, or students that would be trained to give members of the public tours of the school.
LBHS has planned to have a "Leave No Trace" initiative. Dassing said the building is gorgeous and they want their students to have an opportunity to be in the halls and other places of the school more than a traditional high school. The initiative is so students remember to clean up after themselves and to leave their learning spaces as they found them.
Prior to schools closing due to COVID-19, Dassing and other LBHS administrators were visiting middle schools to speak with rising freshman to prepare them and get them excited about going to a new school. This year, Dassing worked out of Moultrie Middle School while the high school was being built. She said many Moultrie students would pop by her office to ask her questions about LBHS.
They have continued these efforts on social media and by keeping their website updated. She said they try to keep open lines of communication and put as much information as they can out to their students.
"Just being accessible and visible has probably been the best thing that we were able to do prior to the pandemic and has been the hardest thing to continue to do," Dassing said.
Dassing said they are prepping and planning for opening in the fall. She said she likes to expect the best and prepare for the worst. She said there've been a lot of questions about the fall and how LBHS will help students re-engage on a social and emotional level. To help with this transition, Dassing said they're planning an orientation day called Merge to bring all of their students coming from different schools together prior to the first day of school.
"All those kids are new to each other. Some of them know a few people. Some of them know a lot of people. Some of them don't know any people," she said.
The orientation will bring them all together so they can set their expectations, acclimate them to the school. Throughout the school year, Dassing said they'll have social events to help celebrate some of the school's many first-time events. She said she's looking forward to creating the Bengal family and setting new traditions with the students and staff.
LBHS plans to incorporate independent learning time into each student's schedule. This will allow them to get extra help if they need it, flexibility to work in study groups and time during the school day to complete their assignments. They students will also meet with what will be called their Crew class on a daily basis. Crews will consist of 15-16 students that will meet with the same teacher for two years. Dassing said they want the crews to become like family units within the school that the students can depend on for academic, emotional and relationship support.
"High school is hard. It can be kind of challenging if you don't have a group of friends. So these Crew classes are intended to build that within students," she said. "...Having a crew that you can always depend on for whatever it is that you're needing or going through as a high school kid."
She said this is the anchor of what they plan to do at LBHS, which is engaging with students and really helping them make high school meaningful. She wants instead of students just coming to school because they have to, she hopes they make it something that they love. Dassing shared that throughout the hiring process for the new school, she was looking for teachers that were interested in doing more student centered, personalized learning. They also wanted candidates that are focused on building relationships with students and thinking about what it is they're teaching and truly engaging students.
Prior to the shutdown, they'd planned a teacher signing event to reveal the teachers. Dassing said although they've pivoted to virtually announcing them for now eventually they'll host a meet and greet event, when allowed. Now the school has hired about 90-95% of its staff and administration has been revealing new teachers and faculty on social media to introduce them to the community.
"Sometimes I think we, as educators, mistake compliance for engagement," Dassing said. "...So we looked for teachers that really could make learning kind of come to life, and really applicable and relevant to what the kids are experiencing."
Dassing said that kids have phones in their hands 24/7, giving them access to information like never before. She explained it is critical for teachers to teach students how to problem solve, be critical thinkers and really analyze what it is that they're learning instead of memorizing things.
"If you can Google it, we don't need to teach it. We just need to teach how to use that information and really focus in that direction. So the teachers that we're bringing on board are very progressive and very forward thinking. They love to engage the kids in projects. They understand the importance of relationships and making sure that the kids' needs are being met," she said.
Dassing called Wando a powerhouse and complemented the staff of this neighboring high school. She said she is fortunate that some of the staff from Wando and other CCSD schools have been willing to come teach at LBHS. She explained most applicants from Wando either knew and loved Lucy Beckham and wanted to work in a building that wore her name or they had never had an opportunity to open a school from scratch and be a part of a first faculty. Other faculty she interviewed explained LBHS was located closer to their homes or the applicants wanted to be in a brand new facility. Dassing said there were lots of attractants, but the biggest was making sure her leadership style matched what the candidates were interested in.
LBHS recently posted some classified positions they are still hiring, such as the media clerk and front office staff. They have hired close to 40 teachers and several staff members. Dassing anticipates they will hire around 10 more positions. She said this excludes coaches that they've hired. Several coaches work at LBHS, some work at other schools and several are just coaches. Dassing said that they will begin introducing the coaches so they can begin some of the virtual practices and training opportunities that the high school sports league suggests.
Last week, the school announced Colt Campbell was hired as the LBHS' Music Performance Director. Dassing said she was thrilled to have someone willing to come on board to manage band, strings, orchestra and chorus.
Dassing was also excited to announce Steve Siciliano has been hired as the Exceptional Education for Inclusion teacher at LBHS. This role will help facilitate teaching students with special needs at the new high school.
Siciliano who is originally from Pittsburg, Penn. is excited about moving back to the East Coast from New Mexico with his wife this summer. In college, Siciliano played Division I football for the University of New Mexico. During that time, he became interested in coaching and becoming a teacher. He earned his bachelors and master's degrees in special education. As soon as he graduated, he began teaching at Health Leadership High School in Albuquerque in 2013. There he became the Director of Special Education and coached football at a sister high school in town for a few years.
Growing up, Siciliano vacationed to Hilton Head Island almost every summer with his family. He said he fell in love with the Lowcountry and when he met his wife they also began vacationing in South Carolina and eventually got married in Hilton Head two years ago. He said they have brainstorming about moving to the Lowcountry since their wedding. Six months ago, Siciliano started looking for teaching jobs and made contact with someone at Wando.
"At that time, they mentioned to me 'Hey, there's going to be this awesome new high school also being built in the same Wando district, why don't you check it out.' So, in my search and application to Wando, I also applied to Lucy Beckham," Siciliano said.
He said he applied the very day the Exceptional Education position was posted and he got a call the next day to set up an interview. Siciliano said the rest was history once they realized they were on the same page about what kind of high school they foresee LBHS becoming in the community.
He explained he is coming from a project based learning type school and he is focused on student centered work. He is looking forward to bringing his expertise on this learning style to help make LBHS become one of the best high schools in the state. In addition to sharing his experiences, he also hopes to grow as an educator at the new school.
"I'm coming to really dive in to the community and really help students make that connection to the community and help them find where they fit into the community. And then also, I want to be there to maximize student opportunities, and also help them gain a perspective on maybe a career or job in the future. But I really want to build that that student agency within the community and within the school, at Lucy Beckham," he said.
This will be the second school that Siciliano will help start from the ground up.
"I am extremely excited to start this new school in Mount Pleasant and really show Mount Pleasant how awesome the school can become. Especially with the connection with the community, connection with the families, and then everything else that's surrounding. I'm really excited to grow the school. I've heard amazing things about Mount Pleasant, and it's going to be quite the opportunity for the community and for the students," he said.
He said that connecting students with their community will help them find a purpose for their learning so they become lifelong learners. He's also glad the school is starting on a smaller scale with ninth and 10th grades and gradually growing. Siciliano said Dassing has been a great leader so far and he's looking forward to meeting the rest of the staff.
Siciliano is on the design team for Crew. He said he's trying to bring his flavor of project based learning into it. He said that Dassing wants to use expeditionary learning model in Crew which is the model the school he's taught at for the past eight years uses.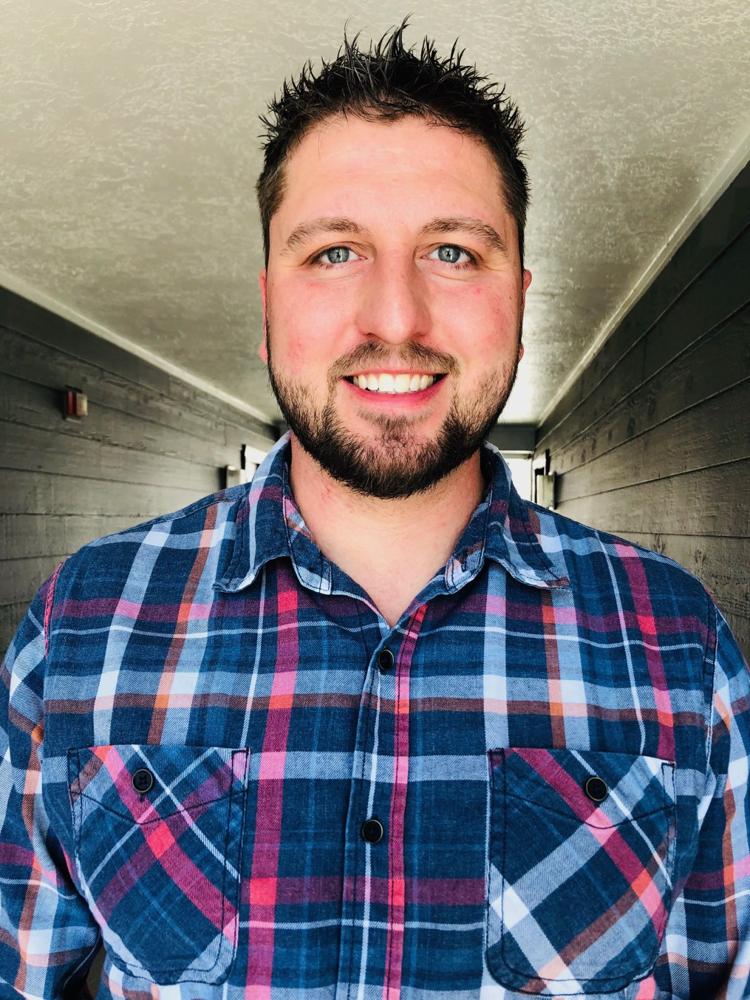 The learning style isn't the only expertise Siciliano hopes to bring to LBHS. He has already spoken to LBHS' head football coach, Jamel Smith, and is going to be one of the team's offensive coaches.
Dassing is also looking forward to all of the many firsts they will experience next school year. She can't wait for the school's first sports games and arts performances.
"It's going to be a lot of fun. Just like a new baby, the first year is just a year firsts. We'll have our first back to school open house, our first volleyball game, our first cheerleading competition; everything will be a first," she said.
She said they're going to let the students name their mascot and give input on its costume. The students will also collectively help come up with the school's fight song and alma mater. The school does have a tune for the alma mater and the new music director is going to assist in the wording of the tune with the students.
"The tune that we have right now was actually written by a former student of Lucy Beckham. So it was super exciting and it kind of special for us to have that original little tune composed," Dassing said.
The school is planning a dedication around Lucy Beckham Day in December. She believes that Beckham would certainly be proud of the new school.
"I just want everybody to know how excited we are to be building this new school for Mount Pleasant. I think everybody's ready. I used the analogy before, it's like expecting a baby and people are chomping at the bit; they want to meet the baby," Dassing said. "They want to come in and see it. It's in the heart of Mount Pleasant and we want to be the heart of Mount Pleasant."