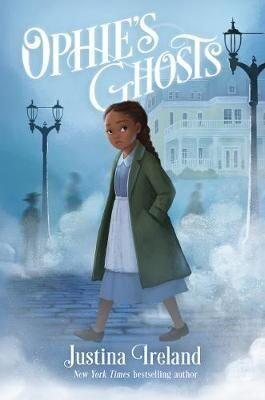 It's October and that time of the year when creepy ghouls and witches are out! The leaves turn orange and drop to the ground like flies, leaving the branches naked and unnerving on a chilly, moonless night. Grab your blankets, your cozy socks, and your stuffed animals, and jump under the covers for these delightfully scary books. You will shiver, you might cry, and you will keep turning the pages.
Ophie's Ghosts by Justina Ireland
Ophie is a special little girl who has experienced a tragic life at an incredibly early age. After her beloved father is murdered, she develops the ability to see ghosts. When she and her mother flee to live with her aunt in Pittsburg, Ophie finds herself working as a maid to an unsavory employer in a manor filled with ghosts. Why does Ophie have such a gift? And what do the many ghosts in the manor want from her?
Ghosts in Mansions by Lisa Owings
There are many haunted places in the world. Read about the mysterious Winchester house or Borley Rectory, said to be the most haunted place in England. You might even be inspired to visit some of these spooky places yourself.
Séance Tea Party by Reimena Yee
After Lora's friendships began to dwindle, Lora decides she can still have fun by herself. A lover of all things spooky, the quirky Lora finds a new friend when she holds a séance and meets the mysterious Alexa, a ghost who haunts her house. This book will have you crying not from fear but from how utterly beautiful and touching it is.
Sir Simon: Super Scarer by Cale Atkinson
Being a ghost is hard, and for Simon, a professional ghost, it is a full-time job. He used to haunt bus stops, potatoes, and forests but now he has a house to haunt. Simon thinks it will be an easy job because the owner is just an old lady, until he finds out a kid also comes with the old lady. He is at first annoyed by the boy, who is constantly peppering him with questions about his profession. Eventually a zany friendship develops between the two characters.
The Girl in the Locked Room: A Ghost Story by Mary Downing Hahn
A family moves into an old, abandoned house. Nothing sounds remotely off about this or weird at all. What they don't know about the house is that they are not alone, there is another mysterious occupant. The main character of the story is Jules, whose father plans to restore and fix the house. Pick up this book and follow along with Jules as she tries to unravel the mystery of the ghost upstairs.
Visit us at the library to get your own copies of these spooky reads and many more!