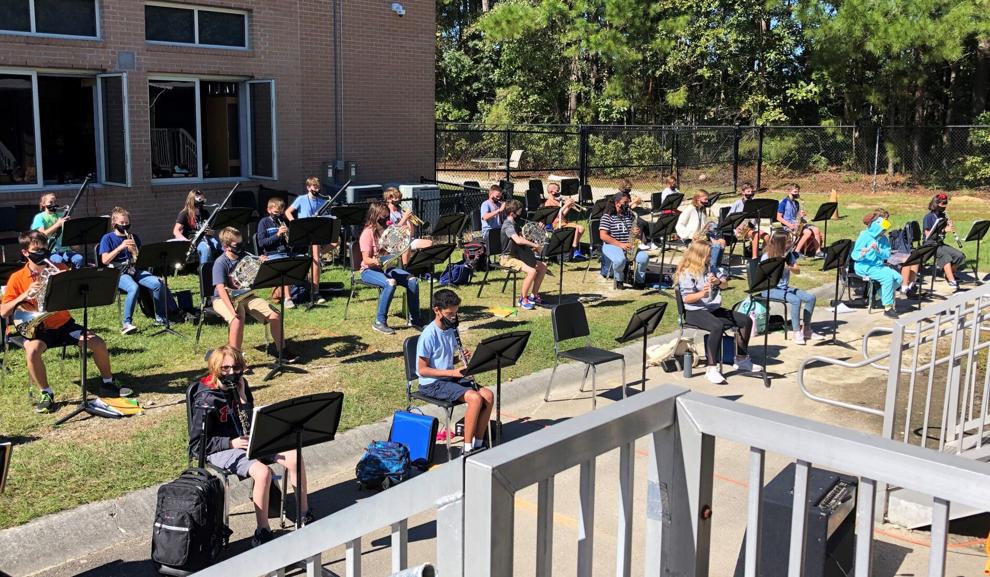 The band students at Thomas C. Cario Middle School had an unconventional year, yet the students' perseverance amidst challenges led to success at the All State Band and Region 4 band auditions, according to band director Jeff Scott.
"It says a lot about the heart and dedication of our kids to still be successful considering all of the difficulties they have had to go through and all the disappointments," Scott said.
After several canceled events over the past year, the seventh and eighth grade band students were still able to audition for regional and state bands. However, they auditioned by downloading an app and performing in front of their phones instead of a panel of judges.
Cario's results in the All State auditions included 19 seated students, which was the most in the state, along with six alternates. The All State Band is the highest individual honor available to a band student in the state. The group is selected from the top one-third of each of the five regions in South Carolina. Fifty-five students made the Region 4 Band.
Scott said Cario has placed more students in All State compared to any other program for the last 20 years. However, the past year posed more challenges than any other.
"They adapt much quicker and more efficiently to change than a lot of adults – they don't complain, they don't whine about it, they aren't uncooperative. They know it's what they have to do to play," Scott said.
Since there is not enough space indoors to socially distance the up to 72-student classes, the band utilized outdoor space for rehearsals. This meant bringing the equipment outside each morning and hoping the rain held off throughout the day.
"If it's 100 degrees were out, if it's 30 degrees were out and if it rains we can't rehearse at all," Scott said.
Other COVID-19 protocols included bell covers at the end of the instruments and specific band masks with a small slit so the students are still able to play while wearing a mask. Scott said all band programs across the state made similar adaptations and it's been a difficult year for students across the board.
Despite all of the uncertainty, Scott said the students were still committed to rehearsing and preparing for auditions. Typically, the All State students attend a weekend-long clinic to enhance their skills and meet other top band students from across the state, but that opportunity is still up in the air this year. Scott said the students still put in the effort despite knowing they may not receive the same recognition and benefits.
"It's a lot of maturity for kids for an age group that's not famously known for maturity," Scott said.
Cario's All State Band students
Sophia Pecoraro: 1st Flute
Annabelle Twomey: 2nd Flute
Sela Guy: 1st Alt. Flute
Evan Furtaw: 3rd Oboe
Zachary McClellen: 4th Bassoon
Elizabeth Mellette: 1st Alt. Bassoon
Lauren Clements: 2nd Clarinet
Alexa Hills: 8th Clarinet
Peyton Moody: 10th Clarinet
Ren Takemoto: 18th Clarinet
Molly George: 2nd Alt. Clarinet
Emma Khaskhely: 2nd Bass Clarinet
Kaitlyn Darnard: 3rd Bass Clarinet
So Takemoto: 5th Alto Saxophone
Annabelle Waters: 1st Alt. Tenor Saxophone
Morgan Vandiver: 1st Baritone Saxophone
Lucas Oppelt: 6th Trumpet
Emerson Mackes: 5th Alt. Trumpet
Nicole Pace: 2nd Horn
Riley Craft: 2nd Euphonium
Lauren Pace: 4th Euphonium
Owen Griffiths: 2nd Tuba
Nicholas Neal: 3rd Tuba
Vivienne Sjolander: 3rd Percussion
Remy Joy: 1st Alt. Timpani
Cario's Region 4 Band students
Sela Guy: 2nd Flute
Leilana Kahalehoe: 4th Flute
Katya Mann: 5th Flute
Sophie Ottmers: 6th Flute
Sara Embrey: 10th Flute
MacKenzie Sheeran: 12th Flute
Valerie Cunnane: 1st Alt. Flute
Madeleine Harris: 4th Alt. Flute
Kylie Blevins: 7th Alt. Flute
Emerson Larsen: 9th Alternate Flute
Meghan Zimmerman: 2nd Oboe
Alessandra Botu: 3rd Oboe
Duru Bayran: 2nd Alt. Oboe
Elizabeth Mellette: 1st Bassoon
Beckman Schou: 4th Bassoon
Cara Olmo: 3rd Alt. Bassoon
Molly George: 2nd Clarinet
Marco Martino: 7th Clarinet
Evelyn Durkee: 8th Clarinet
Graham Gregory: 9th Clarinet
Mary Ella Grier: 11th Clarinet
Avarie Lyon: 12th Clarinet
Rosie Cunnane: 15th Clarinet
Nicole Gill: 23rd Clarinet
Brian Shay: 1st Alto Sax
Jackson Hooks: 2nd Alto Sax
Addison Kurtz: 3rd Alto Sax
Samuel Stein: 4th Alto Sax
Noah Miller: 5th Alto Sax
Colby Reese: 2nd Alt. Alto Sax
Annabelle Waters: 1st Tenor Sax
Kyle Angelich: 2nd Alt. Tenor Sax
Makoto Thompson: 2nd Trumpet
Talia Barsness: 6th Trumpet
Emerson Mackes: 7th Trumpet
Hunter Landon: 10th Trumpet
Morgan Smith: 11th Trumpet
Connor Kaping: 13th Chair
Nathaniel Reese: 14th Chair
Clara Danner: 15th Chair
Andrew MacDonald: 16th Chair
Zackary Wiley: 1st Horn
Nate Letourneau: 2nd Horn
Rachel Agudelo: 4th Horn
Phillip Kravchuk: 6th Alt Horn
Thomas Haddigan: 3rd Trombone
Nicholas Kirsling: 4th Trombone
Zachary Winston: 6th Trombone
Tyler Heckman: 8th Trombone
Julia Cherry: 9th Trombone
Aiden Robinson: 2nd Euphonium
Maxwell Winter: 4th Euphonium
Andrew Zuo: 1st Alt. Euphonium
Charlie Pratt: 5th Tuba
Alex Dew: 4th Percussion
Ben Yeomans: 5th Percussion
Mack Wood: 7th Percussion
Colsen Guy: 1st Timpani
Remy Joy: 1st Alt. Timpani