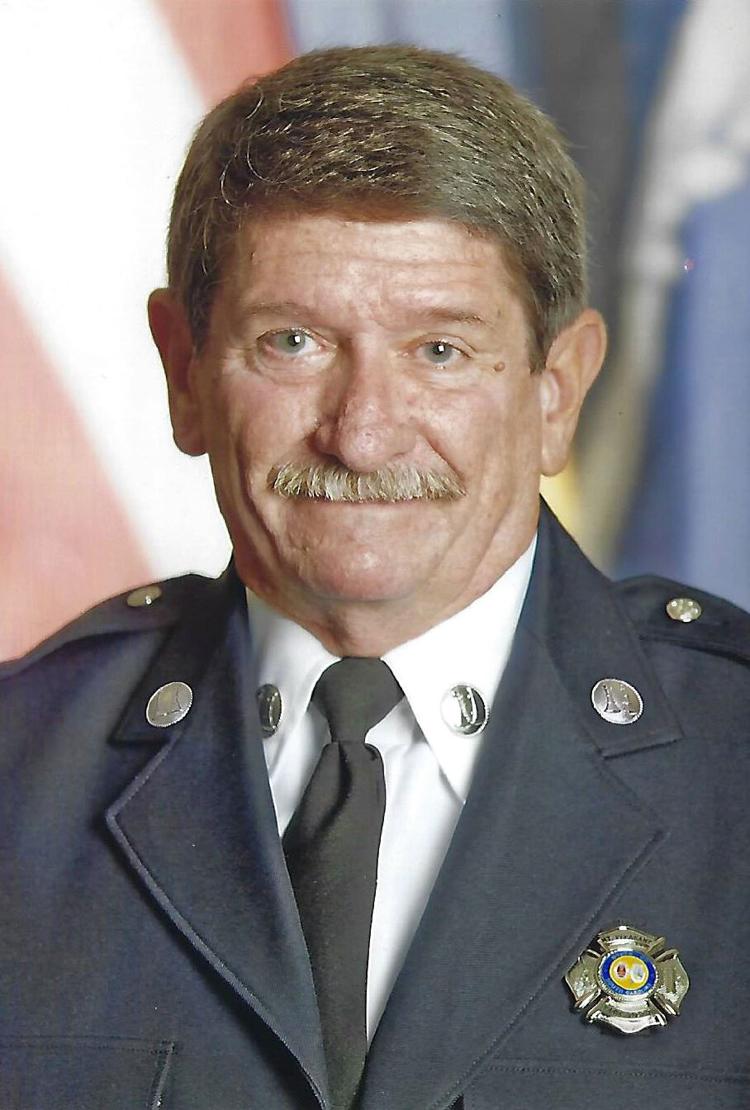 Captain Mike Allen's curiosity and reliance on his faith led his career at the Mount Pleasant Fire Department for 28 years. He retired on Oct. 4 and shared some reflections on the many changes and programs he has helped with over the years.
Allen grew up on James Island and graduated from James Island High School. He immediately went to work at the Charleston Naval Shipyard for 15 years.
Allen's commander at the time was trying to get him to move to various new places. He turned down the Philippines, Florida, and then Texas before he decided to give a year's notice to leave the base. Then he opened his own automobile mechanic business in Berkeley County, which he ran for 10 years.
"Then I became a firefighter," Allen said. "I got interested in the fire service because in the part of Berkeley County where I lived; we didn't have a fire department."
For a few years, seniors from churches in the area tried to start a fire department.
"And we had absolutely no idea what we were doing," Allen recalled. "None of us in the community had any fire experience at all. So we went on suggestions from neighboring departments on how we should start."
This was the grassroots beginning for Berkeley Fire Department in 1984. Two years later, he was certified through the Fire Academy along with a few other volunteers.
"We found that the more that we were learning, we realized that there was so much more that we needed to know," he said.
The department steadily grew and Allen said they became actively involved in their community. In 1992, Mount Pleasant Fire Department was expanding and Allen decided to apply.
"I had the humble beginnings as a volunteer in Berkeley County and then came over to Mount Pleasant and have thoroughly enjoyed every day here," he said.
Allen said he was fortunate to have a lot of real life experience working as a volunteer for the county department in Berkeley.
"Everything you get called into, it's the real deal. The house was really on fire, someone really got shot. So it's all those kind of tragic situations that you get called into," he said. "So when I came to Mount Pleasant, I had all that real world experience that really helped me along here."
When he first joined at Mount Pleasant, he remembers the hiring process being nowhere near what it is like today. Allen said in the 1990s they would hire people with minimal experience, as long as they could pass the minimum entrance tests that existed back then.
Now, Allen said the hiring process is much more difficult.
"Today we expect so much more from our people because we've grown so much," he said.
A few years into working for the town, he said they did a comparison survey between the fire and police departments to know what level they were both involved in the community. Allen said it seemed like any time there was a public event or activity, there were police officers present so the fire department wanted to see what the advantage was to being actively involved.
MPFD's Community Relation Programs
Chief Fred Tetor at the time, who now resides in the Old Village of Mount Pleasant, helped spearhead their efforts. They quickly realized fire was way behind in community involvement, so the entire department began to work together to build up their community relations programs.
Allen said aside from people calling 911 for an emergency or to change or check a smoke detector, they really did not do much. To change that, MPFD developed 40 new programs relating to customer service within the town.
"We put all of those into play and it made a huge difference," he said.
Allen said around that same time, a local college completed a survey on elderly residents in Mount Pleasant to learn what level they felt the fire department gave them service.
"The results were terrible," he said. "Some of them didn't even know we had a fire department. And that was the handwriting on the wall that prompted us to get involved and create all these programs that would get the guys out to meet the community."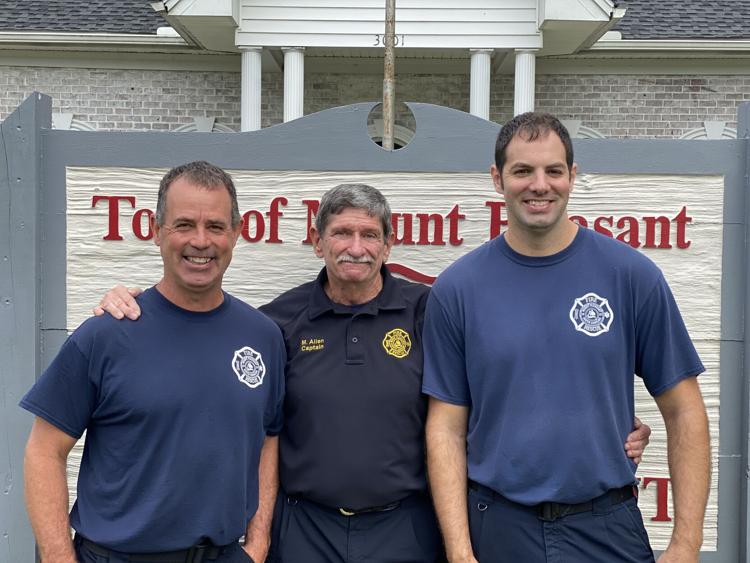 Allen said the fire department immediately got involved with enthusiasm.
"It really paid off, because after a couple of years, we had the same college come back to do another survey and the results really, really showed the difference," he said. "Most all the community knew what the fire department was for, what it did and what we offered."
Allen said fire prevention remained their focus, but they started being there for people within Mount Pleasant that needed their help.
Allen said they would do wellness checks of senior citizens. They would go by their homes and make sure they had everything they needed. He said it was an additional way to reach out and stay in touch with the elderly residents in town.
"We don't want our senior citizens to feel neglected or like somebody forgot about them. That'd be terrible," he said.
Allen said they extended this service beyond just home visits to local assisted living facilities in the area. He remembers the department worked to identify any senior in the area who no longer had a family or if their family lived very far away.
"Every week we would go by and we would just make sure that those people are doing okay," he said.
"Of course they've got staff there to take care of and things like that but we wanted something a little bit more than that."
Allen said they evaluated their programs from time-to-time to make sure the department's focus and energy was beneficial to the community.
Allen said it is vital for fire departments to educate students at a very young age before they feel too old to learn about safety or what the department does.
"So we started a program just called Adopt-A-Truck. We reached out to the schools and every school in Mount Pleasant participated," he said. "What we were trying to do was to make the kids have ownership in one of our fire trucks and we would take the name of their school and put it on the side of our fire truck. That made it more personal."
The Adopt-A-Truck initiative took off in 1995, but due to the town's growth and call volume, MPFD had to slow down their school visits. Allen said every station has a school in their district and they still go by, but not on the same schedule.
He considers that one of the bigger programs he assisted with and said it was a great opportunity to teach children to remember to make a fire exit plan and check their smoke detectors.
Allen explained it became easy for the fire staff to forget or not realize the difference they were making through their programs.
One day Allen was really struck by the impact what he does on daily basis when he was out shopping at a local retail store after he got off his shift. He accidentally bumped into a little girl as they both came around the corner at the same time. She stared up at him and took off running calling for her mother.
"I thought what did I do, I didn't do anything. And she came dragging her mom back and said 'Mom this is the fireman that comes to my school every week,'" Allen said. "That's when I realized that because we see so many people, that we can get immune to what we're trying to do. But when you have a little child that goes back to you and tells you that 'you made a difference to me and I listened to everything you said.' If we could just reach out to a small number of those kids than the whole program, no matter how much it cost us, was worthwhile."
Allen had another favorite program that started around the same time as the school programs called Life and Fire Safety. He said five firefighters would dress up like clowns and perform a skit to music and use puppets. They even took puppeteer courses.
"It was the best thing. I mean, as an adult, I would go to these events and be amazed at what these guys could get accomplished. They were doing like 200 kids at a time, because the whole thing was a big production; it was like a Broadway show," he said.
Allen said they were proud when the Life and Fire Safety program was recognized at the state level for public fire education, winning several awards. He said the program started around 1996 and ran for at least 10-15 years in the town.
Since that time, the expansion of service to the town alongside the growth of the community has been exponential. Allen said if they did not build a new fire station, they would remodel or move existing ones in order to cover more residents.
He said MPFD feels as though its employees are an investment for the future, and does all they can to help them achieve their personal goals.
"I think that our hiring process is pretty stringent and we want to invest in those people who feel they want to be a firefighter and then we've got to do our part to make them the best firefighter, not just somebody who comes in, works a shift, and then goes home," Allen said.
In MPFD, each firefighter is expected to learn a lot of information. Senior leadership works as mentors to help all firefighters, engineers and officers develop skills, complete training and work towards their next promotion.
Looking back, and looking forward
In all 28 years, Allen has seen many various emergencies. However, he recalls one rescue in 1999 that was more special than all the others.
He was working at MPFD Station 3 when they received a call for a structure fire by Remleys Point with people trapped inside. Allen and his crew rescued two people from home that was on fire. One of the women spent several days in intensive care and her mother spent over a week there. Both survived.
"So the blessing of that was that we were able to respond very quickly. We were able to rescue them out of that house. And then the end result was in a couple of weeks, we went back and met with them," Allen said. "That really was the highlight; you know that you could do something for somebody. Then, then a short time later, we got to go back and see them. The outcome of that could have been disastrous."
Allen said that was the first fire rescue in Mount Pleasant that anyone could recall. He said they had unfortunately responded to some fatalities, but for that rescue, his crew was in the right place at the right time.
"Since then there's been several other fire rescues at different parts of the town. And there's been a higher level of ethical interventions which has resulted in saving somebody's life," he shared.
He said that is part of responding to every 911 call to help reduce the response time from emergency agencies. He said fire, police and EMS all respond and the first to arrive is responsible for providing information back to dispatch but more importantly for basic intervention to sustain a person until a higher level of care can arrive.
Allen has worked under five fire chiefs during his time at MPFD and says he is fortunate to have had a great relationship with each of them. Allen said the main thing MPFD cares about is performing their job to the best of their ability.
"I been fortunate enough to be able to sit in the wheelhouse and guide things along by having some great people (at MPFD)," Allen said.
Allen said after doing shift work away from home, spending time with his family in retirement is number one on his list. He said sometimes being away from home can be stressful, but he was blessed with the support of his wife and kids when he decided to change his occupation to a firefighter in 1992.
Twenty years before taking his job at the town, Allen married his wife, Toni on March 25, 1972. Together they have two sons and two grandchildren, which Allen looks forward to spending more time with now he is retired.
"My wife and I realized that God's going to take care of us every single day. We have put our faith and trust in whatever His plan has been for me," Allen said. "When you put him first, then all you have to do is just follow what the plan is. And we have been so fortunate in that regard and we've been successful. And anything that I have done is everything that God has done for us."