The 2019 National TIME Dealer of the Year, Tommy Baker, was the featured speaker at the Mount Pleasant Chamber of Commerce's (MPCC) luncheon on Feb. 20.
At the luncheon he shared a number of stories about what it was like growing up close to the banks of the Wando and Cooper Rivers and the historic Charleston peninsula. He talked about his memories of riding his bike, going to dances and growing up in an area that has expanded and developed throughout his lifetime.
Baker was born in Charleston and graduated from Moultrie High School in 1964 and enlisted in the Marine Corps. He traveled to Okinawa, Japan and returned back home in 1968. From there, he enrolled at The Citadel and is a proud member of the Class of 1972. He explained that his education and the experiences while serving the country helped shape him into the person he is today.
During his time at The Citadel, Baker worked at James Oldsmobile in Charleston which set him on a career course in the retail automotive field. He spent 25 years as an automobile dealer across the south when he realized he wanted to return back to his first love, Charleston. He said that people often ask him why he wants to spend the rest of his life in the Lowcountry.
"There's no place like this. I have the privilege of traveling everywhere and I can't wait to get back. It's because of the people. It's because of the lifestyle. It's just so special," Baker said.
In 1988, he founded Baker Motor Company, which started on Morrison Drive in downtown Charleston and expanded to a multi-car dealership campus on Savannah Highway and two dealerships in Wilmington, N.C.
"If you'd have said years ago a poor boy growing up in Mount Pleasant, that one day I'd have a Mercedes Benz dealership on Highway 17; I would have said you've got to be lying to me. I can't believe that," Baker said. "About five years ago we did that and it was just amazing."
Baker has served on a number of boards over the years, giving his time and talents back to the community that he values. He currently serves as Chairman of the Board for Beacon Community Bank and he is on the board of directors for the Southeastern Wildlife Exposition and the Board of Governors for the College of Charleston. Baker lives with his wife of 37 years, Vickie, on Sullivan's Island. They have three children and four grandchildren.
In 2019 Baker was nominated for the TIME Dealer of the Year award by E. Sims Floyd Jr., executive vice president of the South Carolina Automobile Dealers Association. He said this was such a surprising and incredible honor to receive.
First Responder Recognition
The MPCC President-Elect, Eddie Phipps and Mount Pleasant Police Department (MPPD) Chief Carl Ritchie presented the First Responder of the Month award at luncheon. The award was given to an individual for his outstanding work over the past month related to Internet Crimes against Children (ICAC) investigations.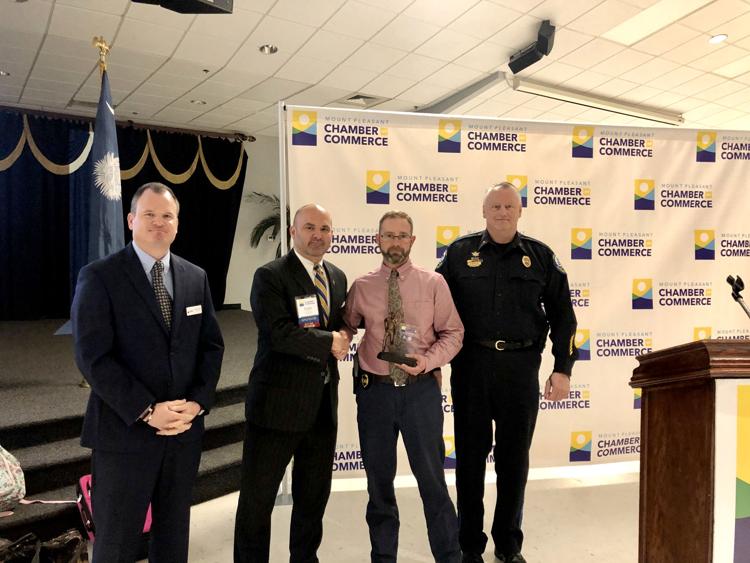 Ritchie explained that this type of work is challenging and most of the time; it takes long, hard hours to complete. He said sometimes a shift could start at 8 a.m. and the investigative work could take until 2:30 a.m. just to find the predators that are lurking on the dark internet.
The award was presented to Detective Kenny Clark, MPPD's representing member of the Attorney General's Office Task Force. Ritchie explained that Clark has brought MPPD to a new level in investigating these crimes and protecting the children of Mount Pleasant.
Ritchie shared that ICAC investigations can be heartbreaking and Clark has been working these cases for years. He said that Clarke's work is rarely seen by the majority of the population, but it is extremely for MPPD to prevent future criminals seeking to harm children.
"I would like to state that, through Det. Clark's hard work and excellent investigation practices, we are able to concretely say that children that were not previously safe are now safe," Ritchie shared. "This, in Det. Clark's own words, has made all the hard work worth it."
Nonprofit of the Month
Our Community Listens (OCL) was the Nonprofit of the Month at the February luncheon. Julie Chapman, the Chapter Leader of OCL Carolinas had promotional material available for members of the chamber and shared about the work they offer in the community. OCL offers transformational learning experiences to empower individuals, strengthen relationships and develop human centered leaders.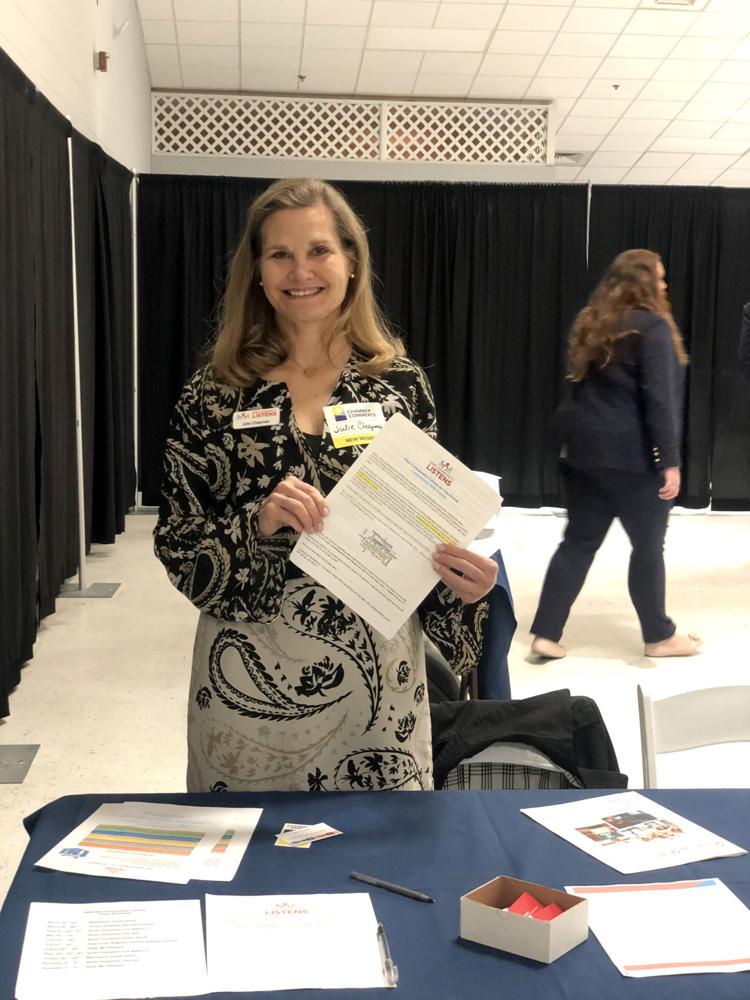 OCL has upcoming classes at Blackbaud on Daniel Island March 10-12. For more information about OCL and upcoming events visit ourcommunitylistens.org/public-classes/south-carolina/home.
Meetings
The MPCC is hoping to exceed 500 members in 2020. MPCC meetings are held the third Thursday of every month. The March 19 luncheon will be held at The Exchange, 3003 Dunes West Blvd., Mount Pleasant. Dr. Dondi E. Costin, President of Charleston Southern University will be the guest speaker. For more information about the chamber or to buy tickets to next luncheon visit mountpleasantchamber.org.