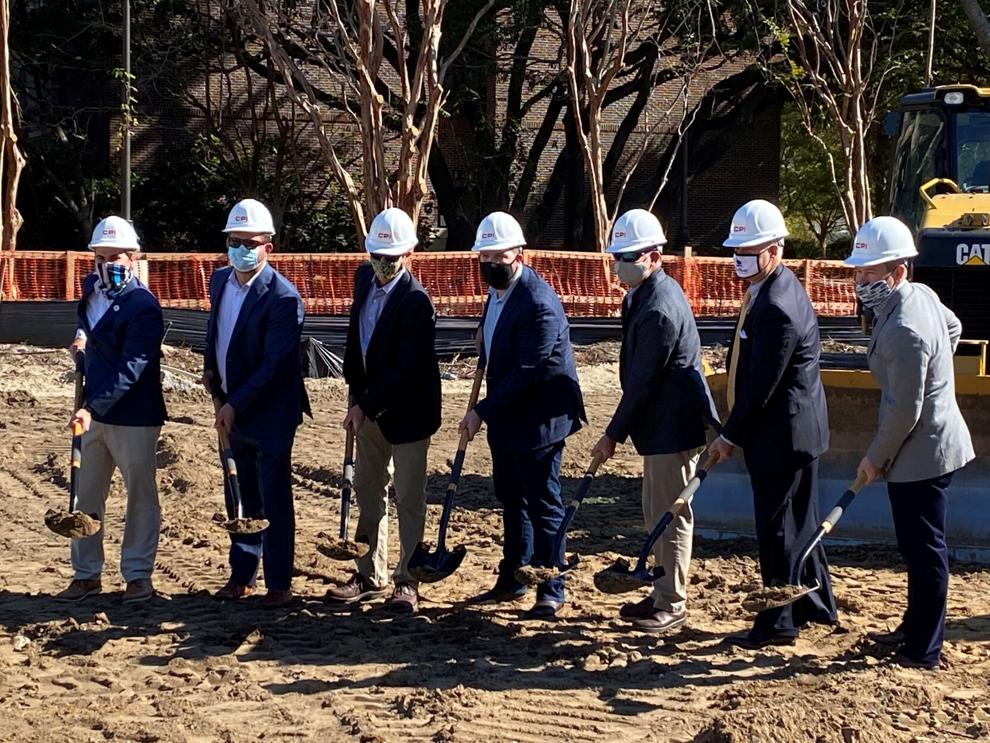 The groundbreaking for a new 36,000 square foot, four-story office building was described by Mayor Will Haynie as an important step forward in bringing economic stability and new jobs to the Mount Pleasant area.
The new office building will be located at the foot of the Arthur Ravenel Jr. Bridge along Johnnie Dodds Boulevard and will share parking with the Hilton Garden Inn.
"It's the right size, it's the right type, and it's the right place," said Mayor Will Haynie during his keynote address at the event. "We don't have warehouses or rail in the Town of Mount Pleasant. The future of our business development is the type of businesses that will locate right here and save you and your staff from driving across the bridge."
David Tart, Partner at Four Raines LLC, introduced the groundbreaking ceremony by thanking the many companies and individuals involved in the project. "We're excited to do this and we're excited to come to the end of this year and announce something that is going to carry us into 2021 and hopefully get us back to normal before long," he said. "I'd like to recognize our lending partner, Carolina Bank and Trust, Integrated Building Design who designed this building with us. I'm confident that we have designed the building in a way that fits within the fabric and intention of the comprehensive plan for this part of Mount Pleasant."
He also praised the work of CPI (Construction Professionals Inc.) "A group we've worked with extensively before, and one of the best contractors in Mount Pleasant." Also SeamonWhiteside "for doing our civil work" and Lee & Associates "doing our brokerage work."
Haynie emphasized, "Things like this (development) are very important to us. This is right in the sweet spot for Mount Pleasant, for our present and our future and you have great support from your Town government."
"The first tenant of the building will be Raines," said Tart. "The Raines Hospitality Company is now a partnership between our business here and Raines out of Florence." Tart said he had been in the business of developing hotel properties for more than 15 years. "Grey Raines (President of Raines Hospitality) and his family have been in more than twice that time. I've known Grey for a long time. We share similar visions with what we are trying to do in the hospitality market. We developed the Hilton Garden Inn here, 133 rooms, and recently did a 92 room Hyatt Place over in Mount Pleasant Town Center. Grey and his team were responsible for the 110 room Spring Hill Suites here at the base of the bridge, as well as the Cambria just down the street. We also manage the 70 room Best Western here at the base of the bridge. For Mount Pleasant that represents over 500 rooms with over 150 employees and revenue that averages annually more than 16 million dollars a year," he said.
Tart said they have "not only have the best hotels in the market, we have the best people running those hotels. And we have a really strong employee base and incredible teams that help us run those properties." He added that people don't just stay in the hotels when they stay in these hotels. "They drop their bags and they spend money in this community and all the small businesses here. That's a big impact on this community."
Tart said the development builds into "the fabric of this community and what we really hope for when people drive off the base of the bridge and they enter Mount Pleasant."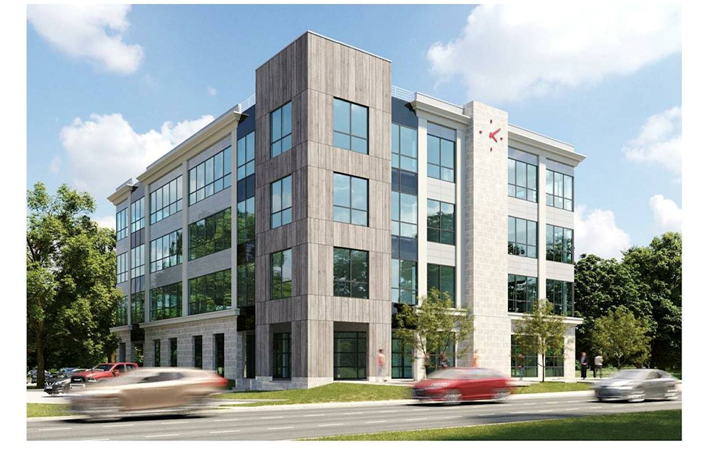 Haynie spoke of the turmoil over the past year and also what he considered an exceptional event. "We just passed — under the cloud of the pandemic and all the COVID news — we passed our new comprehensive plan for the next ten years. And we have people making up our council and me as mayor that represent the last three election cycles in the Town of Mount Pleasant and everybody knows, that during some of our meetings in the past there was rancor, there was dissent. I'm talking about the community." He said the community had to ask, "Who is Mount Pleasant? What does it look like? What kind of town will we be?"
"After a lot of hard work, a lot of citizen input from our forum of 40 citizens, our volunteers on the planning commission tweaking it to get it right. It passed unanimously – without rancor, without fuss, without different factions having different visions for the Town of Mount Pleasant," Haynie said, adding "this," as he pointed to the site, "fits that."
"After all," he said, "Unless you had to make a living (on the other side of the bridge), why would you ever want to leave Mount Pleasant anyway?"