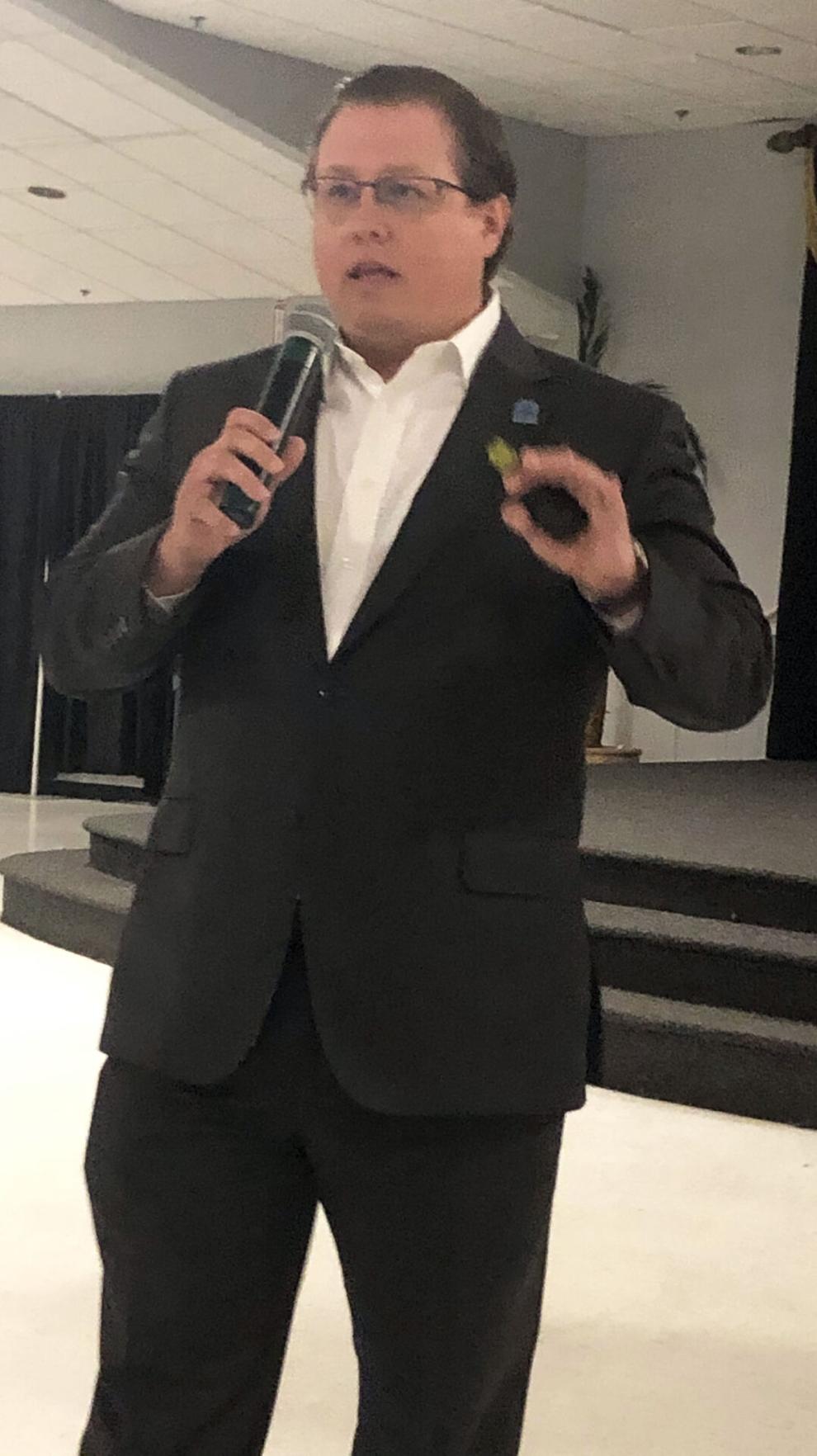 It's easy to think of airports as separate entities from the concerns of local businesses, but J. Elliott Summey, executive director and CEO of the Charleston County Aviation Authority, wanted to emphasize at a recent Mount Pleasant Chamber of Commerce meeting that airports are vital to the community's economic health.
There are actually three airports in Charleston County. The main one that most people are familiar with in North Charleston, the Charleston International Airport, is operated by the Aviation Authority under a joint-use agreement with the military airport, Joint Base Charleston. In addition to the airline terminal, the Boeing assembly plant is there. However, there is also the Mount Pleasant Regional-Faison Field Airport and the Charleston Executive Airport on Johns Island, both owned by the Aviation Authority. Those two primarily serve private planes, rather than commercial enterprises.
"We are an authority. So we're a quasi-state agency. We don't collect taxes. We're not a taxing authority. We are a fee-based airport. So we eat what we kill, just like most of you in this room. We are in business," said Summey, then jokingly added, "We get to be a business when it's convenient and we get to be a government when it's convenient. It's pretty nice."
Summey talked about the impact of the pandemic on the travel industry. "Obviously everyone knows, and can probably appreciate, the lack of revenue over the last year due to this pandemic. It's been tough. This is the worst year in the history of aviation in the entire world. Literally. Never thought we'd say that after 911. But here we are."
However, Summey said they took action to counter problems presented by the pandemic, as well as began to plan for when travel worries eased. He said the Aviation Authority considered how to make the most of what they were able to do and avoid furloughs and layoffs of staff. Their first priority was creating "a safe and healthy airport." That meant cleaning in a way that had not been done before.
PPE, such as masks, were mandatory. But Summey emphasized, "We're in the friendliest city in the world, right?" To maintain that friendly attitude the airport's law enforcement officers walked around masks in their pockets ready to offer them to anyone who didn't have one.
"Going to the airport can be a stressful thing. You've got to remember your driver's license, you've got to remember your ID, and you've got to remember your boarding pass, your luggage, your cell phone." He said it was easy for people to forget and leave their masks in the car. "We did not have one incident where someone came in the airport said 'we're not wearing one.'"
One big help was a new product to fight the transmission of the virus. He explained that Boeing introduced them to a product called Impact. "Impact is a microbial fogging solution that does not kill COVID-19, but it disables the cells that transport it." He said they sprayed every 21 days. The product created a 30 day barrier. So if someone sneezed on something and left COVID-19 behind, and another person touched that item the virus would not travel with them. Boeing used it on all their airplanes.
Since the vaccinations have become more common there's been a big change in the airline industry. "We've seen it come back, and come back in a big way. Back in March, April, May of last year, we were losing $2 million a month. Some days had less than 150 passengers come to the airport. Last Friday, we had 13,000 people file through our airport," he said.
Summey said the airport is at 75 percent of recovery from where they were in 2019. "United announced six new destinations to Charleston, direct Milwaukee, Indianapolis, Cleveland, Columbus, Cincinnati. And Indianapolis. That's another 15 flights a week for us." He added that JetBlue is increasing its flights and that they would be going to Los Angeles beginning July 15." He added, "We're going be into JFK with JetBlue three times a day. Daily to Fort Lauderdale."
With his background in commercial industrial development Summey said he is focused creating a master plan "and figuring out what our infrastructure looks like, what our entitlements look like, and how do we get in the economic development game? We've got the greatest economic development engine in all of South Carolina sitting as our tenant — Boeing Company."
Summey said there is more to be done with their resources than airline travel. "We can't be solely reliant on tourism, and passengers, we have to be a business that can last. And so we're looking at all of our real estate, all of our land leases, how we maximize those as much as possible."
Mount Pleasant Regional Airport is also receiving attention. Summey said they are working on obtaining a grant to change out the airports lights with LEDs, which will cost about $3 million.
He assured the chamber members that the Aviation Authority wants to be an active partner in the community. "We're going to be open to anything we can do to assist the town and your staff on economic development."