Vital emergency first responders are learning and adapting to new procedures as they work together to combat COVID-19. Together they are doing everything possible to ensure residents are safe and well cared for throughout this global pandemic and in the future.
Police response
Mount Pleasant Police Department's (MPPD) Captain Mark Arnold shared that their response to calls for service has become dependent on the nature of response required. Due to COVID-19, if a call is for an incident where there are no suspects present and there is no danger at the moment, Arnold said MPPD might handle that by calling the victim on the phone and taking that report over the phone, as opposed to going and meeting with them in person.
MPPD is still responding as they normally would to all disturbance calls, assault calls or any situation that would require an officer's presence. Arnold said before officers are arriving, they are putting on Personal Protective Equipment (PPE) such as N95 or surgical masks.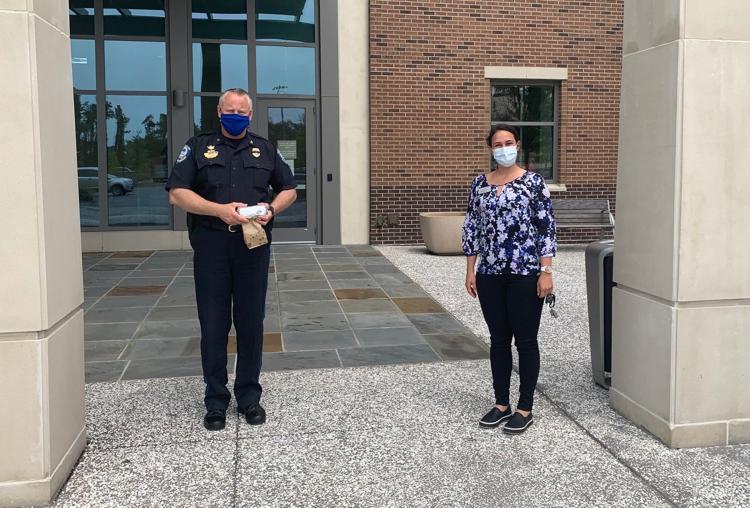 He also explained if there is not a reason to enter a home, they may meet with people on their front porch or outside so they can stand 6-8 feet apart.
"Our primary focus with traffic enforcement has always been to reduce collisions. That hasn't changed, we still are taking enforcement actions when we see driving behaviors that are likely to cause a collision or hurt somebody," Arnold said.
He explained MPPD has provided training to all officers for social distancing and the use of PPE. At the beginning of each shift, they perform a screening questionnaire and take all officers' temperatures to monitor their workforce is healthy and ready to work.
"Police work is one of those things where we're usually very mindful of our space when we're dealing with people anyway, from an officer safety standpoint just as we normally would work. So for us, social distancing and keeping a little bit of space between us and maybe an offender is not a thing that's foreign to our officers. They're fairly accustomed to that," he said.
When an officer conducts a traffic stop, Arnold said the only difference right now would be that they are wearing a mask. He said the officer could decide whether they want to retrieve a driver's license and registration or just ask the driver to show their license and read the license information aloud to reduce personal contact.
Arnold said early on in the pandemic, MPPD began educational training for PPE and making sure officers wiped everything down with antiseptic wipes when they returned from a call. He shared that MPPD and Mount Pleasant Fire Department (MPFD) have had conversations reviewing guidance from the Center for Disease Control and Prevention (CDC). Initially they were not wearing masks, but now they are for close contact or interaction with members of the public.
According to Chief Carl Ritchie, MPPD has only had to issue one citation during the pandemic for someone that did not comply with their requests.
Arnold said if officers see people not adhering to guidelines, they would ask them to comply. The only reason they would issue citations would be if they could not gain compliance from residents.
"We're taking more of a persuasion and public safety concern than we are a hard line of enforcement approach. The reality for police work is if you can accomplish it by asking people, that's always the preferred way to do it," Arnold said.
Arnold said a majority of the people are law-abiding citizens that do the right thing and a segment of the population from time to time does not follow the laws. He said it might be forgetfulness or intentional and so they try to ask for compliance before showing enforcement. MPPD is depending on citizens and businesses as they reopen to work together to comply with social distancing measures in place.
MPPD's School Resource Officers (SRO) have been taking various assignments while schools have been closed. Arnold explained that as the town reopens parks and businesses, SRO officers may be assigned to patrol and monitor for issues within town. He also said all MPPD officers would continue to be cognizant of their surroundings and the distance between them and the individuals they are interacting with as things reopen.
He said the decisions to arrest or not are based on the facts of the case and that MPPD is still operating as they always have. Arnold said a portion of the department's administrative civilian staff are working remotely to keep things running smoothly. Some of MPPD's record department employees have continued reporting to work to ensure normal operations. Arnold said they are very appreciative of how everyone has adapted to the department's COVID-19 response.
Fire response
MPFD Chief Mike Mixon shared that normally their department is very active out in the community letting kids climb in trucks and attending various events. He explained that when the pandemic started to affect the area, he felt like they were preparing for a hurricane but it was different because they don't know how things were going to end. They began locking down stations, canceling public events and reducing their exposure and contact with the public.
"The men and women get into this because they love the community, they love interacting with people, they love helping people," Mixon said.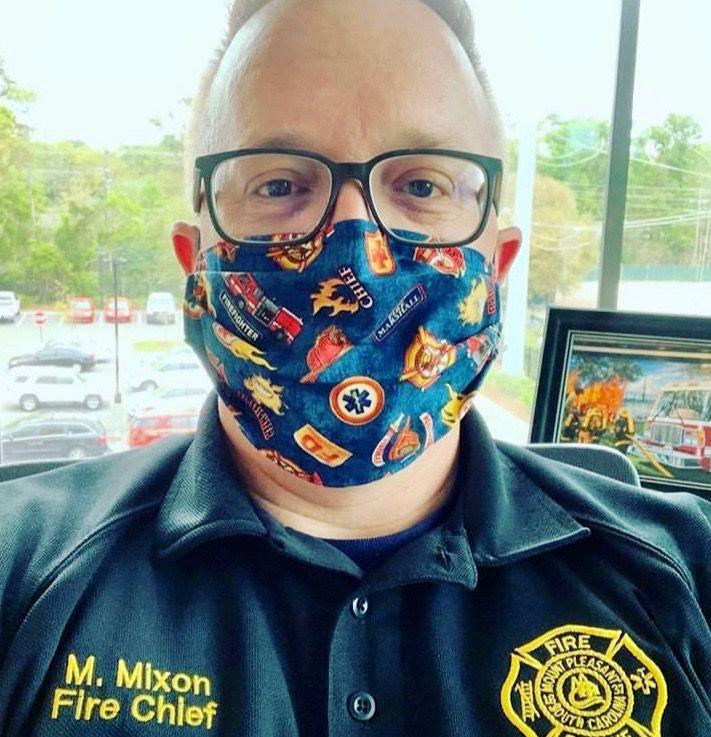 Mixon said that it has been a shock to their system to go from being so involved with the community to completely pulled back. He said that they have certified staff that helps install car seats and to tell them people no is tough, even though the broader goal is for protection for everybody. He refers to the fire department as the town's "catch-all department" meaning they take any request or call when people do not know who else to contact. He said they are adjusting from interacting with people on a constant basis.
Mixon explained that 60-65% of the fire department's call volume involved medical related calls so they have worked closely with Emergency Medical Services (EMS) to create a plan for which calls they needed to respond to or not. For non-critical calls, MPFD has started to hold back and let EMS respond first to reduce the amount of exposure and personal contact. Since EMS transports patients, MPFD has been on standby unless EMS asks for assistance.
Mixon explained that they have adjusted their everyday operations and said it has been tough for firefighters not to go into every medical call, because they want to go rush in and help.
"Even on the non-critical stuff, to pull back a little bit just feels unnatural even for me. But it's worked out well," Mixon said. "EMS has really stepped up to the plate and on a county-wide level really helped out all the departments in the county, not just Mount Pleasant because they provide services countywide."
Charleston County's Consolidated Dispatch Center handles all 911 calls and dispatches them out to fire, police and EMS throughout the county. Mixon said they have come up with some inventive ideas to ask callers on the phone if they have had any symptoms of the coronavirus and asking patients, if they can, to step outside so they can respond in an open-air environment. When they arrive, Mixon said MPFD will wear PPE equipment and ask the same questions about symptoms and for the individuals to step outside to maintain distance and reduce exposure.
Mixon said no one was prepared for the level of masks and gowns required to go on calls. He said when they respond to 20 medical calls per day with three people on a truck they would go through PPE supplies extremely fast. In March, MPFD started looking at inventive solutions so they would not run out of supplies. Mixon said they reached out to supply contacts and have some PPE from the national stockpile. Firefighters are reusing masks if they wear them on calls and do not make any personal contact.
MPFD mandated all personnel wear cloth masks to grocery stores, to pick up food or anytime they went out while working their shifts. Life Park Church donated 1,000 cloth masks to MPFD and Deputy Chief Shaun Simpson's wife sewed custom colorful cloth masks for some of the department as well. Mixon said that being able to use these instead of their disposable masks to venture out into the public has been effective. They can wash, bleach and reuse the cloth ones for personal, non-emergency use.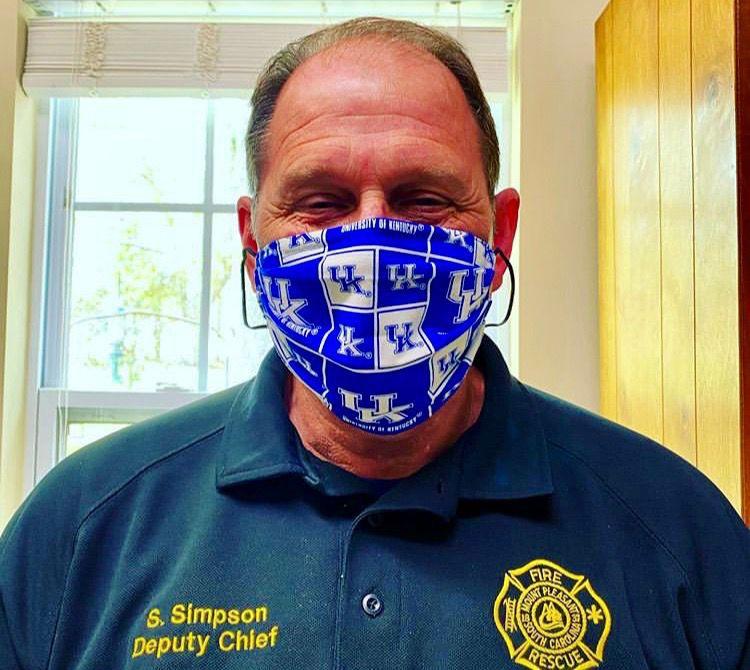 MPFD gives each firefighter a large supply of t-shirts and uniform items to be kept in their lockers. Mixon said if they feel like they may have been contaminated or exposed, they can come back launder their uniform, shower and put on a new uniform.
He said that although the Ebola pandemic never got to South Carolina, it prepared respiratory protection policies and exposure control policies to decontaminate if they had an exposure. Mixon said since MPFD provides advanced life support, they have paramedics on our trucks and are required to have medical control doctors on staff.
"We are making policy adjustments on the fly and making response adjustments on the fly so that we can still provide that same level of service. But this is a totally different animal," Mixon said.
MPFD has two MUSC emergency physicians on staff that have been instrumental in helping the department develop what their PPE policy looks like, what they need to wear on calls and how they should work with EMS.
"To have that level of expertise at our fingertips was perfect. They were right on the frontlines with it (COVID-19) at MUSC and they were doing to develop their response, so they gave us a lot of good advice," Mixon said.
Mixon said the protection training side was a refresher course to remind firefighters how to properly take off equipment if they had been exposed, how to properly decontaminate, to remind which equipment to wear when dealing with this respiratory virus. He explained they had most of these things in place already.
Mixon said that things have been quiet and that their overall call volume is down 60-70% of what it normally is since people are at home so they are not experiencing as many car accidents or fire alarm related calls. He said this allowed them to spend a little more time to prepare for calls when they needed to show caution due to the dispatch questions.
He shared that MPFD is doing their best to reduce contamination by keeping each station separate and avoiding visitation. Mixon is really looking forward to when they can return normal operations and spend time with one another.
MPFD did have to ban food donations and care packages from private citizens to avoid COVID-19 exposure. They are accepting meals prepared in commercial kitchens, or restaurants as donations. Mixon said that several community members have donated lunches to various first responders and that it has been nice to see how people look out for them.
"The fire department is like one big family. You don't realize how close you are to people when you can't shake their hand, when you can't go to the station and give everybody a hug. It just feels weird. We're a very close department," Mixon said. "It may change forever that we don't shake as many hands and give as many hugs and I hate that. But I hope we can at least get back to a point where once this passes completely that we're doing that again a little bit and just being able to go out and visit."
EMS response
David Abrams, Charleston County EMS Director, shared that as normal routine; they always maintain adequate supplies and had a month's worth of PPE equipment on hand prior to the coronavirus pandemic starting. He said they started ordering more masks and PPE in mid-February as they monitored the pandemic's trends around the world and into the United States.
They started ordering more N95 masks, gowns, shoe coverings, head coverings/hair nets for EMS employees to wear. Abrams said they have been fortunate they haven't reused any PPE or had deficiencies in providing PPE for staff and patients.
Abrams said that fire departments are doing more staging to reduce the amount of first responders from having a face-to-face interaction with a patient if it doesn't have any clinical benefit for the patient. He said that they await more info from dispatch or EMS upon arriving on a call to determine if they can be cancelled and avoid entering an area where they may be exposed.
Abrams said the public has been understanding EMS responders must wear masks and will put them on if EMS asks them to.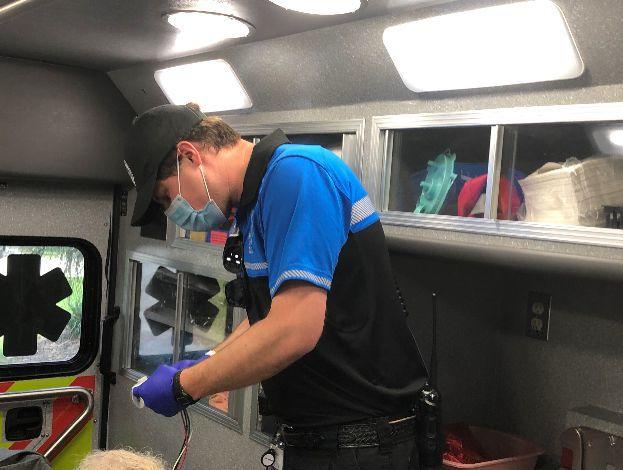 "The public has really come together as community to help the responders and healthcare workers stay safe and keep the public safe during this time," Abrams said.
He explained EMS has partnerships with fire chiefs, CDC, dispatch centers, medical experts and hospital partners and they have all worked collaboratively to for a response to COVID-19.
Abrams is proud of the work crews do on a daily basis and all they have been able to accomplish during these times. He said this strong group of professional responders understand what is facing them in the field.
He also noted Charleston County EMS maintains a strong relationship with the Awendaw and Mount Pleasant Fire Departments and all of the law enforcement agencies in the East Cooper area.
He said their logistics department has done a phenomenal job of maintaining the PPE for their responders in the field and enhancing the disinfectant for their ambulances.
"We have a lot of people behind the scenes who I'm very proud of who work very hard to keep our responders safe," he added.
Abrams said EMS staff is well trained in viral and bacteria disease transmissions and how to ensure both themselves and patients are protected. CDC and local medical experts are tracking how the coronavirus is evolving and Abrams said this has really influenced some of things they look out for and how they respond. Now, EMS is paying extreme attention to how they wipe down equipment and ambulances between calls more so than they have in the past. He shared they have added ozone scrubbers and disinfecting misters to make sure they are killing all potential virus in-between patients.
Charleston County Ems has not had any responders test positive for COVID-19. Abrams said this a testament of how they are protecting themselves and the public to prevent potential exposure.
When Gov. McMaster issued the stay-at-home order in March to slow the spread of the coronavirus, Abrams said they noticed their call volume dropped by about 25% over the prior year, week by week. Within the past two weeks, he has noticed call volumes have ticked back up to being about 12-13% below last year's call level. He said they are steadily moving back up to a baseline of calls, but had noticed a dip.
"I think that's a testament to how well the community responded to the state's request," he added.
Moving forward Charleston County EMS will monitor data, watch trends and follow local leaders' guidance on how to proceed. Abrams said they are ready to adapt to any changes as needed.
"I am blown away of how professional our responders in the Lowcountry have been, how engaged our elected officials have been and how well our municipalities and communities are working together to have a comprehensive approach that's unified to attack the problem and protect the public," Abrams said.