A 7 year old celebrated his birthday differently than most kids his age over the weekend. The soon to be first-grader just held his third annual fundraiser to benefit sea turtles.
Each July for the past three years, Mount Pleasant resident Sam DiBenedetto has held a lemonade stand at Alhambra Hall to raise money for the South Carolina Aquarium's Sea Turtle Care Center. His first birthday lemonade stand in 2018 raised around $800. Last year, he surpassed his goal of $1,000 and collected $1,468.30 for the center.
This year, DiBenedetto had a goal to raise over $1,500 for the aquarium's Sea Turtle Care Center and give any additional funds raised to the S.C. Cape Romain.
"I like sea turtles because they are really cool," he said. "I want to help them."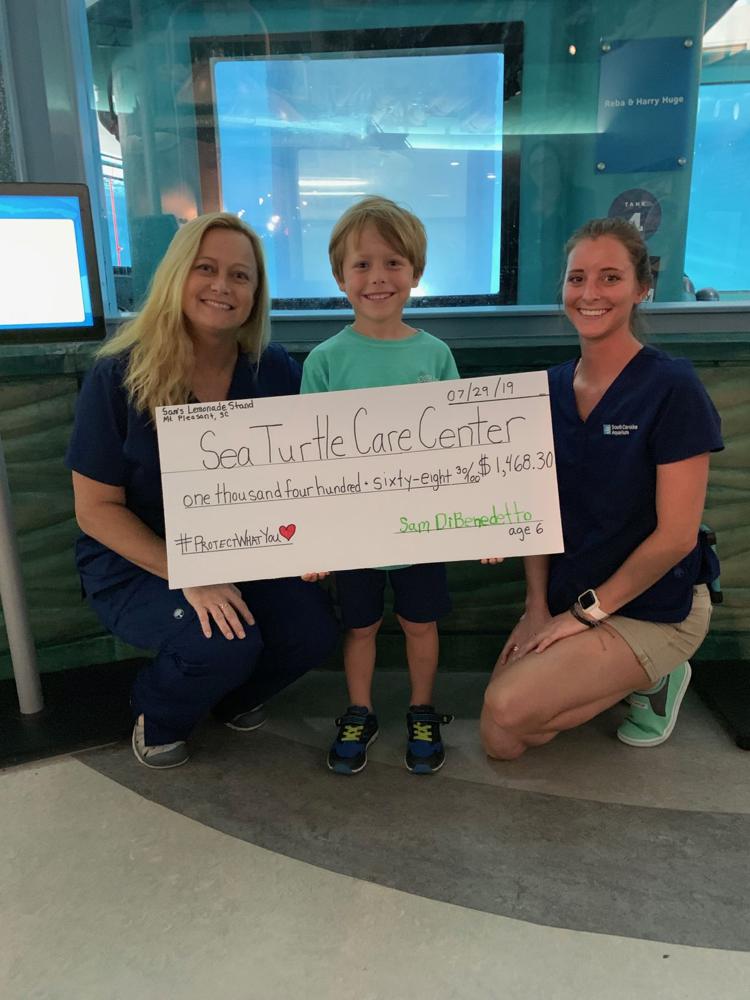 DiBenedetto has visited the Aquarium's sea turtle hospital where he's seen turtles recovering from eating plastic bags or having hooks removed. He urges everyone to do what they can to help save sea turtles lives such as picking up litter on the beach, filling sand holes and turning off lights near the beach so hatchlings follow the moon to the ocean.
"Turtles eat plastic bags because they look like jelly fish," DiBenedetto said. "Pick up trash off the beach to save more sea turtles."
He explained that he wants to be a scientist when he grows up so he can continue helping more turtles.
"This is a pretty unique thing to have someone Sam's age be so passionate about sea turtles and generous by doing a fundraiser for his birthday. We certainly appreciate it. It's very impressive," said Josh Zalabak, Earned Media and Community Engagement coordinator, South Carolina Aquarium.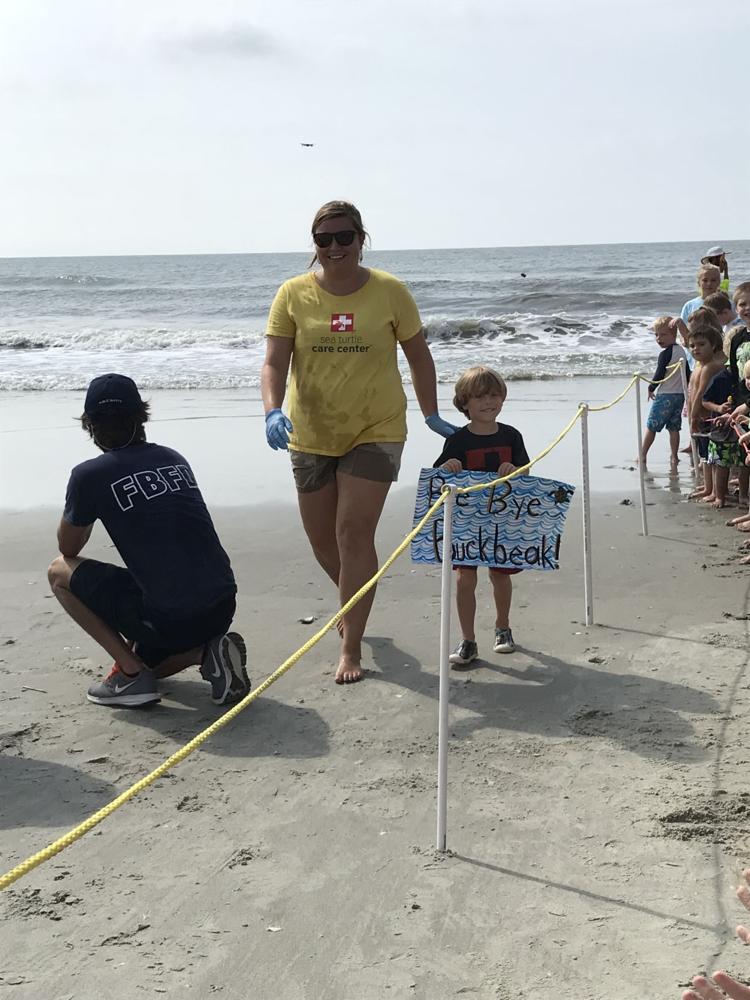 Although the Aquarium's volunteer program has age restrictions, DiBenedetto has been a part of a turtle release before. A benefit of caring about these creatures and helping the Turtle Care Center, he helped the Aquarium release a sea turtle named "Buckbeak" back into the ocean in July 2018.
DiBenedetto's donations allow the center to provide rehab and care for sick turtles. Zalabak explained that the medicine, food and process to helping these turtles can be expensive.
Currently, the Sea Turtle Care Center has 23 turtle patients and 10 turtles have been released in 2020.
Zalabak explains the capacity at the center changes, but they see an influx in hurt or stranded turtles during summer months due to boat strikes and fishing hook injuries.
"Unfortunately these guys do get hit by boats a lot. It's important to keep your eye out for when they surface for air. Make sure you're not speeding through no wake zones," Zalabak explained. "It might be inevitable in some situations but it's definitely avoidable occasionally. Just keep an eye out and be responsible could prevent a lot of these boat strikes."
He shared that the Lowcountry has very busy waterways so sea turtles do get injured from time to time. If you find a stranded sea turtle, contact SCDNR at 1-800-922-5431.
Zalabak explained rehabilitation time depends on the injuries sustained and the Sea Turtle Care Center makes sure the turtles return to full health before releasing. SCDNR works with the Aquarium to give the final sign off to put the turtles back.
DiBenedetto urges people to turn lights off when staying near the beach, to fill in sand holes so hatchlings don't get stuck and to pick up litter on beaches. Last year, the Aquarium gave him metal straws to pass out to donors at his lemonade stand.
This year, due to social distancing recommendations, he decided to hold a virtual event to collect money for the Aquarium.
He left letters in his neighbor's mailboxes and went door to door asking for donations. His mom, Jenny Everett DiBenedetto, posted messages on social media encouraging neighbors to drop their donations by the house or send electronic donations.
DiBenedetto said he has felt very special this year on his birthday as neighbors have left him funny birthday cards with their donations in his mailbox and stopped by to ask about his fundraiser.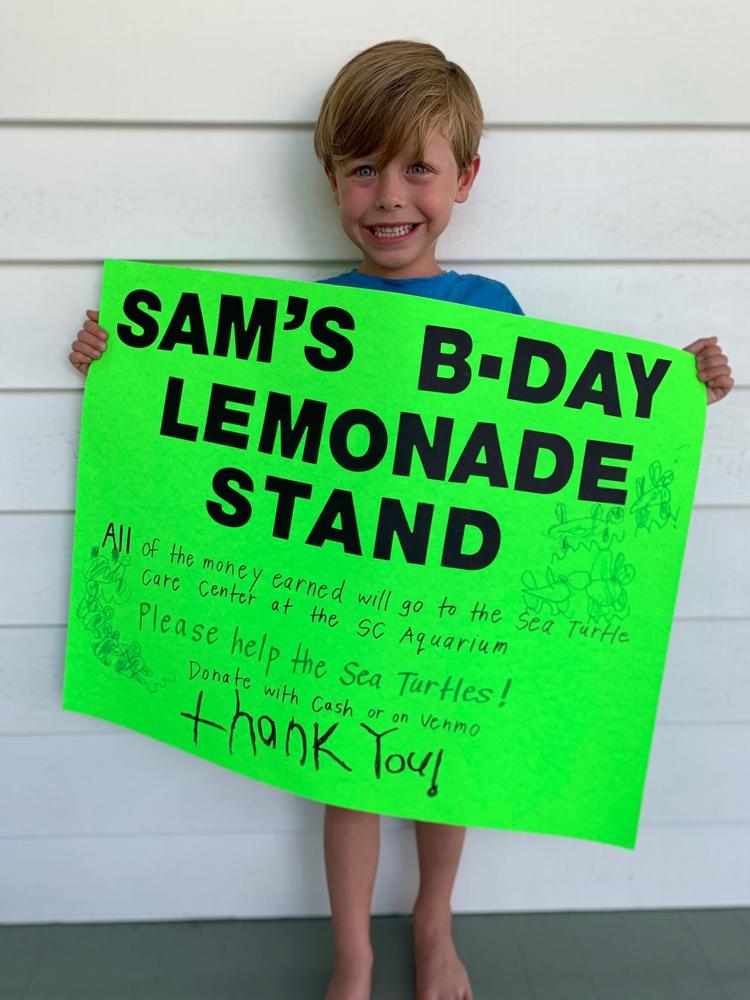 Jenny said it has been a great event each year and they have gotten to know people in their neighborhood they otherwise wouldn't have met if her son wasn't raising money for the Aquarium.
"It's just a really nice way to connect with people, especially during a time when we feel disconnected from people in general. Even though we're doing it virtual, given how we've all been isolated, it's been a great way to connect with neighbors even more so than in past years," she shared.
DiBenedetto's birthday fell on Sunday and by Monday morning he had already doubled his fundraising goal. This year, he has raised over $3,010, with some donations still trickling in.
"Thank you for donating money and helping me reach my goal," he said.
Later this month the Sea Turtle Care Center will release it's 300th turtle. Zalabak shared the Aquarium staff is very excited to reach this milestone and it wouldn't be possible without donations like DiBenedetto's over the years.
"We are just so grateful for his support and what he does for us. It's great to have someone donate; as a nonprofit we really depend on donations to keep going and rehabbing turtles," he said.