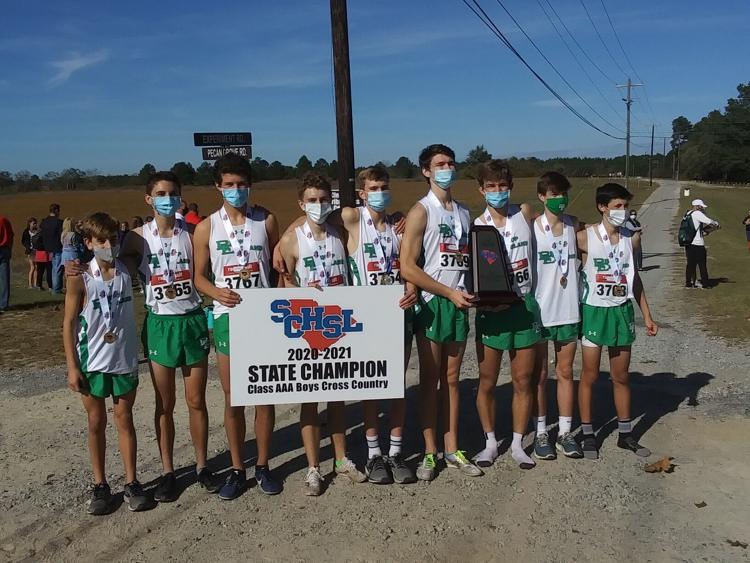 As the top-ranked team all season in Class AAA, the Bishop England High School boys cross country team showed up at the Class AAA state meet as the favorite.
But, being listed on paper as the favorite doesn't always mean success.
At the state meet on Nov. 5, the Bishops were up to the challenge. Led by freshman Justin Haffner, who was the individual state runner-up, the Bishops came away with the team title. Junior Hank Linder (12th) and senior Mark Richter (13th) were all-state runners.
"Today was not about times it was about places," said coach Tony Colizzi, who won his fifth state title at Bishop England. "The guys ran well today. This was a really good group of boys. A pleasure to coach."
Academic Magnet High School ran to a fifth-place finish. Christian Giels finished fourth and Evan Dennis was eighth.
Bishop England's girls team posted a third-place finish in Class AAA. Seventh-grader Nora Brahim and junior Kimber Keene earned all-state honors with a fourth-place and 15th-place finish, respectively.
Academic Magnet placed fifth in the AAA girls race. Lucy Beckham High School finished 11th in the AAAA girls.
Senior Noah Ward of Philip Simmons High School won his third individual state championship by winning the Class AA boys race on Friday. Ward won by more than a minute, despite not feeling 100 percent.
Ward's effort was not enough to land he and his teammates the team state championship as the Iron Horses finished in second-place.
"A big reason why I run and work so hard is my team," said Ward, who will attend Harvard next fall. "I kind of dragged them into this sport when we were freshmen. I feel like if I don't go out every day and give 100 percent, I am letting my team down.
"I definitely wanted to win today, but not so much for me but for the team. We were in contention for the state title so I wanted to do my part and help these guys."
Earning all-state honors with top 15 finishes were fellow seniors Henry Wood (12th) and Colin Nemeth (15th). A fourth senior, Thomas Schmenk, placed 22nd overall.
The Philip Simmons girls team also had a good day, tying for second-place in the team standings. After the tie-breaking process, the Iron Horses were officially placed in third. Freshman Emmy Wood was the third-place finisher overall while freshmen Hailey Meyers and Josie May finished seventh and eighth, respectively.
Wando High School's Daniel Munoz also earned all-state props in the Class AAAAA meet with an 11th-place finish.