"Come on people now, smile on your brother, everybody get together, try to love one another right now." Charleston area band Wildflower Station ends every show with these lyrics by the Youngbloods.
However, the words mean much more in the midst of a pandemic.
"It says everything about not only our band, but where we are at in the world right now," said Laureen Deibert, guitarist and vocalist for Wildflower Station.
The pandemic has left those in the music industry with few options for entertaining, some bands opting for drive-in concerts or virtual events. Band members in Wildflower Station had an idea of their own that would safely bring the community together: outdoor neighborhood concerts.
"We're getting people out and listening to music. Even if they can't go into a venue, they can still have music in their neighborhoods," Deibert said.
Typically, Wildflower Station plays for neighborhood parties a couple of times a year, but the events were unable to happen last year. Instead, Deibert got the word out to neighbors that the band was going to rehearse in her driveway and anyone was welcome to bring a lawn chair and listen to them play. She said she was amazed that around 40 people showed up, each spaced six feet apart from another.
"When we're in lockdown like we are, we just miss each other. It's not just the music and it's certainly not the alcohol, it's just people," Deibert said. "[We're] missing sharing time with each other and the music brings people together like that and so it's been good to be a catalyst of that."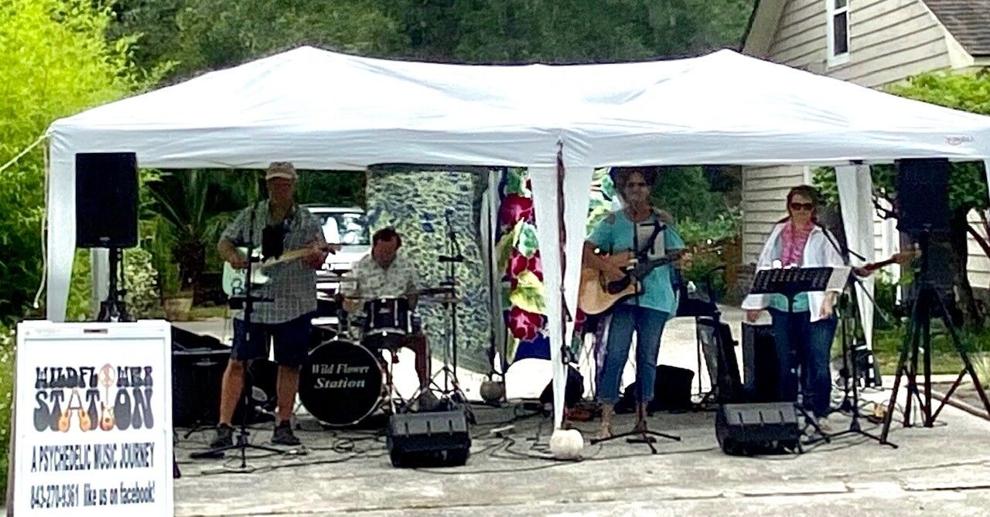 The band hosted several driveway concerts during the warmer months last year and even got requests to bring these concerts to other neighborhoods in the area.
Wildflower Station's tagline is "a psychedelic journey through music." Deibert said the band's harmony-based music is unlike any other in the Charleston area and they play a mixed bag of classic rock. They play Laurel Canyon era music including Crosby, Stills, Nash and Young, the Eagles, and the Mamas and the Papas. They are well versed in the Beatles and can play a whole three-hour set as a Beatles tribute band. They also do Americana music, such as Bob Dylan and other folk-rock era artists.
Deibert hopes the songs Wildflower Station plays will spark memories among listeners.
"Sometimes just the first three notes of music will take you back to what you were doing, who you were with and the feelings that you were feeling at that moment," Deibert said. "It can be love, it can be sadness, it can be happiness and joy. But it's always a memory. Music does that for us."
Wildflower Station is a six-member band with musicians from all over the country, including California, Detroit, Washington, D.C., Charleston, Vermont and New Jersey. Along with Deibert, the band members are bassist Ferris Williams, lead guitarist Dan Mead, vocalist Wanda Suggs, drummer Mike Grenier, and guitarist and keyboardist Vito Compitello. Deibert said the band always has a great time and there's camaraderie among the members.
"It's a pathway. You never know how it's going to go, but it's always an adventure. I just look forward to seeing where that adventure goes," Deibert said.
Deibert is a member of two bands, Wildflower Station and Dreamland. Dreamland started in 2009 with band member Williams and they predominately played at assisted living communities and for Alzheimer's and dementia patients, a cause close to Deibert's heart. The pandemic halted this effort, but Deibert is looking forward to going back into assisted living homes again when it's safe.
Dreamland typically plays "old timey music" from the 20s to 40s. While Deibert enjoys playing a variety of music, she considers herself "an old hippie." She said, "I really wanted to do kind of like psychedelic rock, 60s and 70s music."
Deibert started Wildflower Station in 2013 as an all-girls band, and it evolved into the six-member band it is today with two women and four men.
Deibert said one of the greatest challenges she faces as a musician is being a 60-year-old woman in the music industry. When she walks into a venue, she said the expectation is that she will play Kumbaya, not a wide array of classic rock.
So, what does it take to break through? "Perseverance and being very, very stubborn," Deibert continued, "and being a really good musician because eventually they're going to see that."
One upcoming project for Wildflower Station is a new CD that will be released in May. The 12 songs will combine Wildflower Station's variety of classic rock music. While recording a CD is time consuming, Deibert said she enjoys the process and that there is no trickery or fakery, the music on the CD will reflect the band's true sound.