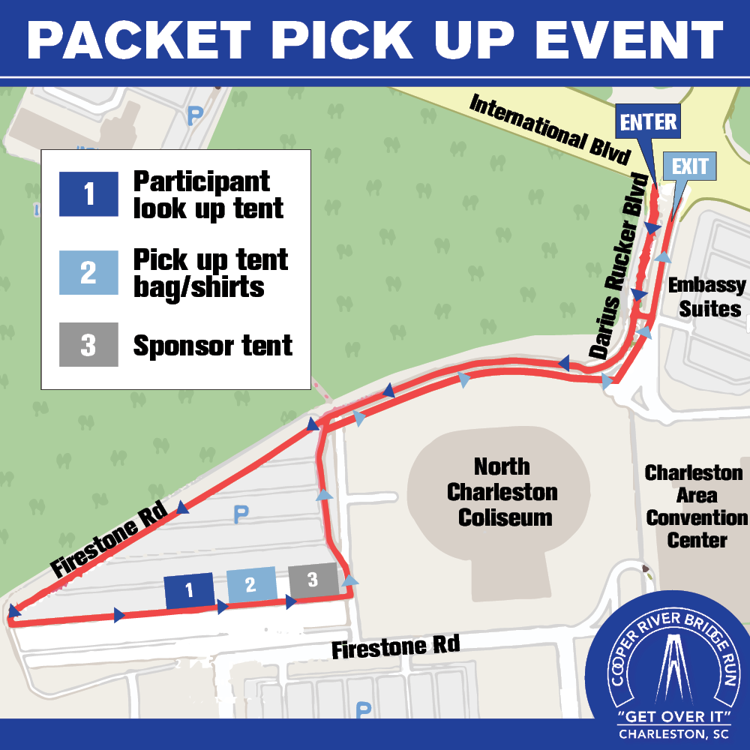 The Cooper River Bridge Run (CRBR) has announced that the 2020 Cooper River Bridge Run 2-day Drive-thru Packet Pick Up Event will take place Friday, July 31, from 2-8 p.m. and Saturday, Aug. 1, from 9 a.m. to 5 p.m. in the parking lot at the Charleston Area Convention Center at 5000 Coliseum Drive in North Charleston. Registrants will remain in their vehicles and their packet will be delivered curbside due to COVID-19 safety precautions.
All 2020 Race participants (including those that have deferred to 2021) that have not yet received a 2020 Race Packet are invited to pick it up during this two-day event. The packet includes an official 2020 race shirt, head buff and keychain. Anyone who registered for the 2020 race then deferred to 2021 is eligible to receive a 2020 Race Packet during this two-day event, as well as a 2021 race packet to be distributed at a later date.
For those that are out of town or cannot pick up a packet during this special event, a mailing option will be available in our online store beginning in August for $10 shipping and handling. Registrants may pick up packets for other people once they provide the person's full name and address for verification at the time of pick up.
A detailed map of the pick up event site is included at the bottom of this release.For more information, visit the CRBR Facebook event page here.
To inquire about the 2021 CRBR Race, please visit bridgerun.com.