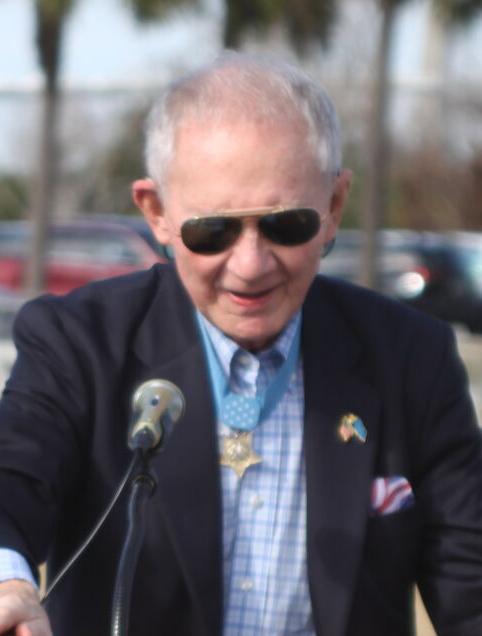 The Congressional Medal of Honor Society, headquartered on the USS Yorktown, announced they will host the 2021 Congressional Medal of Honor Society Citizen Honors Award honorees for service July 12-14.
Several days of activities are planned, culminating in the awards dinner at the Belmond Hotel on July 14, to recognize the selfless service of three individuals and one organization.
The Citizen Honors Award honorees will receive their awards from a group of Americans whose actions have defined the words courage and selfless service – Medal of Honor recipients. The honorees are ordinary Americans who have gone above and beyond to perform extraordinary acts of service.
The 2021 Congressional Medal of Honor Society's Citizen Honors Award honorees for service are:
Service Act:
Aidan Reilly and James Kanoff from Pacific Palisades, CA. They were chosen for their response to a nationwide crisis during (and because of) a global pandemic by creating a grassroots initiative, FarmLink Project, connecting farmers with surplus product to communities in need.
Youth Service Award:
Charles Austin from Brunswick, ME. Austin was chosen for his donations of time and money to help fund and develop The Warrior Program, a virtual training program for Special Olympics Maine (SOME). 
Community Service Hero Award:
The Gary Sinise Foundation was selected for its outstanding service to the military, military families and first responders. Now in its 10th year of operation, the organization helps those in need through the creation and support of unique programs designed to entertain, educate, inspire, strengthen, and build communities.
Due to the cancelation of last year's recognition activities due to COVID-19, the 2020 Citizen Honors Award for service honorees will also be recognized at this year's dinner. They are:
Service Act:
Michael Jernigan of North Richland Hills, TX who helped improve the lives of blind and impaired veterans. He co-founded "Paws for Patriots" at South Eastern Guide Dogs, which provides guide dogs and service animals to veterans.
Youth Service Award:
Zachary Brooks of Summit, NJ for his advocacy of those affected by autism. He founded "Artfully Abled," an art event showcasing the abilities of those with developmental disabilities.
Community Service Hero Award:
Women Veteran Social Justice Network in Atlanta, GA, for its work in identifying, connecting and empowering women veterans through professional and personal connections.
"Our honorees epitomize the values my fellow Medal of Honor recipients hold dear," said Society President Drew Dix, "While selfless service must start at home, these honorees have set a standard for others in communities nationwide to emulate."
In addition to the awards sinner, the society will also host veterans outreach and character development programs with local veterans organizations and the educational community.
The Veterans Outreach Program provides support to public and private sector organizations who are impacting those who have served or are still serving our country. 
The Medal of Honor character development program is a free resource for educators that teaches courage, commitment, integrity, sacrifice, citizenship, and patriotism to students through educationally grounded lessons developed by teachers for teachers. These six values are embodied in the Medal of Honor and exemplified in the actions for which it has been awarded.
Each year, the society conducts a nationwide search to select individuals in four categories and one organization to receive their Citizen Honors Awards.