CLEMSON — There are more than 80,000 seats in Memorial Stadium.
As of Nov. 11, one of them will always be empty.
In tribute to Clemson University alumni who were prisoners of war or declared missing in action, a "chair of honor" was dedicated on Veteran's Day with three special attendees. The chair honors prisoners of war and those deemed missing in action during their military service.
The three alumni in attendance collectively spent more than 4,000 days as captives during the Vietnam War. Air Force Col. (Ret.) William Bill Austin II, Navy Cmdr. (Ret.) Bob Fant Jr. and Air Force Maj. (Ret.) Samuel Dick Vaughan had a front-row seat to the unveiling of the chair dedicated to them and other POW/MIA service members.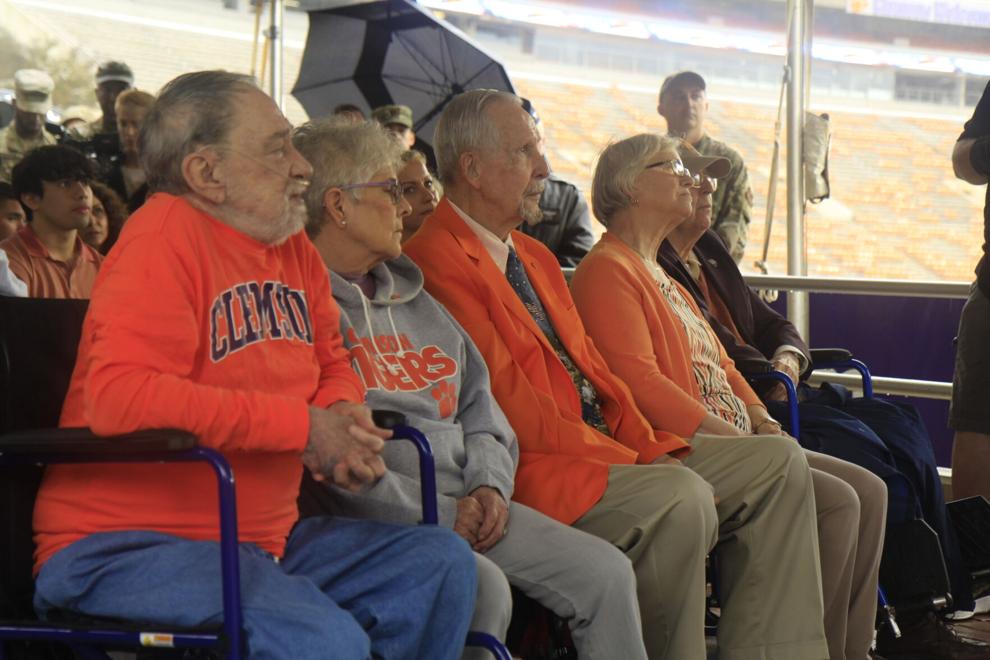 Austin, class of 1959, spent 1,986 days as a prisoner of war. Fant, class of 1960, spent 1,694. Vaughan, class of 1967, spent 467.
There are 23 known Clemson University alumni who were prisoners of war from World War II until the present. There are 27 South Carolinians still missing in action, according National League of POW/MIA Families.
Frank Blake, who donated funds to install the chair in the east end near Howard's Rock, read aloud the plaque behind the chair. It is a symbol there is a space awaiting their return, he said.
The empty chair is a powerful sign of the university's commitment to its service members, as the school was founded with military roots, said Tony Wagner, a Navy veteran and university executive vice president for finance and operations.
"We have many reasons to be thankful at Clemson," he said at the unveiling ceremony. "However, all of that takes a back seat to the debt of gratitude that we owe to the men and women who are serving and all those who have served."