COLUMBIA — Bob Caslen doesn't need a visual reminder of what the Pentagon looked like on the morning of 9/11, but he insists on having a photograph of it hanging in his presidential office at the University of South Carolina.
He was in the Pentagon, when at 9:37 a.m. an American Airlines jet scraped three light poles in the parking lot before slamming into the complex, killing 125 people inside and all 58 aboard the plane, including the hijackers. 
A picture of the collapsed building can't stand in for his memories of rushing back inside, against orders, to rescue the injured, or diminish the acrid smoke he helped eliminate by reversing an air-conditioning system.
No, that image on his wall, taken by a friend on that morning 19 years ago, serves another purpose.
"There's a ray of sunlight shining on our nation's flag, still standing. It shined bright on our country's symbol of hope, strength, solidarity and resolve," Caslen, a retired Army lieutenant general, said Friday at a 9/11 remembrance ceremony in downtown Columbia. "I bring it with me wherever I go to remember our nation's greatness."
Caslen, a former West Point superintendent, spoke on the clear morning surrounded by first responders, military personnel and state leaders who honored South Carolina's fallen front-line workers and all those lost in the deadliest attack on American soil.
He talked of a "9/11 generation" that has only learned about the assault through archival footage and history lessons — by pictures like the one in his office. 
"Nineteen years ago today, we saw ordinary people choose self-sacrifice for the good of strangers," Caslen said. "On Sept. 11, 2001, we saw ordinary people choosing to spend their final moments expressing their love to their families."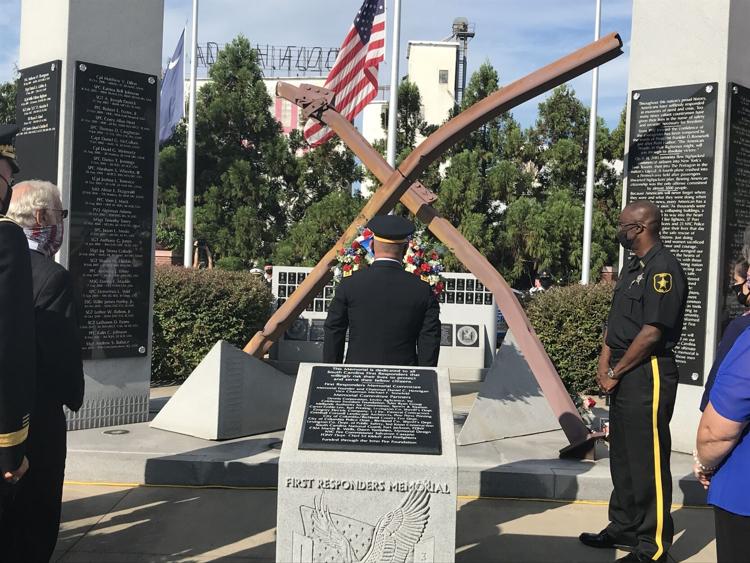 Behind him, two steel beams from the World Trade Center's North Tower are entwined, granite markers on either side — their tops sheared off — standing as a reminder of what was lost nearly two decades ago. It's an installation that went up 10 years ago and looms over the city's convention center, just a short distance from the Statehouse grounds. The metal was acquired in 2007 to anchor the display. 
It's a sacred place for Dawn Yamashiro, whose brother Brian Warner lost his life inside that very structure.
She visited Ground Zero in 2002 and walked among the ruins. The journey back since then has become too difficult, so Yamashiro stays close to her Columbia home and honors her brother from afar.
"I just want to make sure that we never forget, because it is personal. I am up here and able to speak this story in front of the very beams where my brother was," she said. "He's kind of here with me now in Columbia, South Carolina."
Four times during the 90-minute event — at 8:45 a.m., 9:02 a.m., 9:37 a.m. and 10:06 a.m. — two bells tolled and moments of silence were held, reflecting the timeline of attacks on the World Trade Center, the Pentagon and a plane that crashed into a Shanksville, Pa., field as passengers overtook hijackers.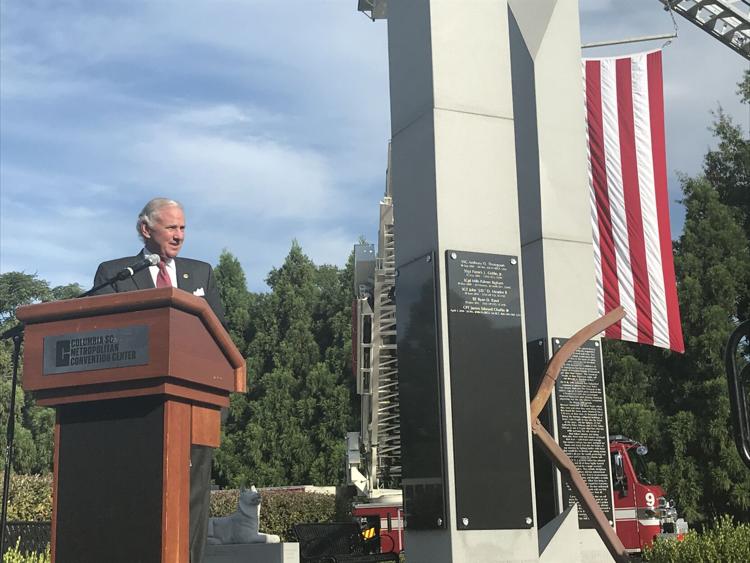 Gov. Henry McMaster, who often calls South Carolina the "most patriotic place in the world," said at the event the state's centuries of perseverance through hurricanes, tornadoes, wars and now a pandemic has imbued in its people a mettle unmatched.
"South Carolina, I believe, has the strongest people on the face of the Earth. It's reflected in these uniforms," he said to a crowd of first responders as a large American flag, draped from a ladder truck, hung behind him. 
Construction of the Midlands monument was spearheaded by retired Army veteran Daniel Hennigan, whose Brooklyn accent remains prominent. An addition unveiled Friday at the foot of the 9/11 memorial includes the names and engraved pictures of the 59 South Carolina first responders and military service members killed in the line of duty since then.
A black shawl was gradually pulled off the piece of granite to reveal them. 
McMaster bestowed Hennigan with the Order of the Palmetto, the state's highest civilian honor, to close out the event. Hennigan, flanked by his family, grew emotional and said it "was a moment I'll treasure for the rest of my life."
A pair of F-16 fighter planes and a trio of helicopters flew low over the Columbia skyline, and the event ended with a rendition of taps, played by the South Carolina National Guard's 246th Army Band.