An American flag hangs from the front porch of the red brick ranch house. Two cars sit in the driveway. A fire pit and disc golf goal stand in the spacious backyard with trees and a creek running beside the house.
It looks like a typical house, and in many ways it is. But it's also a passion project for the owner, a military veteran whose own story of recovery he now wants to share with the world. He wants to keep others from experiencing the same addictions, trauma and devastation that cratered his own life, and to offer hope and a transition to military veterans in need of a fresh start.
Now a years-long journey from alcohol addict to giving back — a 12-step recovery plan in motion — is nearing its next phase.
Michael Bernard has opened the Brandon House of Greenville, an addiction recovery home for military veterans who need a place to transition from a Veterans Administration treatment center back into the community. It is now accepting new clients at a nicely appointed house on Old Grove Road in Greenville about a half-mile from the VA clinic.
Bernard grew up in the Greenville area and joined the Navy at 18 years old, a decision he still calls the best of his life. It taught him that he could be part of something much larger than himself, he said, and it built confidence and skills he uses to this day.
It also brought challenges. He became part of a culture of heavy binge drinking, a vice he enjoyed and then became dependent on for years after his enlistment ended.
"Drinking was glorified while I was in the military and I'm that personality that I couldn't wait to get a drink," Bernard said. "Upon my discharge I carried those habits out into the civilian world. Instead of just social drinking, it became the goal to get the buzz."
His drinking grew more intense until he sought help at a VA treatment center with other veterans. But when he was released he found the same friends, habits and stomping grounds that made staying sober a challenge.
Bernard's own son fell into the addiction cycle. On Jan. 31, 2021, Brandon Michael Bernard died from complications of an opioid overdose.
"My son grew up with a father who was an alcoholic and he got into a crowd that got him exposed to opiates and other pills," he said. "He got that lethal dose of fentanyl. I got the call from the troopers who found him and that sent me on a spiral to the lowest of lows."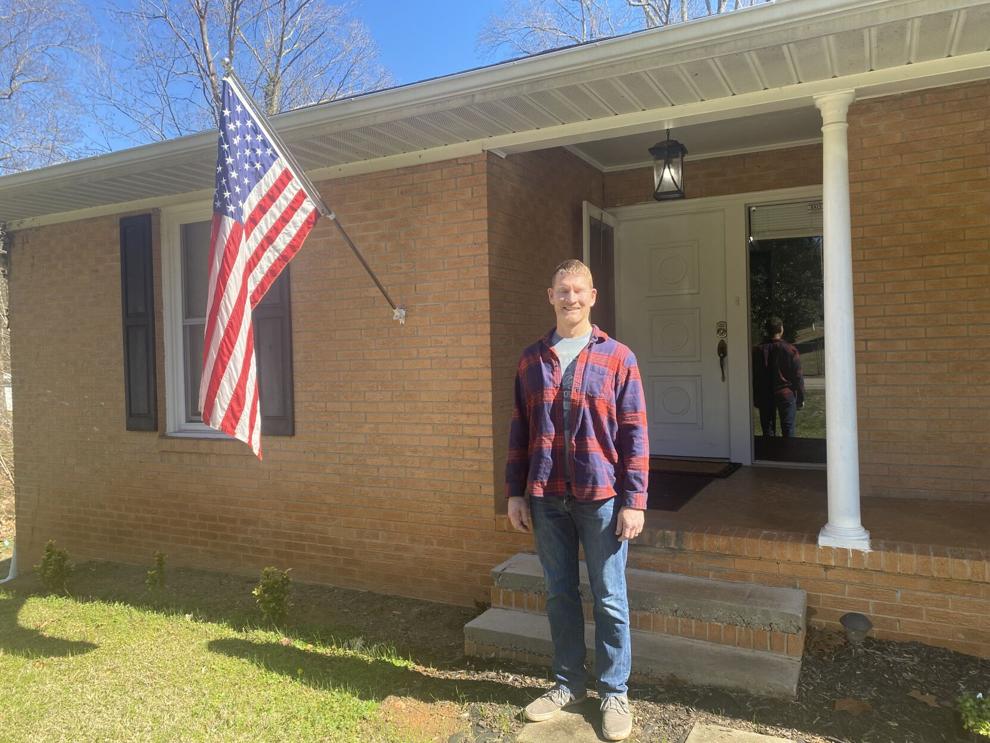 From the ashes, a spark started in Bernard's mind to do something to both honor his son's memory and help others avoid the pitfalls he experienced.
He had dabbled in real estate for more than a decade and had a house on Old Grove Road that long time renters vacated. He decided to open a recovery house for veterans and named it the Brandon House of Greenville.
When he first opened in September 2022 he invited media coverage of the project. He soon found out he couldn't operate the home as a commercial business without meeting standards for Americans with Disabilities Act. That limited the number of veterans he could accept at the house.
Eventually he sought a zoning change to turn the house back to residential zoning, which allowed him to work with the county to be able to run a fully operational transition home at the site. As part of that, he hired a house manager. The next step, he said, is to receive certification from the South Carolina Alliance for Recovery Residences, a statewide nonprofit whose members meet requirements of running a recovery home.
Brandon House of Greenville can house up to eight veterans at one time. Programs run from one month to three months or longer, and can be tailored to each individual's needs.
The house has four shared bedrooms and two bathrooms, a kitchen and living room on the main level and a meeting room, office space, kitchenette and gym with equipment on the lower level.
Bernard runs weekly closed Alcoholics Anonymous meetings at the house as well as weekly house meetings and other events. Veterans living at the home can also receive help and guidance for employment or other needs, he said.
There isn't currently a military voucher program for recovery homes for veterans who aren't homeless, so clients pay a weekly rate starting at $200 to stay at the home, he said.
For more information, visit bhgvl.net.