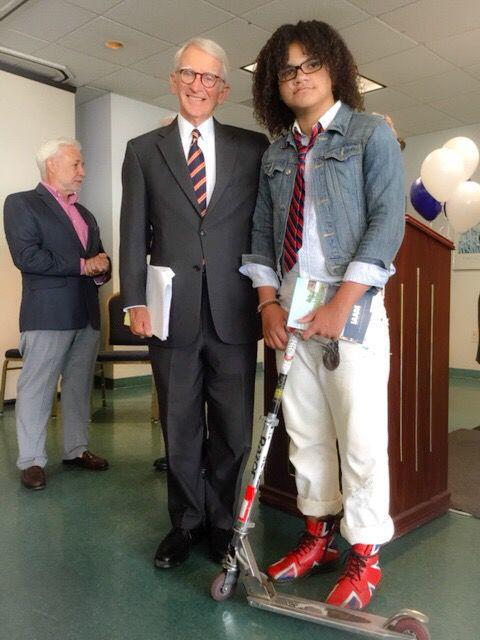 Mateusz Wojnarowicz, a 13-year-old home-school student in Charleston, has already made a name for himself as an accomplished model, artist and musician, having been selected as a featured artist and performer at the grand reopening of the Starbucks at the corner of King and Calhoun streets earlier this year. 
Mateusz was selected as January's Student Superstar and agreed to answer a few questions for Lowcountry Parent. Some of his answers have been edited for length. 
Q: What do you like about school work? About being home-schooled?
A: I am European multiracial, a citizen of the United States and Poland and I like being home-schooled in English and Polish and learning other languages. German is easier to learn than Polish because it's a Germanic language. I also like home-schooling year-round and that I can study and learn at a college level and not only in a classroom.
Q: What extracurricular activities do you do?
A: I study and practice multiple instruments in my home-school studio and I compose electronic jazz music. I paint on canvases mainly with acrylics and oil paints. I am inventing a language based on the Cyrillic alphabet. I do my own calisthenic exercises twice a day. I liked the yoga class they had at the Gibbes Museum, and Mellow Mushroom had a free yoga class that was really cool, too. I go on a lot of home-school field trips to art galleries, museums, historic places and college lectures.
I've been going to the Addlestone Library at College of Charleston since I was 10 years old. I became the youngest member at the Halsey Institute when I was 8 years old. William Halsey is one of my favorite artists. My favorite home-school field trip was to New York City. I got to see art by Basquiat, Frida Kahlo and Jackson Pollock in person at MoMA and at a gallery in the East Village of Manhattan called Soho Contemporary Art. And, I was also given a private home-school tour of the art galleries at the United Nations.
I'm working on making a plaque in tribute to Mr. Jack McCray, who was (a leading advocate for) jazz music culture in Charleston. But I also like other extracurricular activities like gaming, riding my razor scooter and playing soccer and tennis at the park.
Q: What do you want to be when you grow up?
A: When I grow up, I want to be a history teacher. I like to study and talk with my friends about history, the military and economics. I also want to be a good husband and father because that's important, too. When I was younger, I used to say that when I grow up I want to be the mayor of Charleston. But maybe I'll become the first Polish president of the United States.
Q: Anything you'd like to add?
A: Yes. I want to say "Dziekuje." That's thank you in Polish, for electing me to be a Student Superstar in the Lowcountry Parent.