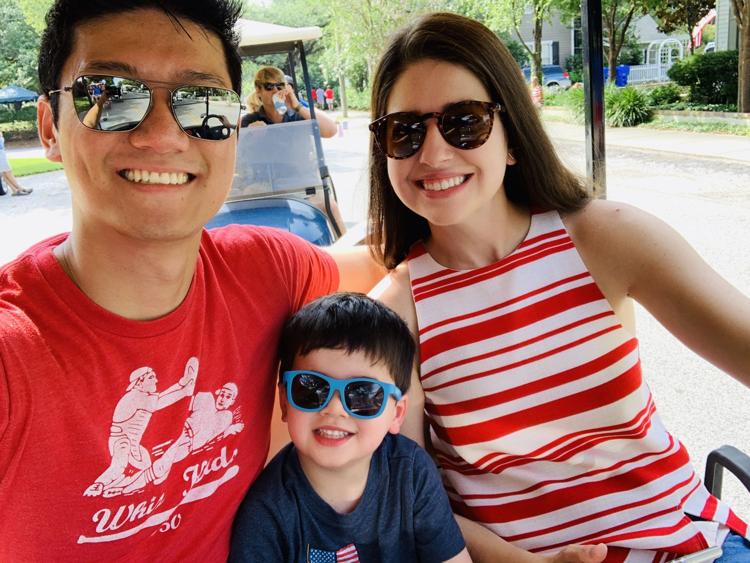 My name is Laura Shapiro. I am 36 years old, married for six years to my husband Patrick. I'm a mom to a 4 year-old son, Cameron, and pregnant with another little boy coming in June!
I am a Charleston local, raised on James Island, and currently living in Mount Pleasant. I am a Board Certified Pediatric Dentist and the owner of my own private practice, LowCountry Kids Pediatric Dentistry, on Coleman Boulevard.
Q: What is something that makes you unique, or that people would be surprised to know about you?
A: I can learn all of the words to a song after hearing it just once or twice.
Q: What is something that has been on your mind lately?
A: With the coronavirus pandemic, we have all been living with a lot of stress and the fear of the unknown. Having to temporarily shut down my business, entertaining and educating my toddler daily, and not being able to leave my home has been extremely challenging. Though there are many ups and downs, I want to fully appreciate this unique time with my family. I don't know when I will ever have this much quality one on one time with my son again, especially with the new baby on the way.
Q: What's your favorite quote?
A: "A flower does not think of competing with the flower next to it. It just blooms." — Zen Shin
Q: What is your favorite Lowcountry hangout spot, and why?
A: Anywhere near the water. My family and I love to stroll the Shem Creek Park and watch the pelicans, dolphins, and just enjoy the warm, salty air from the Harbor.
Q: What are three of your favorite things (besides your family)?
A: 1. I love eating out! (I am currently craving all the things I can't eat while being pregnant like the Five Loaves' Caesar Salad and the Lobster Roll from 167 Raw). 2. Pure barre and Peloton spin classes. 3. Spending time with friends near and far. (Once it's safe for everyone, I am looking forward to socially interacting again!)
Q: What are you most proud of?
A: I am proud of my professional accomplishments as well as working together with my husband to raise my boys to be thoughtful and tolerant men.