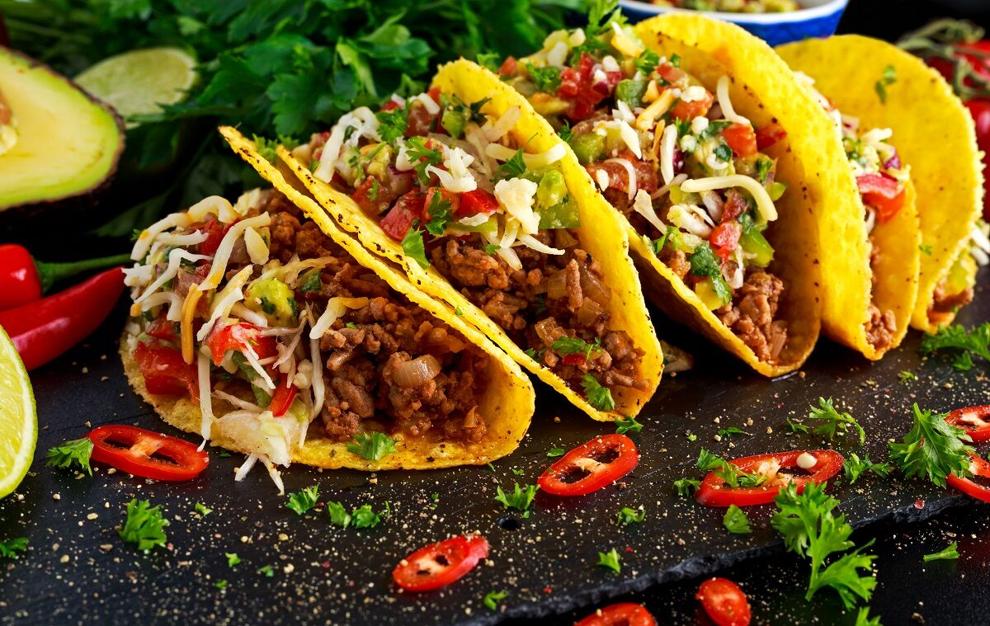 It's National Taco Day and what better way to celebrate than to make some delicious homemade tacos?!
One of the best things about tacos are the toppings. You can pile them on or go minimalist depending on how you're feeling, but the fresher the better.
My favorite toppings are Pico de Gallo, guacamole and freshly grated sharp cheddar cheese. Add this to your ground meat — or substitute tofu and take away the cheese for a vegan tacos — and you're set for the night. ENJOY!
Tacos
1 pound ground beef/chicken/turkey/tofu
2 teaspoon cumin
1 tablespoon hot sauce
1/4 tablespoon ground chili pepper
2 tablespoons ketchup
Salt to taste
Taco shells or tortillas
In a skillet pan, cook meat over medium high heat until browned all the way through. Drain off fat. Add cumin, hot sauce, chili pepper, ketchup and salt. Mix until well blended. Turn off heat and set aside. When ready to eat, warm taco shells or tortillas in oven at 200 degrees until heated through.
Pico de Gallo
1 small onion, chopped
1 tomato, chopped
1 bunch fresh cilantro, chopped
2 tablespoons fresh lime juice
Salt to taste
Mix all ingredients and put in refrigerator until ready to eat.
Guacamole
2 ripe avocados
1 bunch fresh cilantro
1 tablespoons fresh lime juice
1 jalapeño, finely chopped (optional)
2 tablespoons Pico de Gallo
Salt to taste
Cut avocado in half, remove seed, slice and scoop into a bowl. Add cilantro, lime juice, jalapeño, Pico de Gallo and salt. Mix until we'll blended. Put in refrigerator until ready to eat.
Prefer for someone else to cook? Taco Boy and Mex 1 Coastal Cantina both made our list of places to eat outside with kids in the Charleston area.