DIY holiday gifts your recipients will actually use from Lowcountry experts
Rather than muscling your way through crowded stores trying to pick the perfect presents, why not flex your creative muscles this holiday season? Homemade gifts can be tailored to any taste, and recipients will appreciate the time and effort you put into the projects.
When you make something yourself, it's "a true expression of love," says Emily Mingledorff, a mom of three who blogs about baking with kids at Pie Crust and Pixie Dust. 
"It means a lot to people," she says.
Don't have a creative bone in your body, you say? Not to worry. For guidance, we reached out to Mingledorff and another local "do-it-yourself" expert, Kelley Wilds of Coastal Kelder. They offered some great gift ideas for novice makers and bakers. 
"People are craftier and more creative than they usually give themselves credit for," says Wilds, whose blog at CoastalKelder.com features her homemade crafts, house renovations, favorite recipes and more.
Keep reading for some DIY goodies that are sure to please. 
Holiday gifts
Stenciled flour sack towels
These fun towels can be personalized to reflect the recipients' tastes or hobbies.
What you'll need:
Flour sack towels, washed and ironed

Fabric paint

Stencils

Stencil brush/sponge
Lay an ironed towel on top of a piece of cardboard so the paint won't soak through to the surface below. Place the stencil where you'd like it on the towel. Dab the paint on top of the stencil until it's all filled in, then lift it up and move on to the next one. Allow paint to dry completely. Wash towels separately the first time you launder them. After that, you can throw them in with your regular loads.
Bunch o' Grapes Wine Cork Ornament
This quick craft is perfect for your wine-loving friends or relatives, and offers a great way to use up those extra corks you have lying around.
What you'll need:
Red wine corks (about 9)

Artificial leaves

Twine

Hot glue gun
Start by gluing the corks together in the shape of a bunch of grapes. The red stain from the wine should be at the front of the ornament. Glue the leaves to the top of the "bunch." Cut a piece of twine to make a loop, and attach that to the back of the ornament with hot glue.
Hostess gifts
Headed to a holiday party? Here are a few hostess gifts that will make the season bright.
Oyster Shell Earrings
These Lowcountry-inspired charmers are sure to impress.
What you'll need:
2 small, skinny oyster shells

5/64-inch drill bit

Drill

Gold paint

Clear sealant

0.2-inch silver plated jewelry wire

Needle nose pliers

2 kidney earring clasps
Find two small, flat and skinny oyster shells that are about the same length. Make sure they are scrubbed clean and have gone through a bleach and water bath for a few days before you start. Use your drill and drill bit to put a small hole at the top of each oyster shell. Paint the back and edges of the shells in gold, then finish the front with a clear sealer. 
Cut a 1.5-inch length of jewelry wire and loop it through the hole in the oyster shell. Connect the two ends of the wire by wrapping them around each other to create one loop. Position the wire loop so the wrapped ends are at the bottom, going through the hole in the oyster shell.
Use your pliers and hold the top of the loop, then slowly twist the oyster shell and bottom of the wire so it tightens up around the shell. Leave a small loop at the top and attach the earring clasp there. Repeat for the second earring.
Succulent planter
Succulents require very little water and they're quite resilient, making them a long-lasting gift that will brighten anyone's space.
What you'll need
Several small succulent plants

Metal, clay or concrete pot with drainage hole

Potting soil

Gravel or crushed shells
Place the succulents in the pot and fill the rest about three-fourths of the way full with soil.  Sprinkle a layer of gravel or crushed shells on the surface of the soil. 
Edible gifts
Homemade treats make another thoughtful (and tasty) offering during the season of giving. They're also a great way to get your children involved in the gift-making process, says Mingledorff of Pie Crust and Pixie Dust.
"The kids definitely add a component of whimsy and fun," she says. "Do not try to make (your homemade treats) look like something on Pinterest."
Here are some of her favorite holiday recipes.
Five-Minute Fudge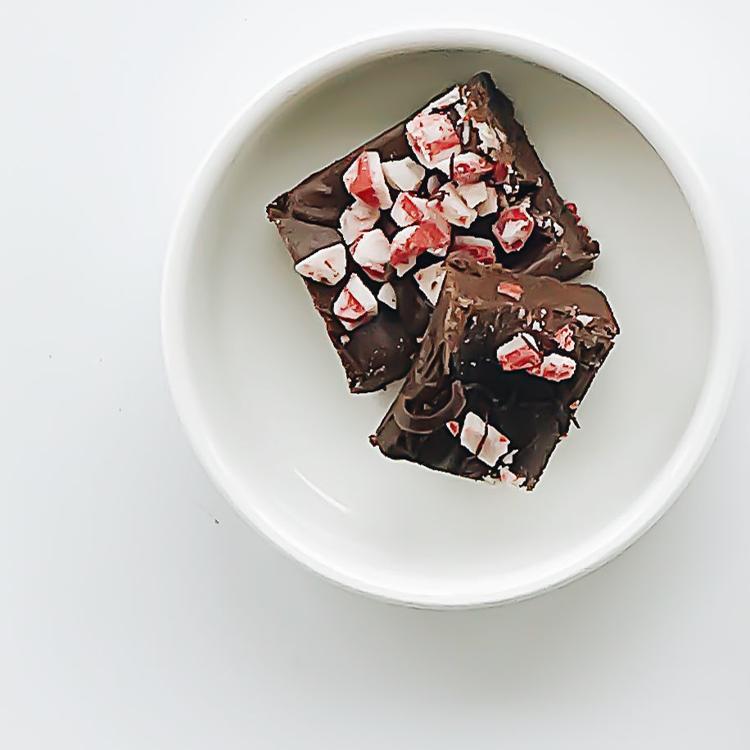 This easy no-bake recipe can be personalized with your choice of toppings.
Ingredients
1 cup dark chocolate chips
1 cup milk chocolate chips
1 (14 oz.) can of sweetened condensed milk
1 teaspoon vanilla
1 cup topping, such as crushed peppermint pieces or red and green M&M's
Directions
Combine first four ingredients and microwave for 45 seconds, until smooth.
Place parchment paper or wax paper in a 9-by-9-inch dish.
Pour mixture into dish, add topping and refrigerate until set.
Easy Cut-Out Cookies
These cookies taste delicious and hold their shape well, Mingledorff says. It's easy to make a large batch to dole out to various recipients, from teachers to grandparents. If baking with kids, pick a simple cookie cutter shape such as a triangle to decorate like Christmas trees, or a circle for Santa faces.
Ingredients
1 cup butter
2 cups granulated sugar
2 eggs
4 cups all-purpose flour (sifted is best)
1/2 teaspoon baking powder
1 teaspoon salt
1 teaspoon vanilla extract
1 teaspoon almond extract
3 teaspoons milk
Directions
Preheat oven to 350 degrees.
Combine butter and sugar in a standing mixer. Add eggs. In a separate bowl, combine flour, baking powder and salt. Add these ingredients to your sugar/butter mixture and combine. Add vanilla extract, almond extract and milk. Combine.
Place cookie dough on parchment paper and let chill in the refrigerator for one hour.
Once chilled, roll cookie dough out onto a well-floured surface. Cut out cookies with a cookie cutter. Place on a cookie sheet lined with parchment paper, and bake for 8-10 minutes. Freeze for up to two weeks if baking in advance.
Decorate cooled cookies with Royal Icing (recipe below).
Basic Gingerbread Cookies
These traditional holiday cookies are always a hit, and little ones enjoy decorating gingerbread men and gingerbread women in various styles. Mingledorff also suggests another fun option: Purchase a house-shaped cookie cutter and have your kids decorate the treats like gingerbread houses. Go with red, green and white frosting for a festive vibe, or choose pastel hues like pink and aqua for a Charleston-inspired "Rainbow Row" effect.
Ingredients
1 stick of butter at room temperature
1/2 cup dark brown sugar
2 cups all-purpose flour (sifted is best)
1 tablespoon cinnamon
1/2 teaspoon nutmeg
1 tablespoon ground ginger
1-1/2 teaspoons ground cloves
1 teaspoon baking soda
1/4 cup dark corn syrup
3 tablespoons water
Directions
In a standing mixer, combine butter and brown sugar.
Once combined, slowly add in sifted flour one cup at a time.
Add cinnamon, nutmeg, ginger, cloves and baking soda, and combine.
Add corn syrup and water, and combine until the dough is fairly blended.
Remove dough from standing mixer, place on parchment paper and gently knead until the dough is combined. Roll dough in the parchment paper and chill for at least an hour.
Preheat oven to 350 degrees.
After the dough is chilled, sprinkle flour on your counter and roll out the dough until it is about 1/4-inch thick.
Using your favorite cookie cutters, cut shapes* and place on cookie sheet. 
Bake for 10-12 minutes.
Decorate cooled cookies with Royal Icing (recipe below) and other toppings of your choice.  
*Note: If you'd like to use these treats as decorations, punch a small hole at the top of the unbaked cookies. Once baked and cooled, you can loop a piece of twine or ribbon through the hole. 
Royal Icing
Ingredients
1 16-ounce box confectioners' sugar
2 tablespoons meringue powder
1/3 cup water
Food coloring in colors of your choice
Directions
Combine confectioners' sugar, meringue powder and water. Divide icing into separate bowls, and stir in food coloring of your choice. Place icing in clear squeeze bottles for easy, kid-friendly decorating. LCP