Abandon all notions of a traditional classroom, with four walls, desks in rows and high school students staring blankly ahead with little input or interaction.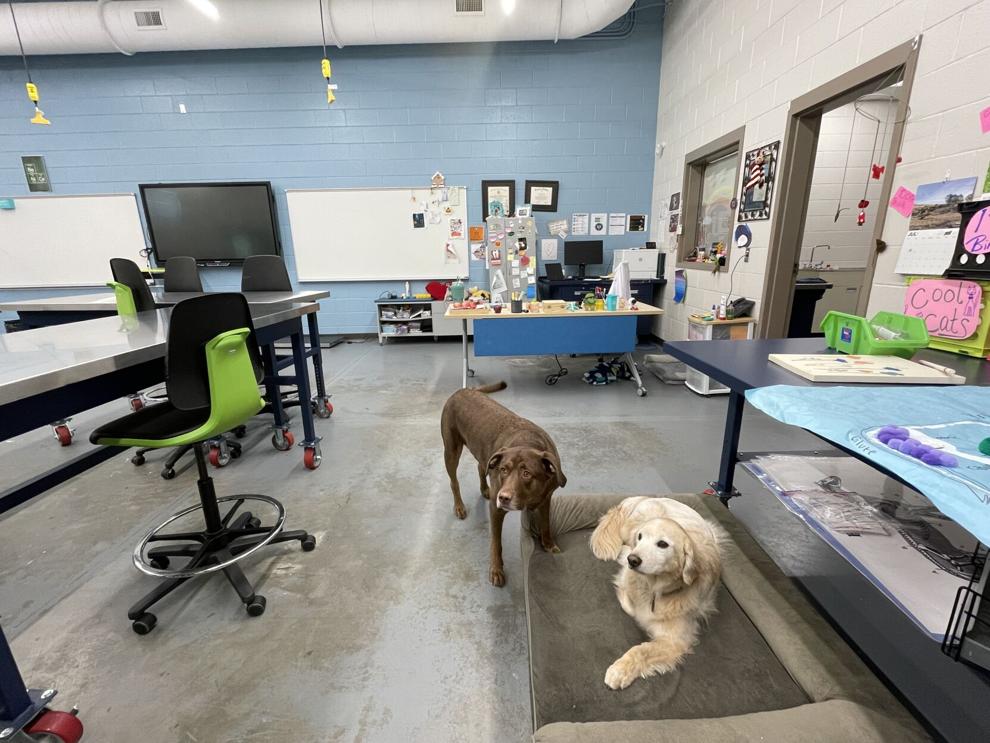 Picture instead a giant classroom with high ceilings, tall stainless steel tables with rolling chairs, a garage door that opens up to a fenced-in outdoor space, and colorful projects lining shelves along the walls. Two side rooms look like they belong in a veterinary office as they hold pet food, cleaning supplies, carrier kennels, and a sink for washing animals.
Welcome to the world of animal science teacher Alex McCarrell at Lucy Beckham High School in Mount Pleasant.
"There's a lot going on here at all times," she said of her classroom dynamic.
The elective class is part of the Career Technology Education (CTE) program at the school, and is the only one of its kind in South Carolina.
With support from her principal and school administration, McCarrell has been able to design her own curriculum and build the program she envisions to best teach students about treating and caring for small animals.
"The outline of the classes wasn't set up, I've created this from complete scratch," she said of the animal science program.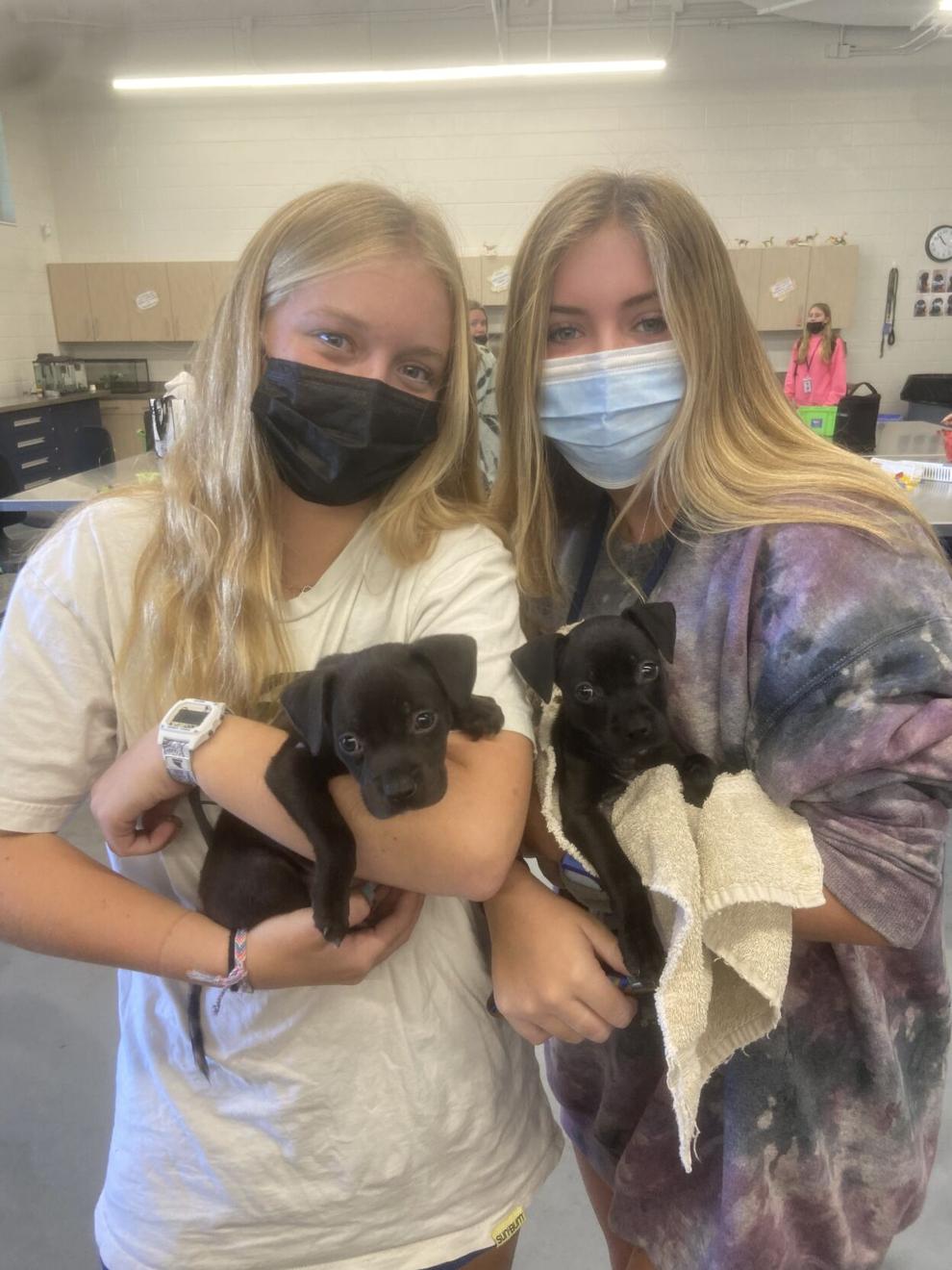 Every student needs a certain amount of electives to graduate, including career electives, so anyone can take the animal science introductory course. If a student likes that class, they can move on through the program and take all four of her classes to be considered "completers" and graduate with a degree as a vet tech.
"I get the kids who come in and want to be veterinarians or they love animals, and they follow you through the whole program, so that's been the really cool part," she said.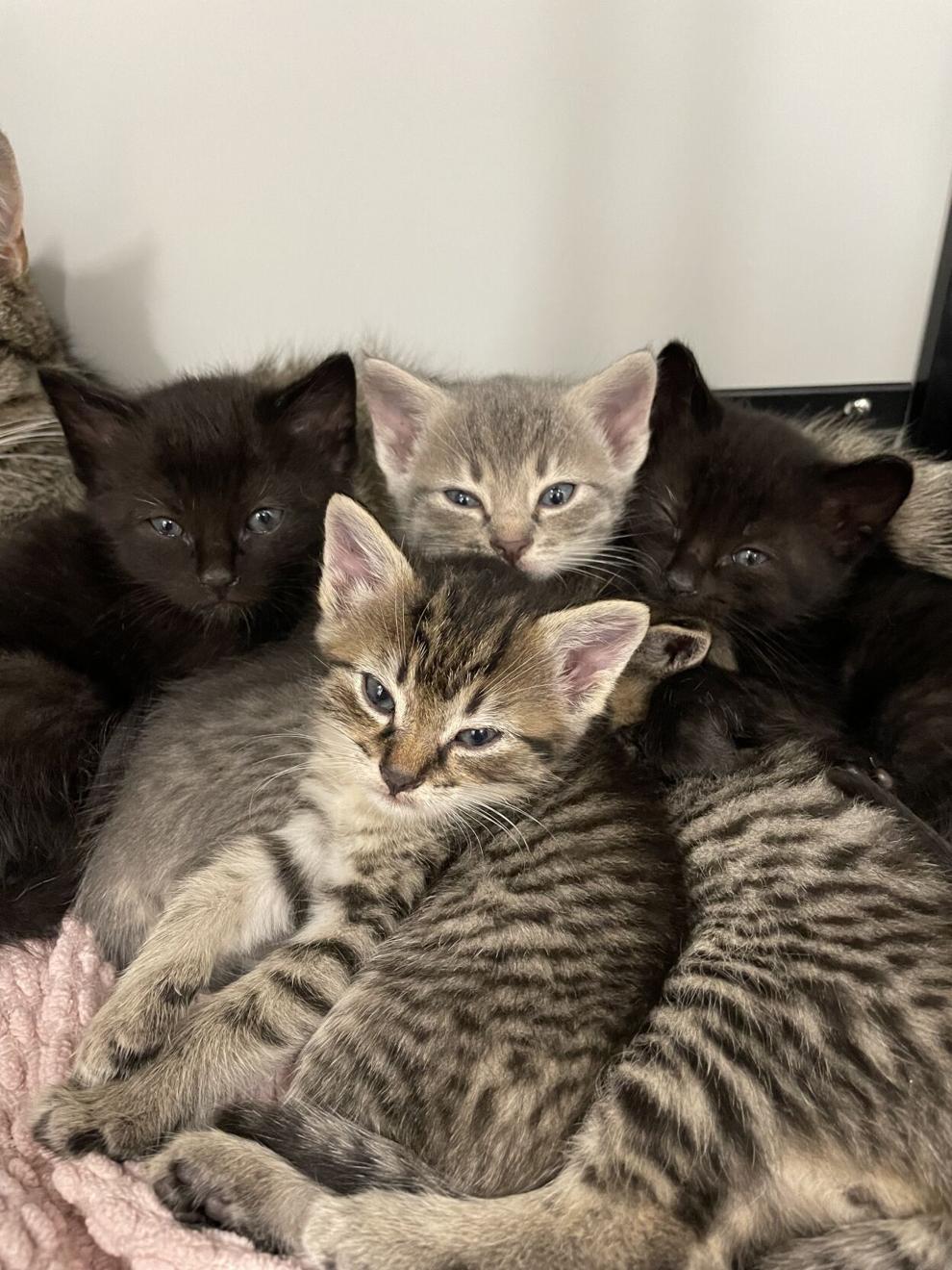 The intro class focuses on agriculture, sustainability, safety, animal behavior, and veterinary information about animals. McCarrell described it as "organized chaos" because there are many projects taking place simultaneously and students are also petting and taking care of the foster animals that stay in the classroom.
"I'll say, OK we have to bathe these puppies, or clean up the poop outside, or these dogs need to be leash walked, whatever it is, it just depends, these animals just need love because they're feral," she said of a typical day in her class. "So whenever I say go, that usually means either get your work done and then go do this or if you want to sit and pet this puppy while you're doing your work, that's fine too."
She said it's been very trial and error as far as having rules for students taking care of pets. The dogs can go on walks inside and outside the school. But they learned the hard way not to let the dogs go in any carpeted rooms, and not to walk the dog in the cafeteria.
During the school year, puppies run free and litters of animals can be kept in the two smaller rooms at the end of her spacious classroom. One room is the cat room, and she has everyone trained to keep the door closed so the kittens don't escape. "Occasionally, a dog gets loose and runs down the hallway; that happens about once a month," she admitted.
In the last unit of the intro class, the students learn more about anatomy and physiology and respiratory, cardiovascular and digestive systems. They also dissect a frog, because in the second level "Small Animal Care" class, there are a lot of dissections.
With an arts integration background, she incorporates a lot of crafts and creative labs into her classes. One project involved building a four-legged animal out of pasta, another used recycled materials to show an animal's skeletal system.
During the third-level class, the room is turned into a vet's office, and students work through animal case studies. For the fourth class, students do an internship at a local vet's office for the semester.
"It's a very unique program in that I get to teach a lot of things," McCarrell said.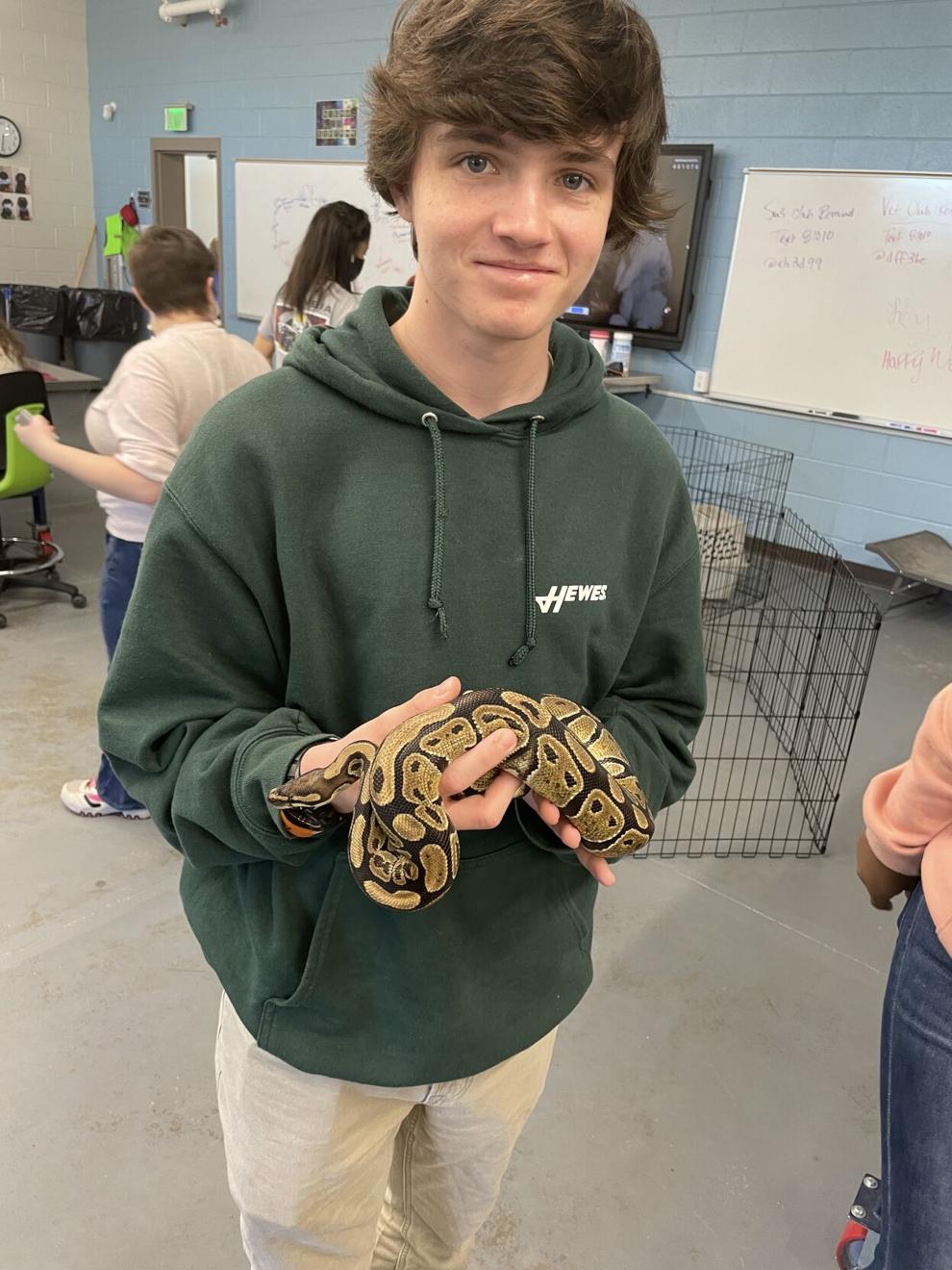 Her students also engage in hands-on learning, from helping animals that have been rescued, to dealing with the death of puppies that were too sick to be saved.
"A lot of these kids don't know what it's really like to work with animals," she said. "We foster rescue animals and nurse them back to health, so you never know what you're going to get."
Building relationships
With a daughter in seventh grade and a son in fifth grade, McCarrell stays busy as a working mom. But her passion for her students and her classroom makes it worth it.
At a time when many teachers are leaving, as the stress and demands of the job outweigh the benefits of working with students, McCarrell focuses on her relationship with her students and how she can make a difference through her unconventional classroom and teaching methods.
"A lot of kids don't fit in the typical classroom like the masses in America are forced to sit in everyday, so I don't teach that way," she said. "I like to be outside a lot, I think it's important, and we're off screens a lot."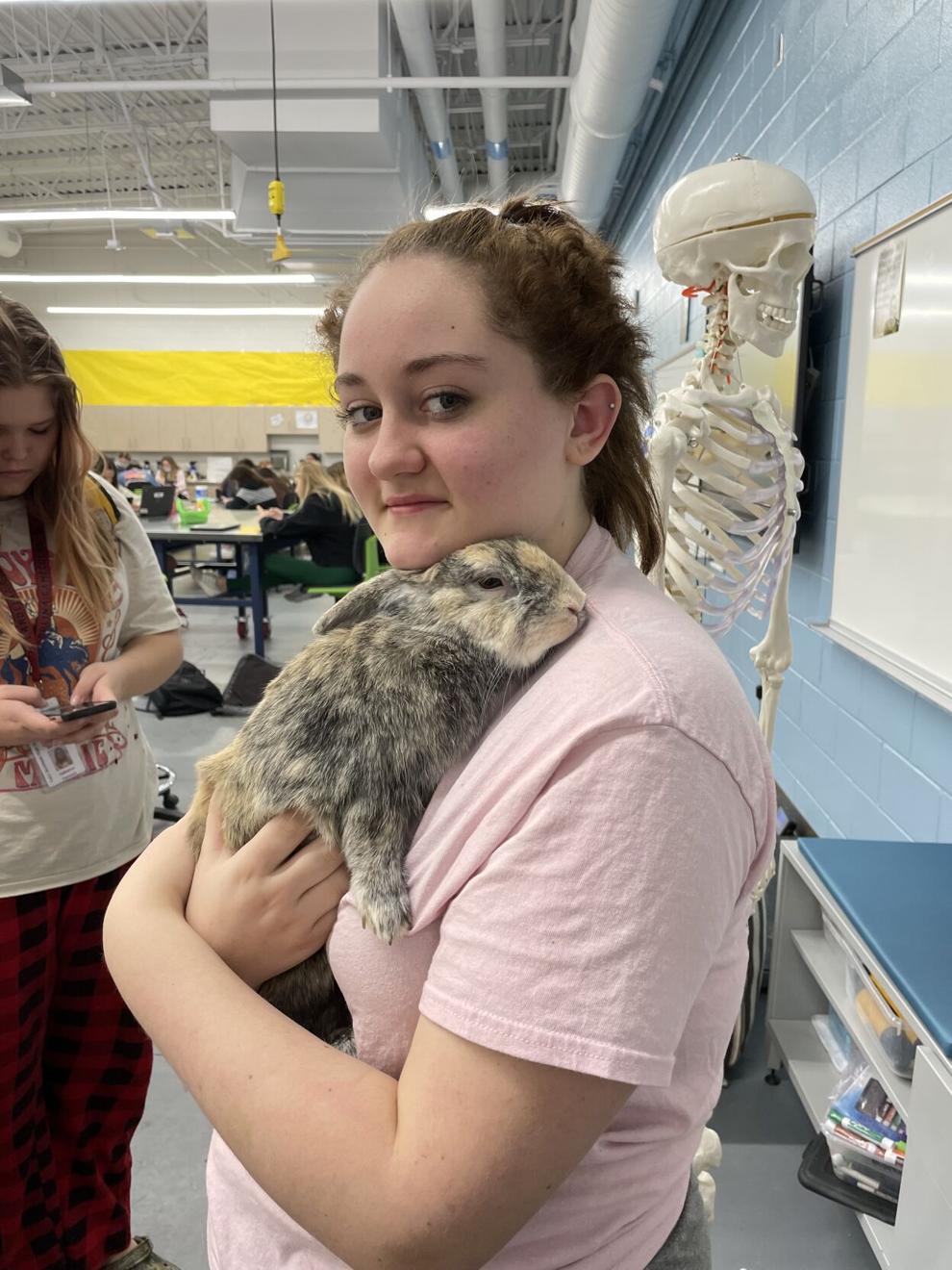 At Lucy Beckham, the students have Individualized Learning Time (ILT), and open space throughout the building where kids can work on their own. "The whole high school is structured very much in a college way, where you go to your classes, but you also have some down time; we're trying to teach them responsible use of their time," McCarrell said. "A lot of kids in their free time, they'll come in here and sit and chill with an animal."
She also works with the self-contained special needs classes and exceptional education students, who love being around the animals. It helps them come out of their shell.
"I love the relationships with my students, there are pictures of kids around the room; we have a lot of fun," McCarrell said.
But she plays an important role in many kids' lives because she understands students with anxiety or aggression, and they talk to her as a trusted adult. "There's a lot of mental health issues so I'm always trying to be that person for the kids – someone they might not have," she said.
Now in her third year at Lucy Beckham, which is part of the Charleston County School District, McCarrell said it's possible to have a similar program in other schools, but educators need to be open-minded and flexible when it comes to having animals in the classroom.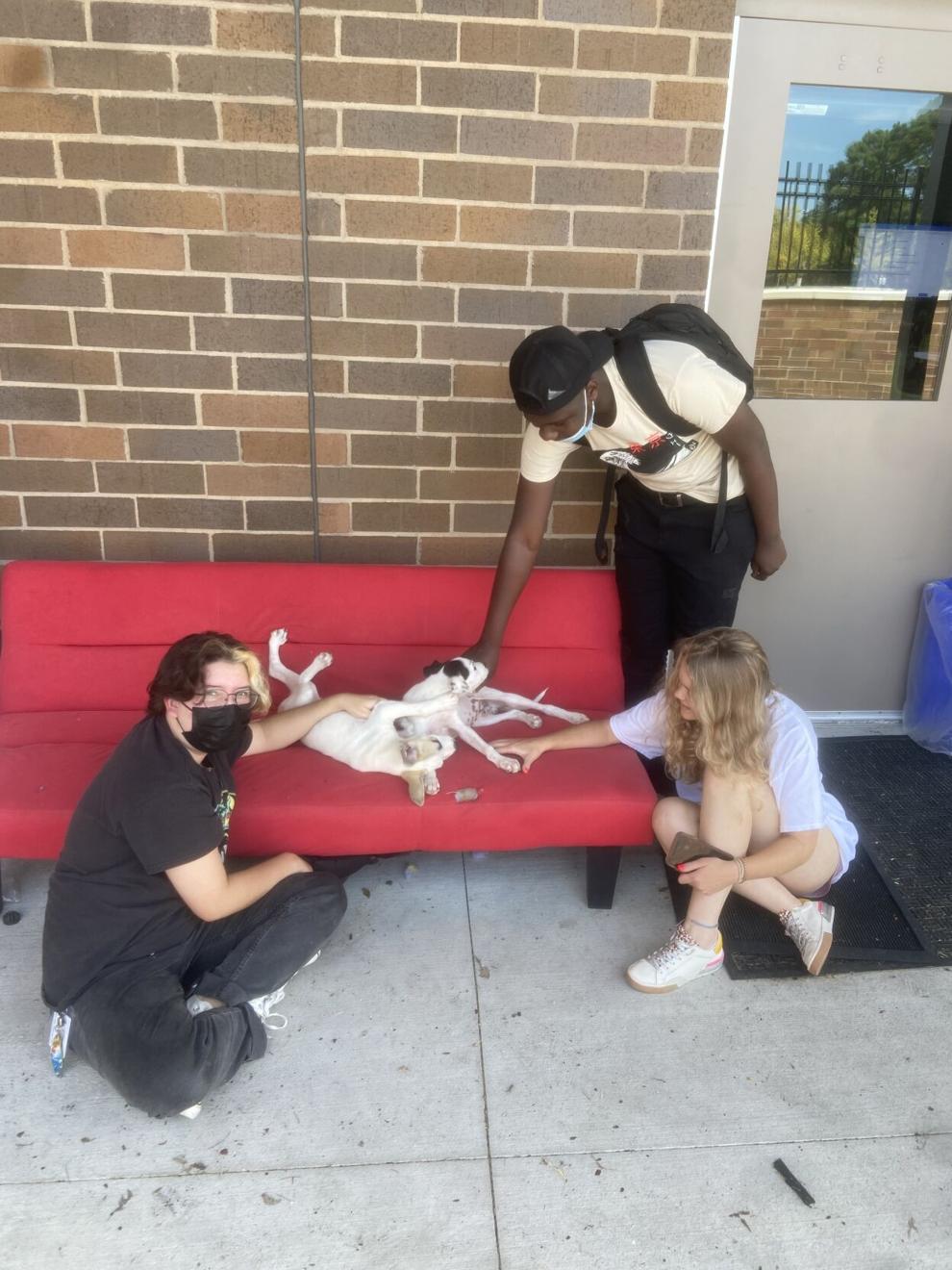 Based on what she's seen, not only does she think the animal science program is doable elsewhere, she thinks it benefits many students. "The changes in kids that are completely shut down in other classes, then they come in here and they just blossom," she explained. "The ILT kids who come in here because they're having a bad day, but then they pet something, they leave feeling good."
Teaching and saving animals
McCarrell was always drawn to animals. "They were my safe space growing up," she said. "Being around animals brings me comfort and brings me joy."
But growing up in the Upstate, she saw a lot of mistreated animals, and she made it her mission to save one animal at a time. It also explains why she is no-nonsense about how animals are treated in the classroom. "I have zero tolerance toward cruelty to animals," she said.
Her journey to her dream job began in Columbia, where she got her degree as a science biology teacher and started teaching in middle school. When she and her husband, Kevin, moved to Greenville, South Carolina, she stopped teaching, went back to school to earn her veterinary assistant degree and worked at a vet's office. While she was pregnant with her first child, she got her master's degree in education.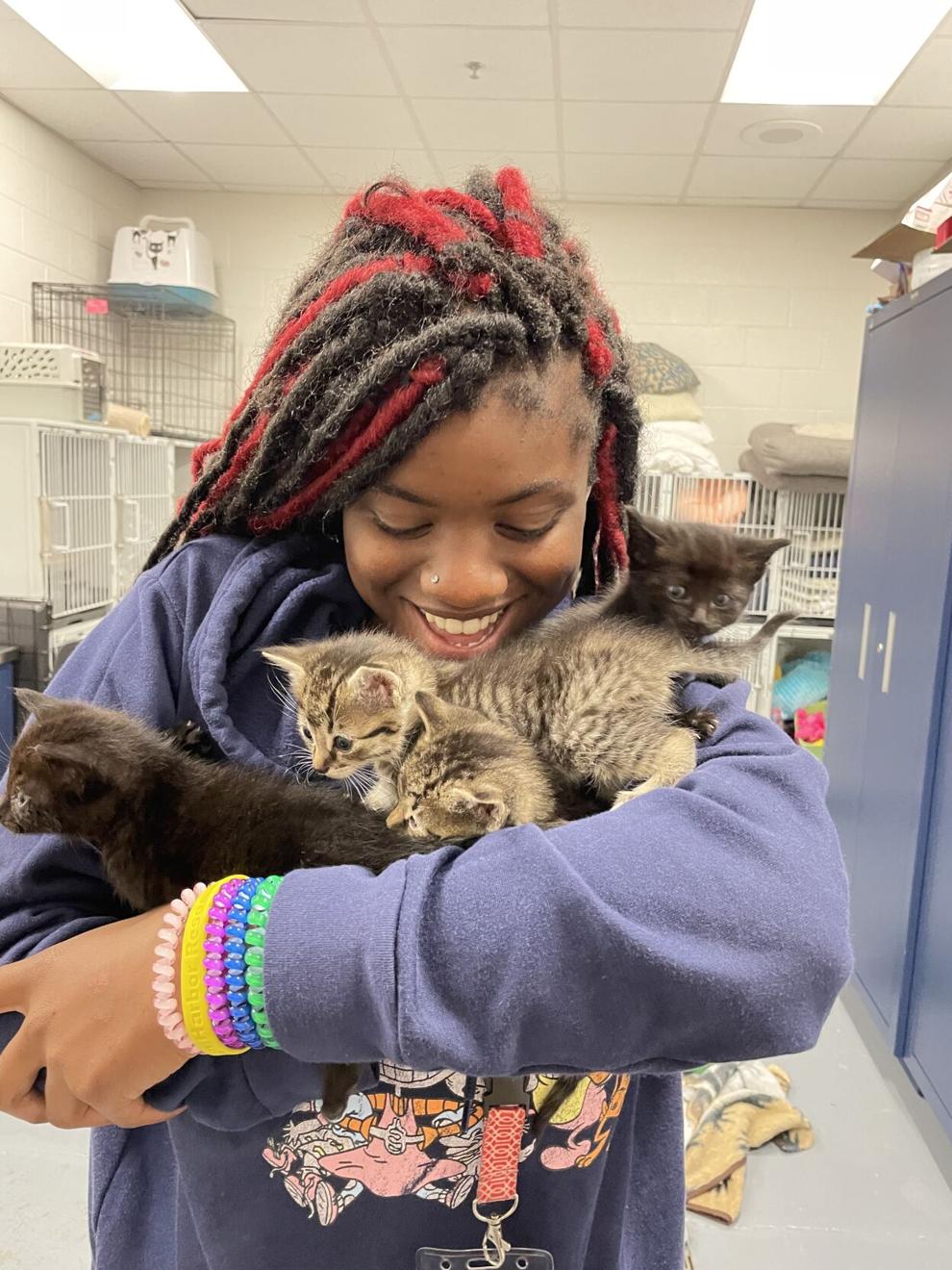 Throughout it all, McCarrell continued to foster cats and dogs from her basement, which was outfitted to care for rescue animals with drains in the floor and a laundry room area with a big sink. "It was like my own puppy hospital and kitten hospital," she said. "The setup was perfect."
When she heard about the position at Lucy Beckham, she was teaching life science and fostering out of her house in Greenville. It was January 2020 and her family was visiting Isle of Palms on a long weekend. "We had zero plans on moving, but I when I found out about this, I was like, I have to do this," she recalled.
By March 2020, they had sold their house and were getting ready to move to Charleston - the same week the COVID shutdown hit. She said, "The house we ended up in, we bought virtually; we just kind of crossed our fingers."
In Mount Pleasant, she still fosters animals from her home, but this time her garage becomes the foster room.
"It's literally my life: teaching and saving animals," McCarrell said. "I finally feel like I have the support to do what I need to do, and the vehicle to do it … I'm able to save so much more than I ever was doing it on my own in Greenville."
'We need help with rescues'
By working with foster and rescue organizations, McCarrell understands the need for more spaying and neutering programs, and the importance of vets being able to perform those services at a discounted rate to curb the overpopulation of cats and dogs.
"It's such a huge problem in South Carolina, the overpopulation of animals, and so rescues and shelters are overrun and they don't have enough money," she said.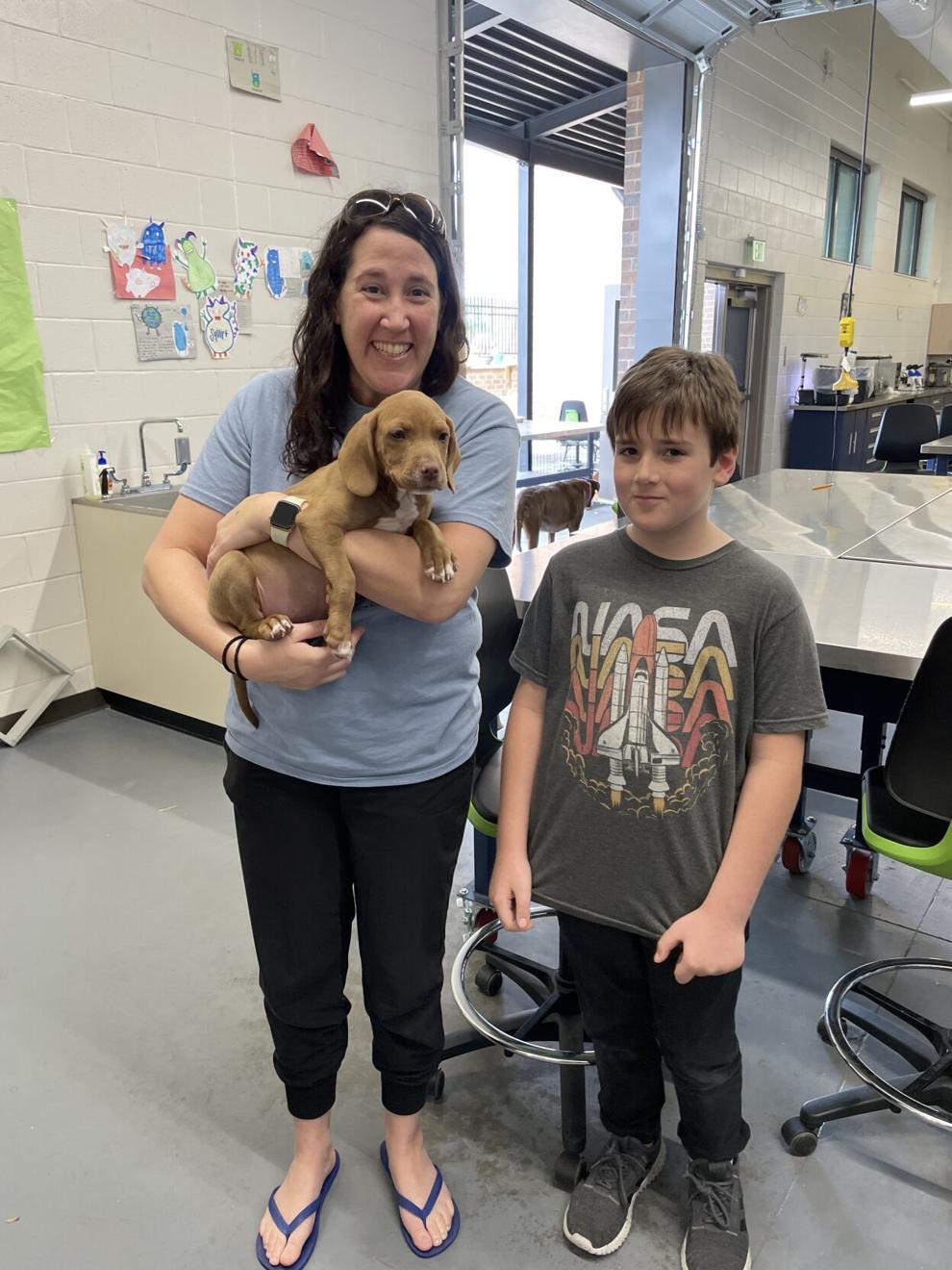 The hope is that, by educating and training students to pursue veterinary careers, they will be able help with these services that are desperately needed at area animal shelters and rescue groups.
At Lucy Beckham, McCarrell is grateful for the students and families that provide foster homes, and for her network of support for providing pet food and other items that her classroom needs to thrive.
"People are all about their dogs and cats; it's a great animal-friendly town," she said of Mount Pleasant. Continuing to grow community outreach and awareness about her adoption program is one of her top priorities for this school year.
From dogs, cats, bunnies and fish, "there's always something random getting rescued," McCarrell said of the animals that come into her classroom. Since there are already large animal programs in place throughout South Carolina, with an emphasis on farming and agriculture, she is focusing more on small animal rescue in her classroom.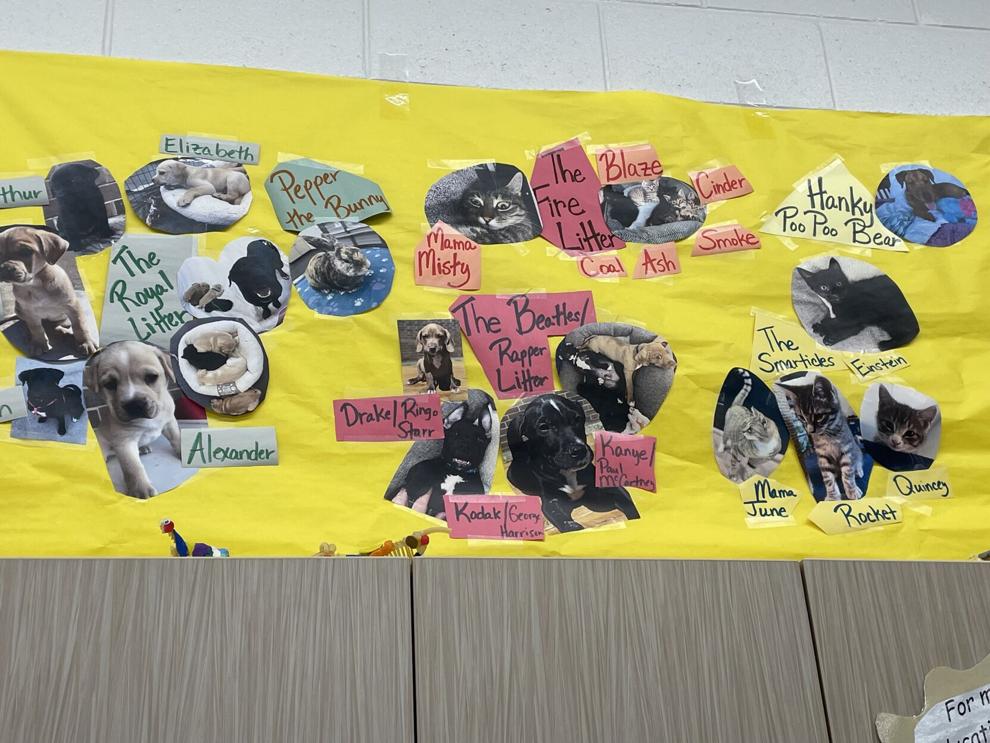 Hung along one wall above the cabinets is a long banner that has the pictures of more than 50 animals and names next to them. McCarrell points proudly to this display of all the dogs and cats from her class that have been adopted. "Each one has a story, I can put the names of the students that fostered them, the kids who helped nurse them back to health … every one of these is not just an animal that got adopted, it's a story that is tied to a kid."