For many of us, the total solar eclipse on Aug. 21 could be a once-in-a-lifetime event. The Lowcountry won't witness another one for 35 years. To find out more about the rare celestial phenomenon that briefly turns day into night, we turned to Laura Penny, Professor of Physics and Astronomy at the College of Charleston.
Penny offers tips on how to safely observe an eclipse and explains why the solar events generate so much interest. The James Island resident plans to share the eclipse experience with her mom and three children, Craig, 18, Hewes, 16, and Anna Bess, 11.
What happens during a total solar eclipse? The darkest part of the moon's shadow, called the umbra, falls on some part of the Earth. People in that region will see the entire sun covered by the moon. But the moon umbra is very small, only about 70 miles wide, so only a very tiny fraction of the Earth is in the umbra's path. Anyone outside of that region will only see part of the sun covered, or may not see any coverage at all.
At what time will the Aug. 21 eclipse happen in the Lowcountry? The exact times depend upon your location. On this map, tinyurl.com/2017eclipse, you can click and determine the times for any location. Be sure to subtract four hours, as the times listed are GMT (Greenwich Mean Time). But generally, the moon will begin to cover the sun around 1:15 p.m. Totality (complete coverage of the sun) is at 2:46 p.m. and will last anywhere from a few seconds to 2 ½ minutes. The moon will completely move off the sun at 4:10 p.m.
Where are some ideal spots to experience the eclipse? Everyone should do everything they can to be inside the totality path. Do not accept a location where the Sun is 99.9 percent covered. The difference is literally night and day. So if you click on your house on the map and you're outside the totality zone (Johns Island, Kiawah, etc.), see if a friend's house is inside the path and go over there. If I had to choose, I'd prefer a location with at least a minute of totality. But beyond that, there is no special place to see this eclipse. You don't need to be at an eclipse-themed event or right at the center line; just hang out with some friends and family and have fun.
What if it's a cloudy or rainy day? Cloud coverage will make the early and late parts of the eclipse, when the sun is only partially covered, pretty boring. But it may make the totality portion more dramatic. In the minutes leading up to totality, the sky will get dark very quickly and then suddenly it will be night. There's a YouTube video of a total solar eclipse in China from July 2009 at a rainy location (youtube.com/watch?v=YWiyjicDNjU). Everything appears like a typical overcast rainy day and then in 30 seconds it transitions to complete darkness. It is actually kind of frightening how quickly it occurs. Imagine what people must have thought hundreds of years ago when this happened.
What's the safest way to view the eclipse? Safety is extremely important when viewing the eclipse. You should never look directly at the sun if any portion is uncovered — even a tiny sliver. So you can either:
Get eclipse glasses or viewers that are made for viewing the sun. Those marked with CE and ISO are safe for looking with just your eyes (don't try to look through binoculars with them). We've been getting our glasses from RainbowSymphonyStore.com but there are other vendors as well. Sunglasses, no matter how dark or polarized, are NOT safe to use to view the eclipse.
During the brief period when the sun is completely covered, it is safe to look at it. Really you're not looking at the sun, you're looking at the moon.
What can observers expect to see and hear during the eclipse? This is my first total solar eclipse too, so I'm not really sure what to expect. The temperature will probably drop. Birds and other wildlife are supposed to react — just as we do — to the sudden darkness.
Why is it dangerous to look directly at the eclipse? Nothing is different during an eclipse; It is never safe to look directly at the sun. Sunlight is too intense or powerful for our retinas, similar to pointing a laser in your eye (don't do that either!). The solar energy causes a raise in temperature and chemical reactions that damage the retinal cells. Normally if you tried to look directly at the sun, your body wouldn't let you; it would feel pain and turn away. But once most of the sun is covered in an eclipse, you won't feel pain when you look at it; however, the light is still damaging your eye's cells. So in the past, people have stared directly at the sun during the partial phases of eclipses and caused serious injury to their eyes.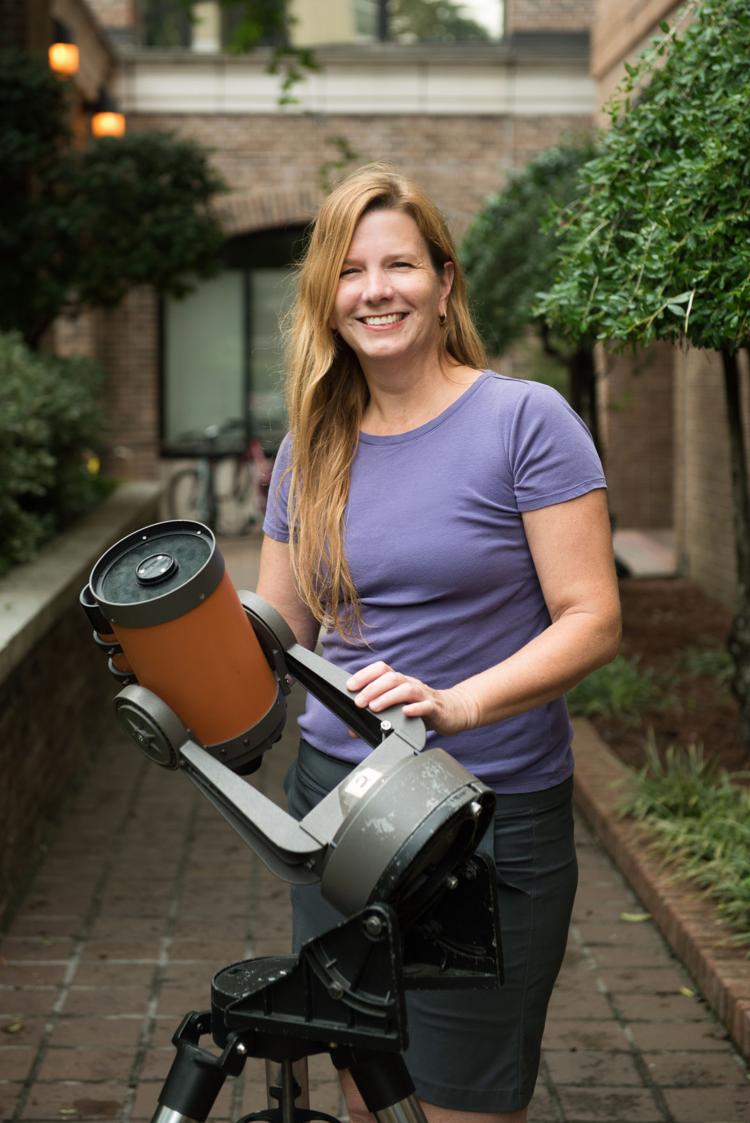 What makes a total solar eclipse so special? Total solar eclipses occur somewhere on Earth about once a year. But the umbra is so narrow, and it can fall anywhere on our planet. Most of the Earth is unpopulated or covered with water, so typically nobody sees the total eclipse. To have a major metropolitan area like Charleston in the totality zone is extremely rare.
The last one was in March 2016 where the totality path went over the Pacific Ocean. The last time Charleston was in totality was March 1970. The last time anyplace in the US was in totality was February 1979. The next time Charleston will see any part of the sun covered will be in 2021. The next time Charleston will experience a total solar eclipse isn't until March 2052. Most cool astronomical events (comets, novae, etc.) are a surprise.
What are your plans for viewing the eclipse? The College of Charleston Observatory and the local amateur astronomy groups decided about a year ago to send all our resources out into the community for the eclipse. Rather than having people come to us, we are going to them. All the astronomers, telescopes (equipped with solar filters), and most of our students will be doing outreach that day. So far we have about 15 locations where we will be; mostly public parks or recreation areas that are near neighborhoods. I'll be at the Joe Gawrych Baseball complex behind Whitesides Elementary School in Mount Pleasant. My kids, who are old hands at astronomy, and my mom will be there with me.
Editor's Note: College of Charleston Visiting Assistant Professor of Physics and Astronomy Dina Drozdov will be at The Post and Courier's Total Solar Eclipse event. Read more about the event at postandcourier.com/TotalSolarEclipse.
How did you first get interested in astronomy? I really liked science even in elementary school. In high school, I took physics and was hooked. I loved how it explained all the physical things I'd see in the world. Astronomy for me is the same; using physics to explain why objects in space do the things they do. LCP
LEARN MORE
This video from Vox Observatory provides helpful information about eclipses: youtube.com/watch?v=kgbK2FZFFdw
This website will let you put in your location and then tell you all the upcoming eclipses there: timeanddate.com/eclipse/
For a list of books about eclipses for different ages, visit eclipse2017.org/2017/books.htm.
To find out where College of Charleston astronomers will be on eclipse day, visit sites.google.com/view/cofceclipse2017.