With temperatures dropping and Lowcountry area public schools returning from winter break virtually, you're likely to spend ample time indoors with your family. But don't stress! There are plenty of ways to keep your kids occupied and keep yourself sane.
This month, we spoke with Starr Jordan, director of education at the Children's Museum of the Lowcountry, who shared some of her favorite activity ideas:
Q: What are some of your go-to indoor activities for keeping kids entertained?
When you can't go outside, let children change their scenery by building blanket forts. By simply draping blankets or sheets over furniture (dining chairs make great supports), children practice planning and problem-solving skills as they build and modify their fort. Not only does this create a cozy hideaway for little ones, but small spaces can also have a calming effect on some children.
Sometimes the little ones just need to release energy! Create an obstacle course to practice gross motor skills – jump over pillows, crawl under tables or chairs, toss a ball into a laundry basket, walk while balancing a beanbag on your head, crab walk, maneuver through a crepe paper maze, and jump in and out of a hula hoop. Of course, you can keep it simple and have a dance party to get those bodies moving!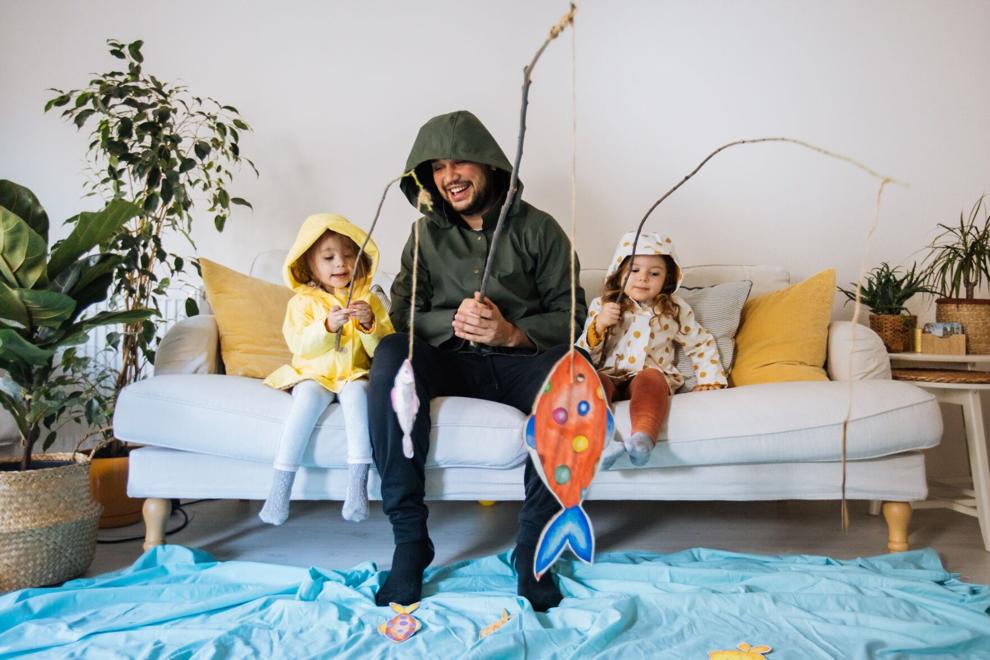 Of course, my favorite indoor activity is a visit to the Children's Museum of the Lowcountry! Due to COVID, we currently have timed playdates on Saturdays and Sundays. The number of visitors allowed during a playdate is very low, so you don't have to worry about large gatherings of people. CML does require face masks for everyone age three and up, and additional safety and cleaning protocols are in place so families can play safely.
Q: What supplies do you recommend families keep on hand to encourage creative play?
I highly recommend toys and supplies that allow for open-ended play. Building blocks can be used to create roads for toy cars one day, castles for dolls another day, and a restaurant to serve pretend food the next day. Playdough is also a great open-ended toy, and you can make your own at home (our favorite recipe is at https://explorecml.org/cml-recommends/). Other open-ended toys and supplies include cardboard boxes, magnet blocks and tiles, cars and trucks, animal figurines, and non-specific dress-up items like capes, boas, silk scarves, and hats. These toys tend to have a longevity that far surpasses the latest toy craze.
Also, keep a variety of craft and household supplies handy such as pipe cleaners, craft sticks, pom-poms, cotton swabs, rubber bands, paperclips, buttons, small paper cups, and recyclable materials like yogurt cups and bottle caps. Not only are these great for art projects, but your child can use them to build engineering skills as well. Challenge your child to design and build a pom-pom launcher, a boat that floats, a bubble wand, or a marble run.
Q: Winters are pretty mild in the Lowcountry; what are some of your favorite outdoor activities for when weather permits?
We are fortunate to have so many parks and natural areas to explore in the Lowcountry. Go on a nature walk. Children are natural collectors; find items on your walks like pinecones, leaves, and grasses to take home and use in art projects. You can also use plant cuttings as natural paintbrushes.
If you are worried that your little one will get bored on a walk, scavenger hunts are a great way to keep children engaged in observing their surroundings. Look for different color leaves, wildflowers, insects, rocks, spider webs, bird's nest, seeds or seed pods, animal tracks, smooth objects, rough objects, clouds, fallen branches, etc.
Q: Last year saw a rise in virtual learning and entertainment resources. Are there any you recommend?
The education team at CML also created a variety of virtual resources that included storybook readings, STEM (science, technology, engineering, and math) challenges, and art projects. The videos can be accessed on our YouTube channel.
The Exploratorium (https://www.exploratorium.edu/) has shared amazing online resources for years. Their Tinkering at Home activities can keep children of all ages engaged.
Q: An internet search for ideas to keep kids entertained in the winter returns countless results for younger children. What are some ideas for preteens and teens?
As a mom of a preteen and teen, limiting screen time is a struggle, especially during winter months! As we spend more time at home, we are taking the opportunity to teach our boys more life skills. We are baking and cooking together. The boys are learning to do laundry and helping with simple household repairs.
My boys still enjoy family game nights and movie nights. Our favorite games are Left Right Center, Monopoly, Life, Battleship, and Trivial Pursuit Family Edition. Now that they are older, they are learning to play a progressive rummy card game that the adults in the family play. It's nice being able to pass that tradition on to them.
It is also a great age to teach children the importance of giving back to the community. Please encourage your child to volunteer their time. Typically, CML recruits teen volunteers to help with our camps and special events. While our volunteer program is currently on hold, many other non-profits may need assistance. Have your teen determine what it is they like to do (work with animals, children, etc.) and see if there is a local organization that needs assistance.
Practice random acts of kindness as a family. Paint encouraging words on rocks and leave them for others to find or bake cookies for a neighbor. Take items to a nearby Lowcountry Blessing Box.
Q: What advice do you have for parents who find planning activities overwhelming?
Give yourself grace. It can be overwhelming. The great news is that you don't need to have planned activities every day. Giving your children unstructured time to just play is one of the best gifts. Even better … when you are able, spend some time playing with your child and follow their lead. They will appreciate the time with you, and you get to be a child again!