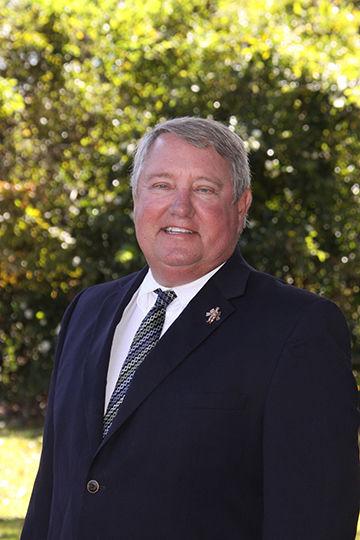 Forty years can pass by in the blink of an eye. Not really. However, we do get to realize how fast time seemingly streaks by. Dot Witherspoon has been working at the Bank of Greeleyville for the last forty years. She says she never dreamed that forty years could pass like that but it has gone by with no regrets.
Dot grew up in Lane, South Carolina. She went to C.E. Murray High School in Greeleyville. She graduated from C. E. Murray in 1976 and then went to Williamsburg Technical College. She graduated from WTC in 1979 and began working at C.E. Murray High School. She would occasionally get a part-time job. In 1981 she got a part-time job at the Greeleyville IGA grocery store.
She worked at the school five days a week and on Saturday she cashiered at the Greeleyville IGA. At about 5:30 each Saturday afternoon an older gentleman would come in and check her cashier drawer. Each Saturday this went on and he would always say,  "You balanced to the penny." She found out later that the man was Bob Jonte the President of the Bank of Greeleyville.
One day he asked would she be interested in applying for a teller position at the bank. She could stop by the bank of Monday and pick up an application. Dot picked up an application on Monday, filled it out and dropped it off on Tuesday. Mr. Bob said the board of directors met on Wednesday and would let her know something on Thursday. Dot came back on Thursday and had a job. When would she like to start?
She gave two weeks notice at the school and reported for work on April 1, 1981. Leonard Jonte began training her. They spent all day in a teller window cashing checks and talking about debits and credits. This went on for two days and on the third of April she was in a window cashing checks and trying to get the debit and credit tickets to balance.
Forty years can bring on a lot of changes. Teller work had lots to do. The first week of the month was spent reconciling check statements and getting them ready for mail. The banks sent your checks back to the individual customers. The checks were counted and put in envelopes and made ready for mailing. Every morning the Fed Letter came by courier and was worked and every afternoon work was sent out. Checks and accounts were worked everyday and customers kept coming in.
After eight years Dot was head teller and doing teller training in both Greeleyville and Kingstree. During this time many changes have come about. Technology has changed the way paper is handled. Checks that used to be mailed back to customers have been replaced by images of checks and these checks can be sent electronically. At one time money was shipped from the Fed by mail. Now all cash comes in armored car.
About ten years ago, Dot began making loans. Her friend Benton McNellage, Jr. was her first loan customer. Now she is Vice President and the Senior loan officer in Greeleyville.
Time has zipped by but Dot says she still likes working at the bank.
A few weeks ago, there was a reception for Dot with her friends, family and co-workers. The love and respect shown for Dot shows the important part she has played in the lives of people in the community. She has spent over 30 years working with the Greeleyville Flag Day Festival. She is a faithful member of her church and certainly been a dedicated employee at the Bank of Greeleyville.
It's good that time goes by so fast. The next forty years will seem like nothing.