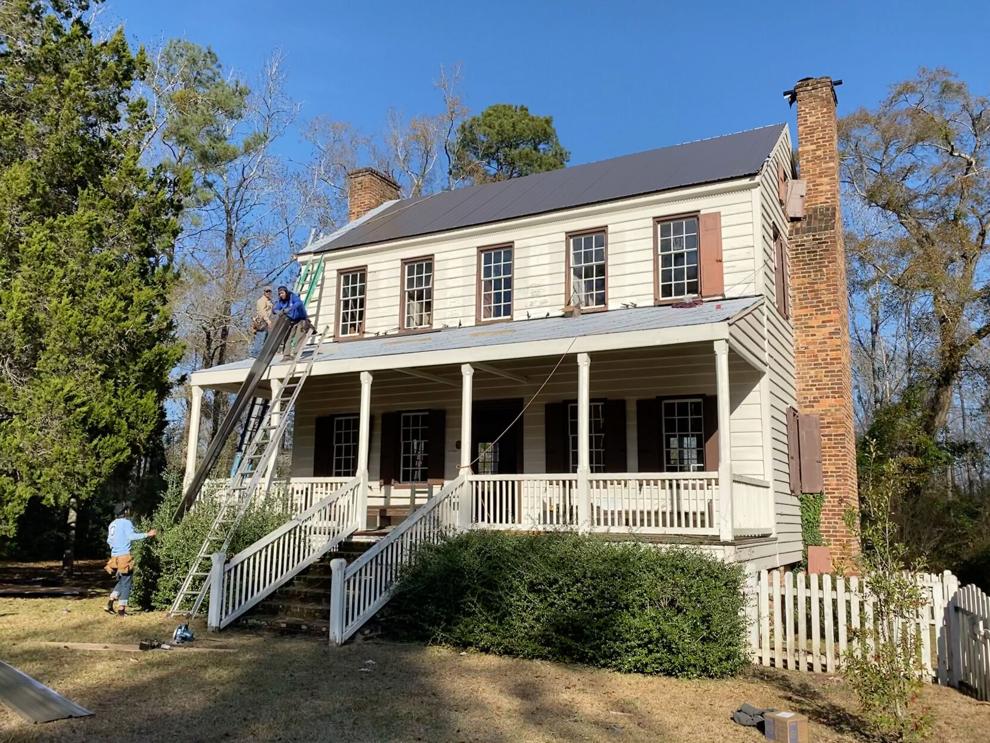 A long-awaited facelift is happening at Thorntree House. Thorntree is owned and operated by the Williamsburgh Historical Society and they are in the process of addressing several issues with the house, beginning with the roof.
Replacement of the cypress shake roof was made possible by way of previous timber and land proceeds. What is left will go to repairing banisters and some siding. Other issues are being addressed as well. The second story shutters that have needed constant repairs due to exposure to the weather will be replaced (the first story shutters under the porch have been spared from the elements and are intact). The house is also due for a new paint job. A huge but diseased dogwood located to the right of the porch has been replaced with a holly, courtesy of the Margaret Gregg Gordon Chapter of the DAR.
Thorntree (Witherspoon House) was built in 1749 and is believed to be the oldest known residence in the Pee Dee area. In 1780, the house and grounds served as an encampment for 100 British dragoons and a large number of Tories, which most likely spared it from being burned. In the 1970s the Society moved it from its original site to 301 Nelson Blvd. in Kingstree. It is listed on the National Register.
The Society hosts several events throughout the year at Thorntree (with the exception of cancellations in 2020 due to COVID-19) such as a day with the reenactors of the Revolutionary War. The Society depends on grants, donations and its members to maintain the house and the museum, which recently established an ANNEX that will house African American History and local Cooperative exhibits located on Hampton Street, also in Kingstree. For information about membership, contact Museum Director Wendell Voiselle at (843) 355-3306.