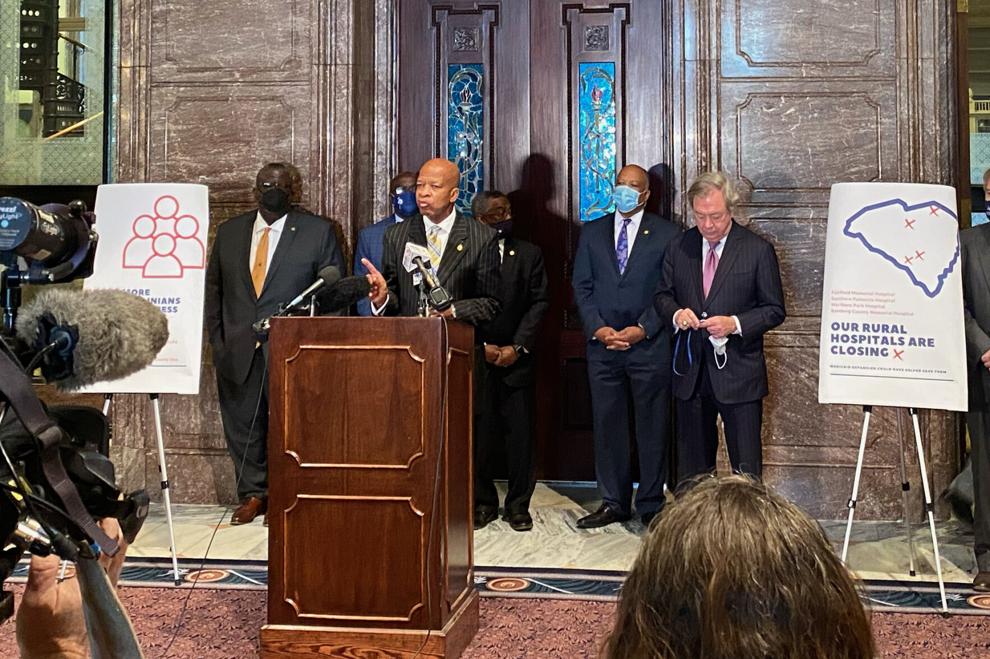 South Carolina Senate Democrats, including Senator Ronnie Sabb (D-Williamsburg), held a press conference Wednesday, March 31, calling on Governor Henry McMaster to expand Medicaid in South Carolina.
According to a press release issued by the South Carolina Senate Democratic Caucus, South Carolina is one of 12 in the nation who has chosen not to expand Medicaid under the American Rescue Plan, denying thousands of South Carolinians access to healthcare. "It's vitally important that we provide healthcare to all of our people because it helps our rural hospitals," said Sabb in a March 31, interview.
Sabb said there are many people in our communities that don't want to incur bills that they cannot pay, so when they are sick, they don't seek medical help thus exacerbating the illness to the point it takes more to treat than it would have taken had they caught the condition early.
The funding would last two years for states that take advantage of the expansion. Through interviews and public statements, The Associated Press found little change in the 12 states that have held out against the Medicaid expansion: Alabama, Florida, Georgia, Kansas, Mississippi, North Carolina, South Carolina, South Dakota, Tennessee, Texas, Wisconsin and Wyoming.
McMaster has said he doesn't plan to take advantage of the measure. "Gov. McMaster isn't for sale, regardless of whatever ill-conceived 'incentives' congressional Democrats may come up with," spokesman Brian Symmes said in a statement provided to The Associated Press. "What the federal spending plan does is attempt to offer a short-term solution for a long-term problem."
The American Rescue Plan, recently passed by Congress and signed by President Joe Biden, includes major incentives for states like ours to expand Medicaid.  "It would be a win, win for rural hospitals and for South Carolinians," said Sabb. He also said an expansion would help economic development. "With the added incentives that the Biden administration has put on top of what the Affordable Care Act offered before, it's just time for South Carolina to take advantage of this opportunity."  
According to Jeff Leieritz, director of external affairs for the South Carolina Department of Health and Human Services, the current Federal Medical Assistance Percentage rate applied to the potential Medicaid expansion population is 90% but that applies to the expansion population only. A 5% add-on included in the American Rescue Plan does not apply to the 90% FMAP rate currently in place for the potential Medicaid expansion population. 
In addition, Sabb said expanding Medicaid in South Carolina could help save rural hospitals. Since 2012, four rural hospitals have closed in our state. "This is just another one of these generational moments where we've got an opportunity to do something that not only helps the folks currently but helps generations of people to come and will stabilize our hospitals, particularly in the rural communities."
This article has been updated.