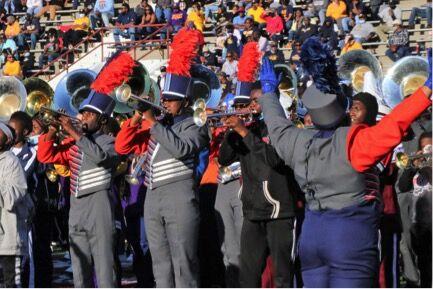 ORANGEBURG, S.C. – More than 750 students from 24 high school bands and dance teams took the field Saturday with the Marching 101 for Band Day at South Carolina State University.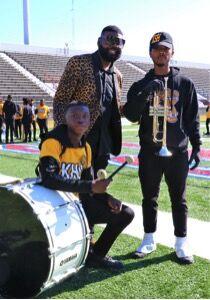 After practicing in the morning, the schools formed a mass band with high school students intermingled among Marching 101 members for a halftime show like no other. Bands traveled from as close as Orangeburg-Wilkinson High School (O-W) and as far away as Chicago.
Kingstree High School Band Director James L. Patterson brought 60 band members from Kingstree, South Carolina, to his home turf on SC State's Willie E. Jeffries Field in Oliver C. Dawson Stadium.
"I'm an alumnus of South Carolina State University, and I'm also from Orangeburg," Patterson said. "So, I'm really excited about this school, excited about what they're doing here and excited about what my students get to experience here with the band."
Patterson was the Marching 101's trombone section leader in the late 2000s, which shaped his career in music education.
"I had an amazing experience under the direction of Eddie Ellis," Patterson said. "I had a great time here and it changed my life. That's why I wanted to become a band director."
Among his Kingstree students was Donte'e Spates, who has been playing drums about four years.
"I just like to play music. I like to play and move at the same time," Spates said. "I like the way I can take out my energy on the drum."
Patterson said he hoped Kingstree students would have "an amazing musical experience" by being on the SC State campus and playing with the Marching 101.
"I want them to fellowship to see what this family is like," he said. "Music is universal, so to come from different backgrounds and different areas and be able to connect musically is an amazing thing."
Kingstree senior trumpet player Erin Mouzon has a goal to join the Marching 101 full time when he enrolls at SC State next year.
"I've always admired the South Carolina State Marching 101," said Mouzon, who intends to major in political science at SC State toward eventually getting a law degree. "It's always terrific. I've learned a lot today from the Marching 101 members. They're all amazing."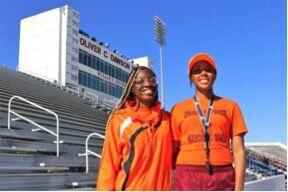 Also planning to enroll at SC State next year is 18-year-old Zaria Graham, a senior at O-W. She recalled hearing the Marching 101 practice when she lived close to the SC State campus.
"It's all about family. You want to support each other," she said of her experience Saturday. "That's what HBCU (Historically Black College or University) bands are all about – supporting each other."
Graham said being in the O-W marching band had been hard but worth the effort.
"You're going to cry together, and you're going to sweat together, she said, "but at the end of the day, it's a family made to take you through life."
As a member of O-W's color guard, she might want to continue twirling in college, but she is sure that she wants to major in social work.
"I want to help people," Graham said. "I want to be a therapist. I think I am good at listening and giving advice."
With eyes on a career as an anesthesiologist, O-W senior clarinet player and drum major Lauren Wilkes, 17, was still exploring various options for college, including SC State. Playing with the Marching 101 on Saturday, though, she was embedded in tradition.
"It's tradition to me because most of my family marched on the band here," Wilkes said.