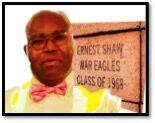 A Chinese Proverb say, "If you are planning for a year, sow rice; if you are planning for a decade, plant trees; if you are planning for a lifetime, educate people."
As C.E. Murray High School, the former Williamsburg County Training School graduates its final class, I commend parents who seized the possibilities of education and made the sacrifices necessary for their children's success. I will never forget my father who grew up at a time when others not only determined the length of the school term for black students but also whether a child attended school or picked cotton on a given day. Despite dropping out of St. Paul Church School with a sixth grade education, he vowed that when he had children no other man would decide when or if we went to school.
I commend the members of the Class of 2022 and I commend the teachers, past and current. Television commentator Dan Rather said it best when he noted, "The dream begins, most of the time, with a teacher who believes in you, who tugs and pushes and leads you on to the next plateau, sometimes poking you with a sharp stick called truth."
Nearly a century and a half ago in 1880, a visionary might have seen great promise as John and Adaline Murray and their 11 children including William and James lived near Greeleyville. William married Mariah Parker and James Murray married Lucia Williams. In 1930 James and Lucia lived on Heineman Road near Greeleyville and Lucia was a teacher. By 1940 Lucia and their daughter Edna were teachers. Mrs. Lucia Murray's career spanned 45 years and the 1958 WCT Yearbook listed her as the principal of the elementary school.
Mr. Easom Raplhford Barr from Lane taught agricultural sciences for 30 years and was principal of WCT. His wife Wilhelmina was a teacher from Hemingway. In September of 1940, as school was starting, Mrs. Barr died at 32. Mr. Barr carried on and in 1943, he, his home economics teacher, and the agricultural teacher at the white school were honored for their work in food production and conservation for home use during wartime.
Mrs. Lucia Murray died at the start of the 1972 school year. Her surviving daughters Edna, Alva, Frances, and nephew Charles were capable and willing to carry on a great legacy. Just a few weeks later, WCT School was renamed C.E. Murray Elementary and High School.
Edna Beatrix Murray attended Benedict, Atlanta University, and SC State and married Thomas Oscar Sherman, a Georgian who came to Orangeburg to attend SC State. In 1950 the family lived on Highway 261 near Greeleyville. She taught English and he taught math and science at WCT. Edna Murray Sherman's career lasted more than 40 years.
Alva Murray the second daughter of the Murrays graduated from WCT and Morris College. She taught in Williamsburg County before moving to Philadelphia. She married Booker T. Adams and spent her last 21 years in California. She died two days before Christmas in 2017 at 99.
Frances Murray, the youngest, attended Allen and NC Central. In 1978 she married Morris College graduate Orrie Pasley of Hemingway whose first wife had taught at Chavis High School for 42 years. Frances taught at Hemingway High until she returned home to care for her mother. She taught at Williamsburg Tech and C.E. Murray until her retirement after 43 years of teaching. Mrs. Pasley died on May 5, 2022, at the age of 102 as I was writing this story. She is buried in Mount Zion Missionary Baptist Church Cemetery in Greeleyville, a place I visited a week earlier and saw the gravestones of members and parents of the class of 1968, as well as Mrs. Lucia T. and Dr. C.E. Murray.
Excellence, past and present, was on display on a Greeleyville street listed as "No name" in the 1950 census. Geraldine Robinson, a 25-year-old teacher lived with her parents. Further down the street, teachers Victoria Barr, Nora Bowers, and Frances Brooks were lodging with the Beaufort family. Living next door was 25-year-old Sam Singleton, his wife Ruth, and their infant son Al. Mr. Singleton was a teacher, but his wife's occupation was not listed, however, both were teaching by the time I arrived at the school. She graduated from Morris College and spent 33 years teaching in Greeleyville. Both are gone now, and I last spoke with their son at an alumni event several years ago. We talked about a boy who graduated a couple of years before us and headed north. He was murdered at 18 in New Haven, Connecticut in 1967 and our classmates sang at his funeral at a church down the street.
Mr. Singleton's parents, his sister Mary, her husband Marion, and their newborn daughter Gloria lived next door. A son Clifton would come along late next year. Gloria was a member of our class of 1968. Clifton portrayed a lawyer in a school play about the 1954 Brown School Desegregation case and was inspired to become a lawyer. By 1976 he had graduated law school in Ohio. He practiced law in Cleveland, Columbia, and in Kingstree as a partner of Ronnie Sabb, a 1976 graduate of C.E. Murray who earned a law degree from the University of Florida.
Clifton was elected a State Circuit Court Judge in 2000. In 2010, Sabb was elected to fill the seat of State Rep. Ken Kennedy, another graduate of our school who was first elected in 1990. Kennedy's mother ran the cafeteria at our school and his brother Glenn, a 1976 classmate of Ronnie was principal from 1996 to 2001. Mr. Kennedy was at the helm when President Clinton came to Greeleyville, and his helicopter landed on a football field named for Mr. Willie Benson, a teacher, coach, and assistant principal at our school. I was honored to stand on Benson Field while serving as emcee for the 1998 commencement celebration.
Judge Newman's daughter graduated from USC and earned a law degree from Howard University. She was elected to the court 16 years after her father. I once introduced Gloria as the sister of her more famous brother, but she corrected me with "Clifton is my brother."
Still, further down No Name Street, Mr. Barr the school's principal lived near 75-year-old Sylvia Levy and her son Emanuel who taught. Ten years earlier Sylvia and her husband Graham Levy were next-door neighbors of the McCallums, foster parents of young Charles E. Murray in their now historic home. Mrs. Levy died in Greeleyville in 1953 and the State Newspaper described her as a "Negro Educator" who had served in the Greeleyville Negro schools for more than 50 years.
In 1950, the 27-year-old Sumter native, Edgar Wilson was a boarder in the home of Eloise Rollerson in Greeleyville, and he was a teacher. He should not be confused with Rev. Julius Wilson who graduated from Tomlinson High School and Claflin University. He taught in Williamsburg County and was a pastor.
When I was young, Morris College students came back to our church during breaks. The preacher often asked us to bring mackerel, peaches, or grits to help struggling students get through college and I wondered why anyone would go to college to starve. Ironically, the current president of Morris College is Dr. Leroy Staggers, a graduate of C.E. Murray High School. Morris graduates played crucial roles in educating us. More than half of the faculty in 1958 were Morris College graduates. We should review the lives of these teachers.
Morris College graduate, the former Annie Richburg taught at WCT. She became Mrs. Barr when she married Principal Barr. Mr. Barr was at the helm when the new WCT School opened in 1954 and Tiny Gamble my neighbor was in attendance. My sister "Sister" and our cousin Teen Woods started in 1955 and I arrived in 1956 along with my cousins Henry "Rabbit" Woods and David "Cooda" Brown, although we attended the old school for more than two years before moving up to the new school. Mrs. Barr was a third grade teacher and Mr. Barr continued to serve as principal until he died in 1960. Mrs. Barr survived her husband by nearly 30 years.
Several characters in our story taught at Hunter Elementary School. Ellen Need also attended Morris, SC State, USC, and the State University of NY. She married Moses Murray of Greeleyville, taught at Hunter School, and spent another 43 years at C.E. Murray Elementary before retiring in 1986. Claflin graduate the Rev. John Victor Livingston taught and was principal in Greeleyville from 1953 to 1957. He was present to ring the bell at the old school when I arrived. The 1958 WCT yearbook listed him as principal of Hunter Elementary School, which was located near Greeleyville off River Road. He also served as pastor of churches in Greeleyville, Lane, Kingstree, and elsewhere.
Della Keels graduated from Morris and continued her education at S.C. State. She taught at Hunter School, WCT/C.E. Murray, and Greeleyville Elementary. She married a man with Morris as a middle name. Samuel Morris Chandler graduated from SC State and was our agriculture teacher. During my senior year, I painted signs around the school for the Agriculture Building and other departments. Some were still in place years later. Sadly Mr. Chandler died in January of 1968, and we memorialized him in our yearbook. Mrs. Chandler later married Rev. Durant Cooper.
Ethel Smith Israel graduated from Morris and attended SC State. She could have aided our understanding of geography if we had known that she had done further studies at the University of South Dakota and North Dakota as well as USC. She taught and served as principal and coached basketball in Berkeley County, but she was in Greeleyville when we were there. Cleola Driffin graduated from Morris and married Mr. Martin Cunningham in 1947. She changed lives by teaching in Clarendon and Williamsburg County for over 50 years. She also attended the Chicago School of Nursing and brought life to our area as the last known midwife in our county.
Mary Cooper attended Morris College and taught for many years. She married Allen graduate John Allen Carter Sabb and in 1930 the couple lived in Kingstree, and she was a teacher. In 1950 John and Mary Sabb lived on Highway 261 and Mrs. Sabb taught at the school. Their next-door neighbors were Thomas and Edna Sherman. The 1958 edition of the WCT yearbook listed Mr. J.A. Sabb as a teacher as well.
Helen McClary left Greeleyville to attend Morris College. She married Mr. Burley Joe. In 1950, 30-year-old Helen Joe lived at home with her mother Lila McClary and she worked as a teacher. She taught fourth grade in 1958. She was the aunt of Glinda, a member of the class of 1968. Mr. Joe attended USC. He taught small engine repair in our county schools and later served on the county school board.
Lillian Virginia Reid was educated at Allen University. She married Thomas McClary and was my first grade teacher in 1956. Her daughter Ophelia was younger than the first graders, but she visited us occasionally. Mrs. McClary died in 1999. I returned to Greeleyville for her funeral and spoke with Ophelia and her sister Thomasena. She was buried by a mortuary co-owned by Mrs. Yvonne Samuels.
The 1959 edition of the annual session of Young People's Assembly sponsored by Benedict College and an association of Baptist Churches ended with Yvonne James from Society Hill winning one of two top prizes consisting of scholarships to Benedict. She taught us English and was Mrs. McClary's colleague our senior year. Ms. James married Manning mortician Hayes Samuel who died several years ago. Samuels Funeral home has buried several of our teachers and classmates.
Mr. Martin L. Chandler graduated from Tomlinson and Claflin College. He earned a master's degree from S.C. State and studied at Morgan State and Ohio State. He was a teacher, and he married the former Grace Brimfield from North. Both taught at our school and unfortunately both died weeks apart in 2011.
There was another couple as well. Mr. James Cummings, a native of Dorchester County was educated at Allen and SC State and came to Greeleyville to teach us. Ora Bell Mack was born to Deacon Henry and Mrs. Mazzie Mack in Richland County. Her father's obituary stated "Henry had some schooling in the public schools of Richland County. He desired more but had to forfeit school in order to begin working as a young boy." His daughter Ora was able to get the required education to teach us. She also married another teacher.
There was a void in Greeleyville because our school lacked a football team while I was there. Before graduating I spoke with Mr. Murray about the void, and he expressed a desire to start a football team. In the fall of 1968, I sent him the only three dollars that I had to help start a football team. I still have a copy of his 54-year-old letter of acknowledgment.
In August of 1970, the State Newspaper published a preview of the 1970 high school season and WCT was included. Isaac Gallishaw was listed as a top halfback candidate and Robert and Abraham Gallishaw were battling for the end positions. Mr. James Cummings who taught us and married our teacher, Ms. Ora Bell Mack was the coach. Mr. Cummings died on a Friday in October of 2014 and that night the football team beat East Clarendon 19-16. Fourteen months later, I sat in the stands as the C.E. Murray team competed for a state championship. I appreciate all that Coach Smith has done for our school and I wish him much success in Kingstree because Kingstree is us now. When we celebrated our 50th class reunion in 2018, our dear teachers Mrs. Cumming and Mr. Charles Garner attended and spoke to us like it was 1968. Mr. Dingle bought a page in our souvenir program.
Mr. Dingle from Alcolu taught for more than 30 years at C.E. Murray. He was a football coach, athletics director, industrial arts teacher, and assistant school administrator. On April 21, 2019, Mr. Dingle was present when the gym at the school was renamed the James Dingle Gymnasium. He died eight days later and on May 4, his body laid in state in his gym. Exactly three years later, members of the class of 2022 gathered in the James Dingle Gymnasium for the last time before going off into history.
Meanwhile, the Gallishaws, Coach Cummings' former players all ended up in New Haven like so many of us. Their older brother John Henry married the niece of our classmate Franklin and they moved to central Florida where they produced sons who would continue the tradition that their uncles began on the football field in Greeleyville before they were born. A couple of years ago I drove to the bay area of Florida, and I thought of the rich tradition of football excellence as I entered Polk and Lake counties. Lakeland High School has won Florida Class 5A state championships in 1986, 1996, 1999, 2004, 2005, 2006, and 2018.
Franklin married Lurilla, another of our classmates. Lurilla and I were voted "Most Studious" in 1968. She reminded me of our honor in 2018 at our reunion. Franklin, Lurilla, and Patricia, another of our classmates ended up in New York. The three were pastor, first lady, and choir member of a Church in Brooklyn.
Victoria Jackson Barr Brunson from Sumter graduated from Morris College in 1939. She continued her education at SC State, Howard, and Francis Marion. She married John Barr and Alexander Brunson. She taught for 42 years and was the girls basketball coach at our school.
Mrs. Elease Izzard Ford attended Morris. She also attended SC State and USC and taught for 40 years and coached basketball at our school for 27 years. She died and is buried in Rocky Ford Cemetery in Salters near Leroy McClary of the class of 68 and Ethel Mae Wilson who began school with us in 1956 and died at seven on January 2, 1957, of strep throat less than two weeks after my 8-year-old sister Margie died of the same illness. Both became ill after having Thanksgiving dinner at school.
Annie P. Robinson, J.F. Pendarvis, M.T. Hanna, and Bertha Lee Parson were all educated at Morris College and teaching at our school in 1958. Anna E. Bradshaw from Greeleyville attended Morris college. In 1950 she was living at home with her family and teaching second grade when I arrived at WCT. Benedict graduate Albertha C. Batiste was teaching first grade and SC State graduate Frances K. Bradshaw was teaching Home Economics. Minnie M. Lovejoy and Lourine Leaphart were educated at Allen, and in 1958 Ms. Leaphart was teaching Business Education. Mrs. Lovejoy was teaching third grade and I was in her class. Shortly after we moved to the new school, she rubbed burning alcohol on a cut on my forehead after I ran into the utility pole in the school yard while running after classmate Gracie during recess.
Martha Chatman, the older sister of our 1968 classmate Ronald of the class of 68. She graduated from WCT and Morris College. She also continued her education at SC State, NC State, Clemson, USC, Francis Marion, and The Citadel. She married Stephen King of Clarendon County and spent most of her career at WCT/C.E. Murray teaching math and sciences. Mrs. King retired in 1993 but returned to Morris College and taught for 20 years before retiring again in 2013. Martha Chatman King died in 2020 and was survived by special friends, Paulette King, Loretta King, and Francis Hilton.
Paulette Gilford married Thomas Ellison King, the brother of Mrs. Martha Chatman King's husband as well as Frances King Hilton who taught us Biology and extended congratulations to the class of 68 on the 50th anniversary of our graduations. Mrs. Hilton, wife of the late Charles Hilton was recently honored by having the Science Wing of our old school named in her honor. A 1991 editorial in The State noted "For those … who tend to scapegoat teachers by questioning their dedication and competence, I point to our Ms. Paulette King, who receives little support and no recognition but continues to work miracles for the kids. God bless her and others like her."
Ida Lou Monroe Broughton attended the historical Goodwill School in Mayesville and graduated from Lincoln High School in 1941. She earned a BA degree from Johnson C. Smith and pursued further studies at SC State and USC. She taught for 39 years. Mrs. Broughton died at 90 in 2015.
Beulah Reid graduated from WCT as valedictorian. She was educated at Allen and SC State and taught for more than 37 years. She was the mother of Ave Maria of our class of 1968. Mrs. Reid died at 93 in 2016 and was buried in Hunter Cemetery in Greeleyville. Her obituary noted, "Mrs. Reid was constantly reminded by former students how much she positively influenced their lives."
Mr. Barr's successor was Mr. Charles E. Murray, nephew of Mrs. Lucia Murray who had served as an inspiration and role model for him. He was 12 years old when his father died, and he went to live with the family of Edward McCollum, a black businessman, and machinist with the Mallard Lumber Company. They encouraged young Murray to pursue his education and he did.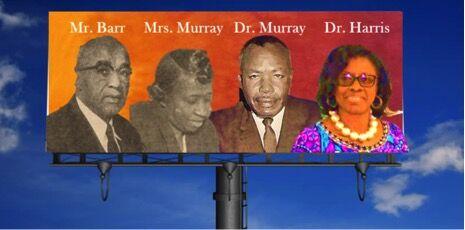 He graduated from SC State and started a half-century in public education teaching English at Tomlinson at age 19. Mr. Murray exposed us to so much culture through stories about his travels, and the plays he directed. I will not forget the performance at Oak Grove Baptist Church by the Mt. Zion United Methodist Church Choir. Mr. Murray directed beautifully from a spot near where I had briefly tried to sing after joining Oak Grove earlier. A director of a choir and actors served as principal of our school for 23 years with such distinction that it was renamed C. E. Murray High School a half-century ago and still bears his name as the bell is being tolled.
Janie Greene and Loretta White were natives of Clarendon County. Loretta was educated at SC State and married Robert Webster Burk, Jr. while Janie Greene attended Morris College. She married "Buster" Spry and worked as the librarian at WCT and Mrs. Burke came to us as the guidance counselor. Mrs. Janie Greene Spry was a 2012 honoree of the Williamsburg County Public School Foundation. Mrs. Burke died in 1982 and Mrs. Spry died early in 2018. Both were buried by Samuels Funeral Home. We took a group photo in Mrs. Spry's library during our 50th-anniversary reunion the summer following her death at 95.
Jewell Mallett also came from Clarendon County was educated at SC State and taught in the public schools of Williamsburg and Clarendon counties. The 1958 yearbook listed her as a fifth grade teacher at WTC. She married Mitchell Ellerby and lived in Sumter after her retirement. Thedith Strong graduated from Morris College and she married the Rev. Henry Franklin Salmon. In 1950, Mrs. Salmon lived east of Kingstree with her husband the Rev. Salmon. She taught future great educators such as future Claflin President Dr. Henry Tisdale at Cane Branch Primary School but transferred to WCT in time to teach us.
At WCT, Mr. William Hunter failed in his attempt to make an actor out of me. His wife Mrs. Elizabeth Hunter graduated from WCT as salutatorian of her class. In 1951 she graduated from Benedict College and pursued graduate studies at SC State and USC. She taught for 30 years including several years at our school along with her husband where she taught Home Economics and Rev. Hunter taught French and English.
Carrie Whack attended SC State and taught at WCT. The 1940 census listed 22-year-old Carrie Whack as a teacher in the public school. She married Columbus Gourdine and in 1958 she was a first grade teacher at WCT. Mr. Gourdine preceded her in death by 30 years. She died in 1987 in Cocoa, Florida. She is buried in Whack Cemetery in Greeleyville.
Mr. and Mrs. Eartha and John Lamkin passed our way briefly, imparted knowledge to us, and moved on to Baltimore where she taught for over 30 years. Both earned fame as musicians. She was a renowned vocal artist, and he is a trumpeter. Mrs. Lamkin died in 2020, in Baltimore.
We note the passing of classmates and teachers. When our teacher Mrs. Broughton died in 2015, her student Mable wrote "I can only rejoice for having had a more enriched life because of Mrs. Broughton. She was a trooper in the field of education. She was a soldier to have stood the test of time with physical and mental capacity for so long. Loved and cherished by so many, we salute her to a victorious resting place." When Mable died in 2019, our teacher Mrs. Cummings wrote, "My heartfelt condolences. I will miss my beautiful princess. Rest In Peace Mable. Your teacher and friend."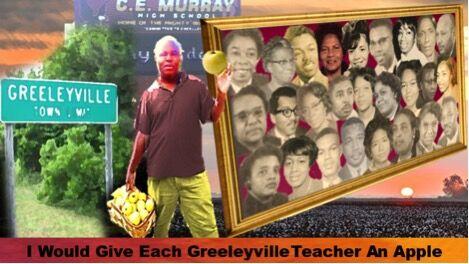 So, we are the heirs of an incredible educational legacy. Such legacies must be generational. My sister Lizzie attended our school and two generations later, her grandson Carlton graduated from the school in Greeleyville and continued his education at SC State. He chose to teach, a rarity for black males, and was recently named the Assistant Principal of a school in Columbia. I am certain that he is aware that the ringing of a bell can also mark a beginning. You should thank a teacher if you are reading this story.