One of World War II's greatest untold stories began on April 8, 1942 when Lt. Gen. Jonathan Wainwright, the commander of the U.S. Army in the Philippines, ordered the evacuation of military and civilian nurses to the island of Corregidor. When Corregidor fell, 11 Navy nurses, 66 Army nurses, and 1 nurse-anesthetist were captured and imprisoned in and around Manila at Santo Tomas and Los Baños.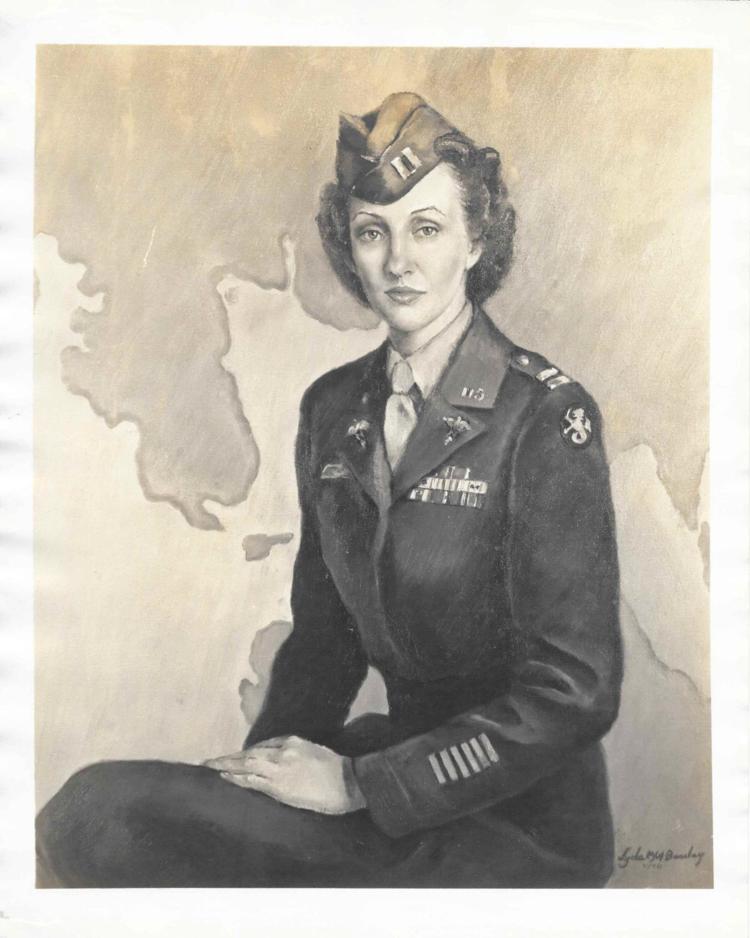 Among those captured was Eutawville's own Kathryn E. Dollason. Kate, as she was known to her family, was born February 13, 1913 in the rural countryside between Eutawville and Eutaw Springs, with four sisters and two brothers. Kate's father was a blacksmith and well driller. She attended Eutawville public school and graduated after the tenth grade, which was all that was required in the mid 1930's.
One of Kate's sisters was a nurse so Kate left home to attend nursing school in Augusta, GA. After graduating, jobs, even in nursing, were scarce so, in 1937, she enlisted in the Army Nursing Corps and completed her basic training at Ft. Fitzsimons located in Aurora, Colorado.
After training, Dollason, like many young women, saw the Army as an adventure and sought assignment in the Philippine Islands where the military men and women billeted, enjoying the tropical paradise.
That all changed on December 7, 1941. At the same time Pearl Harbor was being attacked, Japanese forces began invading the Philippine Islands. U.S. and Philippine military forces were quickly pushed to the Bataan peninsula where they were forced to surrender. General Douglas MacArthur, amid fears of being captured, was ordered by President Roosevelt to leave and escape to Australia. Although a submarine was made available, MacArthur chose to leave by P.T. Boat. He wanted to evacuate the nurses with him but only five went. Kate and the other nurses stayed behind to care for the wounded. After the surrender, American and Philippine soldiers and staff were forced to march across the island. Known as the "Bataan Death March," many were continually tormented and killed by their captors.
Dollason and her fellow nurses where transported by truck to Manila where they were processed as prisoners of war.
The Japanese set up an internment camp on the grounds of the University of Santo Tomas, which was a walled compound about 48 acres in size. Once there, Dollason and her fellow nurses were left to fend for themselves and to do the best they could in setting up some semblance of an infirmary.
The conditions rapidly deteriorated as the lack of supplies, food and sanitation started to take a toll. Although under extreme hardship, they continued to serve as a nursing unit throughout their status as prisoners of war. Kate kept a diary but had to keep it hidden from her captors.
The Japanese refused to manage and support the camp and told the internees to organize themselves with business leaders from the community. The internees were forced to fend for themselves and manage their own affairs. Food was scarce and was mostly supplied by the surrounding villages, but they too struggled under the Japanese occupation.
At first, there were about 1,000 internees, a mixture of military, foreign and Philippine citizens, but as timed passed, it grew to more than 5,000. The overcrowding got so bad that the Japanese finally, on May 9, 1943, transferred some men to a new camp in Los Baños, some 37 miles away. Going with them were most of the Navy Nurses to set up an infirmary there.
In February 1944, the Japanese army took over direct control of the camp and dismissed the civilian administrators.
Armed guards patrolled the perimeter of the camp and contacts with the outside world for supplies were terminated. The food ration the Japanese provided for internees was less than 1,100 calories a day.
In August 1944, Kate and the other nurses began to hear news of American military action near the Philippines. Hidden radios in the camp enabled them to keep track of the progress. On September 21, 1944, the first American air raid bombed the Manila area. American forces invaded the Philippine Island of Leyte on October 20, 1944, and advanced on Japanese forces occupying other islands in the country. The American airplanes began to bomb Manila daily.
As the U.S. military got closer to Manila, they began to get reports that the Japanese would massacre all their prisoners, military and civilian, if their advance progressed further on the Island. Fearing this, a small American force pushed rapidly forward and, on February 3, 1945, at 8:40 p.m., internees heard tanks, grenades, and rifle fire near the front wall of Santo Tomas. Five American tanks from the 44th Tank Battalion broke through the fence of the compound.
The Japanese soldiers took refuge in the large, three-story Education Building, taking 200 internees' hostage. After negotiation between the U.S. forces and the Japanese, safe passage for the Japanese out of Santo Tomas was accepted in exchange for a release of their hostages.
The evacuation of the internees began on February 11. Sixty-four U.S. Army and Navy nurses interned in Santo Tomas were the first to leave that day and board airplanes for the United States. Flights and ships to the United States for most internees began on February 22.
Kate, who was 5'll" tall and weighed 160 lbs. when she arrived in the Philippines, weighed only 85 lbs. when she was liberated. Dollason and the other nurses came to be known as the "Angels of Bataan and Corregidor." The group continues to hold the distinction of not losing a single member during their three years in the Santo Tomas Internment camp.
Now you might think the story would end as Dollason was first flown back to the states to Ft. Fitzsimons and then to Charleston where she had to have part of her liver removed and she recuperated from her ordeal of 3 years of imprisonment. After recovering, Dollason, now a Captain, took command at Governors Island Medical Center in NY and was later assigned to Walter Reed Army Medical Center where her portrait as one of the "Angels of Bataan" was commissioned and displayed.
She was also invited, along with a nurse from each branch of the service that was at the prison camp, to appear on the Ed Sullivan TV show. Since Army Nurses were prohibited to marry at the time, the Ed Sullivan show provided escorts for them. Kate was paired with a 6'3" tall Irish American named Patrick Hannigan. After the show, they continued their relationship until they married. It was not until after the marriage that Kate found out her new husband worked for the CIA and was often called away on secret government operations.
Kate did not slow down after marriage. She was asked to start an Army Nursing school in Brazil and became the Head Nurse at the Valley Forge Hospital, then a military hospital near Philadelphia, PA. There, Kate would walk seven miles each day to ensure the patients were cared for.
Kate and her husband had a farm near Valley Forge, PA and another small cottage in Key Colony Beach, Florida, which was once used to store weapons for the 1961 Bay of Pigs invasion.
The fact that this CIA operation may have included Kate's husband is often speculated. After Patrick died of cancer in 1990, Kate, now a Lieutenant Colonel, continued to travel from her Pennsylvania home in the summer and her Florida home in the winter until her death in March 10, 1991. Kate and her husband were given full military funerals and are both buried at Arlington National Cemetery in Washington, D.C.
The story of Captain Dollason has another connection with Dorchester County, as she was kin with a Dorchester Heritage Center Trustee, Brunson Westbury. Dr. Westbury is a well-known Veterinarian in the county. Westbury's late wife, Caroline Rast Westbury, was Kate Dollason's niece and was her personal representative even after her marriage to Patrick. The Dorchester Heritage Center greatly appreciates that Dr. Westbury has shared with us the incredible story of Kathryn Dollason and has graciously allowed the Dorchester Heritage Center to display some of her possessions, uniform, and other memorabilia at the Museum.