Throughout his years serving as Summerville's Fire Chief, Ricky Waring never dreamed he would eventually become mayor of his hometown.
The man dedicated his entire career to Summerville's town government. He started out as a volunteer firefighter, joining the department soon after graduating high school. A few years later, he became Summerville's first paid fire chief, a role he kept for more than two decades. In addition, he took up other responsibilities including serving as public safety director and the director of operations. He also helped out in other departments including storm water management and parks and recreation.
After retiring from the town, Waring served as a town councilman for eight years. The role of mayor did not appeal to him until last year. He said he made up his mind to run for mayor because he felt that the town was running backwards.
"All I want to do is make Summerville better and serve my citizens in another capacity that I've done for so many years in the past," Waring said.
Mayor Wiley Johnson's term in office has been fraught with conflict and dysfunction within the town council. It was that turmoil within the town government that eventually motivated Waring to run for the office of mayor. Dorchester County Councilman Bill Hearn had already announced his decision to run when Waring joined the race followed by two political newcomers; Fleming Moore and Brandon King.
The 2019 campaign would prove to be the most expensive in Summerville's history, with Hearn and Waring each raising upwards of $70,000. The two men are friends and they kept things cordial, avoiding any politically-driven contention in the final months of the campaign.
Voter turnout was at 16.6 percent for this year's election. Waring proved to be victorious over the three other candidates, beating Hearn by only 261 votes, according to unofficial results. In an act of civility, Hearn drove over to Waring's victory party to congratulate his friend in person. The two men shook hands, hugged and wished one another well.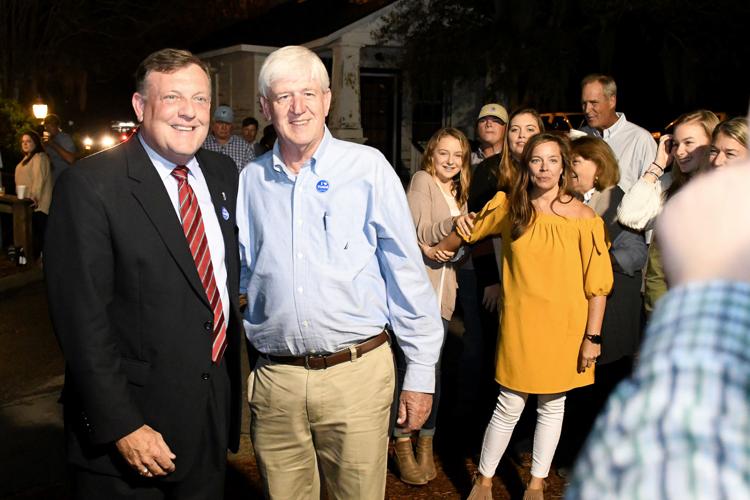 Waring told his supporters gathered at the Summerville Country Club on election night that he intends to have an open-door policy at the Town Hall, and he will devote as much time as possible to being present and available to help town staff and residents.
"I couldn't be more excited," Waring said. "I'm going to go to work and try to do some of the things that I said I would do."
Waring thanked those who volunteered their time and donated money to his campaign. Joined by his wife of 49 years, Barbara, Waring acknowledged several of the campaign volunteers and town council members present at the victory party.
"I went to work to win this position and I didn't know that I would get so much help," Waring said. "I really didn't. A big group gathered together to get me elected."
Waring has said that his primary goal is to unite the town council and provide support or guidance to town staff members. During his campaign, he said he is ready to collaborate with regional leaders to address traffic concerns and control growth. He also said he is willing to advocate on the federal level, for the completion of Phase III of the Berlin G. Myers Parkway.
In addition to traffic and growth, Waring plans to support public safety by giving first responders the resources they need. He has emphasized the importance of long-term planning as the town's population continues to soar. Waring has said he will easily work in the town's "strong council" form of government.
"I'll be a 'weak mayor' but together, we will get the job done for this town," Waring said.
The Dorchester County Election Commission will certify election results this week. Waring will be sworn in in January.